How to add Creative Business plan Can Help You Craft a Winning Deck?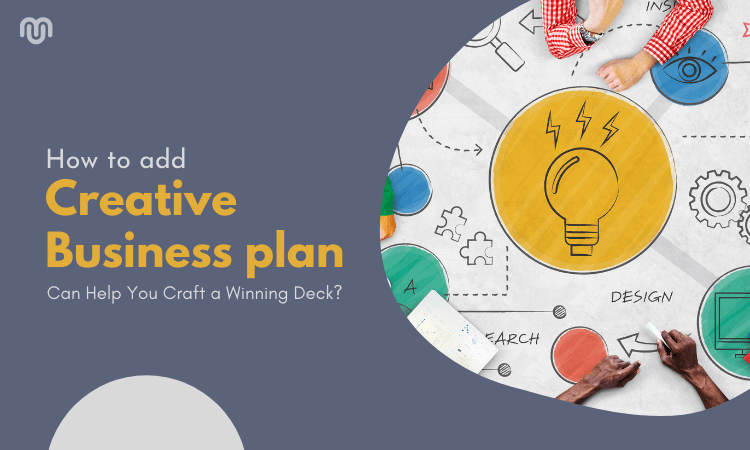 My first business plan was a whopping 54-page word document, which was a big mistake

– Pip Jamieson, Founder, and CEO of The Dots.
I'm not sure about you, but I always learn from other's mistakes, and after reading this statement from one of the prominent founders in the world today, I was unequivocal about what to do and what not to do while writing my first business plan. But one thing that no one told me was that "a Dull and Uninspiring" business plan can immediately put off the investor, especially if you're in a business of innovation and creativity.
When it comes to making a PowerPoint presentation, I've always followed 10-20-10 v.i.z 10 slides, 20 minutes, and a minimum 30-point font, and I follow the same practice while writing business plans. This practice has always helped get things started off on the right foot. Having an effective investor deck is one of the quickest ways to make your potential investor write down the cheque. While making a business plan is often considered to be a daunting task, but can make a huge difference if you know how to add a dash of creativity to it.
In this guide, I'll help you understand the significance of having a creativity-induced business plan and how you can make it enjoyable and easy.
Why do You Need to Creatively Design a Business Plan
A lot of people might ask, "why just the facts and figures" aren't enough to close the potential deal? The problem is other players in the market have the same kind of data, in most cases, even bigger and more impressive.
Let's take a look at a brief story of a small business that managed to bag a contract of $875 million by just transforming its dull, wordy PowerPoint into a compelling and beautiful presentation that made the company's message stand out. As a result, a leader from a large oil firm asked the company to bid for the project. The company eventually won an $875 million contract. On being asked, why he chose such a small organization for his project, the Leader said, "Your presentation was so different it made me see the possibilities."
When there's a potential deal on the line, you do want the investor to see your business plan as one-of-its-kind and that's only possible if you know how to make your message stand out amongst the rest. Even if your product is not unique, a unique presentation can make a whole lot of difference. Pitching in itself is a challenging task, and the most powerful pitches are supported by well-designed business plans.
Convinced? Let's take a look at three core design tips that help you create a better pitch deck design.
Not just Colors
Believe it or not, colors play an effective role when it comes down to creating a pitch deck that delivers effective communication. While it can be a bit challenging to understand the use of colors in amplifying the impact of the presentation, it is often recommended to find existing design templates. Websites such as Adobe's Color provide a massive selection of ready-made color themes.
Choosing colors for your brand shouldn't be about your favorite color, but rather what you want your logo to say about your company
Along with choosing a color theme, make sure you also put great emphasis on contract and whitespace, Give your presentation enough room to breathe and make sure that you make effective use of contract so it's easier for your audience to digest the information. Having a strategic approach while applying colors and themes can make your business plan look more meaningful.
Add Self-Explanatory Pictures
One powerful picture can speak a thousand words. Never underestimate the power of good photography to convey your message visually. One image – for example, a photograph of a human face – activates up to 30 million neurons in the visual cortex, according to Neuroscientist URI Hasson. This is because as humans we are able to develop a deep emotional connection to the photos that in turn will help reinforce the theme of your business model.
For example The Storyteller's Secret by Carmine Gallo, the Powerpoint that helped a small company bag the "$875 Million Contract" contained data packaged in story form with less than 10 words alongside a photograph.
"One slide showed a picture of Moon in the background with a number – 240,000. This slide was backed by a compelling narrative by the Marketing Director of the construction company, "We've installed over 240,000 miles of pipe so far. That's enough to route heating oil from here to the moon"."
It is recommended to keep to a single photo for each point you make. That's enough supporting material for you to get your message across.
Be a Storyteller
Be a Storyteller, but always start with a slogan! Put a slogan on the first slide which provides the name of your business. The slogan should be able, to sum up, your business idea in less than 5 words.
For example: Take a cue from Steve Jobs's presentation on the first-ever iPod introduction in 2005.
"A little device that holds 1000 songs and it goes right in my pocket"
Bring across the message clearly and include only the critical points in other slides that follow. People only need to see a few points to make a decision. Make sure that you provide only the necessary context supported by a concise narrative that tells the backstory of your business ideas. Make sure all of this is backed by well-designed slides.
A business model isn't just a box-ticking exercise. It is a roadmap to your business that must ooze passion and inspiration. Make sure you spend quality time creating a business plan that inspires others and exudes positive reactions. It's all about making your business plan a reality and it all starts with compelling, beautifully crafted business plans.
Don't forget to share this post!