How to Fix Ad blocking issue & Generate Revenue from Blog?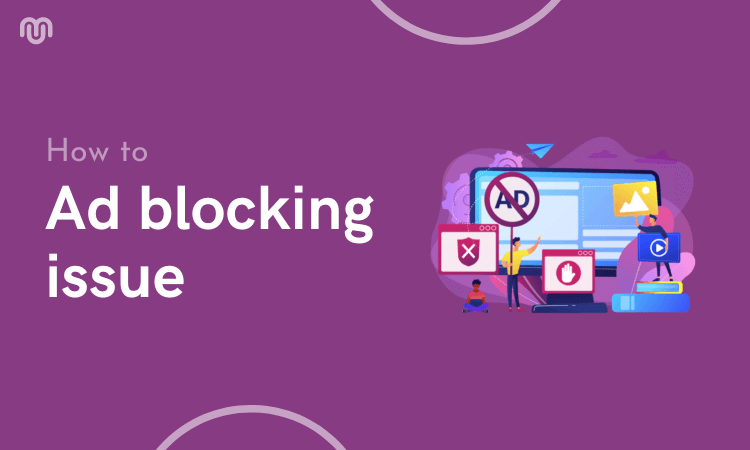 Ad blocking issue has become a mainstream concern for bloggers and publishing platforms across the globe. It has been surveyed that 6.7% of Alexa's Top-5K websites employ anti-adblocking. These websites particularly include publishers of General News, Blogs, and Entertainment domains. According to AdExchanger, an Internet Media Company, Google pays an annual fee of $40 million or $50 million to ABP-owner Eyeo to whitelist its ads.
There is a clear need for publishers to introduce strategies to counter ad blocking issue and enforce the same on a wider platform. The reasons for the rising popularity of ad-blockers could be anything ranging from – improved user experience, privacy, and protection against cybercrimes. For all it may be, the revenue of online advertisers is gravely threatened, instigating publishers to take pertinent actions. With that understood, let's look a look at some tactics you can use as counteracts against ad-block users:
"The damage is more than financial. It's existential"
Ask them to Stop – Politely!
Sending out notices or messages to users who've activated ad-blockers could help you in many ways to deal with the problem. WordPress, for instance, allows you to do just that with its anti-Ad blocking plugin. It lets you show a discrete message at the top of the page screen or a page blocking pop-up.
Reach out to this group and politely explain the significance of ads and how ad blocking issue prevents you from generating quality content that users can enjoy for free. Request them to "whitelist" your site. Educate them on how using ad-blocking damages your website. Once they get aware of this fact, you'll automatically see a vast reduction in the number of ad-blockers. The trick is to stimulate your users' empathetic side, so they agree to make an exception for you.
Here are a few example messages that you may use for your website:
Ads aren't harmful. Please Stop Ad-Blocking
Support Content Providers. Whitelist the Site
We do better when our advertisers do well.
Click or don't Click – Don't Block Ads. Use our premium service to access ad-free content
Access Denial – Simply Redirect them
Even though this is the least recommended approach and would mean losing a good chunk of readers or participants on your site, denying access to people using ad blockers could be an effective tactic if you use it smartly. In the past, many publishers, including ITV and Channel 4, have dealt with this situation by blocking ad-blockers from watching their videos and other premium content.
Many publishers argue that if your users are not even willing to contribute to your revenue by engaging in delivering impressions, and something as menial as 100k additional download, they have no right to view your content. Simply redirect them to a page explaining the reason behind the action, or to a shock site, in case of malicious users. If they really like your content, they'd come back, and the ones who stay will be automatically beneficial for your business. If you look at it from a broader perspective, it is a win-win situation.
Use Reward System
In essence, the reward system entails giving some additional perks to people who do not use ad-blockers. Simply reward visitors for watching ads. Give them free data, extra content, or even cash vouchers.
For instance, you can always allow access to 10 articles to non-ad-blockers, while restricting the number to three for ad-blockers. Make sure you make this deal as transparent as possible to entice ad-blocking issue users enough to remove the blocker. The moment your ad-blocking user exhausts his/her's limit of the day, they should receive a message, something like, "You have exhausted your daily usage. Please unblock ads to view more content". Another tip is to restrict the use of whole content and only display excerpts from the story so the user is compelled to remove the blocker to be able to view the whole story.
Tip: In order to ensure the success of this counter, make sure your content is informative, interesting, and relevant at all times.
Encash on Native Advertisements
Although a hot topic among digital marketers and Internet monitoring agencies, Native advertising is a great option. Most publishers, for instance, BuzzFeed, use this tactic to counter the havoc created by ad-blockers. Most importantly, an ad-blocker would find it difficult to differentiate between branded content and paid content, which would, therefore, be an ad. Hence, advertisers will get a secure space to display their ads and your website can generate good revenue for you.
But make sure you use this tact strategically. It is very important to allocate the right space and frequency to native advertisements. Your users should be able to view a healthy mix of informative and paid content. While relevant native ads can enhance user experience and your revenues, campaigns that are not relevant to your target audience can have an adverse impact on your brand image.
That being said, even though BuzzFeed, a popular Internet media company, generates billions of page views a month, and record-breaking revenues, it failed to earn credibility and respect like other media houses like Huffington Post or The New York Times.
Offer Freemium Services
The users are obviously paying ad-block providers to get rid of the ad displays while viewing content online. How about doing the same? Publishers have figured out a way to make money from this dilemma. For instance, British broadcaster, ITV offers a premium online service that delivers ad-free content for less than $5 a month.
As a marketer or a business professional, you need to understand that there could be more than one reason for people to block ads, and slow page loading speed tops the list. Most ad-heavy sites slow down users' computers which could be annoying. In order to resolve this issue, some publishers focus on displaying fewer ads and charge more per ad space, while others are offering premium services to their users where readers can access ad-free content by paying a nominal amount.
If you assure a pleasant and smooth experience to your online users, they might as well be paying you, adding an additional source of revenue for your business. Follow these counter tricks to ad-blocking to enhance your ad revenue and improve the user experience.
Don't forget to share this post!