How to Create a Strong content marketing strategy with No budget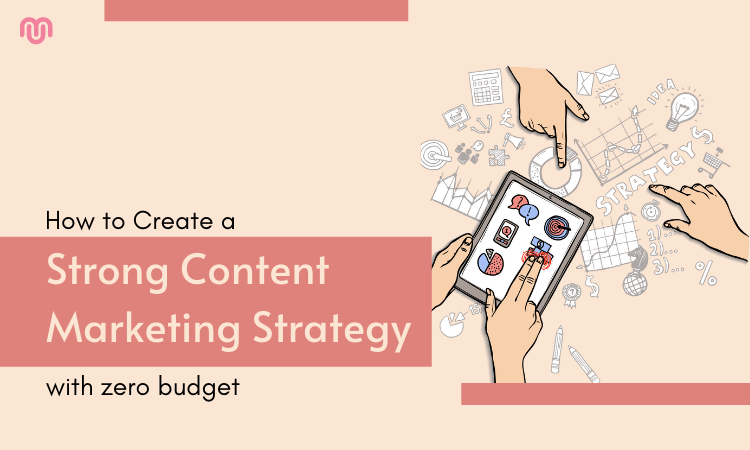 Coming up with a life-changing business idea is one thing and marketing it well enough to get people, and relevant people talking about it is another. Of course, until and unless you have an unlimited marketing budget, content marketing might seem like a hard nut to crack. But what do you do when you do not have a budget? Being an entrepreneur of a tech startup, I'd rather hire developers to build up my product, than spend my limited resources on content creation and marketing. But this doesn't mean that I don't understand the significance of having a strong content marketing strategy and its long-term benefits.
All I'm saying is that when money is a constraint for an early-stage startup like mine, it seems beneficial to set up a content marketing strategy with zero budget. The great thing about strategizing Content Marketing as a part of your promotional activities is that it isn't expensive if you know how to do it right!
To make it clear, I'm here to educate entrepreneurs like you, so the people you are targeting trust you enough to buy whatever you're offering. The below step-by-step guide is how I used the latest Content Marketing trends to create valuable free content and convert clearly defined targets in regard to potential, as well as repeat customers.
Let's get started with my guide to learning the specifics of how to create a kickass content marketing strategy with zero or limited budget.
Content Marketing Strategy starts with defining goals!
Before I begin explaining the know-how of setting up a cost-effective strategy for an early-stage startup, it is important to understand the goals to avoid conflicts and create more meaningful content. Here are a few goals that will help you articulate the value of your marketing strategies.
To Gain Visibility
To Build a Reputation
To Increase Brand Awareness
To Build Community
Advertise Products and Services
Increase Lead to Conversion Ratio
Now ask yourself – why do you want to develop a content plan? What purpose would it serve to your organization? How the information you share using content will benefit your target audience?
Understand your goals before you start producing content. Goals may or may not be measurable, but they are imperative to inspire and contextualize the purpose of your marketing efforts. Don't overdo them. Don't overthink them. Just focus on the big picture and what you really want to achieve. Once you have the answers to all of these questions, it would be easy to determine KPIs that will in return help you find the right tools and resources to market content for free.
Because when it comes to the digital era, almost everything is free!
Save Money with Free Apps/Tools
If you want to work on a zero budget strategy, then you need to make use of Free Content Marketing tools for planning and execution. From creating graphics for social media marketing to email marketing and advertisements and blogs, you can find a stellar tool for whatever ails you. Here I'll share a list of 3 incredible free tools and resources to help you research, write, and design content. Let's get started.
Develop Content with Free Writing and Collaborating Tools
One of the best tools used by content marketers to produce, save and share content with stakeholders is Google Docs. It is quick, easy to use, and allows real-time sharing with other team members during all stages of content development. The best feature is its auto-save function! As you write, the application automatically saves the files, warding off that brief episode of a panic attack when MS Word crashes or you realize that you didn't save the most updated version. Phewww!
Google Docs allows you to create and save documents online that you can access from any device. Start writing a post on your computer in the wee hours of the morning and complete it with minor or major tweaks on your phone as you wait in line at Starbucks. If you want to download your work, the app also allows you to download documents in different formats, like Word, Excel, PPT, or PDF.
Other Similar Tools
Evernote
DropBox Paper
Etherpad
Quip
Hackpad
Always check for plagiarism before publishing
Originality is an integral ingredient for content, and without ensuring uniqueness, your goal of getting a boost with content marketing strategy will always remain unachieved. A free plagiarism checker is what you need before publishing any piece of content. It will help you detect the instances of duplication before getting it live over the web.
Include Free Graphic Designing Tool in Content Marketing Strategy
Imagery is vital to your content marketing strategy and we all know why. One of the biggest challenges I faced in executing my content development strategy was to find a graphic designer who is able to understand the identity that I want to create for my brand, and doesn't cost me a bomb. Well, life is all about compromises and like every other novice even I had to up till a certain time. However, I soon realized that if I want to create quality posts using graphic design, then I have to hire a professional and since the budget was a constraint, I decided to take this department under my hood.
Fortunately, I found a very useful graphic designing tool that was available for free, of course with certain limitations and that's Canva. Canva offers a huge library of pre-made templates and assets that you can edit or manipulate to create your own imagery. Ranging from normal social media creatives to blog banners and even Gifs, you can use this free graphic design tool to create stunning social media graphics without photoshop. If you're looking for a resource that can help you generate the best high-resolution creatives for your social media pages, blog banners, or other marketing promos, this resource is gold dust.
In a nutshell, all you need is to select a layout, pick elements from the extensive library of professionally designed templates, layouts, illustrations, and much more…and you're done!
Other Similar Tools
ThinkLink
Venngage
Pablo
Beam
Snappa
Create a Lead Generating Contest with this Powerful Authoring Tool
Want to increase brand awareness and engagement on your social pages without spending a dime on advertisements? Contests, sweepstakes, and surveys are some of the go-to tactics for brand marketers. Why? Because the temptation to win prize motivate people to participate, thereby amplifying social engagement, creating brand awareness, and capturing key data insights. Many brands make use of the quiz approach to drive engagement on social media and offer a prize bundle to attract participation. But you don't really don't need to hire a strategist or a consultant to come up with interactive contest ideas. How?
You can easily create a visually appealing and entertaining contest using a free contest generator like BrandQuiz that lets you design your own campaign with lots of customization options. Pick a pre-defined layout, customize it as per your brand's identity and you're good to go. Free tools like Brand Quiz also help you lower the customer acquisition cost by offering a platform that helps you garner detailed information of participants and grow your mailing list.
Other Similar Tools
Tabfoundry
Shortstack
Dot
Gleam
Wishpond
These are no magic wands. These are the Free Content Marketing tools that will not only help you save money and resources but also guide you to develop relevant content. Keep in mind that you will always have to tailor your content marketing strategy to cut through the noise and earn results as per your goals. Creating a strong business plan with well-defined goals and annual targets will ensure your long-lasting success.
Don't forget to share this post!