Is Your Business Plan for the Good or Worst?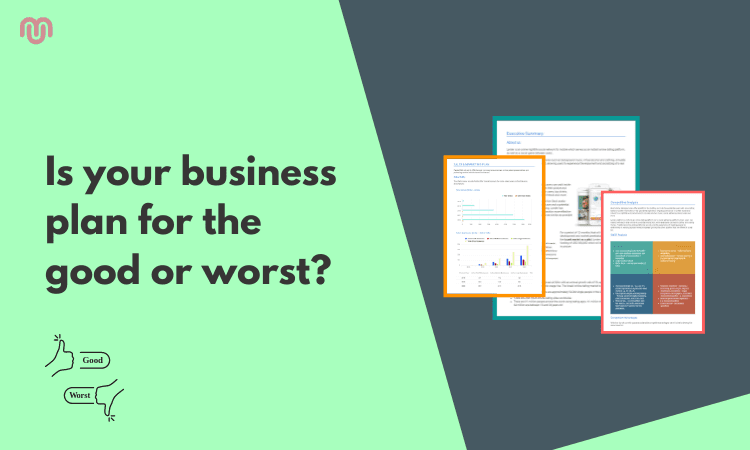 If you don't know where you are going, you'll end up someplace else!
Everyone, whether an entrepreneur or not, understands that writing a business plan is a daunting task! A perfect business plan is a myth – in fact, if you're an investor, you know that there are all kinds of business plans – the good, the bad, and the ugly. The job of an entrepreneur is to create a good business plan, while an investor finds the best one from a lot of many – the one that sounds and reads worthy enough of their investment. Fair enough!
But how do you ensure that the business plan that you are writing does justice to your vision? Did you know that 3 out of every 5 new business ideas get dropped by investors on closer scrutiny? There could be ample reasons for rejections, the primary being the entrepreneur's ineptitude to represent the idea in an objective manner.
We all understand that creating a perfect or let's just say close to the perfect business plan is a tricky business. Fortunately, even if you can get standard elements right, you can easily multiply your chances to succeed in your respective market. Let's talk about the quintessential elements that make a business plan good or bad:
Traits of a Good Business Plan
You are walking on the road and suddenly encounter an opportunity that can be converted into a profitable business. You find a piece of paper or use the notepad on his smart device to write down the idea. Do you think that would be enough information to support your vision? The framework is just for you and under no circumstances, you should be sharing it with anyone, but with a potential partner. Once the idea sounds convincing, your next step should be to create a well-manicured document consisting of all facts and figures to explain how you plan to get from "here" to "there". In simple words, you need to connect the dots.
Your Business Plan is a Roadmap for your BUSINESS
The traits of a "Good" business plan are very straightforward – a revolving document that is precise, logical, realistic, and well-researched. It should clearly chart out the why(s), what(s), and how(s) of each aspect of your business model. Other traits include:
Preciseness
Uniform formatting
No grammatical mistakes
A solid Executive Summary
Details on potential problems and their solutions
Well-researched and realistic financials
What makes your plan "BAD"
Let's assume that you find an amazing business opportunity but are not sure if it would work in your favor or not. To be on the safer side or to ensure that your idea sounds profitable to your investors, you might want to mix up a few elements in your presentation. Now experimenting with an idea is not bad, but what leads to a failed plan is underdeveloped concepts and a lack of detail on all aspects of a business. A lot of colors, pictures, and graphs may not always save you the day.
The difference between a good and a bad business plan is the pool of information that your investors need to string altogether and make sense of everything that you are trying to communicate through your brief presentation.
Traits of a Bad One
Unorganized structure
No exit strategy
Typos and bad formatting
Baseless assumptions on market growth, revenue potential, and other financial projections
Leaving important elements unaddressed
In order to ensure that you write an effective business plan, you need to first clearly determine your vision and objectively outline the operational requirements of your venture. A well-written business plan will not only help you bag a good investment but also create a benchmark that you can utilize to check your progress as the company grows.
So, if you're an aspiring entrepreneur, and need help writing a business plan, you can always refer to online business plan software and financial tools designed for startups and small business owners to write the original, winning business plan that your idea deserves.
Don't forget to share this post!