Do Not Ask More Than Two Questions In Customer Survey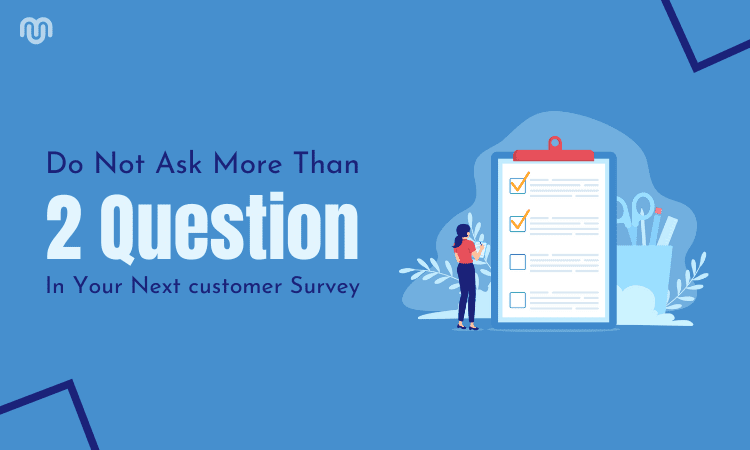 How well do you know your target audience? Are you able to meet their needs? Successful businesses know that it's not enough just to create products. Making constant efforts to analyze who your customers are, what they want, and how can you provide the best solutions to meet their needs is vital to building a sustainable business. Undoubtedly, customer surveys are one of the most valuable tools for businesses to get quantitative data.
A simple way to get your hands on this kind of data is to ASK!
From gauging customer satisfaction to analyzing market trends, strategically conducted surveys can turn out to be critical for the growth and success of any organization. However, a badly executed survey can also ruin the brand image.
A recent study by Survey Monkey, a Global Survey Company, showed that "80% of people have abandoned a customer survey halfway through. 52% of customers said that they would not spend more than 3 minutes filling out a feedback form", "72% of consumers said surveys interfere with the experience of a website," and "66% of customers prefer to give feedback by actively reaching out, rather than fill out a survey form".
10 Second Takeaway: On average, for every additional question that you add to your survey questionnaire, you decrease the overall response rate by 30 – 50%.
It has also been observed that mostly a customer survey is marketer-centric, often designed to satisfy the business' requirements. They are not designed to educate customers. As a result, customers start feeling vexed right after the second or third question, leading to a drastic drop in the response rate and data quality.
While inviting your users to take customer survey on their own is a new strategy being adopted by most companies these days, if someone wants to stick to the traditional research method, then there are certain rules that need to be implicated to drive engagement, loyalty, and sales. And it all starts with asking the right questions in the right way!
When it comes to customer survey, how many questions are too many questions? Before we get on to answering such a question, let's us ask you one simple question – How do you feel when someone asks you a chain of questions, say 5 questions at a time? Won't you feel impatient? Annoyed?
Just two survey questions are effective enough to get the data for your business without putting off your customers. – Dana Severson, Co-founder, Startups Anonymous
In our opinion, those two questions should be Smart Open-ended Questions. Open-ended questions require participants to write free-reaction text, which means that they are free to write what's on their minds without any biases. This will help you interpret and evaluate their responses better. Perhaps. the participants
might think of something that you missed! Their answers are usually going to surprise you!
Try combining all the questions you have in your mind to form one or two simple, open-ended questions without losing the aim of the  customer survey.
Examples of Smart Open-Ended Questions
Do you think having a special car seat for infant passengers will be seen as an advantage for new car buyers?
What other categories or brands you would like to see in our online store?
Until now, you may have already known the questions you want to ask in your next survey, but how to write the questions and what tools to refer to can make a big difference between a good and a bad survey.
The Net Promoter Score (NPS)
NPS is one of the most simple and preferred management tools that measure customer satisfaction with a company's products and services. It is a customer loyalty metric developed in 2003 by management consultant Fred Reichheld of Bain & Company in collaboration with the company Satmetrix. NPS assesses to what extent a respondent would recommend a certain company, product or service to his friends, relatives, or colleagues. The concept seems to have worked which is why NPS has been adopted by more than two-thirds of Fortune 1000 companies.
According to Severson, there's a good reason behind NPS being a two questions survey. He says that including additional questions would "complicate the simplicity of it, you'll pay the price ineffectiveness." Indeed, the decrease in the overall response rate for each additional question is massive. A drop in a response rate of 30-50 percent could prove the whole exercise futile. So this means that there's a good chance that adding even one question to the standard two of NPS, could bring down your responses to half.
Brevity is important
The key here is to keep it short, quick, and relevant. The aim of any customer survey is to gain actionable information from customers that can be used by the company to improve its products and services. Keeping the survey short and to the point is the only way to avoid customers getting distracted and quitting halfway. Too many questions are most likely to defeat the flow and subsequently cause a drop in response rate. Therefore trimming off the trivial and sticking to the fundamental questions is the only way to come away with the key insights from any customer survey.
In a world where people are more perceptive and becoming impatient, long customer surveys full of redundant questions can only lead to a waste of time and resources for both customers and the business.
When reaching out to your target audience to gather information, it's essential to get things in line right from the beginning. A well-written customer survey questionnaire can help you drive your business in the right direction.
Don't forget to share this post!