What investors want to see in your business plan before writing the cheque?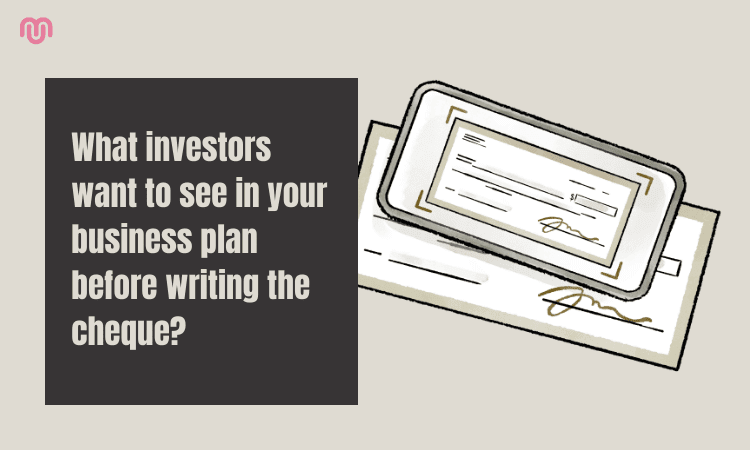 Getting an investor on board is never an easy task. It can be highly intimidating and requires you to be meticulous in your homework. But once you find the right person or organization who can help you with financial resources, the rewards are absolutely worth all the hard work you put in. Also, a good business plan can help you a lot in impressing investors.
Every start-up needs funding capital to grow and succeed, which is where investors come in. If you're looking to pitch your business plan to an investor, these are the five essential things to keep in mind:
Smash the Back Story
It is always a good idea to include your background story in the business plan. What have you done in the past? What does your work experience entail? Where did you graduate from? What made you come up with this idea? Just keep thinking about all the ways that help you tell a story to investors that is interesting, pitch-able, and has the potential to retain attention span for a long. Got one?
Sometimes investors also check if you've had any prior experience of working in a start-up or having one of your own. Did you fail in it? What was the reason for the downfall? How willing are you to learn from your mistakes?
Having a background story helps investors understand your passion better and that's what will encourage them to turn to page 2 of your good business plan presentation.
Smash the Executive Summary
Once the investor is convinced with your background story, this is the next thing that he/she will want to read from the presentation. Make sure the executive summary not only succinctly talks about your business idea but also highlights your skills in creativity and innovation.  Remember, if the first few lines fail to hold their attention, they won't bother turning to another page.
Through your executive summary, investors need to understand the nature of your business and must be convinced of the opportunity. Be as simple and as succinct as possible since it is a "summary" after all, but make sure you've included all the key points. You may want to write and rewrite your executive summary until you hit the nail on the head. Read the Dos and Don'ts of the Executive Summary here!
Smash the Competition Analysis
An investor will evaluate what makes you stand out from your competition. Your business plan should be able to demonstrate the USP of your business and how you plan to make the product better than that of your competition. Why do you think customers will be willing to make the shift? How will your market your product to give it an edge over the prevailing competition in the market? At this stage, your investors are looking for answers to the following:
What existing problems are you solving with your offering?
How did your price points compare against your competitors?
What value proposition are you offering to the customers?
Look for some key leverage points that will convince investors about building a sustainable business that has a competitive advantage. Be sure to highlight those virtues early and often in the business plan.
Smash the Financial Projections
Every investor is keen to know about the nature of your finances. Your business plan should not just demonstrate the fund requirements but also provide a detailed analysis of procurement of finances, expenditures forecasted, and as well as a revenue model. If your business has been in operation for a while, then it would make sense to include the following in your investor deck:
Revenue streams
Acquisitions cost
Debt repayment plans
Marketing budget
Growth rate
Based on these the investor will judge your company's financial stability and growth prospects. After all, they need to know whether they're putting their money in the right place and what returns they're going to get from it. The financial chapter in your business plan is where they will get all their answers from.  Besides, be careful of the amount of funding that you ask for. It should be able to bring them profit, as well as a salary for you and your team members.
Smash the Contingency Plan!
This is where you can't afford to go amiss! Every business comes with a certain amount of risks, and some are in fact all about risks. How do you, as entrepreneurs plan to subside those risks and sustain the market? Your investors are super excited to know your take on contingencies.  How do you plan to handle unexpected events/challenges/losses? How prepared are you with your risk management skills? This is going to be the most crucial chapter of your business plan, the one that can make or break the deal. Conduct a thorough risk assessment of possible outcomes, how to prioritize them, how take preventive measures, and develop effective strategies to tackle them if the need arises.
Again, there are no hard and fast rules when it comes to writing a perfect business plan for investors for them to make an investment. But one takeaway from this would be: investors are looking for the next big idea, an amazing idea that can create disruption in the ecosystem. But the idea should be practical, sustainable, and something that won't wash away all their money in the first storm. Are you ready with your smash-able business plan?
Don't forget to share this post!