Entrepreneurs Guide: How to write a Business Plan using Templates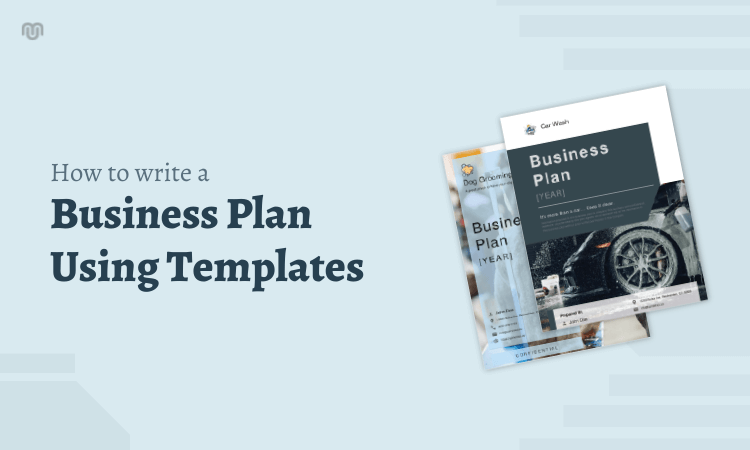 First things first – why do you need a business plan? Having a though to write a business plan was the last thing on Sean Heathen's mind when he sat down working on his first venture, which was to bridge the gap in the ever-evolving logistics industry.
With the advent of the e-commerce sector and the increasing demands of online shoppers, having a robust and well-organized logistics team is still a challenge for most e-commerce stores. Sean decided to build a business that fills the gap between the demand and the supply – was it that easy?
Coming up with a business idea is one thing, and getting it on a piece of paper so you are able to pitch your business model to your friends, family, stakeholders, and to investors if required, is a different game altogether. Worse if you don't even know how and where to start!
This is where most entrepreneurs lose their game and start giving up on their business idea because let's face it if you can't summarize your vision and mission in a few words, then how do you expect to make it a billion-dollar company?
Your investors want to see some facts, figures related to your business idea, they want to know the feasibility of executing the model in the current ecosystem, and they definitely want to learn about the revenue model that will make their investment a worthy endeavor in the future.
On the other hand, even if you are a self-funded startup, you have to write a business plan to map the future of your business.
In short, your business plan is a roadmap for your business and the only document that has the potential to get your business off the ground.
Just like Sean, a lot of first-time entrepreneurs might not understand the significance of why to write a business plan. But once they do, getting started with it might turn out to be a tiresome experience for most.
In fact, according to a study, 56% of first-time entrepreneurs waste approximately a year or two procrastinating the activity for the simple reason that they don't know how to start writing a business plan from scratch. Well, that's a lot of time wasted!
The good news is that now you don't have to write a business plan yourself and neither to need a degree to do so. With so many business plan writing tools and software(s) out on the market, most offering a huge library of industry-specific templates, you can write a compelling, organized, and professionally sound business plan in less than 20 minutes.
All you need is to select a template, answer a few questions, input a few facts and there you go!
Still, confused? Here's your step-by-step guide to writing a business plan using templates.
How to use a Business Plan Template
Start with the Basics
A business plan template is broken into several sections, including the description of the business model, product category, market research, competitive analysis, revenue model, sales and financial forecasting, and capital requirement. Business plan templates are available as a PDF or Word download.
The questions asked are generic enough to provide you with a customized template for your business type. This is usually helpful if your idea isn't fully fleshed out and you need to do more homework to get it right off the bat.
Each section of the template can be easily copied into excel, word, or similar document creation tools. You may also use tools like Google Drive if you wish to share the content with other collaborators in real-time.
Get Into the Details!
Title Page
Start with entering your business information into the business plan template, such as business name, legal name, address, contact details, etc. If you already have a business logo, add it to the top of the page for better visibility.
Executive Summary
This is something that you should write in the end but should be the first document to be presented at the time of pitching. In this section, you'd need to answer the following questions
Competitor and Market Analysis
In this section, you need to demonstrate your market research, target audience, and competitive advantage. When you write a business plan, do provide an in-depth analysis of the target market and how your product offering can provide a viable solution to the problems of your potential customers.
The competitive analysis includes the following
What is the target market(s) for your product or service?
Why would people want to buy/use your products or services?
Demonstrate the potential repeat purchase volume.
Estimate the volume and value of your sales in comparison to existing market leaders.
Describe the strategies or technology that you are integrating to get an advantage over your competition.
Sales and Marketing Plan
This offers a description of how you promote your products and entice customers into buying them. This also includes a detailed description of pricing strategy, distribution, and post-sales support. Here you are required to answer the following questions
Describe your product or service
How does it benefit the customer?
What makes your products stand out amongst competitor offerings
Describe your pricing strategy.
Describe how you will distribute your products?
List the different media channels that you'd be using to promote your products.
What marketing materials will be used and what will be the approximate budget?
Ownership and Management Plan
This section demonstrates the ownership, legal structure, and staffing requirements of your business. Check out the following to Write The Management Plan Section of the Business Plan.
What is the legal structure of your company (e.g. sole proprietor, partnership, OPC, etc.)
Describe the requirement and roles of managers
List any external professional resources required, such as a business consultant, PR agency, etc.
Financial Plan
The Financial Plan outlines the resources that will help your business grow and generate a profit. To do this you will need to provide projected revenue, cash flow statements, expenses and profit, and balance sheets. In this section, you are also required to show monthly anticipated revenues and expenses.
Once you are done filling out all answers, the result will be solid, well-structured, and tailored to your business. Just remember a good business plan should not be more than 10-15 pages.
The shorter it is, the better chance it has of being evaluated. Investors these days want to see that an entrepreneur has done a thorough analysis of the market, knows the positioning of his products in the market, has identified potential customers, and had the potential to assemble a capable team that can successfully execute the plan of action.
Keep in mind that if you are using a business plan template, you don't have to wait until you have all the answers to get started. Simply start filling in all the information you have at this point, and then refine it to reach your goal.
Click here to explore business plan templates for a quick and painless start.
Don't forget to share this post!