You're an entrepreneur if you embrace taking risks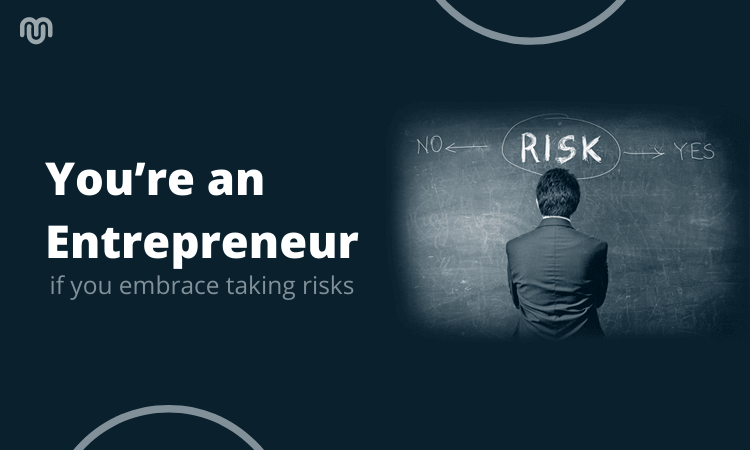 "Nothing Ventured, Nothing Gained" –  this means that if you aren't prepared to take business risks head-on, you can never succeed.
Business risks are daunting and sometimes you might even have to gamble outright to meet your goals. Henry Ford took the risk of slashing prices to attract people to buy his first cars and we all know how it turned out to be for him. As an entrepreneur, first, you need to define the kind of risks you would like to take for your business and then embrace them if you are really serious about growing your business. As rightly said by Mark Zuckerberg, "The only strategy that is guaranteed to fail is not taking risks."
Entrepreneurship is all about taking risks. You leave a well-paying job to embark on a journey where's nothing is guaranteed. It does require guts and gusto.
Some of the most successful entrepreneurs only got to where they are after taking business risks and experiencing temporary failures in the process. Here are three common risks that entrepreneurs throughout history have taken and why you should take them for successful business growth.
Say bye to a steady income
Entrepreneurship demands a lot of planning and preparation in the infant stage. This is the reason most people require giving up their full-time jobs and regular paycheques. Even if your business starts generating revenue in the first year itself, as an entrepreneur, and the founder, you might have to sacrifice having a personal income unless your business reaches the break-even point.
The lack of secure income usually acts as a fuel that drives entrepreneurs to work harder and generate multiple sources of income, but parallelly also requires them to keep persevering until the targets are achieved.
The old adage that it's about the journey rather than the destination really does apply. Maybe you won't make $100 million in the first year itself, but with valuable learning, powerful connections, and refined skills, you are guaranteed to perform better in all future endeavors and all of this starts when you decide to take one among the business risks of leaving your 9-5, steady income-generating job to embark on a bigger journey.
Sacrificing personal capital
This goes without saying. The moment you decide to start your own venture, you'll have to be prepared to exhaust a portion of your savings to get things moving. The reality is that if you are not able to find an angel investor in the initial stage of business, you will have to use a huge chunk of your money, sometimes all of it, and even that of family members to sustain your business. This can be more intimidating, because if you fail, you'll end up losing all your money, and sometimes family and employees depend on you. But remember it will all pay off if your idea is planned and executed well.
It's clear that not all business risks pay off but calculated ones along with determination is one of the ways to make your business grow. Take downfalls as an opportunity to grow and learn. If you take a risk and it doesn't come to fruition, don't stop.  Instead, assemble all the positive learning from your failed attempt and create new strategies to have a profitable year. As they say, "when the going gets tough, the tough get going."
Trusting your business partners and teammates
Having a business partner or a team member means trusting their ability to work on your product and deliver on time. Nobody can build a business by doing everything by himself. You have to, at some point in time, rely on your partners and employees to carry out your vision. Any kind of communication gap or conflict of interest could mean a critical failure.
The fact is that conflicts are natural. It is hard to predict human behavior especially when it comes to professional connections. While you can never fully eliminate the possibility of your team members getting off track, there are ways that when executed properly can mitigate this one among core business risks.
Intervene when required and track the performance of each and every employee on a weekly basis. Try to discuss matters to reach a conclusion that is beneficial for the business. Work with only the best and most reliable people.
Business Risks are Tough
Taking business risks is easy said than done, but turns out that risk is intertwined with entrepreneurship. Embracing failures and learning from them is a trait that you need to adapt to and turn to your advantage. The idea is to build an organization that you can be proud of and that begins with a risk, followed by many other risks and challenges. As said by the  Founder and CEO of Amazon Jeff Bezos, "I knew that when I was 80, I was not going to regret having tried this…I knew that if I failed I wouldn't regret that. I knew the one thing I might regret is not ever having tried. And I knew that would haunt me every day."
Nobody can ever be sure if the business risks taken will pay off, but this should not stop you from taking them. Gamble on everything that you have and find ways to reduce risk as you move forward with your venture.
If you want your business to succeed, business risks are necessary. But you can always mitigate them by having a business plan that helps you plan, track, grow your business so you are able to take calculated risks and carefully take steps toward your goals –  because a true entrepreneur is not a risk-taker, but a calculated risk-taker.
Don't forget to share this post!