We know you—this may be your first visit to our site, but we know exactly who you are.
You must be an aspiring entrepreneur, small business owner, or perhaps a business student looking for a customizable Google Docs business plan template to draft your very first business plan—but no luck so far.
Since you've already been down that road—you know preparing a detailed business plan from scratch is no walk in the park.
It requires thorough market research, validated data, and thoughtful analysis of various aspects of an enterprise to put together a well-written plan.
A well-written plan that's no paper stack collecting dust on your desk, but a business document that helps strategize business growth and secure funds.
Although it's no easy feat—using a Google Docs template can make things a lot easier.
A professional business plan template can help you refine your strategies, organize ideas, and outline the structure of your plan through step-by-step instructions.
In this article, we'll discuss the top 5 free business plan templates available in Google Docs, their features, benefits, and how you can use them to simplify your business planning process.
Ready to get started? Let's dive right in.
Understanding Business Plan Templates
As you already know—your business plan is a document that summarizes your business objectives and outlines strategies or plans to achieve them.
In contrast, a business plan template is a format that helps entrepreneurs prepare a structural outline while drafting a perfect business plan.
It's not that you can't create a plan without using a business plan template.
However, having a well-structured template can help you develop a detailed and visually appealing plan and make sure you won't miss out on any critical information.
Let's quickly overview the key components of a business plan template:
Key components of a business plan template
While there could be multiple types of business plans, the standard outline is almost similar for business plans across industries. The following are the key components of a business plan template.
Executive Summary:

It's the first section of your business plan, providing a high-level overview of the entire document. The section provides a quick understanding of your plan and is usually written when the entire plan is ready.

Company Overview:

This section is planned to provide an overview of your business. It may include details about your business concept, vision, mission, and future objectives.

Market Analysis:

It is a study of your external business environment, providing a complete overview of your industry and business dynamics. Your market analysis may include details about your target market, market size, growth potential, and market trends.

Products and Services:

The products and services section includes a detailed description of your product and service offerings. The details may include product description, pricing strategy, product comparison, and quality measures.

Sales and Marketing Strategies:

This section will outline the sales and marketing strategies your organization will implement to meet its financial goals. The details may include target audience and brand positioning, sales and marketing plans, and sales/marketing goals.

Operations Plan:

Your operations plan section will outline the day-to-day activities and business processes involved to ensure seamless business operations. The details may include staffing, inventory & supply chain management, and operational processes.

Management Team:

This section introduces your founders, management team, their qualifications, and roles & responsibilities, as well as the compensation plan.

Financial Plan:

Finally, the financial plan of your business plan provides a breakdown of your financial projections and financing needs. The details may include profit and loss statements, operating costs, cash flow statements, balance sheets, and others.
That's pretty much it about the components of a business plan template. Let's move ahead and discuss the top #5 Google Docs templates for business planning.
Download Top Business Plan Templates in Google Docs
Considering different business plan types, multiple templates are available in Google Docs, but do you know which one you need?
Well done if you do, and don't worry if you don't.
The following are the top Google Docs business plan templates you can download for free. While we will share access to them, we'll also discuss which will suit your requirements the best.
So let's cut to the chase.
Template #1: Startup Business Plan Template
As its name suggests, a startup business plan template is specifically designed to meet the specific needs of new startups.
This ultimate template can help new-age entrepreneurs predict challenges, achieve their business objectives and goals, understand business financials, and revise strategies—in short, it is a roadmap for them to get started.
The primary objective of a startup business plan is to put forth the steps to get a business up and running.
A startup business plan template emphasizes providing detailed information about the startup, its product or service offerings, a thorough industry, market, SWOT, and competitive analysis, marketing strategies, management team, operational plan, and financial projections.
Best for: New entrepreneurs and small business owners seeking investment or bank loans.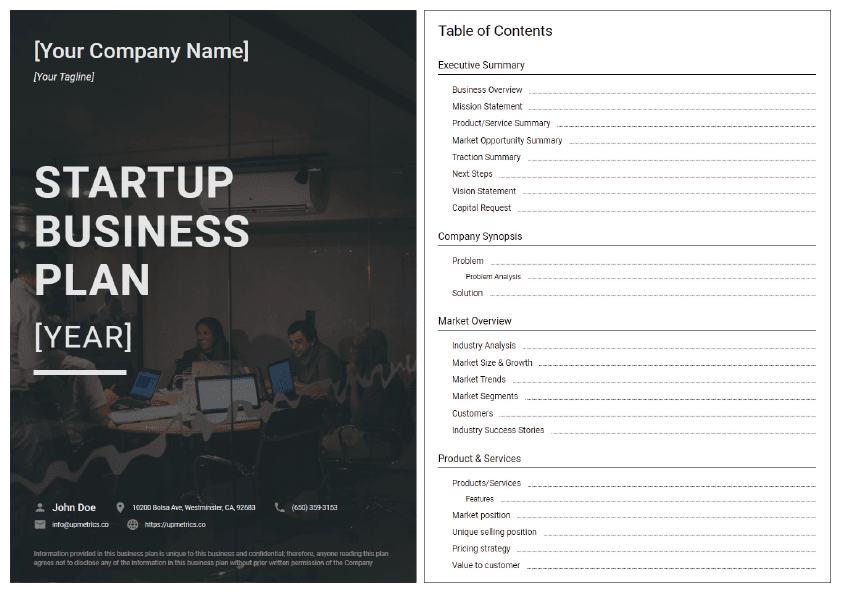 Template #2: Lean Business Plan Template
Consider a lean business plan template as a condensed version of a traditional one—that's the best way to put it. It's a shorter version of a business plan highlighting and summarizing all its sections.
A lean business plan primarily focuses on critical elements, including strategies, tactics, metrics, and finances.
Since it's comparatively shorter, drafting a lean business plan is easier, quicker, and efficient compared to a traditional plan. It's flexible enough to update and revise, providing sufficient room for improvisation.
It consists of short texts and mainly represents relevant information using bullet points.
While a lean business plan template is for businesses uncertain about the business planning process, it's ideal for everyone to use a lean business plan template to create the first draft of their business plan—and then move ahead with creating a detailed one.
Best for: Businesses in fast-changing industries, startups with limited resources, sole proprietors, and internal planning.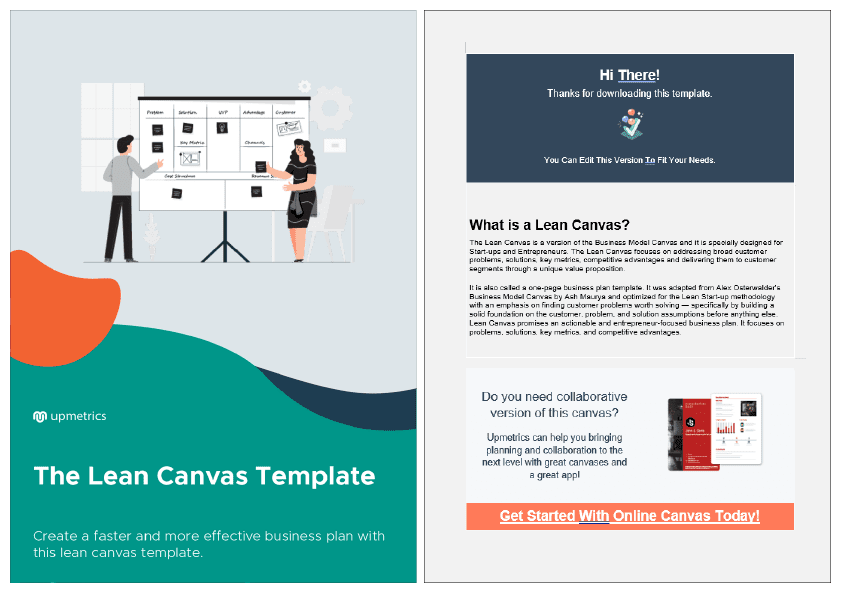 Template #3: One Page Business Plan Template
A one-page business is a condensed, simplified, and one-page version of a standard business plan. Consider this as an outline of a lean business plan.
(that we discussed earlier)
A one-page plan is often used to present a quick overview of your business to your employees, partners, and vendors and as a summary to banks and investors.
It's just a one-page plan, so it doesn't mean it's only for a specific group of people or businesses—no.
In fact, a one-page plan can be a viable option in multiple scenarios. It can be used by idea-stage businesses, startups & pre-revenue businesses, and businesses planning to expand for various purposes.
If you need a plan for internal use or don't intend to share lots of details while sharing with outside vendors—a one-page business plan will do.
However, companies seeking outside investment or bank loans must prepare a detailed business plan—there's no other way around.
Best for: Idea stage startups, side-hustlers, solopreneurs, micro-businesses, and business idea testing.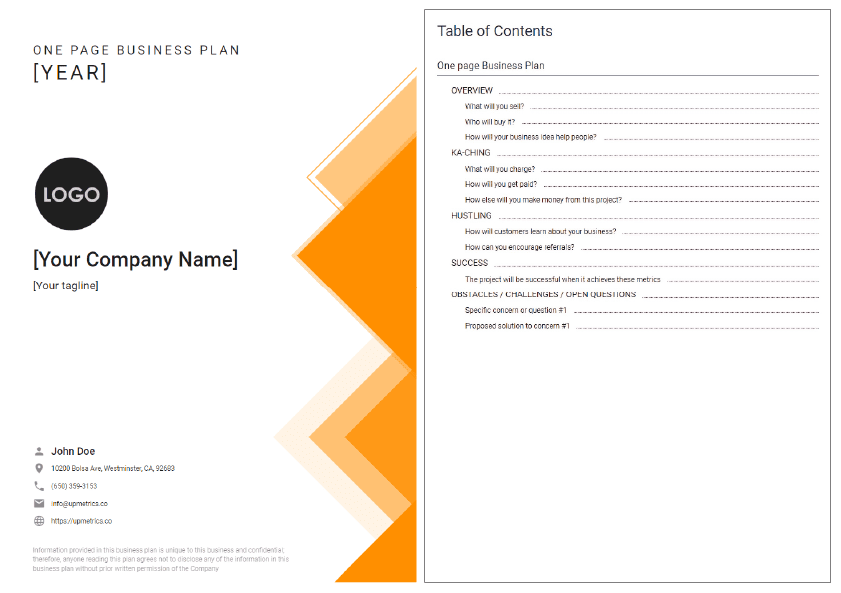 Template #4: Business Plan Template For Small Business
If you plan to start a small business or grow an existing one, this is the free business plan template you need for your small business.
This template gives you a layout for your business plan to get started that you can easily customize depending on your requirements, ensuring you won't miss out on any critical information.
Similar to a traditional business plan, the key elements of a small business plan template include an executive summary, company overview, products and services, sales and marketing strategy, operations plan, management team, and financial projections.
Best for: Small business owners seeking funding or bank loans.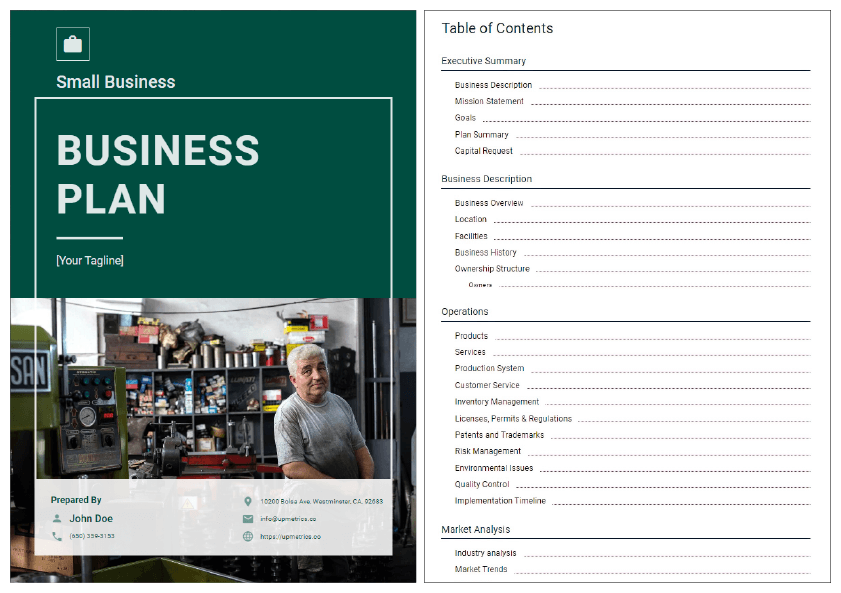 Template #5: Restaurant Business Plan Template
Every successful business requires a business plan, and your restaurant is no exception. Whether you plan to open a new restaurant or grow an existing one, this template can help you lay out a perfect plan for your business.
This restaurant business plan is specifically designed for restaurant businesses, so it's a no-brainer; it covers all the essential elements of a restaurant business plan that go into making a restaurant a success.
These elements include restaurant concept, target market, sample menu, marketing strategy, and others.
That's not it—this comprehensive restaurant business plan template comes with step-by-step instructions, so you can start writing a plan in no time.
Best for: Small to medium-sized restaurant and food-based business owners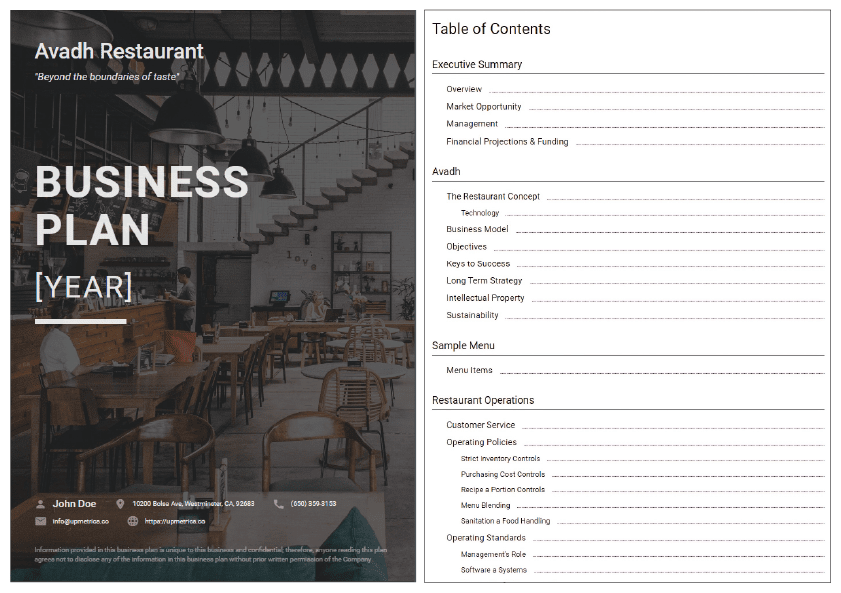 That was the list of top Google Docs business plan templates, but that's not it. Let's move forward to discussing the Google Sheets financial forecast template.
Download the Financial Forecast Template In Google Sheets
You must be like—yeah, got a Google Docs template to write a business plan, but what about financial forecasts and statements? Worry not—we've got you covered.
Since we can't prepare financial statements in Google Docs, we've created a Google Sheet for you. This financial statement template includes a balance sheet, income, and cash flow statement.
You can download and use this template to forecast cash flow, create balance sheets, and prepare income statements that provide detailed information about your revenue and expenses. So what are you waiting for?
How to Use a Google Docs Business Plan Template
We talked about so many things in this article so far—business plan template, its key elements, top Google Docs templates, and so forth. It's time we learn how to use a Google Docs template to create a business plan.
Ready? Here's how to use a Google Docs business plan template:
Download a Google Docs Template
You need to download the template first to use it, right? So, download one of the top 5 templates we discussed earlier in the article.
Make sure you have a Google Account to open this document.
(That's obvious, of course!)
We can proceed to the next step once you download and access the template.
Customize the Template
It's time to customize the template to turn it into a business plan.
You can make modifications to the design, update the logo and company details, and follow step-by-step instructions and the outline while modifying text.
We never said that customizing it would be an easy deal—there will be some serious legwork. However, there's another way around it.

Need a way out from manual editing and business plan writing work?
Get Upmetrics' business plan template, import data directly into the editor, and start editing using Upmetrics AI Assistant.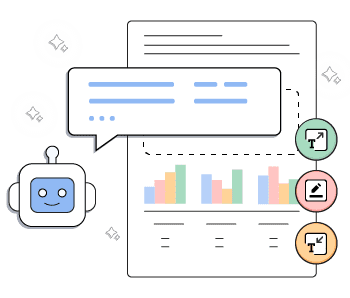 Understood how to use a Google Docs template? Great. Let's discuss the benefits of using these templates to prepare a business plan.
Benefits of Using Google Docs Business Plan Templates
Following are the key benefits of using a Google Docs template to prepare a business plan.
Real-time Collaboration
Google Docs makes collaborating with your team members or partners in real-time while working on your plan easier.
The real-time collaboration feature helps team members make the most of available resources and develop a business plan in the present moment, ensuring the best results.
Access Control
In extending to real-time collaboration, Google Docs allows you to control your team members' access. So, you can grant role-based access to your team members (view, edit, or comment)
Comments and Suggestions
Google Docs also allows readers or reviewers to comment or suggest any changes in the document. So, you can share your plan with your partners or mentors, asking for their suggestions or input.
Version History
Remember the days when we had to start over if we forgot to save a Word file or could not recover it if it was altered unnecessarily? Well, that's not the case with Version history.
This incredible feature enables you to revisit the previous version of your documents and even restore them. So, don't worry if you made any unnecessary changes—you can always go back in time.
Offline Access
Although Google Workspace is a cloud-based solution, you can access and update your document offline with "Offline Access". Just make sure your browser is up-to-date, and you've installed and turned on the Google Docs offline access extension.
Ease of Use
Using a Google Docs template for business planning is one of the easiest methods for creating a business plan. There's no extraordinary learning curve, and you won't need any technical skills to get started—it's pretty simple and easy to use.
Cost Efficient
Upmetrics offers free business plan templates, while Google Docs is free for individual users. This is what makes this business planning method ideal for beginners.
That's it, now you know the benefits too. This brings us to the conclusion.
Conclusion
To conclude, using these Google Docs templates is an easy and cost-effective way to develop your business plan. Is it the best? Not sure. These templates are free versions of Upmetrics' comprehensive business plan templates, so you may not make the most of them.
Google Docs may also fall short when forecasting financials or preparing complex sections and visual reports—business plan software is necessary for detailed business planning by all means.
A business planning tool like Upmetrics could be an incredible choice, it comes with 400+ business plan examples and an AI writing assistant to write sections of your plan.
Anyway, I hope you found what you were looking for. Start planning!