Are you looking to start a business, and need a business plan writing service in Florida? If yes, then voila here is the right place.
Florida ranked first among all states in terms of new entrepreneurs in 2019, with a startup early survival rate of over 78 percent. Therefore, it is favorable for entrepreneurs to start a business in this city. But without a plan, a business will not get its roadmap.
A well-written business plan is essential to the success of any organization due to the ever-increasing complexity of the business environment and the constantly shifting market conditions. Now, without further ado look at the below list of the top business plan writing services in Florida.
Best Business Plan Writing Services in Florida
Here are the top business plan writing services in Florida that have received positive reviews and are known for their quality work:
1. Butler Consultants
Butler Consultants are local business plan writers who create a business plan according to your needs. They have served various niche markets with their exceptional skills and knowledge. Various types of business plan writing they offer are:
SBA business plan
Investor business plan
Immigrant business plan
Non-profit business plan
Internal or strategic business plan
Other business plans
2. Cayenne Consulting
Cayenne Consulting can serve as an impartial partner to help you save a tonne of time by assisting with tasks like developing a strategy, conducting market and competitive research, creating a plan, creating presentation materials, and creating a capital formation strategy.
They have experts for everything you need for an established business plan.
3. Prepare Business Plan
Prepare Business Plan has a team of professional writers for business plans who understand the needs of your business and customize the business plan accordingly. They also provide projections by financial experts and high-quality presentations. Some other services they provide are:
4. Go Business Plans
Go Business Plans is a full-service business consulting company that is committed to assisting you in producing the customized business plans required to prevail in the fiercely competitive business world of today.
From business plan advice and website building to internet marketing and debt finance, their team of specialists can help you with anything you need to launch or expand your firm.
5. Wise Business Plans
At Wise Business Plans, they understand that every great business starts with a well-crafted plan. Thus you don't need to become a professional business plan writer to start a small business because Wise Business Plans can assist you at every step of the way with their professional business plan services. Services of Wise Business Plans:
Custom websites
Logo & branding
They also provide guidance & services for business licensing
Digital Marketing
Optimizing business credit profile
So, there were the top Florida business plan writers, but are you confused about how to choose the right one? Worry not, here are some of the tips that will help you choose the one business plan writer.
How to Choose the Right Business Plan Writer
When looking for a business plan writer or consulting company, you'll discover a wide range in the services provided, the method used, and the cost quoted. Here are a few ideas to take into account as you weigh your options:
1. Writing services and previous work
You should ask for examples of prior business plans from the writer you are considering hiring. When reviewing the sample, make sure the writing is clear and concise and that the document is free of any significant errors or typos. Since investors will primarily focus on the executive summary and financial model, be sure to give them a careful reading.
2. Price is not everything
Do not, however, make the error of judging a plan writer just on the price they offer; instead, search around for your plan to grasp the pricing possibilities accessible. While it is safe to assume that the least expensive option will produce a product and service of lower quality, the opposite is not always true, i.e., that the most expensive option will produce a product and service of the highest quality.
3. Be clear if you want business plan writing or editing
A plan lays out a company's strategy and how it will operate over the following five to ten years. The document outlines the company's current situation as well as the objectives it plans to aim to meet on an operational and financial level. As a result, the document is very personal to the business owner.
However, the writer won't be able to read the business owner's mind. A business plan writer can easily offer an objective look at the company, highlighting areas someone close to the company may miss. The owner must first choose whether he prefers a writer to draft the plan or an editor to polish it after the owner has prepared a draft.
4. Understand their process
It is necessary to understand the procedure of the writer or business consultant before you hire them. Because each contractor has their own procedure, for instance, some might give you a questionnaire to fill & some will have an interview round to learn more about your business.
Therefore, it is essential to understand the process and to know how will they communicate more with you for business information.

AI Business Plan Generator—A Better Alternative
Upmetrics is an efficient and reliable AI-Powered Business Plan Generator. It's the ultimate solution for modern entrepreneurs who want to create comprehensive business plans effortlessly.
The AI assistant offers various options through a convenient drop-down menu. You can select from features such as Auto Write, Auto Improve, shorten or expand the text, and even choose from professional, persuasive, or academic tones to refine your content.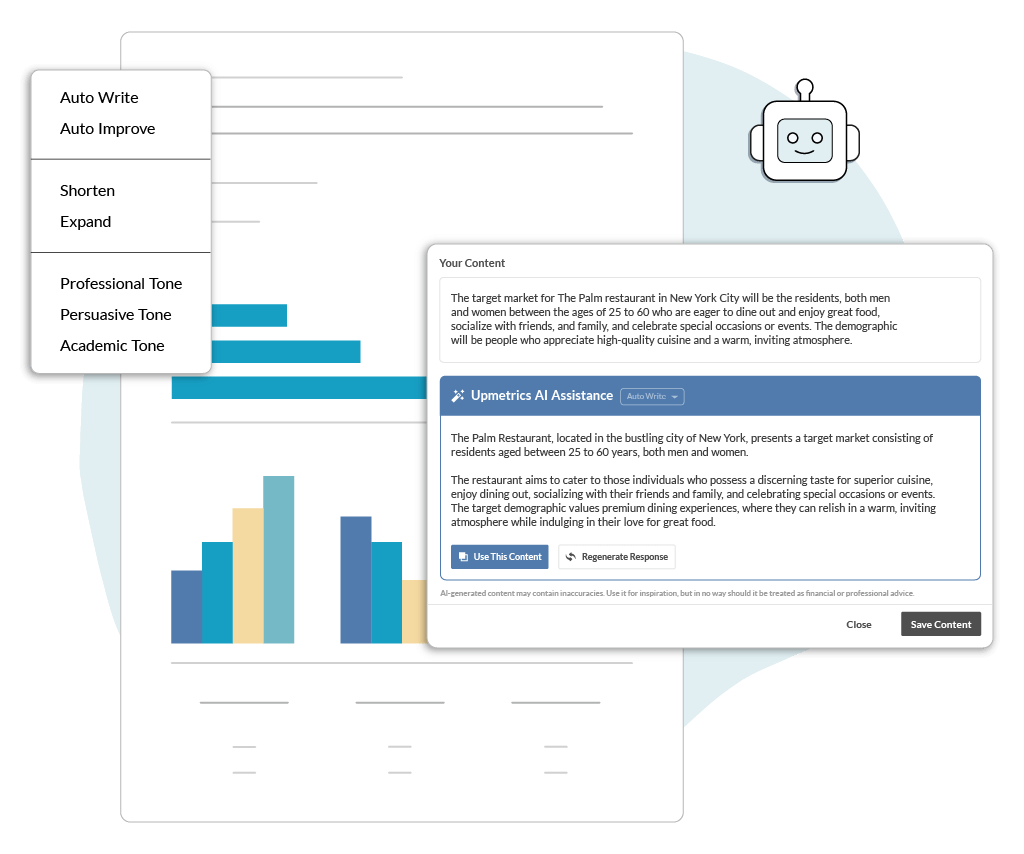 Here is a list of additional features provided by the Upmetrics AI assistant:
AI-powered text generation to write your business plan.
Content rewriting feature to polish or enhance content quality.
Content shortening option to briefly describe the context.
Expand upon your idea and introduce new concepts.
AI-powered assistant to help adjust the tone of your writing.
Accurate & reliable information depending on prompted information.
Real-time updates and cloud storage, eliminating the risk of data loss.
Intuitive, seamless, and responsive user interface.
Check and correct grammatical errors and spelling mistakes.
Business resources, video tutorials, and guides to help get started.
You might be thinking that all these features might cost you a fortune, but here is the surprise it is more affordable than hiring a business plan writer.
What are the Different Types of Business Plan Writing?
Business plan writers will need a lot of information about your business before they start writing your business plan, such as the vision-mission of your firm, your financial plan & projections, etc. Here are some of the specific requirements different business plan writers will need from you:
1. Bank Compliant Business Plan
A business plan that complies with the regulations and standards set by financial institutions, especially banks, when evaluating loan applications is a bank-compliant business plan.
Businesses must follow specific requirements and regulations set forth by banks to improve their chances of receiving funding. Therefore, a bank-compliant business plan writer understands the requirements of the financial institution and then starts writing your business plan.
An individual needs a bank-compliant business plan when he is seeking funding through a bank loan, venture capitalist, or SBA loan.
2. Immigrant Investor Business Plan
If you are planning to start or buy a business in another country, then you will need an immigrant business plan.
It is intended to explain to immigration authorities the viability and potential success of the proposed business start-up, displaying the entrepreneur's capacity to boost the economy and provide job possibilities to get the visa.
Various types of immigrant business plans are E1 visa business plan, E2 visa business plan, L1 visa business plan, L2 visa business plan, HB-1 visa business plan, and EB-5 visa business plan.
3. Internal Management Business Plan
An internal management plan is for internal business operations. It outlines the organization's goals, strategies, and operational procedures to help management effectively run and grow the business.
Contrary to other business plans, this business plan is written only for management purposes and not for investors or any other external readers.
4. Crowdfunding Business Plan
Startups and other new enterprises utilize a crowdfunding business plan to generate funding from a wide crowd.
It functions as a road map for drawing in crowdfunders and efficiently running the crowdfunding process.
The types of crowdfunding business plans are business plans for seed round financing, business plans for series A financing, and business plans for series B financing.
5. Non-Profit Business Plan
A nonprofit business plan outlines a non-profit organization's current state and establishes a roadmap for the following three to five years. It also outlines the plans for achieving your goals.
While a nonprofit business plan resembles a regular business strategy, it also places more emphasis on the organization's social or communal effect than on financial viability.
Various non-profit organizations' business plans are NGO business plans, World Bank business plans, and OPEC business plans.
Some Common Steps to Writing a Business Plan
A business plan is a roadmap, so messing the format up is a big no. Here are some common sections you need to include in your business plan:
Executive Summary:

It includes a brief and concise overview of the entire business plan

Business Overview:

It contains the details of your business including name, business type, location, history, legal structure, etc.

Market Analysis:

The target market, competitive analysis, market trends, etc. are incorporated in this section.

Products & Services:

This section has all the details about your products and services, a product description, pricing, etc.

Sales & Marketing Strategies:

Once you have your products and services mentioned, it is necessary to write down how will you sell and market them.

Operations Plan:

It includes the operational process, staffing & hiring of your company, and the machinery or equipment you will use in the business.

Management Team:

Mention all the key executives and managers of your firm in this section.

Financial Plan:

The financial forecasting for the first few years of your company should be outlined in your financial plan section.

Appendix:

Include any other details that would be important to your business plan in this section, such as the resumes of important employees, marketing materials, or legal documents.
Read more: How to Write a Business Plan for a Small Business
How to Start a Business in Florida
Florida is one of the top 10 states of the United States, so obviously starting a business here is rewarding. But you must complete several procedures before you start a business in Florida. These steps include:
Pick the right business idea
Plan your business
Register your Florida business
Apply for licenses and permits
Apply for bank accounts & business credit cards
Identify your business employer's requirements
Fund your Florida business
Hire employees and build your team
Prepare to launch your business
Additionally, you might need to obtain business insurance and adhere to standards relevant to your industry. This is the official website of the USA providing all the business information.
Learn more: How to Start a Business in Florida
Why Hire Costly Writers? Use Software for Business Plans!
Why pay high fees to consultants? Opt for business plan software, get comprehensive plans, save money, and gain control over your business's roadmap
Get Started Now!