Improve your business plan with AI writing assistant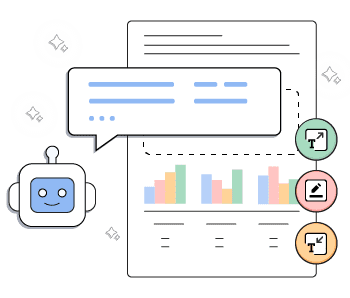 Upmetrics aims to make your plan-making process easier, quicker, and more impressive. With every update, new feature, and design, our team works tirelessly to improve Upmetrics to support your business goals.
But as an entrepreneur, you may find writing a professional business plan daunting, right? You might have a fantastic idea & have done thorough market research, but putting it all in one place needs extra effort.
This is where our new AI-Assistant feature comes to your rescue. It can auto-write, shorten or expand, auto-improve, or change the tone of your content to help you articulate the perfect business plan.
Improve Your Plan With the Upmetrics AI Assistant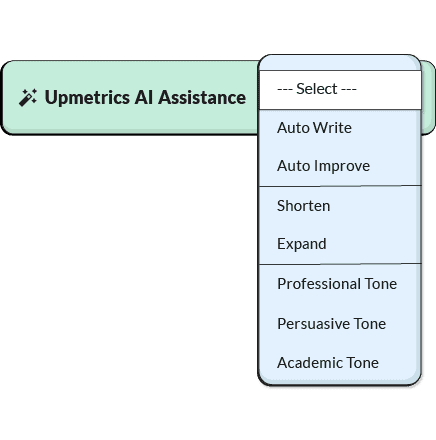 You just need to get your basic ideas right and rest our AI Assistant will help you with. It can:
This is how our AI Assistant can help you make your business plan better. 
How Does the AI Assistant Tool Work?
To use Upmetrics AI Assistant, all you have to do is go to your workspace, open your business plan, and at the lower right corner of each section, you will find the AI Assistant.
Go to the particular section of the business plan, and if you want to auto-write it, add a prompt, and our assistant will prepare that section's content.
You can click on "use this content," edit it and save it to use the assistant-generated content for any section or even regenerate the response.
It will be so thoughtful of you; if you leave feedback on the quality of the response generated by our AI-Assistant to improve our services.
Interested in learning what else the Upmetrics Assistant can do? Click here.
What can you do with the AI Tool?
Right now our AI-Assistant generates text using seven unique options.
With the help of our indispensable AI Assistant, which has been built to speed up the procedure, you can unleash the potential of AI-powered automation for your business plan writing needs.
You can auto-write the section you are confused about and make necessary edits according to your needs before saving the content.
You can count on this prompt when you want your content organized, clear, and active. This effective prompt identifies areas for growth and aids in creating engaging content that highlights your business's vision and potential.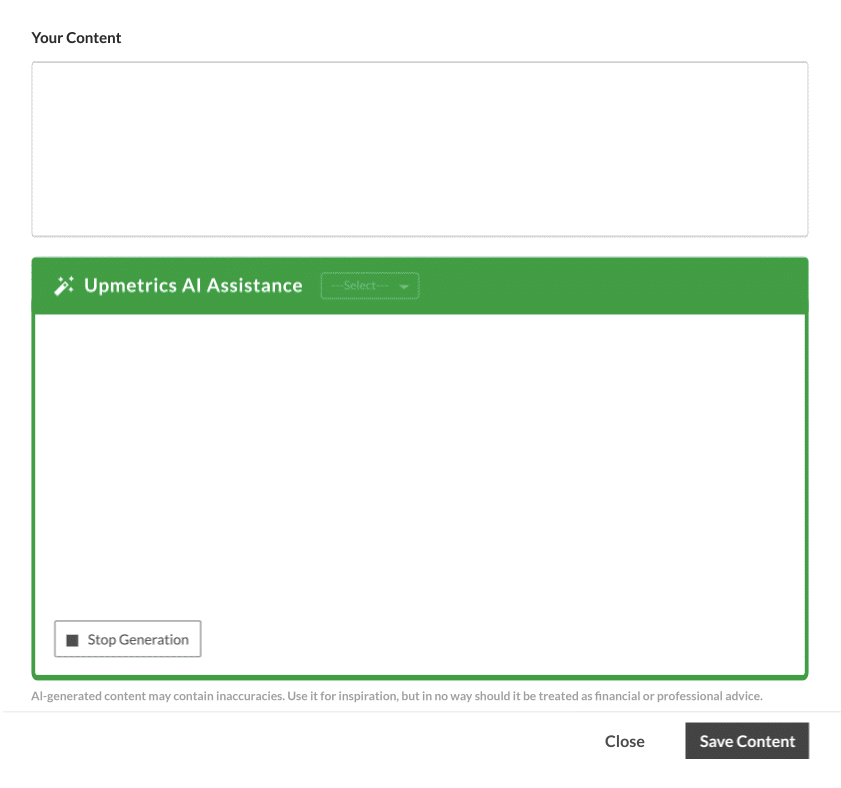 Create winning Business Plans with ultimate
AI Business Plan Generator
Plans starting from $7/month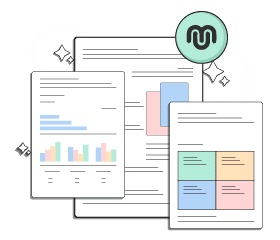 Do you feel your plan is too wordy & lengthy? Use this prompt to shorten your content and make it precise without removing any essential information from your business plan. It will cut out redundant content, and fillers also merge two ideas.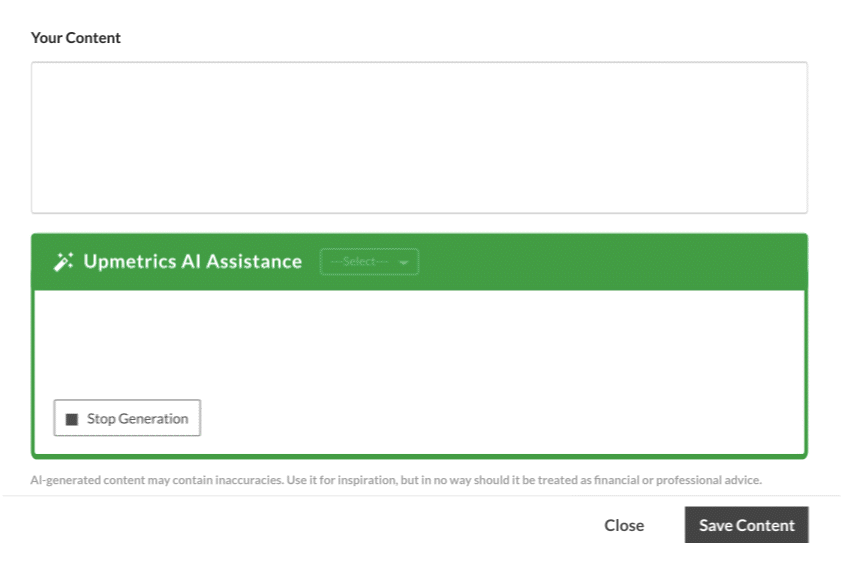 You can effortlessly increase the depth and breadth of your business plan by utilizing the power of our AI assistant, assuring thorough coverage of all crucial components.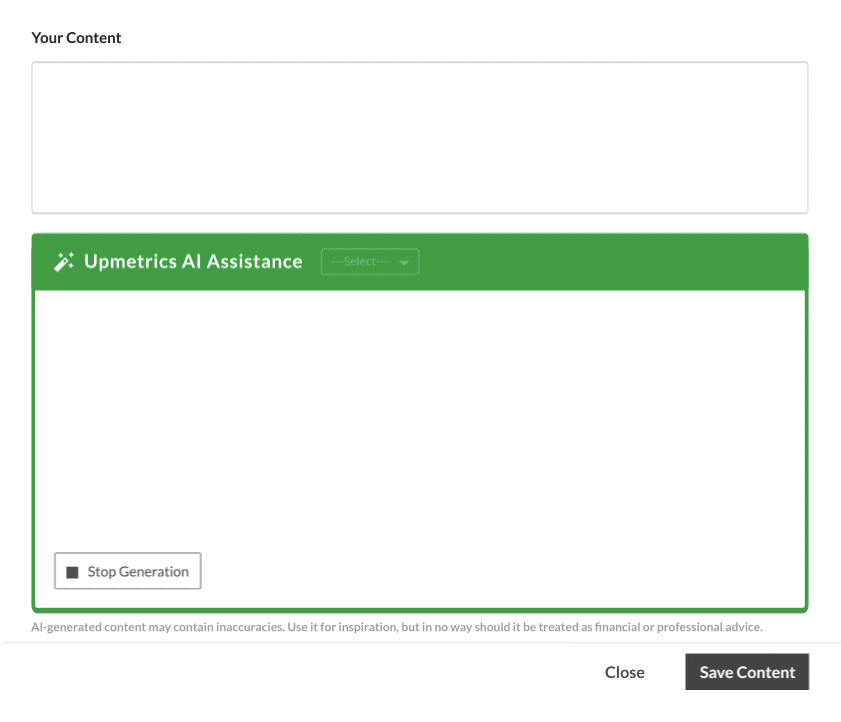 Elevate the professionalism of your business plan with our AI-Assistant. You can easily apply for a loan or present your business plan in front of your investors after changing the tone of your business plan and keeping it as professional as you can.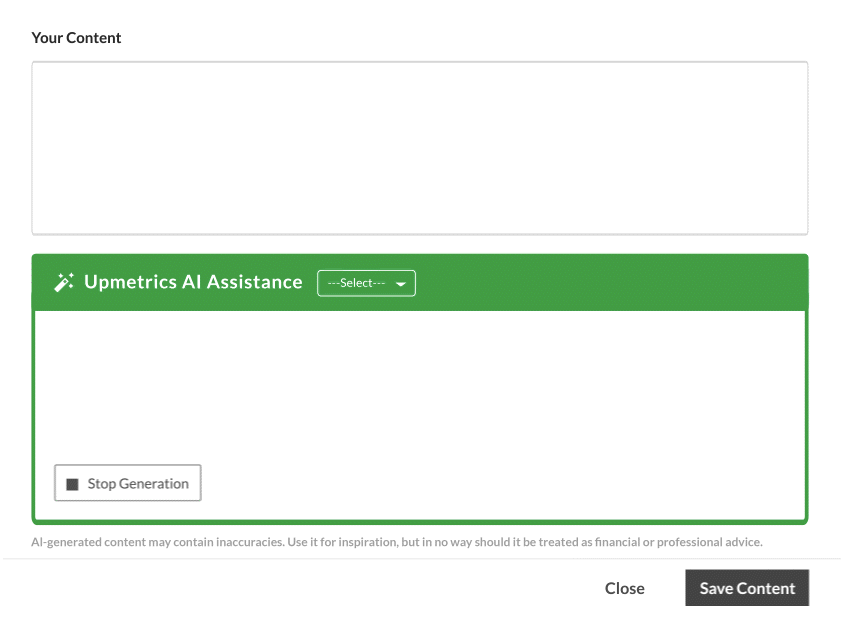 Why are you Introducing an AI Feature?
We bring in the new update to enhance our services and provide additional value to our users. In the same manner, our AI Assistant will alter the way new entrepreneurs write their business plans.
That doesn't mean that our AI Assistant is going to be an "easy switch" to write business plans, as we believe that planning needs a thorough understanding of the business. But it will definitely be a part of creating an investment-ready business plan.
As a result, any Upmetrics features we introduce will provide you with:
Any sensitive information is safe with us by upholding industry best practices and standards for data security and privacy.
Use Upmetrics Assistant to Create a Better Plan
Our AI Assistant is live for all premium accounts, and we are thrilled to provide you with such a fantastic tool.
We hope you will love the simplified process of business plan writing with the help of AI. For any further queries, you can always contact us at Upmetrics Support.