Financial forecasting made simpler and faster with AI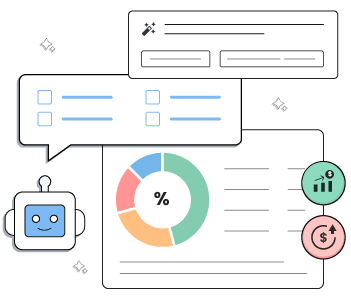 We had a pretty clear reason when we ought to build and launch this feature—the goal was to make forecasting easier, faster, and, most of all, fun for our users.
Where does the most of your money come from? What are your projected operational expenses for the year? Answering these questions is no easy feat, at least for someone planning for the first time.
Not anymore—our latest update helps you take care of it. Presenting AI-powered forecasting with recommended expenses and revenue streams.
Let's explore how it works.
How does this help you plan better?
You may already have a basic idea about your key expenses and where most of the money comes from, but representing them in your forecasting may not be simple like that. Here's what Upmetrics Assistant can help you with:
Suggesting ideas and transforming them into realistic forecasts.
Ideas for revenue streams, expenses, cost of sales, and personnel, ensuring you don't miss out on any critical information.
Helping you prepare forecasts and visual reports that lenders and investors can easily understand.
How does the AI-powered forecasting work?
Guesswork. It is the first step in financial forecasting, where you brainstorm and identify your potential revenue streams, expenses, costs of sales, and personnel requirements.
With Upmetrics Assistant, you can simply skip the step, eliminating all the guesswork. This is what AI can do and how you can use it:
Need help forecasting your sales and revenue streams? Head over to the revenue section in the financial forecasting tool and hit "Forecast with AI". 
You'll be prompted to enter a brief description of your business.
Once you do that, the AI Assistant will open a dialogue box filled with potential revenue stream suggestions for the given business category. Here's an example showing AI-powered revenue stream suggestions.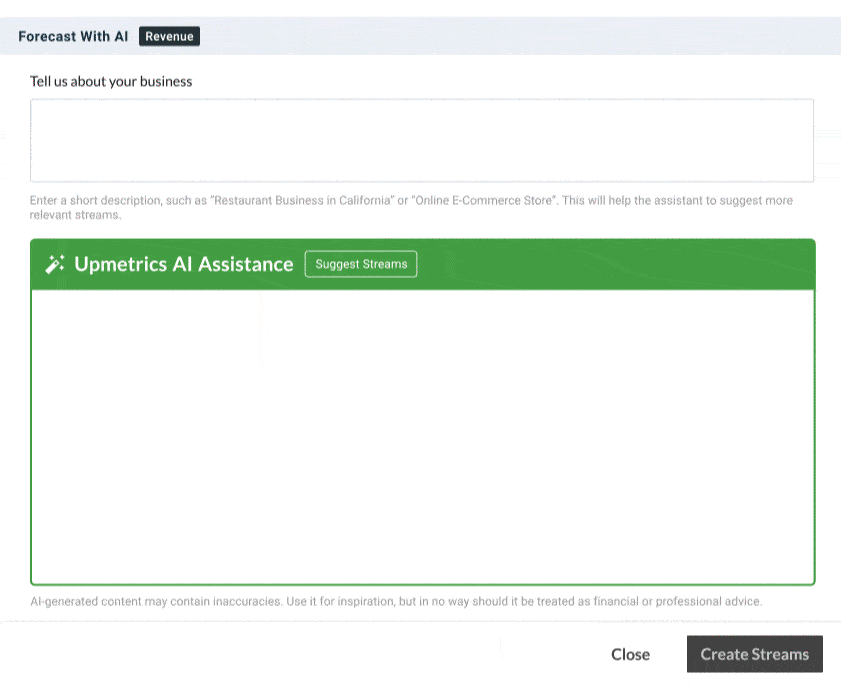 Select the ones as you see fit, or click on "regenerate streams" for more options. Once you have your revenue streams created, include pricing and other information to complete the setup. You can always return and make changes or updates, so don't bother.
Getting expense suggestions from AI is similar to what it was for suggested revenue streams. Click on "Forecast with AI" in the expenses section to access the expense suggestions dialogue box.
Enter the brief description of your business, and it will suggest all the possible expenses, including operational, marketing, and other necessary costs. Here's an example: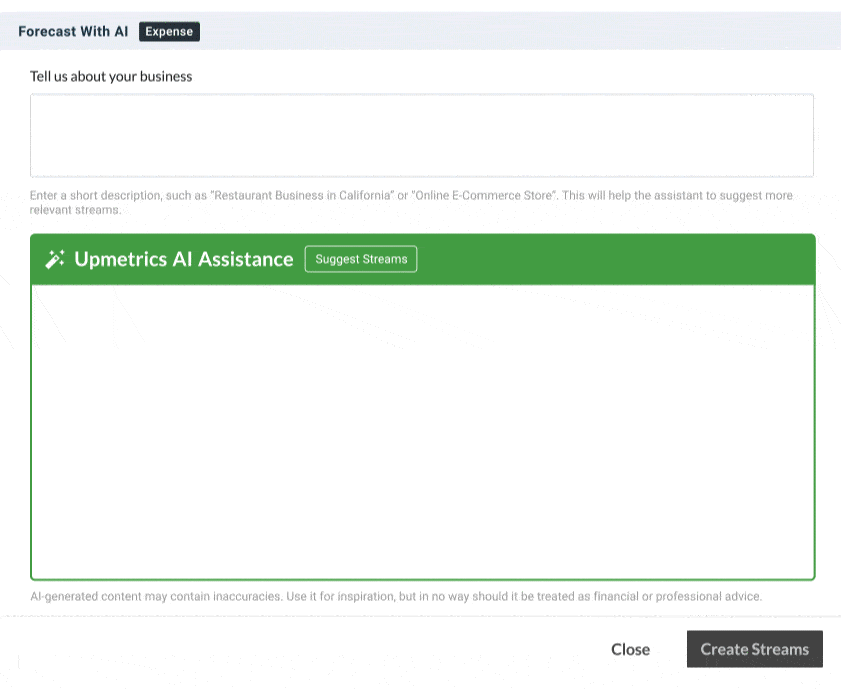 Click on the expenses you wish to include in your forecast and finish the setup by adding the necessary details.
Cost of sales suggestions
As you may already know, the cost of sales are direct cost that you incur to sell your product or services. Although these costs seem more complex than the previous two, Upmetrics Assistant can easily assist you with the suggestions.
Here's how recommendations for the cost of sales look like: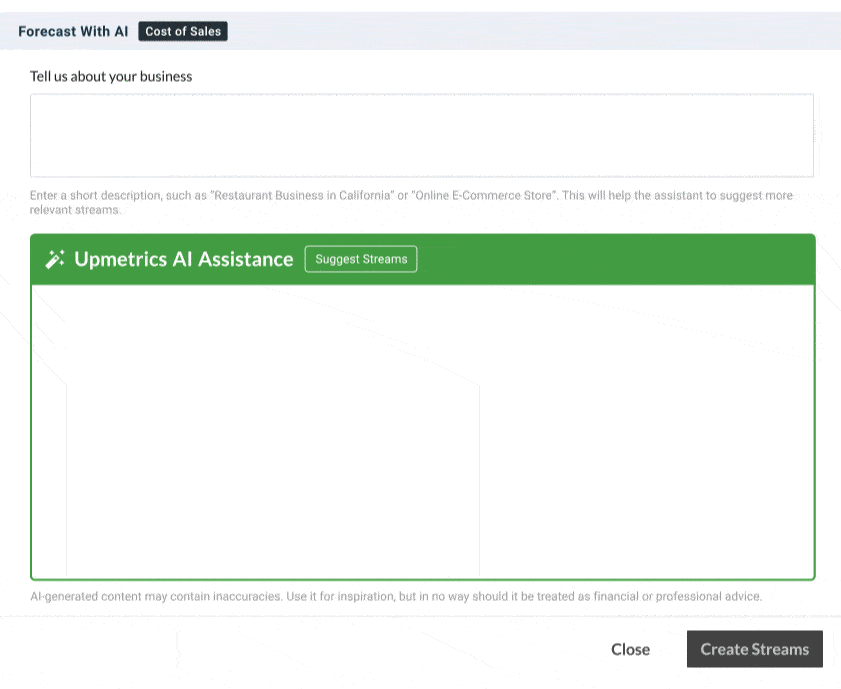 Wondering what employees or personnel you may need to hire? Upmetrics' personnel suggestions have got you covered. Follow the same process you did to get recommendations for revenue, expenses, and cost of sales to get personnel suggestions.
Your personnel recommendations may look something like this: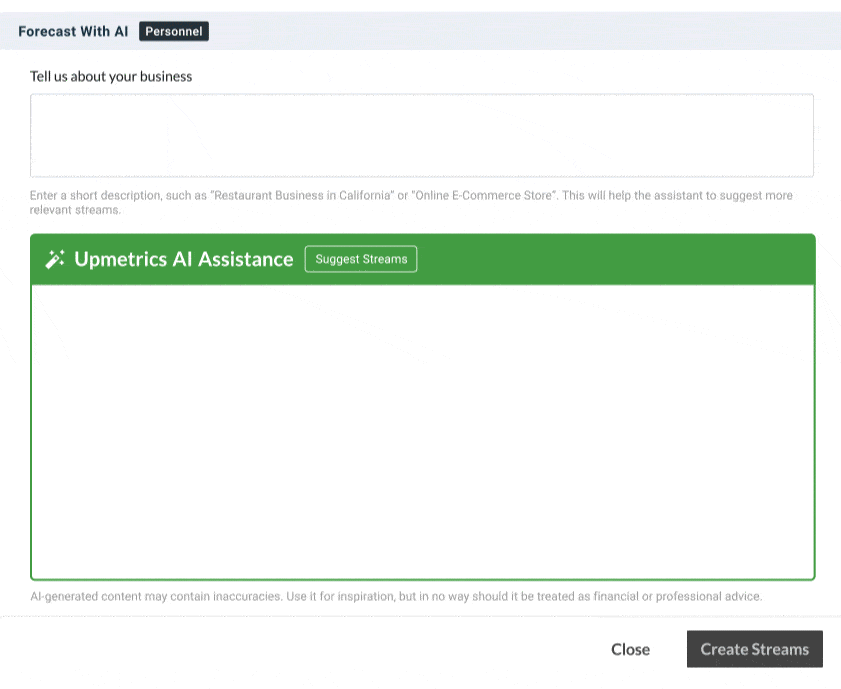 It's as simple as that.
Just start selecting and adding the streams or expenses into your forecast. And if you ever need to adjust your company description, remember you can always return and update it later.
Make accurate forecasts faster with Upmetrics AI
Suggested revenue and expense streams are now available for all Upmetrics premium users. It's an addition to the existing capabilities of the Upmetrics AI Assistant. 
The Upmetrics Assistant that used to help you write will now also help with the financial forecasts. Be sure to check out this new feature.
We hope you will love this simplified process of financial planning. For any further queries, you can always contact us at Upmetrics Support.