Business Plan Template for Small Businesses
If you are planning to start a small business, the first thing you will need is a business plan. Use our small business plan template created using upmetrics business plan software to start writing your business plan in no time.
Before you start writing a business plan, spend as much time as you can reading through some sample business plans.
Reading sample business plans will give you a good idea of what you're aiming for and also it will show you the different sections that different entrepreneurs include and the language they use to write about themselves and their business goals.
As a small business owner, you must focus on your business growth, and you can only grow as a business by having a clear business plan with a specific set of goals that you hope to achieve in the future years.
With our small business plan template, you will have the business plan builder tool that you can use to write your business plan and present that business plan to the world. This way, you will be able to execute your plan towards success in your entrepreneurial path.
We have created this small business plan template for you to get a good idea about how a perfect small business plan should look like and what details you will need to include in your stunning business plan.
Preview our small business plan template, Let's start writing your own business plan.
It's easy and fun with Upmetrics.
Now that you know the importance of writing and presenting your small business plan, here is the outline of the sections that should be in a small business plan.
Small Business Plan Template Outline
Executive Summary

Business Description
Mission Statement
Goals
Plan Summary
Capital Request
Business Description

Business Overview

Location
Facilities
Business History
Ownership Structure

Operations

Products
Services
Production System
Customer Service
Inventory Management
Licenses, Permits & Regulations
Patents and Trademarks
Risk Management
Environmental Issues
Quality Control
Implementation Timeline

Market

Market Trends
Customers
Market Segments
Target Market

Marketing Plan

Marketing Contracts
Strategic Partners
Pricing
Promotion
Distribution
Competitive Advantage
SWOT Analysis

Management & Organization

Management Team
Board of Directors
Advisory Board
Personnel Plan
Professional Services

Financial Plan

Financial Position
Historical Performance
Financial Projections

Income statement
Cashflow
Balance Sheet

Benchmarks
Capital Request
Use this sample plan as your guideline and start editing it right away.
It's easy and fun with Upmetrics.
After getting started with upmetrics, you can copy this small business plan template into your business plan and modify the required information and download your small business plan pdf and doc file. It's the fastest and easiest way to start writing your business plan for a new small business.
Customize your Business Plan
All businesses are different. So, don't hesitate to customize your business plan according to your requirements. Even though our sample business plans aim to help you create the perfect presentation for your clients and investors, it is finally up to you to decide how you're going to present your ideas in the best light.
Get started with upmetrics and use this business plan template to write your plan in half of the time.
Use This Template Now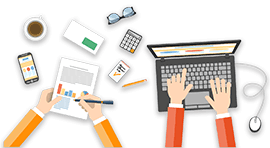 Business Plan Software
How you would you like to rate this template?
Thank you! We have received your rating.
Our upmetrics business plan software can help you to customize your business plan and provides you a step-by-step guide to write your business plan. You can save your plan online and update it any time, or download it as a PDF or DOC file. You can share business plan online with investors or any other important person with upmetrics easily.
DISCLAIMER: The business plans, templates, and articles contained on upmetrics.co are not to be considered as legal advice. All content is for informational purposes, and upmetrics makes no claim as to accuracy, legality or suitability. The site owner shall not be held liable for any errors, omissions or for damages of any kind.