How to Start a Web Design Business From Scratch
Starting a web design venture might feel pretty straightforward to someone with the skills for it. The creativity for web design or coding skills is not at the test for a business, but how you're going to sell your web design service is. In fact, there are several crucial factors for a website that is well-designed and structured for the client.
Several web design standards and principles are recommended for profitable sites. Before delivering a web design service professionally, you must get acquainted with these to lay the foundation for your business. There are more aspects to be taken care of than you'd think when you think about how to start a web design business.
A Step-by-step Guide for a Web-design Business
These are some aspects you need to consider for starting a web design business:
1. Lay down your Work Environment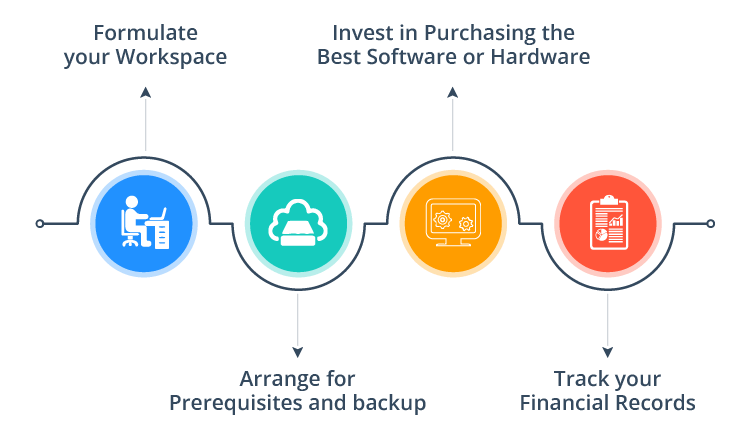 Formulate your Workspace

Are you excited to start your web design business? Let's have a quick check at what you need – beginning with having a settled work environment. While you might have taken a few freelance gigs already, a separate space might be ideal if you're going to meet the hectic deadlines of a full-fledged business.

You can utilize a small space with a usual or standing desk and an efficient physical or online filing system to keep track of your clients. Feedback templates, and a portfolio for display, of all these things are basic prerequisites to lay the foundation for your web design business.
Arrange for Prerequisites and backup

If you're going to run a business online, you need some things. Internet- to begin with. A faulty internet connection, power cut, or miscommunication with your clients can be unpredictable. Invest in a good internet connection and test it out throughout the planning process.

A shabby web design portfolio can also be your downfall. You need to work on a pristine work portfolio with active website links that you created and a variety of options for clients to choose from. This might take months to put together, so get started with your dream portfolio presentation.

Invest in Purchasing the Best Software or Hardware

If you are a web professional, it is necessary to have essential tools to design your website aesthetically with flyers, logos, and social connectives. Being a web designer, you need a Laptop or Desktop with a heavy-duty configuration to support various software so that it doesn't affect your work.

Additionally, you need robust creative software for graphic designing, hosting services, domain availabilities, and installation of web applications and plugins. You need to invest your time as well as money to find your required software.

Track your Financial Records

Most businesses face issues while tracking their bookkeeping and accounts. Hence, invest some time and money in collaboration with financial experts and find finance tools you can use for managing this aspect readily.

You can implement automated generated invoices, record your income, and much more to make financial management easier with technology!
2. Find Clients for your Services
Even before selecting a niche, consider to who you want to target your services. What kind of clients can bring in regular and high-quality business? Which ones would be the easiest to market to? Once you have a target audience suitable for good business, you can easily narrow down some niches depending on your skills.
Define a Niche

There are various sub-domains within Web Designing. If you don't want your services to be general, it's worth bringing up your specialization. It's valuable to spend time researching your niche so that you can make an effort to focus on the market, demographic, specific e-commerce sites, management solutions, technical solutions, or any other.

Once you know your niche, then you can proceed to deliver quality work. Deciding on a niche is essential to outsource positive results.
Know your Audience

Once you identify your niche, the next step is to know your target segment. The key to a successful business is customer satisfaction. To engage clients in your services, you need to focus on their demographics, their interests, and requirements, and even effective communication matters a lot.

It's essential to stay updated with the latest trends in your niche to ensure that you're providing your target segment with the most relevant services and meeting their ever-changing demands.

Validate your criteria depending on various technical factors, financial factors, quality work, on-time delivery, and skills to scale up work potential. These are strategies that help to know whom you are targeting.
3. Build your Business Plan and Model
The business model depends upon your services and offerings. You need to decide on your services, think of strategies to enhance productivity, and set up a price range to generate stable monthly revenue. Setting up a detailed business plan is essential to sort out your services, finances, and collaborations.
Have a look at the ultimate Web Design Business Plan Template to get started. Here are some specifics you can consider to define your services.
Defines your Services

Your website business is almost set to begin, but you need to finalize your offerings before that. You know your audience and your team's bandwidth; depending upon that, note down your offering of services. Some of the essential services you'd like to include are listed below:

Web Design and Development
Website redesigning
Hardcode Web Designing from scratch
Online Marketing
SEO Writing
Copywriting
Email Marketing

If you are done finalizing the list of your offerings, then it's time to set pricing for each service. How are the prices fixed? Before putting any cost, you must check for the competitor's pricing segment.

You can either use billing based on the entire project or hourly work. But make sure whatever you charge, you should be suitable to manage business finances from the get-go.
4. Collaborate to form a Team
Once you settle your business environment, tools, finding clients, and business plan, it's time to hire some skilled professionals for different departments. To interact with clients, you need a Consultant with excellent communication skills.
Then you need a Sales & Marketing team to market your services, full-fledged Content Writers for writing website content, a skilled Graphic Designer for designing flyers and posters, and an Administrator to monitor the network and even maintain security.
Additionally, you need an SEO expert, Telecallers, and a Project Manager for handling the entire team. Initially, you can build your team with these skills and begin your business.
5. Create Pre-Samples and Proposals
How will you pitch the clients to avail of your services? You can design a PowerPoint presentation to showcase more details about your services and their pricing. Additionally, you can create pre-work samples like a dummy website based on any niche or ongoing project proposals, etc.
Looking at the work samples, your submission, and the presentation, the client can hire you if you fit the bill. Thus, the relevance of portfolio samples is supreme. You must use smart contracts between you and the clients specifying all the details. Once all the conditions are fulfilled, then an automated payment can be released.
6. Establish Site Launching Process
The final stage of project completion is to establish the client's site launching process. It's your responsibility to check the website minutely before launch. It's a significant task for the development as well as the operational team to mark the flaws and rectify the changes—These are some areas to take care of for an optimal site launching process:
Validate HTML and CSS.
Integration with different social media platforms.
404 error requests or 301 redirects.
Testing every functionality present on the website.
Check for the updated plugins as well as the schedule.
With these aspects in order, you can go ahead and market your Web design business and make it ready for business!
Summing Up
Thus, your creativity can very viably fuel a full-fledged web design business. To expand your business, you can hire more employees and creative minds to take care of different aspects of website design. Browse through different business plan examples on Upmetrics to plan all aspects of your booming web design venture!
Don't forget to share this post!