Fast Facts
Startup costs: $25,700 – $203,200
Industry trend: growing
Difficulty: Easy to Moderate
Profitability: $58,000 – $188,000 p.a.
Time to build: 1 – 3 months
Commitment: Full-time
If you talk about booming businesses in the US, you might not consider the trucking business in it. But it won't take much time to reconsider your decision if you see the amount of trucks on a busy interstate. In fact, about 70% of the products people in the US use are transported by trucks.
Now, starting a trucking company is more than just getting on the road. It includes various essential steps, such as hiring good drivers, choosing the correct business entity, and managing the financial aspects.
In this article, we have compiled a simple guide to help you start a trucking company. Let's dive in and explore this fantastic trucking industry!
How much money do you need to start a trucking business?
If you want to start with one truck, it'll cost you between $25,000 and $200,000. This pays for maintenance, operating costs, legal formalities, and other needs. If you think of having more than one truck, you'll need to spend more.
Things you will need to start a trucking company:
A semi-truck and trailer.
Tools for roadside repairs to keep your truck in good shape.
Check out our trucking company startup costs guide to learn more about how much you can expect to spend while getting started.
What is the Average Trucking Profit Margin?
As per The Boss Magazine, a trucking business owner-operator typically has a profit margin ranging from 2.5% to 6%.
On average,  truck business owner-operators earn around $1.55 for every mile they drive. Industry experts at American Truck Business Services report that drivers cover about 121,500 miles annually. So, if you can drive 75,000 miles in your first year, you can expect to generate gross revenue slightly above $115,000.
Remember that the profit your business makes depends on various factors, such as the number of trucks you run and the kind of cargo you transport, among other things.
Pros and Cons of Starting a Trucking Business
When you're thinking of starting your own trucking company, it's essential to know the good and bad sides of it. Here's a simple list of the good things and the not-so-good things about running a trucking company.
Pros
 Freedom to choose clients.
High customer retention rates.
Recession-proof business with growing demand.
Cons
You'll need to do some marketing to build up your reputation.
It might take a year or two to start making much money.
The job can be tiring and may affect your health.
Step-by-step Guide to Start a Trucking Business
1. Understanding the Trucking Industry and Market
The trucking business feels the ups and downs of the economy more than most. When people are buying, trucking speeds up. But when times are tough, and people aren't shopping as much, deliveries drop, and trucking hits a speed bump.
Let's break down the must-know trucking facts and figures for 2023:
Industry size and past growth – Even with the tough times in 2020 due to the pandemic, the U.S. trucking industry was still worth a whopping $732 billion.
Growth forecast – According to research, trucking activity could go up by 6% each year until 2030.
Number of businesses – As of June 2023, the U.S. had almost 1.86 million trucking companies.
Number of people employed – Over 3 million truck drivers, as per American Trucking Associations.
New technology – Tech advancements in route optimization and trailer tracking are rapidly evolving the trucking industry.
2. Brainstorm a Business Name
Your business name is your first hello to your customers. It puts your mission, services, and the essence of your business into just a few words. You'll want something catchy and straightforward.
So, how do you come up with the perfect business name? Here are some handy tips:
Go for short, fun, and easy-to-remember names. They're the ones that usually stick.
Pick a name that rolls off the tongue and is easy to spell.
Make sure your name connects with what you're selling or the service you're offering.
Don't shy away from asking everyone—your family, pals, workmates, or even your online circle — for their ideas.
Use key terms related to your business, like "trucking" or "logistics." It's suitable for your online findability.
Steer clear of names tied to a location, just in case you grow beyond your neighborhood.
Give online business name generators a try. Punch in some words, hit "generate," and voilà — instant ideas.
Once you've picked a suitable name, visit the U.S. Patent and Trademark Office's website to check if it's available. Also, make sure you can get a matching web address. It's best to go for a ".com" or ".org" if possible because they're like a reliable handshake online.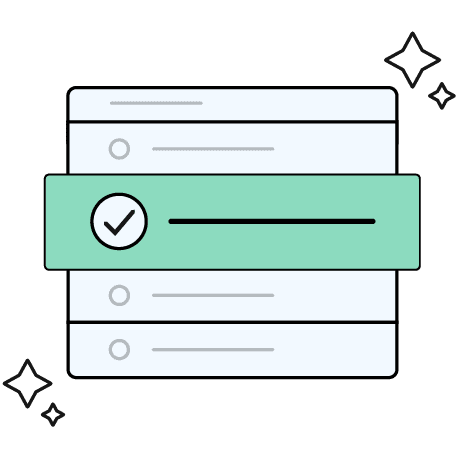 Want a Unique Name for your Trucking Company?
Generate a brandable and catchy business name in seconds with our free business name generator for trucking company.
3. Write a Business Plan
Now, let's discuss planning for the future of your company. Imagine building a ship – a massive, ambitious project. Would you start without blueprints? That's where a well-structured trucking business plan comes in. The Small Business Administration (SBA) also supports this idea. They recommend looking ahead, usually 3-5 years, and sketching your strategy for increasing your earnings.
So, what goes into this master plan? Here's a breakdown:
Executive Summary
Company Description
Operations
Product and Services
Market Analysis
Sales and Marketing
Financial Projections
Creating these sections with precision is not easy. It demands time, careful attention to detail, and ongoing dedication.

Write a trucking business plan in no time
Get Upmetrics' business plan template, import data directly into the editor, and start editing using Upmetrics AI Assistant.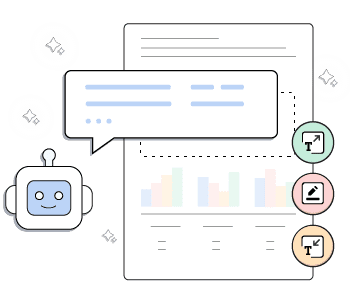 4. Find the Right Location for Your Trucking Business
At first, you don't require a fancy office to start a trucking company. Actually, in the beginning, your home can serve as your business base, especially if you have space for your truck. It's about keeping those early expenses in check while you get started.
But, as things get busier, you might need a new office space. You can search for available commercial spaces to rent on websites like Loopnet, Craigslist, Crexi, or Commercial Cafe.
5. Choose the Right Truck
Starting a trucking company means you're in for a major investment: your truck. It's not just any piece of equipment; it's your future office, workhorse, and the heart of your new enterprise. So, how do you make sure you pick the right one? It's not just about the shiny parts!
Here's a simple guide to consider when you're truck-shopping:
Aim for value for money: not too expensive, yet not suspiciously cheap. Finding the middle ground is essential.
You'll spend countless hours driving, so select a truck that offers a pleasant ride.
Think about which cab style aligns with your needs and working habits.
Choose a brand that has widespread dealer support for hassle-free servicing anywhere.
Pay attention to the maximum weight the truck can carry. It's fundamental based on what you plan to haul.
Before finalizing your choice, test drive it. You may prefer renowned brands like Kenworth, Freightliner, or Peterbilt because they consistently meet truckers' needs.
Then comes a critical decision: should you buy or lease?
Purchasing allows you to own the truck outright after complete payment, building your financial assets for future leverage. However, it often involves a substantial initial payment (typically 10% to 25%).
Leasing might be less burdensome on your wallet initially and may include benefits like upkeep services. It's like renting an apartment; you follow the rules, keep it tidy, and watch the mileage, but it's never truly yours. Go for leasing if you have bad credit or don't have enough funds for a down payment.
6. Register Your Trucking Business
First, you need to figure out the type of business entity you're setting up. If you're building a new trucking company, here are your choices:
Sole Proprietorship
General Partnership
Limited Liability Company (LLC)
Limited Partnership
Corporation
Experts often suggest a Limited Liability Company (LLC), as highlighted by trusted platforms like Forbes. It protects your savings from business losses and comes with tax perks.
Finding a Registered Agent
Once you've chosen your business type, and if your choice is an LLC or Corporation, the next step is to appoint a Registered Agent.
This person or service company is crucial – they handle important mail and legal papers for your trucking company, acting as your official go-between with the legal system. They need to be located in the same state where your shop is.
State Registration and Getting an EIN
Now, you need to register your trucking company officially. Each state has different rules, so pay attention to the details. You'll usually deal with the state's Secretary's office for this.
Also, it's time to get an Employer Identification Number (EIN) from the Internal Revenue Service (IRS). Consider it the social security number for your business, crucial for tax purposes and setting up a business bank account.
Signing Up for Taxes
Finally, tackle the tax setup. You have to register with the proper state and federal tax bodies. This means sorting out sales tax, income tax, and employment taxes, especially if you hire other truck drivers.
It may seem like a lot, but a Registered Agent will be your guide, helping you understand and follow all the local legal rules.
7. Apply for Business Licenses and Permits
In the world of trucking, there's one golden ticket that separates the amateurs from the real deal: a Commercial Driver's License (CDL). It's not just some fancy card to stuff in your wallet. The Federal Motor Carrier Safety Administration (FMCSA) requires it for safety and compliance standards.
Here's the straightforward process for obtaining a CDL:
Confirm you're at least 21 (or 18-20 for in-state only).
Apply with your identity proof, U.S. residency evidence, and social security number.
Pass the required vision and knowledge examinations.
Secure a CLP to practice supervised driving.
Complete an in-depth practical driving evaluation.
Finalize fees and receive your official CDL.
In the trucking business, you'll face numerous rules from authorities like the Federal Motor Carrier Safety Administration (FMCSA). It can be a lot, but completing each form is progress in starting your business. Here's what you need to prepare:
USDOT Number: This is your unique identifier and is used in all compliance checks and inspections.
Operating Authority (MC number): This authorization defines what materials you can haul and which areas you can service. You may require one or more MC numbers depending on your business operations.
Heavy Vehicle Use Tax and UCR: You must pay specific taxes if your truck is over a certain weight and register your business for insurance verification.
International Plans: If crossing state lines or entering Canada, you'll need IRP and International Fuel Tax Agreement licenses. These cover your vehicle registration and fuel tax reporting, respectively.
BOC-3 Filing: This paperwork assigns a process agent to your company in every state you operate. You'll need this before you can get your operating authority.
FMCSA Clearinghouse Registration: This new requirement is designed to improve road safety by creating a secure online database that tracks CDL drivers' drug and alcohol program violations.
Given the detailed nature of these prerequisites, many new trucking businesses choose to employ registered FMCSA filers' services. These professionals can guide you through this administrative maze, often offering a cost-effective way to handle these critical first steps.
8. Get Business Insurance
Starting a business involves taking risks, and wise trucking owner-operators understand that unexpected situations can disrupt the best-laid plans. This is where business insurance becomes your safeguard. It goes beyond just fulfilling legal requirements; it provides reassurance and ensures ongoing operations.
Let's break down the types of insurance that could be crucial for your business:
General Liability Insurance: Covers legal costs from accidents, injuries, or negligence claims.
Business Property Insurance: Protects essential business items and physical locations.
Equipment Breakdown Insurance: Handles repair or replacement costs for tools and machinery.
Worker's Compensation: Addresses employees' injuries, medical expenses, and lost wages.
Commercial Property Insurance: Safeguards business spaces against damage and disasters.
Commercial Auto Insurance: Ensures coverage for business-related vehicle incidents.
Professional Liability Insurance: Manages legal matters resulting from unsatisfactory services.
Business Owner's Policy (BOP): Combines multiple insurance coverages in one package.
9. Apply for a Business Bank Account and Credit Cards
Setting up a transparent accounting system is essential to protect your personal belongings. Mixing personal and business money matters can put your assets at risk, including your home, vehicle, and savings.
To strengthen your financial safety, here's your plan of action:
Open a Business Bank Account: Begin with a separate account for business dealings. It's more than a tidy approach—it's a protective measure for your personal funds and simplifies your financial management and tax processes.
Get a Business Credit Card: Beyond acting as a barrier to your finances, a business credit card helps build a strong credit history. This step is crucial as it opens up new possibilities for financial support, like business loans and grants.
10. Financing Your Business
Starting your business and finding your way financially? Here's how to stay financially sound:
Bank Loans: These are classic yet strict. The key to success? A detailed business plan and a flawless credit history.
SBA-Guaranteed Loans: If you need the bank's approval, getting support from the SBA could be the deciding factor in your favor.
Small business term loans:  It's easier to get compared to SBA loans, but you might pay more in interest, and the rates can change.
Government Grants: This is funding that doesn't have to be repaid. Utilize Grants.gov to uncover opportunities that could provide your startup with the necessary capital.
Personal Circle: Loans or investments from friends and family are options, but move cautiously. It's crucial to obtain legal advice to ensure you're following the SEC's regulations.
Crowdfunding: Platforms like Kickstarter or Indiegogo aren't just about hitting your goal. Share a convincing story, and see your supporters gather. To attract more business-minded investors, try sites like Fundable or WeFunder.
Each route has advantages, but bank or SBA loans are often preferred for funding a new venture unless you prefer the closer support of friends or family.
11. Hire Staff and Drivers
At first, you may not need many people to start a trucking company. But as your business grows, you'll need more help. The people you need to hire will change as your business grows and does more things. Sometimes, one person can do many jobs, or you might need more people for special jobs.
On the lookout for a company driver? If your budget is low, then you can use LinkedIn, Facebook, and Jobs.com to find drivers who want to work for you without having to pay anything. If you can spend a little more, websites like Indeed, Glassdoor, or ZipRecruiter can help you find even more drivers. Or, you can hire a professional recruiter to find the perfect people for your business.
12. Prepare to Launch Your Business
As the big day approaches, it's time to gear up for your business launch by polishing several fundamental aspects.
Essential Trucking Equipment
Begin purchasing the essentials like trucks and trailers, as per your plan. Remember, cash flow is likely still at zero, so keep a tight grip on your budget. Don't get sidetracked by buying things you don't require.
Streamlining Operations with Tech Tools
Check out tools like Prophesy, ezLoads, and Tenstreet. These aren't just shiny extras; they're your new command center. From finding top-notch company drivers to managing bills and smoothing out communications, these tools are where efficiency meets excellence.
For small businesses, accounting programs like QuickBooks, FreshBooks, and Xero are popular picks. But if dealing with numbers isn't your strong suit, hiring an expert to start a trucking company is wise. Errors in tax reports can cause big problems, so accuracy is absolutely critical.
Building Your Online Presence
If you look at most successful trucking companies their website is like their global business card. It highlights their talents and serious approach. You can use tools like WordPress, Wix, or Squarespace to create your website without spending too much, but they can be tricky to learn. If you're not tech-savvy, consider hiring a web developer to create a custom website for you.
Remember, a great website alone doesn't bring people to your site. That's why Search Engine Optimization (SEO) is essential—it helps your site appear on top search engines like Google.
Planning Your Marketing
A smart marketing strategy is key to your business's success, whether you're just about to start a trucking company or already established. It helps you cast a wider net online and attract more customers. Here's how to make it happen:
Sync your website with your social media accounts, maintaining a uniform brand voice and image.
Use Facebook's precise ad targeting to zero in on specific demographics, like men under 50 in certain localities.
Leverage Instagram's strong visual platform to display your services and connect with another segment of your target market.
Make sure your website is search-engine friendly. Effective SEO practices boost your site's visibility, drawing more potential customers your way.
Engage with customer feedback on review sites like Yelp and Google My Business.
Armed with a solid business plan, you'll stand a better chance of securing the necessary funding to launch your trucking company.
13. Maintain Compliance
Navigating the maze of state and federal regulations is crucial for your trucking company's journey. Here's how to stay on course:
Record expiration dates for licenses, permits, filings, and insurance to renew on time.
Keep necessary paperwork within easy reach in your truck.
Strictly adhere to service hours, weight limits, and safety regulations to maintain your CSA score.
Avoid fines and build client trust by consistently meeting legal requirements.
Though it might not be the most exciting part of your work, compliance is essential. It protects your business and helps it flourish. Simple, regular checks on your legal duties can prevent many problems.
Conclusion
Starting a successful trucking company can seem intimidating, but it's similar to launching any other small business, albeit with some specific challenges. Indeed, you may encounter higher startup expenses for things like equipment, and the battle for qualified workers can be intense.
However, the fundamental formula for success doesn't change. You need a robust business plan, the appropriate licenses, and sufficient investment to get your trucking company rolling. By establishing these essentials, you'll find yourself well on the way to running your fleet.