With the boom in online ordering and cross-border transactions, the demand for trucking is on the rise, and there is no stoppage in the near future. Thus, if you are planning to start your business right now, the timings are perfect.
Now your idea is validated, but have you thought about planning your idea thoroughly before actually executing it? Whether you want external investment or not, a trucking business plan will help you in each step of your journey as a guide.
Here the catch is how to write a business plan because it seems like a boring lengthy procedure, right? Worry not, our trucking business plan template with various examples will help you write yours.
Key Takeaways
The executive summary is one of the most important parts readers will go through first, so keep it simple and engaging.
Conduct a thorough industry analysis to get a better understanding of your business positioning.
To ensure daily smooth operations, provide a detailed operations plan that includes who will work on what.
Create realistic financial projections for your financial plan, you can even base your assumptions by looking at the competitor's response.
Things to Consider Before Writing a Trucking Business Plan
The trucking business is the wheels of the economy, without it the world might close. As a long-distance trucking business transports a variety of goods that is necessary for living.
This industry generally includes trucking companies that operate between major metropolitan regions and cross-borders. The main services of the industry include:
Truckload carriers
Less-than-truckload carriers
Other transportation services
According to American Trucking Association data, 11.46 billion tons of freight was transported by trucks only, accounting for 72.6% of domestic total tonnage shipped.
Thus, trucking was one of the most important sectors and will continue to be the one in the future too. Even, the revenue of trucking was $940.8 billion, which accounted for 80.7% of the total revenue of the industry of the nation.
As we now know the importance of the industry, let us get started with the trucking business plan outline along with various examples and guidance.
How to Create a Trucking Business Plan: A Detailed Guide
1. Executive Summary
The executive summary should be the most engaging part for readers, summarizing the entire business plan.
It is generally the part business owners prefer to write at the last because till then they can get the full knowledge of the trucking company business plan.
Start your summary with a brief introduction of your business, as shown in the below example with the help of Upmetrics: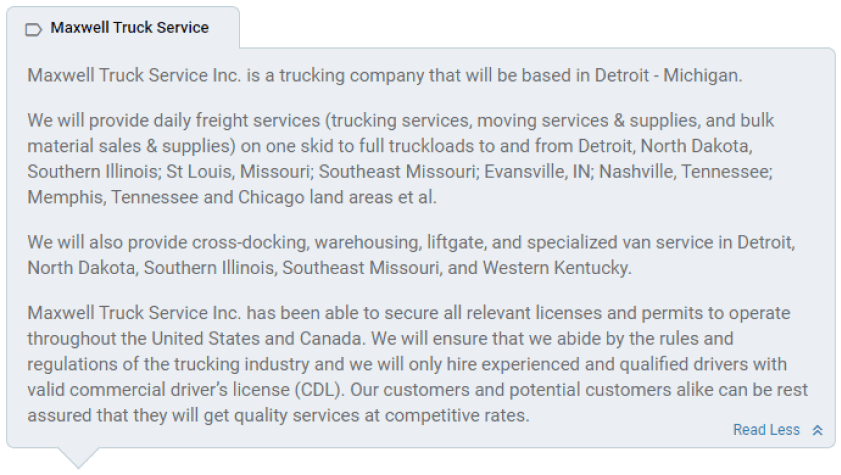 After the introduction, include information like
Products Served
Customer Focus
Mission Statement
Vision Statement
Success Factors
Financial Summary
Call to action
Tip: Executive summary is a quick overview for your readers. They might not read the whole business plan and only read this section. Thus, make sure to keep it clear, precise, and crisp enough to grab their attention.
Say goodbye to boring templates
Build your business plan faster and easier with AI
Plans starting from $7/month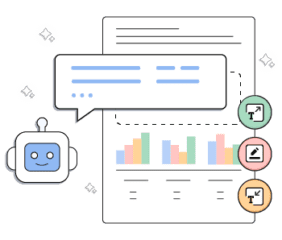 2. Company Overview
Provide a detailed company description in this section. It includes the name of your own trucking business, the location of your office, the legal structure of your business, and other such information.
Also, do not forget to mention the type of your business, for example, your trucking company will be one from below:
Freight trucking
Truckload carriers
Intermodal trucking
Specialized hauling
Courier and delivery services
Bulk commodity trucking
Dump trucking
After that, mention the history of your company if your business is already in existence. Here is an illustration of the company's history with the help of Upmetrics: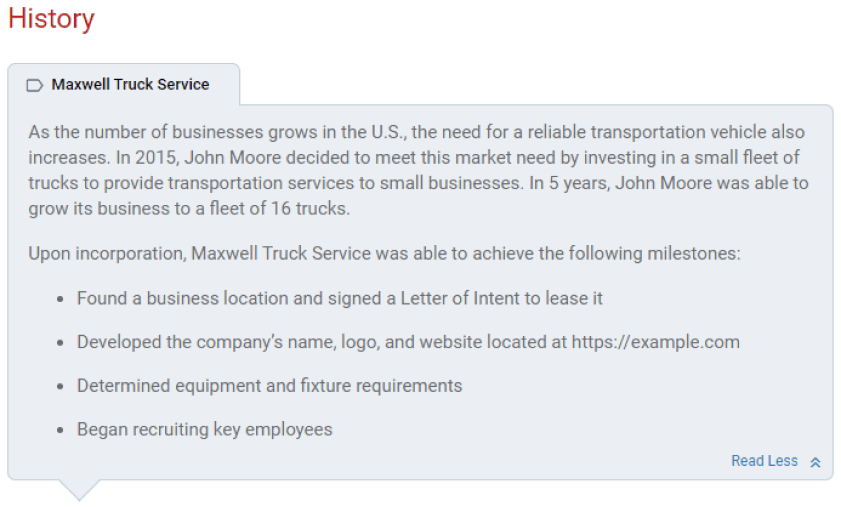 Also, describe the vision & mission statement of your trucking business along with your future goals. Add the names of the owners along with their qualifications and specifications.
In short, this section should provide an in-depth understanding of your business and business owners.
3. Industry Analysis
This analysis gives all the details about the trucking industry. It will support you in a better understanding of your business.
Here are some questions to ask while conducting industry analysis:
What is the current size of the trucking industry in the USA?
What are the major trends in the transportation industry?
Who are the huge players in the industry and what is their market share?
How is technology affecting the trucking industry?
How are fuel prices affecting the operating costs of the businesses?
Conduction this industry analysis will educate you about the market and help you prepare marketing strategies according to the market trends.
In short, industry analysis will help you have a better understanding of the market and support you in making informed decisions.
4. Competitive Analysis
Competitive analysis will help you know your unique selling propositions (USPs) along with your market positioning. You will also be able to know your direct and indirect competitors & other trucking companies.
Start by listing out all your competitors along with their strengths, weaknesses, opportunities, and threats.
Focus more on your direct competitors and ask certain questions like:
Who do they serve?
What is their market share?
What are their USPs?
What is their pricing strategy?
What do they need to work on according to their customers?
After conducting competitor analysis, understand your strengths, weaknesses, opportunities, and threats like below to better get your strong points.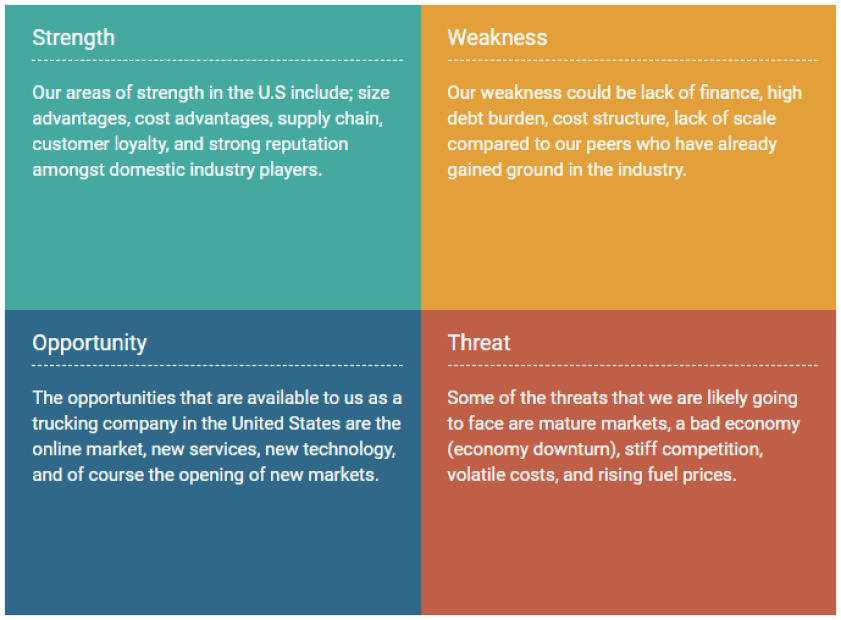 This way you can get to know the USP of a trucking company. Once you get the USP, flaunt it in your own business plan.
5. Market Analysis
In the market analysis section, begin with market research and deep dive into the market where your trucking business will operate. Start the section by providing the details of your target market.
Your target market will depend on the trucking services you provide and on the location of your business.
Once you are clear about the target customers, discuss the market trends of the trucking industry. Mention what your customers prefer and what new they want.
For instance, here is the market trends section with the help of Upmetrics: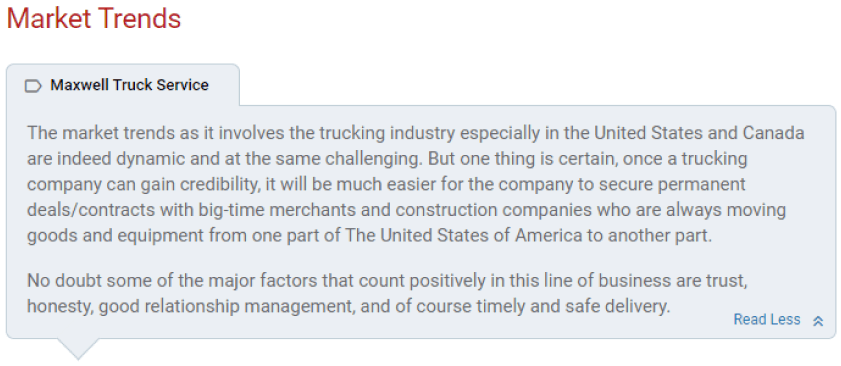 At the end of the market analysis, do mention the regulatory environment trucking companies need to follow in the particular location.
6. Product and Services
After knowing the market trends and conducting market analysis, give details about the services you will provide. Your trucking services might be one of these:
Hazardous material transportation
Freight transportation services
Specialized transportation
Intermodal transportation
Last-mile transportation
Reefer services
Container drayage
Mention your time duration of the services in this section, to let your readers know the efficiency and capacity of your trucks. You can also add the images of trucks in this section along with their capacity.
Keep the language of this section understandable and simple to give knowledge about your services to the readers.
7. Sales and Marketing Plan
There are around 750,000 trucking companies in the USA that own at least 1-2 trucks. Therefore, being noticed in this much competition is necessary, which is why you need a proper sales and marketing plan.
Developing a marketing plan means writing down strategies to acquire potential customers and retain them.
Some of the marketing strategies for trucking companies are:
Having a professional website
Having a professional website will spread your reach to a wider audience.  On the website, you can showcase all your services and the images of the trucks directly to potential customers.
Content marketing
Write blog posts, infographics, and articles for the logistics industry in which you can promote your own business. This way you can establish your expertise too in the same niche.
Social media engagement
For a successful trucking company, staying active on social media is a necessity. Share industry trends, news, and other events on social media to engage with your customers.
Email marketing
Build an email list of potential and existing clients and send them newsletters or updates about your services, industry insights, and special promotions.
Once you have noted down how you will acquire customers, then mention the following things:
Customer acquisition cost
Your monthly marketing budget
8. Management Team
Letting your readers or investors know who is behind your trucking company will increase the appeal of your business plan.
The management team section tells about the people in charge of the trucking business and their experience of the work. If you have a new trucking company, then showcasing all your experienced managers will make your business look stronger.
Here is an example of a management team:
Management team of Maxwell Truck service
John Maxwell – CEO and Founder
John is the visionary leader who founded Maxwell Truck Service. With over 20 years of experience in the transportation and logistics industry, he sets the company's strategic direction and oversees overall operations.
Sarah Adams – Chief Operations Officer (COO)
As the COO, Sarah is responsible for the day-to-day operations of the company. She manages dispatch, fleet maintenance, and driver scheduling to ensure efficient and timely delivery of goods.
Michael Turner – Chief Financial Officer (CFO)
Michael is responsible for the financial health of the company. He manages budgets, and financial planning, and oversees financial reporting, ensuring the company's financial stability and growth.
Karen Simmons – Director of Sales and Marketing
Karen leads the company's sales and marketing efforts. She develops strategies to attract new clients and maintain strong relationships with existing ones, helping to grow the customer base.
9. Operations Plan
In the whole above plan, we have discussed mentioning your goals, now it is time to write the strategies of daily activities on how to achieve the above-mentioned goals. You can divide these goals into two parts:
Everyday goals
They're the heart and soul of your trucking business's daily life, from buying the most appropriate trucks to delivering the goods timely is a tricky thing. These are the everyday heroes that keep your business running smoothly.
Long-term goals
It's all about milestones: the moments that make you pop the champagne. Picture celebrating your 10,000th timely delivery, hitting that milestone sales figure you've dreamt of, or expanding your team.
10. Financial Plan
For a successful trucking business, you will need a proper financial plan with practical financial projections. In the plan, you have to include the income statement, cash flow statement, and balance sheet for 3-5 years.
Income statement
An income statement also known as a profit and loss statement, describes the gross profitability of your business by deducting costs of goods sold from revenue.
For this, you don't need to be greedy and make practical assumptions so that you can know the actual profitability range of your business. Here is a projected profit and loss statement for 3 years: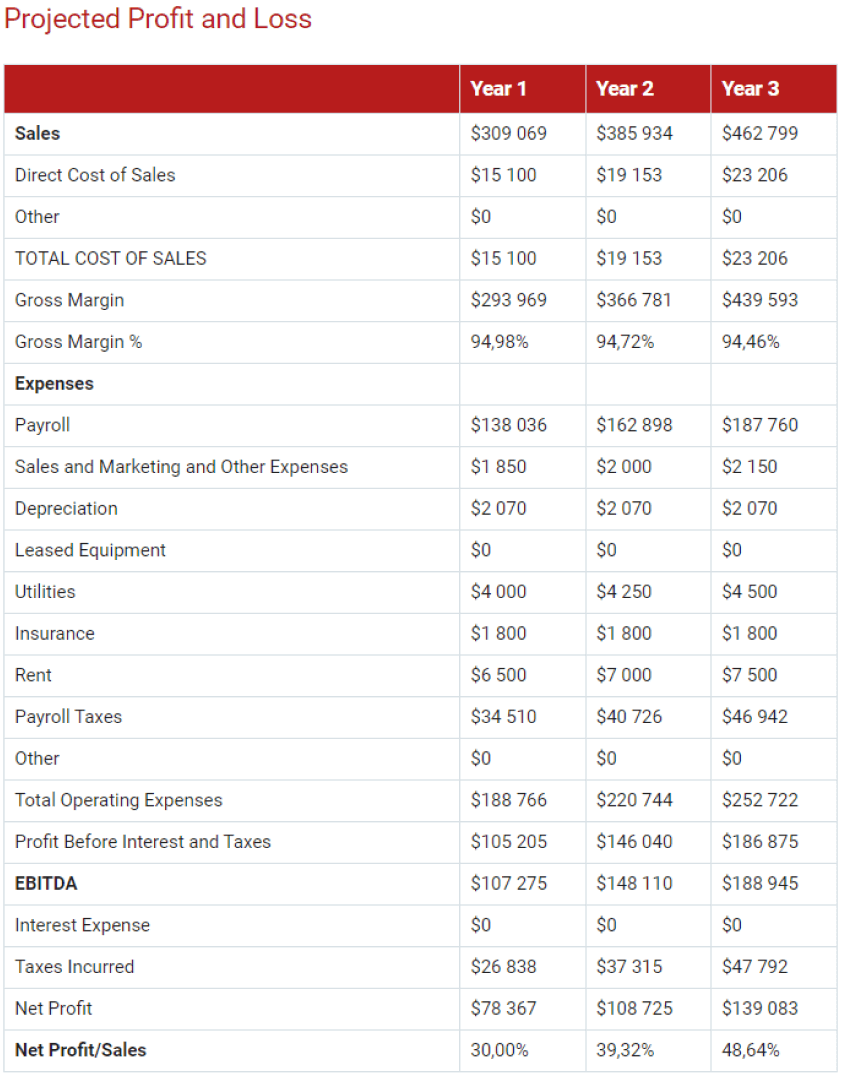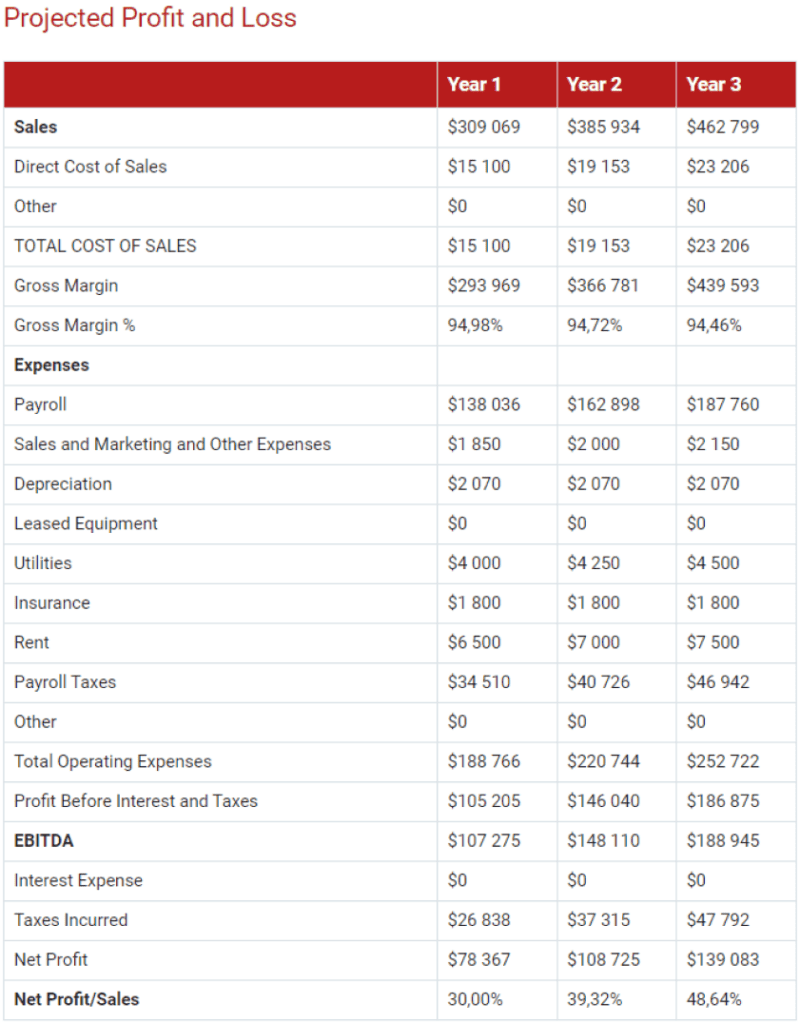 Balance sheet
Balance sheets display your assets and liabilities. Although they can contain a lot of details, like equity, goodwill, other intangible assets, etc. Here is an example of a balance sheet for 3 years with the help of Upmetrics: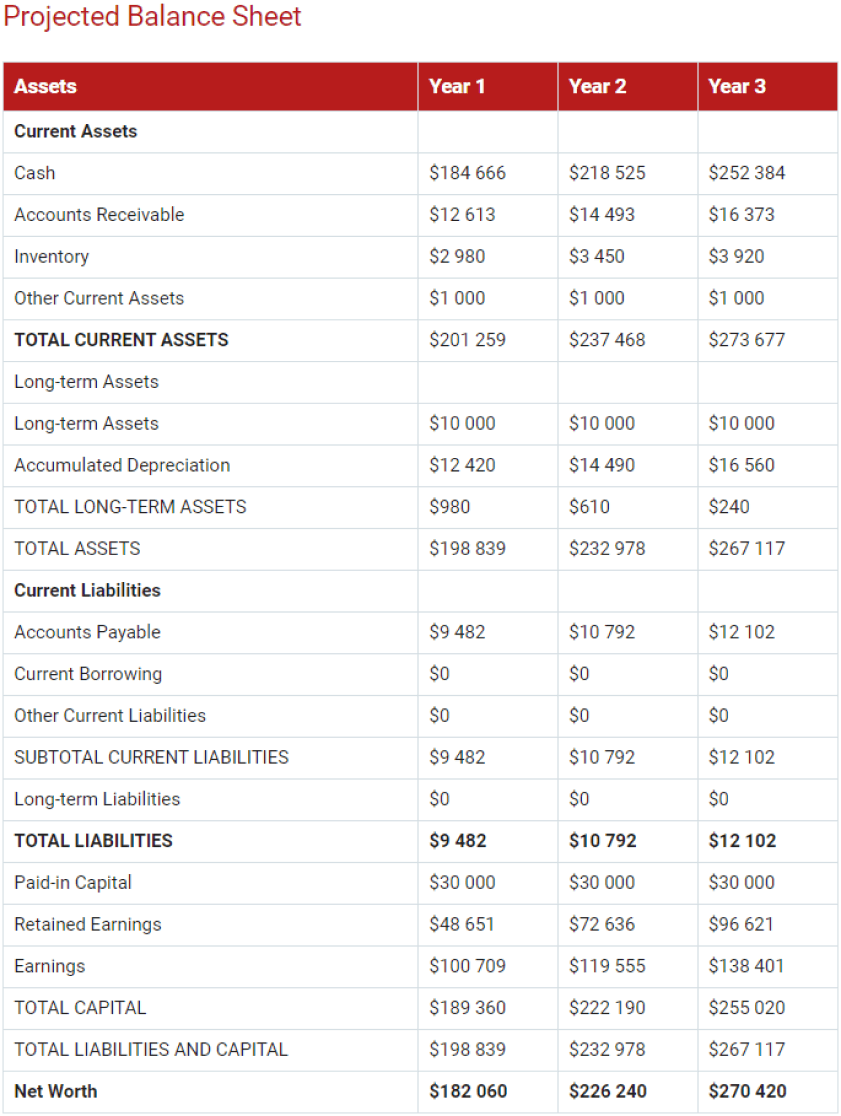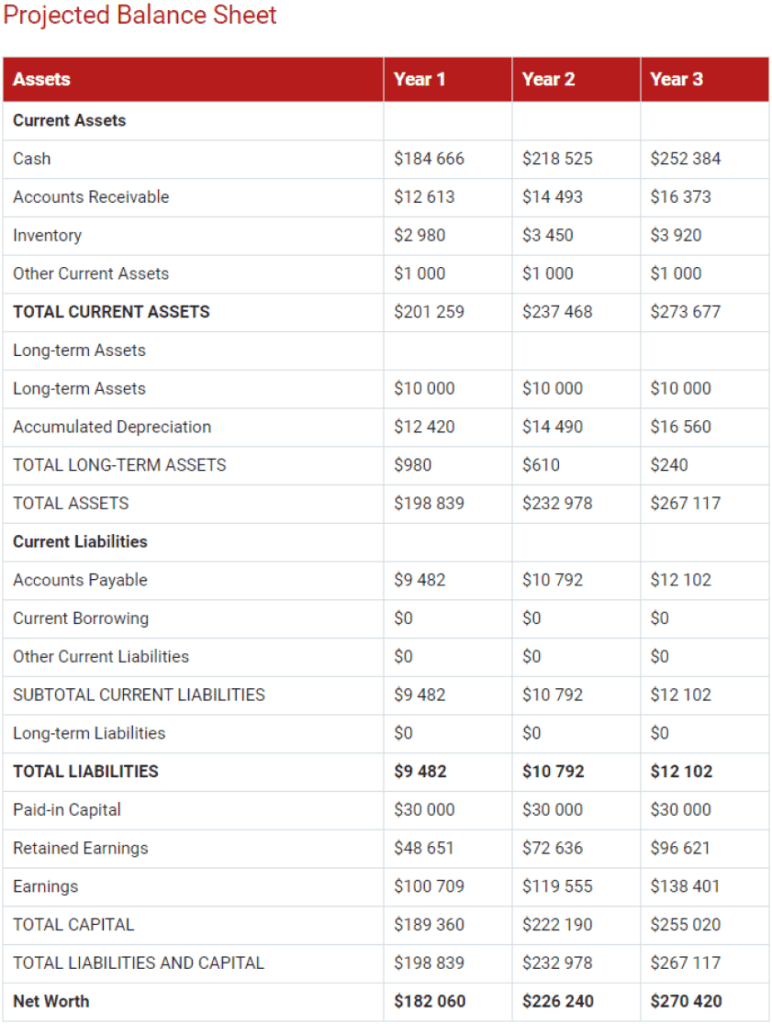 Cash flow statement
Your cash flow statement helps you see how much money you need to start or grow your business and avoid running out of money. This cash flow should be maintained even for certain months after launch that is before you start making profits.
Surprisingly, you can make a profit but still face financial problems that could lead to bankruptcy. Therefore, you will need proper cash flow planning to avoid such circumstances.
Funding Sources For Trucking Business
Funding a trucking business might be difficult because of the high investments in the truck, various sources to get funding from are:
Bootstrapping
Bank loans
SBA loans
Truck financing companies
Venture capital & angel investors
Crowdfunding
Family and friends
Download a Trucking business plan template
Ready to kick-start your business plan writing process? And not sure where to start? Here you go, download our free trucking business plan pdf, and start writing.
This intuitive, modern, and investment-ready template is designed specifically for trucking businesses. It includes step-by-step instructions & examples to help in creating your own trucking business plan.
The Quickest Way to turn a Business Idea into a Business Plan
Fill-in-the-blanks and automatic financials make it easy.
Get Started Now!

Write Your Business Plan with Upmetrics
Finally! Now you know how to write a business plan for your business with the help of our trucking business plan example. Thus, you are a step closer to beginning or growing your business.
No doubt, writing a business plan with accurate financial projections is daunting, but it is a lot smoother with the help of business plan software. Therefore, take a deep breath, calm down, and get started with writing your business plan.