Excited about the money that a trucking business can bring?
Well, trucking is a rewarding and money-bearing business opportunity. But like every business, even trucking requires an initial investment to take off.
So what is this initial investment? And how much does it cost to start a trucking company?
Well, this article will give you an answer to that. Read through and get a detailed breakdown of trucking company startup costs, factors influencing those costs, and some strategic ways to reduce those expenses.
So, let's get started.
What is the cost of starting up a trucking company?
The average cost to start a trucking company in the USA generally varies between $101,700- $275,150. These costs are greatly influenced by factors such as trucking vehicles, licenses and permits, insurance, and driver's salaries.
A trucking industry promises 2.5-6% profit margins on average. Since the profitability runs very thin, employing cost-saving techniques and regulating operational expenses is crucial.
Average costs for starting a trucking company
Before we dive into details, check out this trucking company startup cost checklist. It will help you plan your startup budget and know how much financing you need to get started.
Item
Average Cost
One-time Expenses
Vehicle costs
$50,000-$150,000
Trailers
$25,000-$50,000
Registration and incorporation fees
$50-$400
Licenses & Permits
$3,000-$8,000
Annual Insurance
$9,000-$12,000
Technologies (hardware)
$350-$1,000
Initial advertisement (Hoardings, billboards)
$1,000-$10,000
Website setup
$500-$5,000
Legal and professional services
$500-$1,500
Vehicle registration
$500-$1,000
Truck branding
$2,000-$10,000
Total one-time expenses
$70,600-$281,000
Recurring Expenses (Per Month)
Salaries
$3,000-$8,000
Marketing
$200-$500
Accounting and bookkeeping
$100-$250
Fuel
$3,000-$10,000
Repair & Maintenance
$500-$1,500
Office rent (if applicable)
$3,000-$6,000
Total Recurring Expenses
$9,800- $26,000
Total
$101,700- $275,150
Disclaimer: Disclaimer: Note that these costs are averages and can vary significantly depending on factors such as vehicle costs, licenses, and permits requirements, salary, and much more. It's important to conduct thorough research and planning to get a more accurate estimate of the costs specific to your trucking company.
How to calculate the cost of starting a trucking company
You now have a list of potential expenses and a rough estimate of your startup costs. Let's estimate your actual startup costs using these two proven methods.
The first, traditional method involves using a startup costs calculator to estimate the startup costs. However, the second, the Upmetrics method, is an innovative method that uses Upmetrics financial forecasting tool.
Let's understand both methods so that you can choose one that suits your requirements the best.
The traditional method—startup costs calculator
The calculator includes categories such as pre-trading, website setup, marketing, operations, and people. You can enter the estimated costs in each field and let the calculator estimate the costs for you.
Remember that many startup costs fall under recurring expenses, so cover those costs monthly, quarterly, or annually.
Calculate your startup costs using this calculator.
The Upmetrics method—financial forecasting tool
It is an intuitive and efficient method of calculating startup costs. Using Upmetrics will not just help you estimate startup costs but also help with financial forecasting.
All you need to do is enter your sales, costs, and other financial assumptions and let the tool calculate monthly/quarterly/ and yearly projections for you.
Check out the financial forecasting tool for accurate financial forecasting.

Check out the financial forecasting tool for accurate financial forecasting. Once you have an accurate estimate of startup costs, you can easily identify funding requirements for your trucking company.
Raising funds for a new startup is certainly a nerve-wracking and time-consuming process, but having a solid trucking company business plan can make things a lot easier.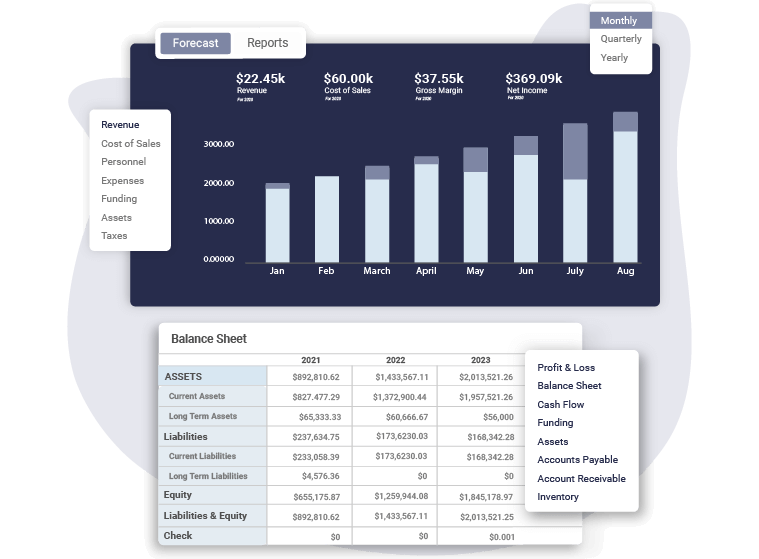 Once you have an accurate estimate of startup costs, you can easily identify funding requirements for your trucking company.
Raising funds for a new startup is certainly a nerve-wracking and time-consuming process, but having a solid trucking company business plan can make things a lot easier.
Let's move ahead and discuss the factors that affect your trucking company costs.
Factors that affect trucking company startup costs
You already have the average costs for starting a trucking company. However, are you aware of the factors that directly influence these costs? Let's have a look at them.
1. Location
Location plays a crucial role in determining the startup costs for any kind of business. Trucking is no exception.
The location of your trucking company will directly influence labor costs, fuel prices, permit requirements, business volume, compliance fees, and much more. Certain cities and states have unique permit requirements for trucks to operate.
For instance, a New York tax account is required for any heavy vehicle operating in New York weighing 18,000 Lbs GVW or more. Just the initial filing for each vehicle costs up to $19 to create an NY tax account.
Before starting your trucking company, map out the regions you will service and the unique requirements to operate there.
The location will also influence the rent of your office space. The rent for a 1500 sq. ft commercial space in San Fransisco spans between $3,000-$6,000.
However, starting with a home office is a wise choice for a small-scale trucking company.
2.  Truck: new, used, and lease
Trucks are going to run the wheels of your business, literally. But, do you always purchase them new from the market? Not really.
There are three ways for you to consider: Buy new trucks, purchase used ones, or lease the vehicle.
Now, investment in heavy vehicles isn't a small one. If you are planning to buy a brand new sleeper or high-spec truck, expect to spend anywhere between $50,000-$1,50,000 and more.
The second purchase gets you a better pricing deal for heavy vehicles. Costs for buying used vehicles can span anywhere between $15,000- $1,00,000. 
Lastly, you can lease the trucks as well. The lease comes with a contractual period of 1-3 years. Expect to pay $1600-$2500 per vehicle on monthly lease payouts. However, keep in mind the penalty fee for breaking a contractual lease, in case you decide to step out earlier.
3. Trailers
A trucking company requires a variety of trailers to serve diverse markets.
Just like trucks, different procurement options are available for trailers as well. If you are leasing a commercial truck, go for a trailer-inclusive lease contract.
However, it is always a wise move to invest in a few different varieties of trailers to be desirable for shippers and carriers.
An investment in brand-new trailers can span between $25,000-$50,000.
4. Licenses, permits, and related additional costs
Trucking is a heavily regulated industry. You will have to meet various government regulations to begin your trucking company operations.
Let's have a checklist of trucking essentials for your business:
MC and USDOT number: $300 per operating authority
Commercial Driver License ( CDL): $200-$500 (excluding CDL training)
IRP and IFTA costs: $1,500-$2,000
Heavy Vehicle Use Tax ( HVUT) filing: $9-$20 (2290 Form)
Unified Carrier Registration (UCR): $40-$250+
BOC-3 Form: $20-$40
The licenses and permit requirements for each carrier operator vary depending on their reach and boundaries of operations. Seek professionals to help you identify and acquire essential licenses for the business.
Overall, expect to spend anywhere between $3,000-$8,000 and more on licenses and permits alone.
5. Business Insurance
Insurance is another prominent expense you will incur after purchasing the vehicle. The vehicle needs to be insured in three aspects:
Physical damage: This insurance covers the full cost of the truck and offers coverage for the physical damage caused on the road.
Liability:  Offers coverage for third-party damage caused by the truck or driver.
Cargo: Offers coverage for the cargo in transit. The High-value cargo or goods should be insured for higher protection.
Further, if you have employees hired on a salaried basis, you have to compulsorily take workers' compensation insurance.
The annual insurance cost per truck span between $9,000-$12,000.
You don't need liability insurance if you are leasing a vehicle. It is the responsibility of the motor carrier. However, you need to purchase physical damage and cargo insurance. Expect the insurance cost to range between $3,000-$5,000 in such cases.
6. Payroll expenses
Payroll expenses are amongst the prominent trucking company startup costs. Depending on the operations of your business, you will need to hire a few drivers on monthly payroll.
The average commercial driver salaries in the US range between $41,000-$100,000 annually. That is nearly $3,000-$8,000 monthly payroll expense on one driver. Considering the size of your operations, payroll expenses will be significantly high.
Even if you consider hiring drivers on an hourly basis, expect to pay nearly $19-$43 per hour.
Take into account the benefits, sick leaves, insurance, and other related expenses while hiring a driver on the payroll.
7. Technologies: ELD, trailer tracker, Dashcam.
A business must incorporate essential technologies in everyday operations to reduce costs.
ELD, trailer trackers, and dash cam are fruitful technologies for your trucking company. While ELD is a compulsory requirement, the other two are considered favorable to have.
ELD captures the driver's driving status and checks if it complies with the regulations. You can check for available ELD exemptions to reduce costs.
Trailer trackers as the name suggests help track the trailers in real-time. A dashcam keeps the video recording of driving and can prove to be beneficial when fighting insurance claims and false accusations.
All in all, the costs for these technologies can span between $350-$1,000 annually.
8. Marketing, advertising, and website setup.
Consider the marketing expenses you will incur to endorse, promote, and brand your trucking business.
So where will you incur marketing and branding expenses?
Branding on trucks and vehicles to create a recalling brand image.
Print media: hoardings, leaflets, and pamphlets.
Social media and other low-cost digital alternatives.
Truck branding takes anywhere between $2,000-$10,000. Apart from that, consider spending between $1,000-$10,000 or more initially on marketing.
A website is another crucial expense, you will incur for your trucking company. The cost of setting up a website with domain, hosting, and other essentials, spans between $500-$5,000.
Marketing expenses are recurring and variable. After setting up your trucking company, set a monthly budget of $200-$500 or more for marketing and promotional activities.
9. Professional expenses
The services of various professionals will help you smoothly run your trucking company.
Here are a few professional services you can avail:
Legal Services: Trucking is a heavily regulated business. To set up your business legally and in compliance, you will require the help of legal experts. Hourly legal services can cost between $150-$500. 
Accounting help: Get someone to help you with bookkeeping, accounting, and taxes. Accounting professionals take a monthly fee of $100-$250. 
Business Consultants: Hire business consultants to help you maximize profits and reduce costs. They usually charge an hourly fee of $500-$1,000.
Now that we have understood the factors influencing trucking company startup costs, we will look at the tips that can help you bring down the initial costs.
Tips for reducing trucking company startup costs.
1. Buy second-hand vehicles
Consider buying used vehicles for your business. Look out for vehicles that aren't older than 5 years and have less than 600,000 miles of run.
Verify the vehicle history, ensure a thorough physical check, and get proper documentation before finalizing a deal.
You must invest in vehicles that show promising condition. Otherwise, the repair and maintenance costs will start piling up.
2. Lease the vehicles
Even secondhand vehicle costs are significantly high. If you have a very limited budget to get started, consider leasing heavy trucks and trailers. The monthly rents on these vehicles are quite low compared to high one-time buying costs.
Leasing also saves insurance expenses on physical damage. Not only that, but you also save on maintenance and upkeep costs when you lease a vehicle.
3. Optimize the insurance costs
Annual insurance expenses are quite high for a trucking company. Instead of doing it all on your own, hire a professional to help you get maximum coverage, better deals and offers on insurance plans.
However, if you are doing it on your own, look out for umbrella plans to get maximum coverage values on your insurance policies.
4. Reduce the marketing costs
Tons of low-cost marketing avenues are available for you to choose from. Don't spend thousands when you are scraping every dollar from your savings.
Marketing is essential for business. But you can do it on your own till you can spend enough to hire professional help. Opt for options like social media marketing, email marketing, ads marketing, video marketing, and more such options to get your trucking business up and running.
5. Start small
Have a small capital? Start small. It is possible to start a trucking company on a budget of 10k as well.
You can scale your business operations later by adding more trucks, taking more shipments, and covering more regions. But starting small can give you enough time to test the market without creating a huge liability.
6. Outsource administrative services
Driver's salary is going to constitute a major part of your business expenses. You don't want to add more load on monthly expenses by hiring more staff on payroll.
Everything secondary to your business offerings can be outsourced. For instance, accounting, back office, marketing, legal filing, fleet monitoring, etc.
Conclusion
That's it for the article guys.
I hope this article answers all the essential questions you had regarding startup costs. Now, get to work doing some ground research for your trucking company.
You have a list of estimated startup costs for a trucking company. It's now time for you to figure out the actual startup costs for your business.
Use Upmetrics for Accurate Startup Cost Projections!
Looking to estimate your startup costs? Dive into Upmetrics! Our business plan software makes financial forecasting a breeze
Get Precise Projections Now