Setting up a SaaS company is fairly easy given the least amount of restrictions binding it. However, it does get challenging on the technical side.
Like every other business, setting up a SaaS business will also require money. And, it's not going to be easy on the pocket.
By now, you must have known figuring out actual startup costs for SaaS platforms is a bit tricky. However, we have now got you covered.
In this article, we have an answer for how much it costs to start a SaaS platform.
The article offers a detailed breakdown of the SaaS platform costs, factors influencing those costs, and tips to start a SaaS application on a low budget.
So without any further ado, let's get started.
What is the cost of building a SaaS platform?
The average cost of building a SaaS platform ranges between $50,500- $150,500 and more. These startup costs can extend up to $500,000 depending on the scope and complexity of the SaaS platform.
SaaS companies enjoy a lucrative gross profit margin between 68-75% and above. If your SaaS platform can retain a sustainable user base, you will enjoy good profits regardless of the SaaS solution.
Average costs for building a SaaS platform
Before we dive into details, check out this SaaS company startup cost checklist. It will help you plan your startup budget and know how much financing you need to get started.
Note: This cost checklist excludes infrastructure costs for a physical setup. However, if you plan on having a workstation, include costs for downpayment, rent, payroll, and other operational expenses in your SaaS startup costs.
Item
Average Cost
One-time Expenses
Hosting setup
$2,000-$5,000
Development costs
$15,000-$45,000
API purchase
$5,000-$25,000
Website Design
$4,200-$10,500
Customer support setup
$2,500-$3,500
Pre-launch marketing
$2,000-$10,000
Annual server and hosting costs
$1,500-$4,500
Security system (IDS, data encryption, etc.)
$5,000- $10,000
Infrastructure costs
$3,000-$8,000
Business registration
$150-$500
Licenses and permits
$1,500-$3,000
Annual Insurance
$1,200-$2,000
Professional services
$300-$2,000
Total One-Time Expenses
$43,350-$129,000
Recurring Expenses (Per Month)
Marketing budget
$5,000-$15,000
Maintenance
$2,000-$5,000
API and software subscriptions
$150-$1,500
Total Recurring Expenses
$7,150-$21,500
Total
$50,500-$150,500
Disclaimer: Note that these costs are averages and can vary significantly depending on factors such as the scope of the SaaS project, complexity, features, and more. It's important to conduct thorough research and planning to get a more accurate estimate of the costs specific to your SaaS business.

Using this SaaS startup cost checklist, you can plan your startup budget and get an idea of how much financing you will need.
How to calculate the cost of starting a SaaS business
You now have a list of potential expenses and a rough estimate of your startup costs. Let's estimate your actual startup costs using these two proven methods.
The first, traditional method involves using a startup costs calculator to estimate the startup costs. However, the second, the Upmetrics method, is an innovative method that uses the Upmetrics financial forecasting tool.
Let's understand both methods so that you can choose one that suits your requirements the best.
The traditional method—startup costs calculator
The calculator includes categories such as pre-trading, website setup, marketing, operations, and people. You can enter the estimated costs in each field and let the calculator estimate the costs for you.
Remember that many startup costs fall under recurring expenses, so cover those costs monthly, quarterly, or annually.
Calculate your startup costs using this calculator.
The Upmetrics method—financial forecasting tool
It is an intuitive and efficient method of calculating startup costs. Using Upmetrics will not just help you estimate startup costs but also help with financial forecasting.
All you need to do is enter your sales, costs, and other financial assumptions and let the tool calculate monthly/quarterly/ and yearly projections for you.
Check out the financial forecasting tool for accurate financial forecasting.

Check out the financial forecasting tool for accurate financial forecasting. Once you have an accurate estimate of startup costs, you can easily identify funding requirements for your SaSS Platform.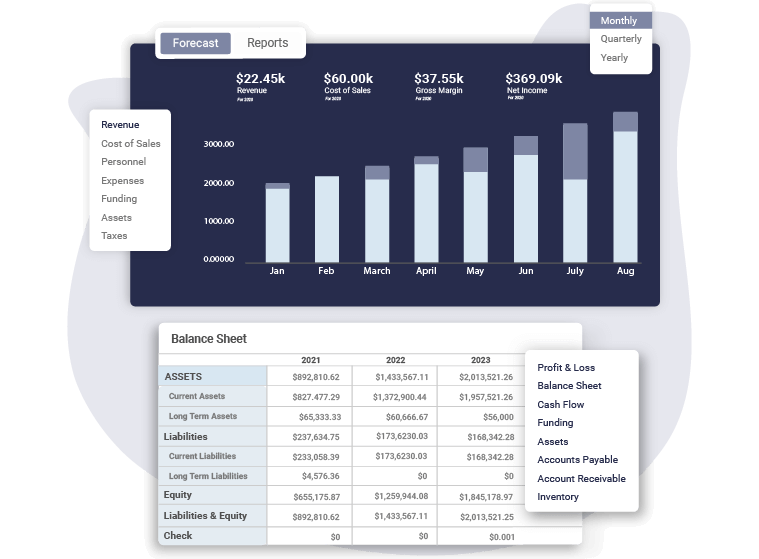 Once you have an accurate estimate of startup costs, you can easily identify funding requirements for your SaaS company.
Raising funds for a new startup is certainly a nerve-wracking and time-consuming process, but having a solid SaaS platform business plan can make things a lot easier.
Let's move ahead and discuss the factors that affect your SaaS company costs.
Factors that affect SaaS development costs
Now that you have an approximate range for SaaS startup costs, let's understand the factors influencing these costs.
1. Scope of SaaS product
The scope of a SaaS product directly influences its costs.
Are you building a SaaS tool, SaaS platform, or SaaS application? This is because building a SaaS tool is comparatively cheaper, simpler, and less time-consuming than a SaaS platform.
SaaS platforms have a wider scope. They have enhanced features, functionality, and usage. However, building a SaaS platform is complex and time-consuming. It requires a sophisticated tech stack and a proficient development team to achieve the desired vision.
It is advised to build a scalable minimum viable product (MVP) for the SaaS platform initially. This will help you save on extremely high startup costs.
Depending on the type of SaaS solution, the costs of building an MVP also vary.
For instance, the cost of building MVP for an ERP solution starts anywhere around $110,000-$120,000. However, if we consider solutions like project management and CRM, the MVP for the same can be developed between $50,000-$60,000.
2. Development complexity and features
The cost of SaaS development increases with its complexity. The basic features and functionality are easy to build. However, as you continue to add enhanced features to the product, the costs increase.
Most SaaS products feature common features like role-based access, CRM, account and user management, dashboard, and audit trail. These features are scalable for the needs of the organization.
Now before you map out the development of your product, clearly determine and distinguish between the must-have features and features that are desirable but not crucial.
If you plan to add complex features to your SaaS products, be prepared for the extra costs to your startup budget.
Based on the complexity of the SaaS project, here are the startup costs for each:
Micro SaaS: $10,000-$25,000
Basic SaaS: $30,000-$50,000
Average SaaS: $50,000-$100,000
Complex Saas: $140,000-$150,000+
3. UI/UX interface
User Interface plays an important role in the development of a SaaS product. It determines the look of a product and gauges the user-friendliness, intuitiveness, and responsiveness of a SaaS tool.
It is crucial to invest in adequate resources and professional designers to create an engaging interface. The front end of a SaaS application is going to be the user's first point of contact with your solution. So, it needs to be visually appealing and seamless.
A chaotic interface frustrates the user and that's something you don't want.
It will take about 3-6 weeks to design the look of a non-complex SaaS platform. The cost of UX design development for your SaaS product will range between $4,200-$10,500.
4. API integration
Back-end development is time-consuming and costly. Developing an entire backend from scratch can take up to 6 months. It is advisable to use APIs to integrate with your backend. They can get costly, however, it will help you save a lot of time.
Here are a few API integrations to consider:
Payment Gateway: $100-$500 Setup costs
Cloud services: $10-$500 monthly
Marketing automation: $20-$200 monthly
Web analytics: $50-$500 monthly
API integration is not easy and simple either. It takes hours at length to integrate them with your backend. Even for a basic or average SaaS, the backend takes anywhere around 560 hours to complete. This stage of product development will cost you anywhere around $24,000-$40,000.
5. Team structure
You need a team of people to develop a functional SaaS product. Now, how you choose to assemble this team will greatly influence your startup costs.
When it comes to assembling a team for a SaaS product, you have one of the following choices:
Hire an independent freelancer
Hire an agency for development
Build an in-house team
Agencies are comparatively costlier than freelancers. However, they have a sophisticated process to meet your requirements in a timely manner.
Hiring an in-house team is a wise choice if you have a nuanced understanding of SaaS development. Ultimately, the decision is influenced by two prominent factors: time and budget constraints.
The cost of hiring an agency could be twice the cost of hiring an individual freelancing developer. Overall, the cost of hiring an agency can extend up to $150,000.
6. Developer location and hourly rates
The location of your developer team will largely influence the development expenses of your project. This is because the hourly rates for developers in each country vary.
According to Salary, an average SaaS developer in the USA charges anywhere between $45 to $58 hourly. Considering, it takes 800 hours to complete the development, you would pay nearly $36,000-$46,400 and more to the developers in the USA.
However, the same services in countries like Ukraine can be availed for less than $10,000. Gauge your needs and look out for developers who can offer quality development at competitive rates.
7. Maintenance and support services
Annual maintenance accounts for 1/4th of your total startup costs. Usually, startup owners tend to neglect these expenses. But if you don't make provisions for this, the bills will start piling up soon.
Maintenance can be corrective, predictive, preventive, or adaptive. It includes annual maintenance costs for hosting, domain, SSL certificates, and technical support for customer assistance. The initial cost of setting up hosting can span between $2,000-$5,000.
Since various factors are included in determining the maintenance costs, it's difficult to predict the exact monthly estimate. More or less, you can expect to spend anywhere between $2,000-$5,000 on maintenance services each month.
To keep the customer satisfied and help them with glitches, a thorough support system is needed. The cost of setting up a support framework costs around $2,500-$3,500 one time.
8. Marketing
Data security and compliance play a crucial role in determining the quality of a SaaS product.
As a SaaS company, it is ideal to have security and data security compliance policies like ISO/IEC 27001, SOC 2, CCPA, GDPR, HIPPA, etc. in practice.
These compliance and security come with a price.
SaaS platforms usually deal with sensitive personal data. It is essential to have an effective security system and framework in place to prevent any unwanted illegal activity on your platform.
To equip the platform with appropriate security measures, consider costs for the following:
Data encryption: $800-$2,000
Firewalls and Intrusion Detection Systems (IDS): $1,500-$5,000
Security audits: $2,000-$5,000
Also, account for the costs of building a security system and integrating of security features during the software development. The security implementation costs span anywhere between $2,000-$5,000 and more.
9. Infrastructure costs
To form the technical foundation of the SaaS platform, you will require a variety of hardware, software, and services.
The infrastructure is essential for the seamless functioning of the SaaS platform. It mainly includes costs for servers, load balancers, database management systems, networking equipment, and storage solutions.
A SaaS application deals with high-volume data at a time. The configuration, organization, storage, and security of data require database setup. Overall, these costs for a SaaS platform can span between $3,000-$8,000.
10. Marketing
Marketing is crucial to grow the reach and desirability of your SaaS platform. In fact, marketing is the backbone that shall drive conversions for your SaaS platform.
When thinking of marketing strategies, you need to buckle up with SEO practices. Not only that, consider including email marketing, PR and social media marketing, product hunt launches, and others in your strategies.
The ideal annual marketing budget for a SaaS product should be 2 or 3X times the development costs. The annual marketing budget spans between $100,000-$200,000 making it a monthly total of anywhere between $5,000-$15,000.
Allocate a budget for a soft launch of your SaaS product. It should cost you around $2,000-$10,000.
Spending more or less than the given ranges completely depends on your needs and budget constraints.
Now that you have a fair idea about factors influencing startup costs, let's figure out ways to reduce these expenses.
Tips for reducing SaaS startup costs.
Want to develop a SaaS platform on a limited budget? Well, these tips can help you reduce startup costs considerably.
1. Develop MVP
Don't invest all the monetary resources in developing a features-enriched SaaS platform in one go. Develop an MVP of your SaaS and launch it.
The basic features and functionality would start getting you sales. Then with the generated revenue, add desirable features and scale your platform.
2. Outsource development
Hiring in-house gets costly especially when you are just starting out. It's advisable to get the development outsourced by an efficient team or freelancer in cheaper countries.
Hiring developers from Eastern Europe countries and Asia is much cheaper than USA and Canada.
3. Third-party services
Developing the backend from scratch can be time-consuming, complex, and costly. Integrate third-party APIs to your backend and save time.
Features like login, payment processing, and subscription management are mostly common and can be integrated through third-party API for a fraction of the cost.
4. Choose shared hosting
Shared hosting is quite cheaper than individual hosting plans. Continue using shared hosting till the user base on the platform grows.
However, if you are going with individual plans, go with hosting providers that allow you to customize the plan. This will help regulate the costs.
5. Start with one platform
SaaS platforms are compatible with both, mobile phones and the web. However, both are developed separately, adding to the overall development costs.
Analyze the priority and launch the version that is more suited for your product.
6. Automation
Testing takes up ⅓ of the total development time. While developing a SaaS platform, each hour adds to the total costs. Hence, instead of manual testing, go with automation. This will reduce repetitive tasks and bring down the total testing time eventually leading to reduced costs.
Conclusion
And, that's it for the article guys. We hope you now have some clarity regarding the SaaS startup costs.
However, it's still a long road. You have to make multiple decisions and determine the actual costs for your SaaS platform.
SaaS is the present and it is the future of business. With a brilliant product, you will be in the market for a good time.
Use Upmetrics for Accurate Startup Cost Projections!
Looking to estimate your startup costs? Dive into Upmetrics! Our business plan software makes financial forecasting a breeze
Get Precise Projections Now