A business plan is a document that describes what your company is, does, and plans to do in the future. It helps you map out all the objectives, goals, strategies, resources, and every other detail of your business. But arranging all this can get messy.
To Solve This, We Need a Business Plan Table of Contents
Think of it like this: If your business plan aims to define your prospects and incur funding, a table of contents helps investors study your business in-depth and build confidence in your business idea.
Furthermore, it also helps focus on and prioritize tasks, quickly revise strategies according to the ever-changing business environment, make operations more fluid, and manage finances systematically.
A business plan table of contents provides a bird's-eye view of your business landscape to help better navigate KPIs.
Every company needs a business plan to sustain itself in the market. Ultimately, it's the content inside the business plan and its quality that directs a business to achieve goals using actionable steps.
As much as the elements of a business plan matter, the way they're presented also plays a pivotal role in grabbing the reader's attention.
The first few things that pique the reader's interest are the cover page and the table of contents. In this article, we'll see why and how you should write a professional business plan table of contents.
Why Include a Business Plan Table of Contents?
A table of contents serves as the outline of a business plan. It assists the reader to navigate through the document and is placed at the beginning of a business plan. This helps the reader effortlessly find and browse through the topics that interest them.
It includes all the major sections and subcategories of a business plan. The sections are arranged logically with page numbers. And it usually precedes the executive summary.
Pros of Adding a Business Plan Table of Contents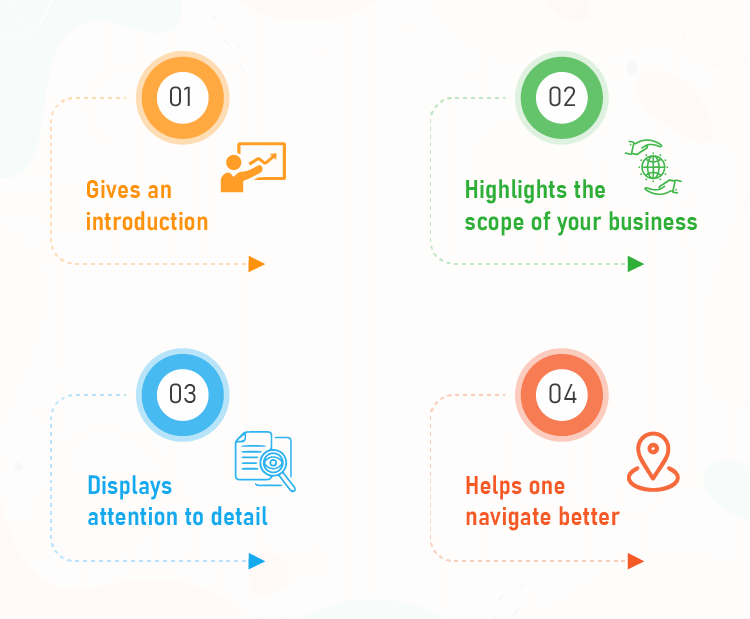 A table of contents is an extremely important part of any formal document, let alone a business plan. It is the most commonly found aspect in every large format document, from books to magazines to business plans.
Let's see the benefits of a business plan table of contents:
Acts as an introduction

The table of contents is placed before all the sections of a business plan. This will help the reader get a good look at the contents before diving into the details. Primarily, it introduces the reader to your business plan. In other words, a table of contents acts as an executive summary of the entire document.

Gives an overview of the scope

A table of contents further enables the reader to judge the scope of your business. To mirror the exact essence of your business plan, the table of contents should be crafted carefully.

Whether it's an investor or another company you wish to work in partnership with, any formal entity interested in your business skims through your table of contents. Hence, it is wise to convey exactly what you intend to.
A table of contents makes it easy for investors to judge whether or not your business has potential.
Displays attention to detail

While creating a table of contents you include not only the major sections of your business plan but also the subsections. These subsections will convey that you have paid attention to the smallest of things while drafting your business. This indirectly sends a message that you are serious about your business ventures.

Provides easier navigation

This is an obvious but very significant advantage of a table of contents. Incorporating it into your business plan will add a navigational aspect to your document. Regardless if it's a physical document or an e-document, a table of contents will help the reader go to any specific section they want.
In the case of an e-document, you can include links to the pages. So the reader can go to a particular section by clicking on the page numbers.
These are the advantages of including a table of contents. You can now go ahead and create one for your business plan. To help you get started, we have also created a sample table of contents for you.
Feel free to use the following template and revamp it according to your unique business.
Sample for Table of Contents
EXECUTIVE SUMMARY
COMPANY OVERVIEW
PROBLEM ANALYSIS

Problem Identification
Industry Analysis

PROPOSED SOLUTION

Product & Service Overview
Product & Service Specifications
Product & ServiceBenefits and USPs
Available Substitutes

COMPETITIVE ANALYSIS

Competitive Overview
Direct and Indirect Competitors
Competitive Position
Market Share Analysis
Barriers to Entry

MARKET ANALYSIS

Market Overview
Market Segmentation
Ideal Customer Profile

SALES & MARKETING PLAN

Sales & Marketing Objectives
Promotion Strategies
Branding

OPERATIONS PLAN

Site Location
Staffing and Training
Resource Allocation
Purchasing Process
Production Process
Quality Control Metrics
Customer Service

MANAGEMENT TEAM

Key Management
Board of Directors
Board of Advisors

FINANCIAL PLAN

Financial Overview
Marketing and Personnel Expenses
Terms of Investment
Exit Strategy

APPENDICES
Build Trust in Your Business with a Table of Contents
Writing a table of contents for your business plan is a subtle yet powerful way to captivate your potential investors or business partners. It is essentially a summary of the document that acts as a roadmap for your business activities.
A smart entrepreneur is one who uses every opportunity available to grow closer to success. Creating a striking business plan table of contents to engage your investors is a detail you shouldn't miss.