A business is as efficient as its team and its management. It, therefore, becomes important for business owners to build a structured management team that achieves the objectives and goals set by the organization. Thus, making the management section of a business plan the most essential component.
Andrew Carnegie, an American steel magnate, beautifully summarized it –
Teamwork is the ability to work together toward a common vision. The ability to direct individual accomplishments toward organizational objectives. It is the fuel that allows common people to attain uncommon results.
A business management plan helps build an efficient team, and formalize business operations. This helps businesses streamline strategies to achieve their goals.
It, therefore, becomes imperative that business owners pay utmost importance while writing the management section of a business plan.
So, if you are a business owner who is looking to formalize their business structure and write the management team section in their business plan, this guide is for you.
Here's a sneak peek into what you'll learn:
Sounds good? Let's dive in.
What Is The Management Section Of A Business Plan?
The management section of a business plan is an in-depth description of a business's team, its structure, and the ownership of a business.
The section discusses in detail who is on the management team – internal and external- their skill sets, experiences, and how meaningfully they would contribute to an organization's goals and outcomes.
Now that we have defined what is the management section of a business plan, let's understand why it is so important.
The Importance Of The Management Section Of A Business Plan
The management section helps you to:
1. Convince your investors (banks and government agencies) to disburse loans and grants for your business idea
2. Prove that your management team can execute your idea and if not, help hire the right fit for a position
3. Share how your advisory board can help your team succeed
Your business plan readers are usually investors. They are interested in how trustworthy and experienced your management team is. The business management plan helps you showcase how skilled and credible your team is.
What To Include In the Management Section Of A Business Plan?
The management section of a business plan helps in formalizing and structuring the management team plan and is comprised of
The Management Team
The Management Team Gaps
The Management Structure
Let's understand them in detail.
The Management Team

An organization's entire management team can be divided into parts – the internal team and the external team.

The Internal Management Team

A business team consists of several departments. The most common departments are – Marketing, Sales, IT, Customer Service, Operations, Finance, and HR.

These departments may or may not be required. It purely depends on the nature and functioning of your business. For example, a dental clinic may not require a sales department per se.

The entire management team is compartmentalized according to their responsibility. This helps the business owners and investors be aware of the roles, benefits, ESOPs (if applicable), profit sharing (for sales), work contracts, NDAs (Non-Disclosure Agreements), and Non-Competition Agreements of the entire team.

It is recommended that business owners collect and document the following information about their team:

Educational Background
Work Experience
Accomplishments

For example, your present VP of Marketing helped their previous company grow its bottom line from $3 million to $10 million over 18 months.

It is important to co-relate your existing workforce's experience with present goals. This helps improve organizational productivity and helps your team succeed better.

The External Management Team

The external management team is usually composed of – Advisory Board Members and Professional Services.

Advisory board members help by :

Establishing trust, showing results, and experiencing the table.
Increasing the confidence of investors and consumers.

This helps attract talented employees to the team. Credible advisory board members show great commitment to a company's growth. Therefore, it becomes important to document their experience and specialization in the business management plan. The advisory board members can help give valuable advice that internal team members need or lack.

If your business has not or will not have VC funding, you may not require board members on your team.

Usually, board members meet quarterly or monthly to provide strategic guidance in place of stock options in your company. This helps attract the best advisors and motivates them to invest in your business.

For example, founders and business owners coming to raise funds in Shark Tank, a business television series, are looking for advisory members who would invest money and provide guidance on necessary steps.

Recently retired executives and managers from corporations and other successful entrepreneurs would be great choices for an advisory board.

On the other hand, Professional Service helps by

Offering highly specialized advice and sharing knowledge.
Business owners make key strategic management decisions.

Such services help businesses leverage skills that would be difficult to build and acquire over a short period.

Examples of such professional services are

Accounting
Banking
Legal
IT Consultants
Marketing
Business coaches and consultants

After a brief overview of the Management Team of an organization, let's dive into what to include in Management Team Gaps.

The Management Team Gaps

The management team gap is an important part of the management section. Primarily because it helps document if your management team currently has gaps or missing skills. Your team may lack a few required skills while starting. The management team gaps help you to be aware and make efforts to close this gap.

As a business owner, you must document what positions are missing and who ought to fill that positions or take responsibility.

For example, if you need a VP of Sales, clearly document this in the section.

Also, write down the job description and key responsibilities to be undertaken,

Example – You might mention that role required 10 years of experience in the sales domain. The applicant must have experience handling a sales team, closing new accounts, working in tandem with the marketing team, and having relevant startup experience.

Be as detailed as possible. This will help you build a checklist while interviewing the right candidate and also win investor confidence in your managerial skills.

Following are a few key positions you would want to include in your management team:

Founder and/or, CEO
Chief Technical Officer (CTO)
Chief Marketing Officer (CMO)
Chief Operating Officer (COO)
Chief Financial Officer (CFO)
Chief Human Resources Officer (CHRO)
Head of Product Management (PM)
VP of Sales
VP of Marketing
UX Designer
Digital Marketing Manager
Business Development Manager
Customer Service Manager
Customer Success Manager
Sales Managers/Sales Staff
HR Manager
Advisory Board Members

Let's dive into the nitty-gritty of the management structure.

The Management Structure

The management structure defines how a business organizes its management hierarchy. A hierarchy helps determine the roles, positions, power, and responsibilities of all team members.

The management structure also depends upon the type of business ownership. Business ownership can be – a sole proprietorship, partnership, or simply an LLC.

Following is a sample management structure of an organization.

Now that we understand what details we need to document in the business management plan, let's look at a few examples of the management plan.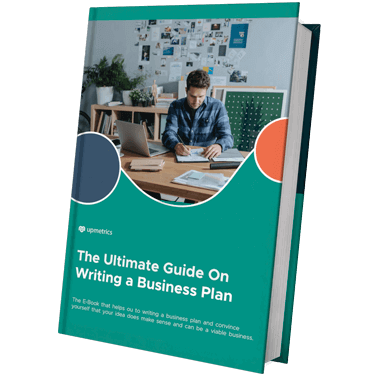 Example Of A Management Section Plan
[MANAGEMENT SECTION OF A HOTEL]
[MANAGEMENT TEAM]
Internal Team Members

#1

Name: Charles Fargo
Role: Owner
Responsibility: Formulating key strategies, defining budgets, and building a business plan
Experience: 35 years of owning multiple hotels in Las Vegas
Educational Background: B.Sc in Hospitality Management from South Dakota State University.

#2

Name: Michael Clark
Role: General Manager
Responsibility: Overall hotel operations – guest interactions, revenue management, brand ambassador of the hotel, customer satisfaction, and experience, leadership to all departments
Experience: 25 years working with several technology hotels as the general manager.
Educational Background: MBA from Wharton School

#3

Name: George Trump
Role: Department Manager
Responsibility: Manage employees, smooth coordination amongst employees, plan daily affairs of the department, strategize, prepare reports, and deal with complaints and suggestions. Lead team members to function as a team
Experience: 15 years working as a department manager
Educational Background: BSc in Hotel Management from Texas University

Note: There can be multiple Department Managers depending on the nature of your business. In the case of hotels, departments can include – housekeeping, logistics, security, food, and banquets.

#4

Name: Donald Clooney
Role: Marketing and Sales Manager
Responsibility: Increase occupancy and generate revenue. Position the hotel as an option for leisure activities, relaxation, and holidays.
Experience: 11 years working as the marketing and sales manager for hotels
Educational Background: MBA in Tourism and Hospitality from Midway University

#5

Name: Oprah Williams
Role: Human Resources Manager
Responsibility: Recruit and train hotel staff, maintain smooth onboarding process for new recruits, train, counsel, and coach staff, resolve conflicts, and conduct performance reviews
Experience: 9 years working as human resources manager for hotels
Educational Background: MBA in Human Resources Management from California University

External Team Members

Advisory Board Member

#1 Richard Branson
Responsibility: Strategic advisory for sustainable growth and expansion
Experience: Founder of Virgin Group

Professional Services

#1 Digital Marketing Agency – Neil Patel
– Help market and sell our product using digital mediums – blog, website, YouTube, and social media.
[MANAGEMENT STRUCTURE]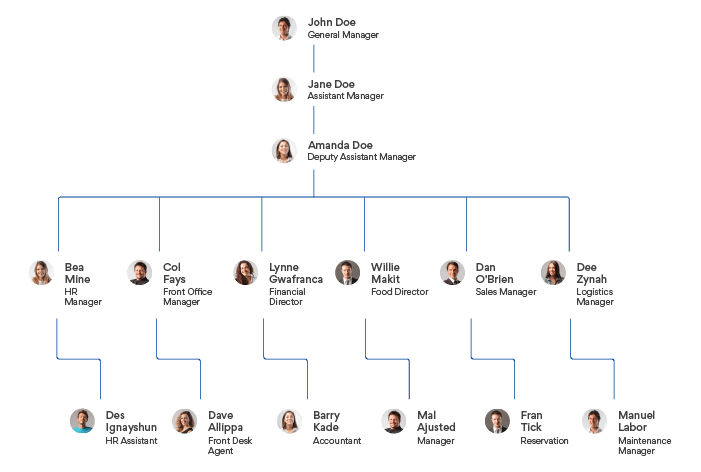 There is a gap in one key position in our startup.
#1 Chief Finance Officer (CFO)
Responsibilities: Finance, Accounting, Tracking Profit and Loss, and overseeing FP&A (Financial Planning and Analysis)
How To Ensure That The Management Section Of Your Business Plan Is Fool-Proof?
How To Ensure That The Management Section Of Your Business Plan Is Fool-Proof?
"In preparing for battle I have always found that plans are useless, but planning is indispensable." ― Dwight D. Eisenhower
By building a fool-proof management plan and ensuring that all the intricate details are accounted for, we can ensure that your business has a greater chance of succeeding.
Business planning software like Upmetrics ensures that business owners, like you, get the management section planning correct on the first attempt itself.
You can also get started with a free demo today to discover how Upmetrics can help you plan your business in a breeze.