Starting a new business requires lots of effort, and it can be stressful, especially when you don't have a clear picture of your small business budget. Setting a limit or planning your expenses will streamline your financial management.
But, how do you plan your costs before you incur them? Your small business budget is the key to estimating your expenses and considering that as a benchmark to plan further expenses for your business.
The article explains all you need to know about a small business budget, why it is essential for your business, and a six-step guide that will help you create your business budget efficiently.
So, let's begin with understanding the business budget.
What is a Business Budget?
Your business budget is est the income you will generate and the expenses you will incur for the next financial year. It considers how much you have spent in the past year or months and how much you will need to spend in the coming months to generate revenue.
However, you won't have historical data if you have just started your new business. Hence, you have to estimate your expenses based on how much revenue you are targeting for the next financial year and how much costs you will need to incur to generate the revenue.
So, why do you need a business budget? Let's understand its importance and see why you should have a small business budget.
Why is Small Business Budget Important?

Helps in business planning: Your business budget will help you in your business planning and streamline your business finances more effectively.
Helps in estimating profits or losses: It will also help you understand how much revenue you will generate and how much expenditures you have to make. Based on the predictions, you will know whether you will make a profit or loss in that financial year.
Effective decision-making: The budget will also serve your purpose of making better decisions as you will have an estimate of how much you will spend and earn, so you will be in a better place to make business decisions.
Raise funds: A substantial business budget will also help raise funds since you must show future financial roadmaps to potential investors.
Hence, be it your business planning or raising funds, your business budget will gauge you a fair idea of the financial health of your business.
Let's understand the comprehensive guide on creating a budget in six simple steps.
6 Steps to Creating a Powerful Budget for Small Businesses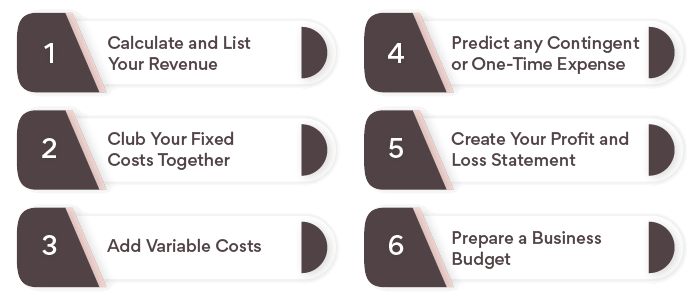 Although creating a small business budget is not rocket science, you must estimate your expenses carefully and predict your revenue.
The business budget becomes challenging when you prepare your budget for the first time with no past figures. Below is a six-step guide that will help you prepare your small business budget, whether you are preparing it for the first time or not.
Stay on Top of Your Business Budgeting
Thus, creating a small business budget may seem stressful when you have a lot of other work to focus on. However, with the right approach, you can make your business budget efficient and make it work for your business planning and better decision-making.
Automate preparing your small business budget with Upmterics, where you will get customized business budget templates to suit your industry. The financial forecasting and business planning software can do all the business finance management for you.