Walking down the road, have you ever stopped by to buy your favorite snack but found a queue at the store, so you just went back without buying it? Here's when a vending machine comes to your rescue. It's super convenient. And the best part? Allows you to pick up whatever you need quickly from the machine.
A vending machine is handy for everyone. Starting a vending machine business, whether it acts as your side income or your mainstream one, can make you a successful entrepreneur. Let's dive into the whats and hows of a vending machine business.
Your Small Business Deserves a Suitable Business Structure
Choosing one of many options is challenging, whether it is a choice of food you love or the structure of your small business. Every business structure brings its own set of responsibilities. It is all about picking the most suitable choice.
A sole proprietorship and a partnership business let you operate on your terms, as the business registry is not mandatory. However, this makes you, as an owner, responsible for all the financial and legal obligations of the company. Therefore, if you fail to abide by any law or repay any debt, your assets might get sealed to repay those debts.
C-corporation and LLCs have quite a few formalities for registration. However, the fact that it provides a separate legal entity from the company makes it all worth it. In case of any defaults, the entrepreneur is free from any personal liability.
To make the best choice, turn to an accountant for advice on picking the business structure that suits your requirements the best.
Is a Vending Machine Business Profitable?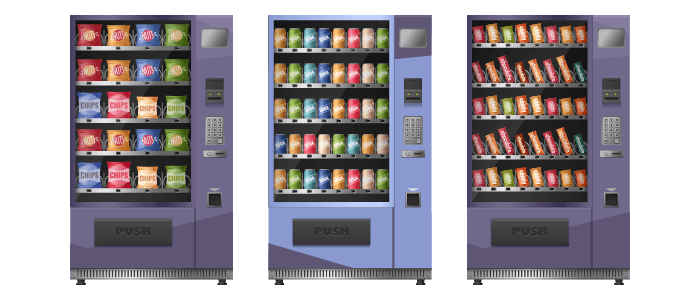 A big yes. What if I told you that you could earn a decent passive income with minor investment and risk? An engaged spot drives higher profits via vending machines. Profits tend to rise if your machine is stocked with location-specific products.
Research shows that the global vending machine market is expected to be worth $146.6 billion by 2027 and that the sale of food and beverages is likely to rise by 1% and 1.7%, respectively, by 2027. So, it is the best time to dive into this business.
What Are the Different Types of Vending Machines?
Vending machines are no less than a genie that fulfills your wishes. Here are some of the most common vending machines found in the US
Water

Selling essentials is one of the most profitable businesses because everyone uses them. Clean drinking water is less likely to be found in households or buildings. So, placing your vending machines in crowded areas will drive high revenue with low maintenance and investment.

Bread

Bread is part and parcel of the lives of Americans. Bread vending machines call for regular refills to make sure they are fresh. Place the machine anywhere around workplaces or schools, and you are good to go.

Coffee

Americans highly prefer things that can be consumed on the go. 400 million cups of coffee are consumed daily in the US making it a super lucrative market to tap into. Placing them in high-rush areas can be fruitful. Coffee machines need regular maintenance and refills but bring in high gains.

Snacks

With more people joining the 'stay fit club', healthy snacks have seen a rise in demand over time. These vending machines call for a sensible investment and low maintenance cost but bring you a decent income if placed in areas like gyms and fitness clubs. Adding not-so-healthy snacks to these can make your profits multifold.
Although these are the most common vending machines, you can explore more to determine the best fit.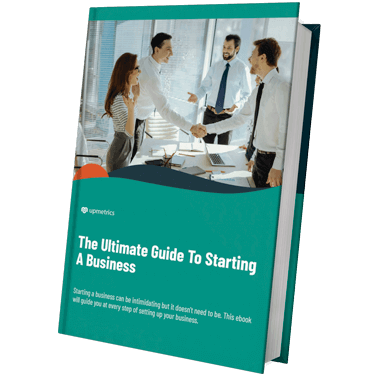 How to Become a Vending Machine Business Entrepreneur
Of course, you cannot know 'everything' when starting a new small business. However, it is only wise to collect as much information as possible to be on the safer side. Here we will take you through the process of launching your own vending machine business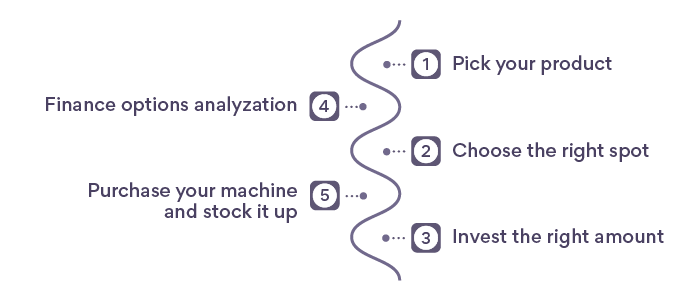 Pick your product

As thousands of products are sold via vending machines, it is tough to decide. In the beginning, food products are the most popular choice. Due to a shortage of time, Americans often prefer to grab some snacks from the vending machines on their way to their workplace.

So, stuffing your machine with ready-to-eat snacks might be a good choice. People also tap into machines that stock bulk products like rubber balls or specialty products like beauty and tech goods.

Choose the right location

The best way to choose the right location is to list all the places where you've used a vending machine to buy something. And then pick one of them, considering their availability and affordability.

Securing a space that witnesses a rush can potentially be the perfect choice for you. The right product at the right location is the key. For instance, placing your coffee/snacks machine near workplaces or schools can be a success.

In addition, to conduct a vending machine business, the relevant licenses must be mandatory. The requirement for licenses varies in different states and countries.

You just need to head to the US Small business administration's website and search for your state to know the permissions required to get started with your vending machine business right away. You can also call on SBA's number to find out more about your state's must-have licenses.

Before installing the vending machine, sign a legal contract with the property owner, showing his approval.

Invest the right amount

Here we are to help you spend wisely which drives the highest profit. Different kinds of machines cost differently-

Machines that sell a particular product in bulk at a price often cost less, around $70-$300.
Multiple product vending machines have lots of options to choose from and cost around $1000-$6000 depending upon the features you go for.
Electronic vending machines have new age features like touch screens and credit card payment gateway and thus cost $4000. This is the most profitable as people often carry credit cards that help them make a purchase quickly.

It is highly recommended to buy a used vending machine which costs around $1200 to $3000. But be mindful enough to check if the machine is fully functional. As vending machines are exposed to the public 24*7 call for regular maintenance to not miss out on profits due to no operation.

Finance options analyzation

With a few thousand dollars you can kick-start your vending machine business. Taking up a loan for that can make the process rapid and smooth. Here are 2 options to choose from

Short-term loans: As vending machine businesses require small amounts, loans given for a comparatively shorter duration are the best fit. Due to the time crunch, short-term loans charge high interest. Here you need to prove your creditworthiness to the lender for them to extend a loan for your business.
Equipment financing: This kind of loan helps you to finance your equipment via banks. You just need to provide your financial information with the price of the machine you plan to buy and you're good to go. It gives you the freedom to buy the inventories with the loan amount.

Purchase your machine and stock it up

It's time to buy your vending machine. You can purchase your machine online and get it delivered to your location.

Make sure to check the customer reviews before selecting the brand of your vending machine.

If you opt for a safer route, you can go for a franchise where you get a foolproof business structure and income stream. You need to pay a fee and a certain percentage of your profit at the time of purchase.

The third option is to acquire an existing vending machine business after exploring the owner's reason for selling. It can give you instant gratification with comparatively higher profits from the start.

Stocking your machine with products is crucial for earning profit. Rather than going for fancy food and beverages, it's wiser to sell products that are widely used in that specific location and are budget-friendly.

For this, you can always rely on local wholesalers to get the lowest cost for local products. You can choose to keep it light in the starting.

You may choose the machine that gives you real-time alerts about low stock, on your cell phone.
Benefits and Drawbacks of Vending Machine Business
Everything has its positives and negatives. So does a business. Go for the business whose negatives do not scare you but empower you to perform better.
Benefits

Nothing can be better than owning a business with low cost and maintenance and a high profit with minimum effort. A vending machine business gives you just that. The basic cost involved is in purchasing the machine and its repair. You just need to stock it regularly and collect the cash. That's it!

Drawbacks

A vending machine business often involves cash dealings making it prone to theft. Placing it in a safe area can avoid the loss of income. Additionally, this business involves regular efforts and time investment in stocking the machines, maintaining them, and collecting cash.
Wrapping Up
Being an entrepreneur might seem like a big responsibility. But with the right information, you can ace the vending machine business game. With time as you understand the market better, you will find a more favorable location and a more suitable profit-making product.
How Upmetrics can help?
It's a fact, that getting accurate guidance can help you successfully launch your dream business. But, just collecting information from various sources will lead you nowhere. Having a business plan helps you set your vision right and invest your energy in important areas.
So, here we have the most simple way of creating a convincing and structured business plan. With Upmetrics – business plan software, you can make a customized business plan using our business plan examples carefully curated for your industry-specific needs. With suggestions at every step and customized financial plans, we've got you 360 degrees covered.