Barbershops are always going to be in demand.  As long as you plan to offer quality upbeat services, you can make a prominent place for yourself in the marketplace.
You must already know the basics of starting a barbershop. But this step-by-step guide to setting up a barbershop can be of added help to you.
Setting up a barbershop requires money. A heapful of it.
So before you proceed, you need an answer to how much it costs to start a barbershop.
Well, let us help you out.
This article covers nitty gritty details relating to barber shop startup costs and the factors influencing those costs. There is much more for you to uncover in this article.
So, chop off everything you are doing and start reading!
What is the cost of starting up a barber shop?
The average cost to start a barber shop in the USA span between $50,100- $148,400. However, it is possible to start this business with less than $10,000. The barbershop startup costs are greatly influenced by factors such as its location, type of barbershop, and its size.
According to IBIS World, a barbershop enjoys a net profit margin of 10-20% on its total sales. The margins are rewardingly high as you expand the business in the luxury segment.
Average costs for starting a barber shop
Before we dive into details, check out this barber shop startup cost checklist. It will help you plan your startup budget and know how much financing you need to get started.
Item
Average Cost
One-time Expenses
Lease deposits
$6,000-$20,000
Renovations and remodeling
$8,000-$30,000
Furniture
$3,000-$10,000
Barber tools and equipment
$500-$1,400
Inventory (Grooming supplies, haircare products)
$2,000-$7,500
Professional barber license
$2,000-$5,000
Website setup
$500-$5,000
Business registration
$50-$750
Business licenses and permits
$150-$750
Annual Insurance
$2,000-$3,500
Uniform costs
$300-$1,000
Hoarding, signage and banners
$5,000-$10,000
Pre-launch marketing
$5,000-$10,000
POS setup
$3,000-$15,000
Security system
$500-$2,500
Professional services
$500-$2,500
Total One-Time Expenses
$38,500-$124,900
Recurring Expenses (Per Month)
Rent
$1,500-$4,500
Utility bills
$800-$2,000
Payroll
$8,000-$12,000
Monthly marketing
$500-$2,000
Supplies (haircare, grooming products)
$500-$2,000
POS and software subscriptions
$300-$1,000
Total Recurring Expenses
$11,600- $23,500
Total
$50,100-$148,400
Disclaimer: Note that these costs are averages and can vary significantly depending on factors such as location, type of barber shop, size, equipment, and much more. It's important to conduct thorough research and planning to get a more accurate estimate of the costs specific to your barber shop business.

Using this barber shop startup cost checklist, you can plan your startup budget and get an idea of how much financing you will need.
How to calculate the cost of starting a barber shop business
You now have a list of potential expenses and a rough estimate of your startup costs. Let's estimate your actual startup costs using these two proven methods.
The first, traditional method involves using a startup costs worksheet to calculate the startup costs and estimated profits. However, the second, the Upmetrics method, is an innovative method that uses the Upmetrics financial forecasting tool.
Let's understand both methods so that you can choose one that suits your requirements the best.
The traditional method—startup costs calculator
The startup costs worksheet helps you calculate the amount needed to take your business off the ground. It is a comprehensive list of fixed and recurring costs to help you determine the actual startup costs.
Remember that many startup costs fall under recurring expenses, so cover those costs monthly, quarterly, or annually.
This cost worksheet helps you estimate the funding required to get your startup costs covered.
Calculate your startup costs using this worksheet.
The Upmetrics method—financial forecasting tool
It is an intuitive and efficient method of calculating startup costs. Using Upmetrics will not just help you estimate startup costs but also help with financial forecasting.
All you need to do is enter your sales, costs, and other financial assumptions and let the tool calculate monthly/quarterly/ and yearly projections for you.
Check out the financial forecasting tool for accurate financial forecasting.

Check out the financial forecasting tool for accurate financial forecasting. Once you have an accurate estimate of startup costs, you can easily identify funding requirements for your barbar shop.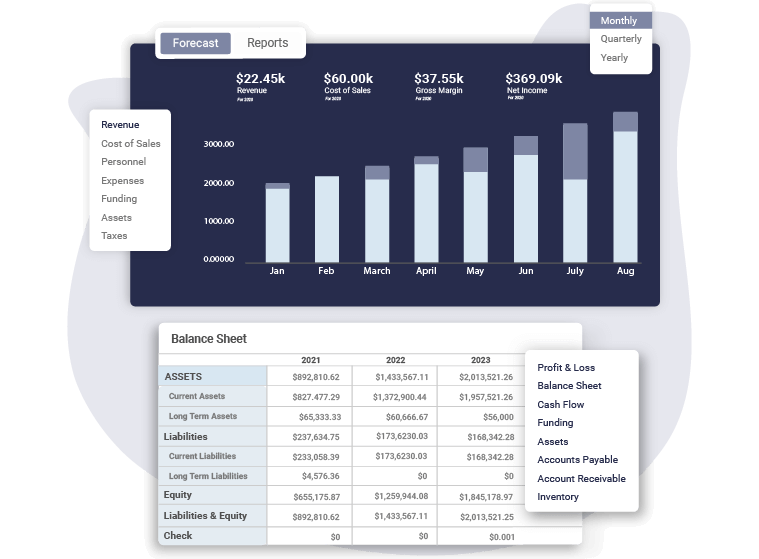 Once you have an accurate estimate of startup costs, you can easily identify funding requirements for your own barbershop.
Raising funds for a new startup is certainly a nerve-wracking and time-consuming process, but having a solid barber shop business plan can make things a lot easier.
Let's move ahead and discuss the factors that affect your barber shop startup costs.
Factors that affect barber shop startup costs
You already have a rough idea about barber shop startup costs. However, are you aware of the factors that influence these costs? Let's get started.
1. Location and type of barbershop
What type of barbershop are you planning? Is it going to be an upscale luxury salon or a cozy small traditional barbershop?
The decision you make here will influence costs for the size of the shop, infrastructure, payroll, equipment, and everything else.
Now, where you choose to open a shop will also play a prominent role in determining barbershop startup costs. This is because the cost of opening a barbershop in highbrow locations soars significantly higher than in modest low-traffic locations.
For instance, opening a barbershop in the upper borough of Manhattan will cost much more than a semi-popular location in San Fransisco.
2. Barbershop Space
Before you start looking out places for your barbershop, determine what sizes will work for you.
Here are some sizing references for you:
Less than 3 workstations: 200-500 sq. ft.
4-8 workstations: 500-1,500 sq. ft.
10+ workstations: 1,500-4,000 sq. ft. and more
Now, you can either lease a shop facility, purchase a shop, or construct a shop from ground level up.
Let's discuss the lease rental option.
You can find a mid-sized barbershop with a monthly rental of anywhere around $1,500-$4,500 in a good buzzing location. However, the rent can soar high in prestigious locations.
To secure a lease, lease deposits worth 3-6 months of rent have to be made upfront. Accounting for deposits will cost anywhere around $6,000-$20,000 and more.
Purchasing a shop facility will span between $30,000- $1 million and more.
3. Remodelling, furnishing, and equipping costs
Once you find a space, you will have to transform it into a barbershop. A couple of renovations are essential to create workstations and essential infrastructure. Account for paint, lighting, installing utilities, and sinks to bring together a functional barbershop.
The costs for minor constructions and remodeling could vary between $8,000-$30,000 and more depending on the choices you make.
A barbershop will require essential furniture like couches, barber chairs, and stools to offer efficient services. The cost of one barber chair alone on the lower end cheap side varies between $500-$800. A high-end chair can cost up to $2,500.
Overall, the cost of furniture could vary between $3,000-$10,000 for the barbershop.
Also, consider the costs of equipping the shop with flat-screen TVs and sound systems for an inclusive ambiance. The costs for these could vary between $1,000-$3,000 and more.
The setup costs for each barbershop vary depending on the ambiance you wish to create for your barbershop.
4. Barber supplies and tools
Equipment and beauty product supplies are something you must account for in your barbershop startup costs. A variety of clippers, scissors, combs, trimmers, dryers, barber poles, and other equipment will cost around $500-$1,400 and more depending on quantity.
Building an inventory for hair care and grooming supplies can get expensive. However, it is a non-negotiable expense to open a barbershop
The costs for hair dye, styling gels, shampoos, treatments, shaving gels, and related products can cost anywhere between $500-$2,000. If you plan to retail the haircare merchandise in your barbershop, consider building an inventory of nearly $1,000-$5,000 and more.
Further, you also require towels, capes, neck duster, and related tools to offer professional services in a salon. The costs for these can be small ranging from $200-$500.
5. Payroll expenses
You need a team of hairdressers, color specialists, barbers, cleaners, and a receptionist at the least to run a barbershop. Focus on hiring skilled and renowned hairdressers to keep the customers hooked to your barbershop.
The payroll expenses for these people will start rolling in from the first month. Considering that an average hairdresser makes around $28,681 yearly, you can estimate the wages you will be paying.
Make strategic hiring plans that include a mix of full-time employees as well as hourly paid staff. This will help you reduce payroll expenses initially and offer hassle-free services at peak hours.
Overall, the monthly payroll expenses for a mid-scale barbershop could span between $8,000-$12,000.
6. Licenses, permits, and insurance
Registering business costs between $50-$750. However, you require a few licenses and permits for running a barbershop.
Most states require you to have a barber license to run a barbershop. The license costs can be expensive, however essential, and can span between $2,000-$5,000.
Apart from that, basic building licenses, zonal permits, signage permits, and specific state-related permits will cost you between $150-$750.
Insurance is mandated by most states to run a business legally. However, even if it's not mandatory, business liability insurance is recommended for barbershops. Consider paying $2,000-$3,500 on insurance every year.
7. Advertisement, branding, and marketing
Marketing is non-negotiable to succeed in the competitive marketplace. Marketing encompasses a wide variety of things you need to work on.
To begin with, hoardings, banners, and signage boards for the barbershop. This will cost anywhere from $5,000-$10,000.
Further, you need to prep for the grand opening. A soft launch is not preferable for businesses like yours. The costs for marketing the grand launch and event would vary between $5,000-$10,000 again.
Further, you need a website and social media presence to get to your target audience. The costs for these will vary between $500-$5,000.
And lastly, allocate some monthly budget for your marketing activities. This can be anywhere between $500-$2,000 monthly.
8. Technologies and security systems
You need technologies to optimize processes and reduce costs. POS software is mandatory to manage the operations of a barbershop efficiently.
A POS setup costs anywhere between $3,000-$15,000 at a time. The recurring software costs span between $200-$500 monthly.
Apart from that, here are a few software you can consider for your barbershop:
CRM: $50-$300
Appointment scheduling software: $10-$50
Email marketing tools: $0-$30
Consider equipping your barbershop with essential security and safety measures. Many states have mandatory laws for installing security systems in businesses. The security setup would cost between $500-$2,500.
9. Professional services
A variety of professional services will be required to focus on non-core aspects of your business.
Consider these services for a barbershop.
Legal services: Helps with business registration, compliance, permits, and essential licensing. The legal services cost anywhere between $150-$300 monthly.
Accounting and bookkeeping services:  Helps with accounting, taxation, filing returns, and basic bookkeeping. The professionals charge anywhere around $100-$300 each month.
Cleaning and maintenance services: Regular cleaning and maintenance of barbershops is essential for health and safety. The professionals charge $100-$200 each month for regular services.
Consultation services: Helps grow your barbershop in the desired direction through effective counseling. These specialists charge $500-$1,000 on an hourly basis.
10. Franchise costs
Planning to buy a barbershop franchise? There are a variety of good picks for you to choose from. Study the franchise requirements for your favorite barbershop from reliable sources like top franchises.
When you plan for a franchise, consider franchise fees as well as initial investment/ capital requirements set by each franchise.
Here are a few famous barbershop franchises and their fees:
V's Barbershop: $30,000
Roosters Men's Grooming Center: $39,500 + $150,000 liquid assets
Scissors and Scotch: $45,000
Cookie Cutters Haircuts for Kids: $40,000
Analyze the barbershop startup costs for the franchise you want and make rational decisions.
These factors largely and minutely affect the startup costs for a barber shop. A thorough understanding of each will help you adjust your startup costs.
Tips for reducing barber shop startup costs
Want to reduce your startup costs? These tips might come in handy to bring down your initial costs considerably.
1. Start with limited workstations
Start small with limited workstations. 4-8 workstations are enough for a medium-scale barbershop. This will keep your startup costs and operational expenses low.
2. Location Choice
Choosing a highbrow location can significantly cost more. Instead, look out for places that experience good traffic or are in an emerging new area. This will help you secure a good deal on the lease.
Be strategic in choosing a location. A shop in a moderately competitive area can help you establish a foothold quickly.
3. Consider second-hand purchases
While looking out for furniture, barber chairs, AC, LED screens, and other equipment, check if you can find a better deal on used goods.
Keep an eye out for garage sales, used goods platforms, and closing shops in the neighborhood. You can secure better pricing without compromising on quality.
4. Limit the renovation costs
Everyone wants to create a luxurious upscale interior. However, renovation and remodeling is where you will spend the most if you don't keep the budget in hindsight.
Always start with a budget. Invest in low-cost decor options to create a cozy, aesthetically pleasing barbershop.
5. Low-cost marketing
Spend some time learning new marketing skills. Instead of hiring professionals for every marketing task, do it on your own.
For instance, it's easy to do quality social media marketing on your own with few open-source tools and resources.
Marketing needs to convey a strong message. Stop perfecting it from day 1
6. Avoid full-time hires
Don't hire a full team on payroll from the start. Hire a few of your barbers and stylists on an hourly basis.
Schedule their shifts such that the peak hours demand is met. This way you can save payroll expenses from piling up.
Conclusion
And that's it for the article guys. I hope now you have solid clarity regarding barbershop startup costs.
However, you still have a lot to do. And the most important task is to figure out the actual startup costs for the shop you are planning.
So chop off all the distractions and use this financial forecasting tool to get started.
Use Upmetrics for Accurate Startup Cost Projections!
Looking to estimate your startup costs? Dive into Upmetrics! Our business plan software makes financial forecasting a breeze
Get Precise Projections Now