Campgrounds have gained immense popularity in recent years and the demand for great camping experiences are increasing rapidly.
If you are planning to start a campground business, you sure are in for a profitable treat.
However, to start any business, you would require money. The question you need an answer to is: how much does it cost to start a campground?
Well, this article has all the answers for you. It has a detailed breakdown of campground startup costs, factors influencing those costs, and different ways to reduce the initial costs.
Without any further ado, let's get started.
What is the cost of starting up a campground?
The average campground startup costs in the USA span between $180,100- $462,000. This cost is largely influenced by factors such as the number of campsites, the type of campground, and its location. However, if we consider the cost of setting up one campsite, it would span anywhere between $10,000-$30,000.
According to IBIS World, the campground industry has witnessed an 8.2% revenue increase in 2023 alone and is expected to flourish further. The campground business offers a lucrative ROI with profit margins spanning between 10-30%.
Average costs for starting a campground
Before we dive into details, check out this campground startup cost checklist. It will help you plan your startup budget and know how much financing you need to get started.
Item
Average Cost
One-time Expenses
Land downpayment/ lease deposits
$30,000-$80,000
Land preparation
$30,000-$50,000
Campsite construction
$30,000-$70,000
Campground infrastructure
$20,000-$80,000
Business registration
$100-$500
Licenses & Permits
$5,000-$20,000
Annual Insurance
$5,000-$15,000
Equipment
$20,000-$50,000
Technology setup
$5,000-$15,000
Professional services
$2,000-$5,000
Branding, hoardings, and signboards
$10,000-$20,000
Pre-opening marketing and advertisements
$2,000-$10,000
Website setup
$500-$5,000
Total One-Time Expenses
$159,600-$420,500
Recurring Expenses (Per Month)
EMI or rent
$6,000-$15,000
Payroll expenses
$8,000-$12,000
Utility bills
$5,000-$8,000
Facility maintenance
$1,000-$5,000
Marketing expenses
$200-$500
Campground supplies
$300-$1,000
Total Recurring Expenses
$20,500- $41,500
Total
$180,100- $462,000
Using this campground startup cost checklist, you can plan your startup budget and get an idea of how much financing you will need.
Disclaimer: Note that these costs are averages and can vary significantly depending on factors such as location, size of campground, infrastructure, amenities, and much more. It's important to conduct thorough research and planning to get a more accurate estimate of the costs specific to your campground business.
How to calculate the cost of starting a campground business
You now have a list of potential expenses and a rough estimate of your startup costs. Let's estimate your actual startup costs using these two proven methods.
The first, traditional method involves using a startup costs calculator to estimate the startup costs. However, the second, the Upmetrics method, is an innovative method that uses the Upmetrics financial forecasting tool.
Let's understand both methods so that you can choose one that suits your requirements the best.
The traditional method—startup costs calculator
The calculator includes categories such as pre-trading, website setup, marketing, operations, and people. You can enter the estimated costs in each field and let the calculator estimate the costs for you.
Remember that many startup costs fall under recurring expenses, so cover those costs monthly, quarterly, or annually.
Calculate your startup costs using this calculator.
The Upmetrics method—financial forecasting tool
It is an intuitive and efficient method of calculating startup costs. Using Upmetrics will not just help you estimate startup costs but also help with financial forecasting.
All you need to do is enter your sales, costs, and other financial assumptions and let the tool calculate monthly/quarterly/ and yearly projections for you.
Check out the financial forecasting tool for accurate financial forecasting.

Check out the financial forecasting tool for accurate financial forecasting. Once you have an accurate estimate of startup costs, you can easily identify funding requirements for your campground business.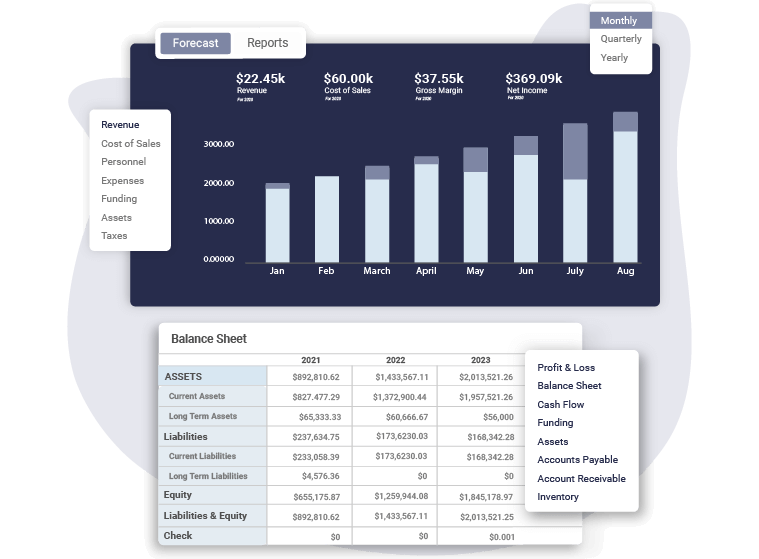 Once you have an accurate estimate of startup costs, you can easily identify funding requirements for your campground business.
Raising funds for a new startup is certainly a nerve-wracking and time-consuming process, but having a solid campground business plan can make things a lot easier.
Let's move ahead and discuss the factors that affect your campground startup costs.
Factors that affect campground startup costs
Starting a campground requires a thorough consideration of various aspects. Let us now understand the factors that can substantially affect campground startup costs.

1. Location
Location plays a crucial role in determining the startup costs for a campground. Look for scenic, adventurous yet safe and accessible locations for a campground to be successful.
The location of a place largely influences the cost of land, rent, employee salaries, license and permit costs, and also operational expenses. The idea is to find the place that attracts the crowd while remaining easy on your pocket.
Identify the favorable states and localities to reduce the overall cost of business setup. Look out for emerging locations and places with less intense competition.
For instance, camping in Colorado, Utah, and Texas has been on the rise since 2019. Consider these places for your campground business.
2. Land: cost and size
To determine the size of the campground, plan the number of campsites you would open. Also, would it be tent campsites or RV campsites?
A tent campsite takes about 400 sq. ft. of space and an RV campsite would take 800-1250 sq. ft. of space. Further, you need to consider space for amenities and infrastructure as well.
Considering that you start with 10 campsites initially, you would still require 20,000-30,000 sq. ft. of space. Ideally, a thriving campground is spread anywhere between 1-10 acres of land and more.
Now, depending on the size, region, and demand, you can consider spending between $100,000-$1 million and more to purchase campground land. The downpayment for land would range anywhere between $30,000-$80,000 or more.
Considering a lease rental option, you can expect to pay anywhere between $6,000-$15,000 and more every month on rent.
Making careful calculations, decide what suits your budget the best.
3. Land preparation costs
Once you finalize a land,  you need to prep the land for being campground-appropriate. The costs for land preparation depend on the condition of the land and the layout you desire.
Now, if you have purchased a ready campground, the land will already be leveled, graveled, and graded as suited for campsites. Some basic modifications and you will be all set.
However, if the land is new, undertake expenses on site clearing, grading, road construction, and landscaping. This is essential to create a base for campsites and make the campground easily accessible.
The land preparation costs span anywhere between $20,000-$50,000 and more. Check the local regulations before you start clearing any land and its vegetation.
4. Construction costs: Infrastructure, amenities, and utilities
Purchased a ready campground? Well, this will help you save major costs
on construction. However, consider costs for remodeling and upscaling the campsite to attract a quality crowd.
If you are starting a campground from ground level, expenses need to be made on the construction of infrastructure, installing utilities, and amenities to make the campground functional and appealing.
The cost of building one campsite spans between $10,000-$30,000 each. Depending on the number of campsites you plan on starting, this expense will increase.
The campground will also include common areas for games, activities, get-togethers, and adventurous activities.
Consider installing energy-efficient utilities. This will help you save large on monthly utility bills. A campsite needs to account for water, gas, electricity, Internet, cables, sewer, and other utility installations.
The cost of building campground infrastructure and utilities can span anywhere between $20,000-$80,000+.
5. Licenses, permits, and insurance
Registering your business with a state may cost around $100-$500.
A variety of licenses and permits are required for a campground business. This includes business licenses, environmental permits, building permits, fire safety permits, water use permits, wastewater discharge permits, and much more.
The cost of acquiring these license and permits span anywhere between $5,000-$20,000 at once.
Also, consider business and campground-related insurance to protect your business from unexpected events.
Here are a few insurance for you to consider:
General liability insurance
Business Insurance
Workers compensation insurance
Property insurance
Professional liability insurance
Consider getting a Business Owner Policy (BOP) for your campground. This will offer protection and coverage for everything above.
Overall, the cost of insurance for a campground business can span anywhere between $5,000- $15,000 annually.
6. Campground equipment
A campground must be equipped with essential equipment to offer a comfortable and satisfying experience to the customers.
Prepare a comprehensive list of all the services you will offer at the campground. Now thoroughly think of equipment that will be essential to deliver those services.
A lot of equipment ranging from RV hookups to fire rings, lawnmowers, and bathroom equipment is needed to keep the campground up and functional.
The one-time cost of acquiring equipment, be it new or used, can vary between $20,000-$50,000 and more depending on the services you offer and the size of the business.
Never skimp on the quality of equipment as their repair and maintenance will cost you more in the long run.
7. Technology and security costs
Technology is crucial for any modern-day business to thrive successfully.
To deliver smooth and seamless camping services to your customers, you will need quality camping technologies.
More than 80% of visitors will make an online booking for a camp stay well in advance. Therefore, a fully functional quality online booking system is essential for your business.
Further, a campground will need a security system for the safety of campers and their belongings. A variety of motion sensor cameras, control systems, and security measures will be needed within a campsite.
So how much do the technology expenses account for?
Expect to spend anywhere between $5,000-$15,000 and more on technological setup and hardware related to it.
8. Professional expenses
Identify what services are required for a campground business and sign up with the required professionals.
Here are a few essential services, you must consider availing of:
Legal services: Helps with business setup, legal compliance, and much more. These professionals charge anywhere between $150-$500 hourly.
Accounting services: Looks into accounting, bookkeeping, and tax matters for your business. Accounting services annually range around $1,200-$3,000.
Business consultant services: Helps with advice and practical solutions to grow your business. These professionals charge between $500-$2,000 hourly.
Campsite planning services: Helps you create a functional, aesthetic, and distinctive campsite for your business. Charges between $10,000-$20,000 and more for a project.
9. Marketing
Campground businesses cannot thrive without marketing activities. Since campgrounds are located on the outskirts, there are fewer chances of visitors just popping in.
A thorough marketing and branding strategy includes a mix of traditional and digital methods to get to your target audience.
The cost of hoardings and signboards to lead people to the campground spans between $10,000-$20,000.
Further, the cost of print media, social media marketing, and initial advertising to raise awareness for your new campground can range between $2,000-$10,000.
Also, the marketing expenses are recurring in nature. Set aside a budget every month or a proportion of your monthly turnover for marketing activities. On average, expect to spend $500-$2,000 monthly on marketing activities.
10. Payroll expenses
A variety of staff and employees will help you deliver an exquisite camping experience to the campers.
From campground hosts to recreational managers, housekeeping, maintenance, and food service staff- determine which and how many employees you will need to run the campground efficiently.
Considering the average industrial pay, plan the monthly and annual expenses on the payroll.
For instance, the average campground manager earns an average salary between $39,776- $57,122. This brings their monthly average to $3500-$5,000.
All in all, considering a 10-campsite campground project, you can expect your monthly payroll expenses to span anywhere between $8,000-$12,000.
Now that you are aware of the factors that influence campground startup costs, let's figure out a few practical ways to reduce them.
Tips for reducing campground startup costs
Want to reduce campground startup costs? The following tips can prove to be useful in reducing the initial expenses considerably.
1. Strategic locations
Strategically choose the states and location that offers affordable land purchase and rental options. You need a location that's scenic, affordable, and easily accessible.
Research and look out for places that are experiencing an emerging development in the camping business.
2. Start with limited campsites
You don't need hundreds of campsites to turn successful and profitable. Start small with 10-15 campsites. This will also help you regulate operational expenses and maintain quality.
Then as the occupancy rate starts getting better, plan to expand to nearby locations.
3. Offer limited services
Focus on quality but limited services in the beginning. Instead of offering recreational services for all, focus on a specific target group to devise your services.
Even for the adventures, limit the number of adventure activities you have to offer. This will save extremely high costs on setting up each adventure activity.
Expand your service offerings as you grow.
4. Ensure energy-efficient installing
Government grants are available for installing energy-efficient solutions. This will help you reduce the startup costs of building utilities as well as the monthly expenditure on energy bills.
5. Create shared facilities
Think of ways to substantially reduce the costs. Create shared spaces for campgrounds where a bunch of people can gather together and spend quality time.
For instance, shared bathroom facilities will save hundreds and thousands of dollars on building individual washrooms.
6. Partner with local businesses
Partner with local businesses to deliver secondary or complementary services. For instance, partner with an adventure company to offer their services to your campers. Again, instead of setting up your own kitchen, partner with local restaurants or food chains to deliver food services at a campground.
This will help you reduce the overall startup costs considerably.
Conclusion
That's it for the article guys! One final step before you proceed further and set up your own campground.
You already have a rough estimate for campground startup costs. Now, gather all the base resources and start calculating actual costs for your campground.
Use Upmetrics for Accurate Startup Cost Projections!
Looking to estimate your startup costs? Dive into Upmetrics! Our business plan software makes financial forecasting a breeze
Get Precise Projections Now