Thinking of starting a food truck? Sounds delicious.
The notion of starting a new food truck and preparing and serving your very own delicious recipes is itself a satisfying feeling.
But before you hit the road, it's critical to figure out how much it costs to start a food truck—and get your wheels turning.
You need a detailed breakdown of your startup costs to put together a perfect food truck setup. This article will help you do just that.
This article will cover the nuts and bolts of buying a food truck, inventory costs, the hassle of getting licenses and permits, and everything in between.
So, put your chef's hat on and be ready to dive right in.
What is the cost of starting up a food truck?
Starting a food truck in the United States generally costs somewhere between $53,560 to $173,100. These costs depend on location, local licensing requirements, kitchen setup, and cooking equipment. Furthermore, buying or renting a used food truck can help you reduce startup costs.
The average cost to start a food truck
Before we dive into details, check out this food truck startup cost checklist. It will help you plan your startup budget and know how much financing you need to get started.
Item
Average Cost
One-time Expenses
Truck or trailer
$24,000 to $100,000
Initial Product Inventory
$1,000 to $2,200
Retrofitting and Repairs
$20,000 to $50,000
Utensils and Cutlery
$1,000 to $2,000
Fire Extinguisher
$100 to $300
Website
Free – $5,000
Uniforms / T-Shirts
$0 to $1,000
Licenses and permits
$100 to $500
Misc. Expenses
$500 to $2,000
Total one-time expenses
$46,700 to $163,000
Recurring Expenses (Per Month)
POS software (monthly)
$60 to $400
Labor costs (weekly)
$6,000 to $8,000
Gasoline (monthly)
$300 to $500
Business Insurance (yearly)
$400 to $500
Social Media Marketing
$0 to $400
Disposables (E.g., Paper dishes, Napkins.)
$100 to $300
Total recurring expenses
$6,860 to $10,100
Total
$53,560 to $173,100
Disclaimer: Note that these costs are averages and can vary significantly depending on location, type of cuisine, equipment needs, and more. It's important to conduct thorough research and planning to get a more accurate estimate of the costs specific to your food truck business.
Use this checklist as a rough estimate to create your startup costs checklist depending on your location, equipment needs, and other requirements.
Let's move ahead and understand how you can calculate the food truck startup costs.
How to calculate the cost of starting a food truck business
You now have a list of potential expenses and a rough estimate of your startup costs. Let's estimate your actual startup costs using these two proven methods.
The first, traditional method involves using a startup costs calculator to estimate the startup costs. However, the second, the Upmetrics method, is an innovative method that uses Upmetrics financial forecasting tool.
Let's understand both methods so that you can choose one that suits your requirements the best.
The traditional method—startup costs calculator
The calculator includes categories such as pre-trading, website setup, marketing, operations, and people. You can enter the estimated costs in each field and let the calculator estimate the costs for you.
Remember that many startup costs fall under recurring expenses, so cover those costs monthly, quarterly, or annually.
Calculate your startup costs using this calculator.
The Upmetrics method—financial forecasting tool
It is an intuitive and efficient method of calculating startup costs. Using Upmetrics will not just help you estimate startup costs but also help with financial forecasting.
All you need to do is enter your sales, costs, and other financial assumptions and let the tool calculate monthly/quarterly/ and yearly projections for you.
Check out the financial forecasting tool for accurate financial forecasting.

Check out the financial forecasting tool for accurate financial forecasting. Once you have an accurate estimate of startup costs, you can easily identify funding requirements for your food truck business.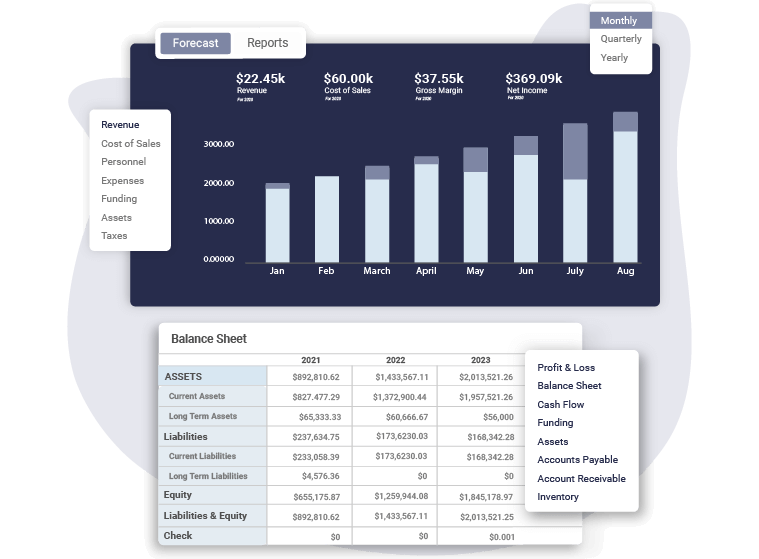 Once you have an accurate estimate of startup costs, you can easily identify funding requirements for your own food truck business.
Raising funds for a new startup is certainly a nerve-wracking and time-consuming process, but having a solid food truck business plan can make things a lot easier.
Let's move ahead and discuss the factors that affect your food truck startup costs.
Factors that affect food truck startup costs
Although starting a food truck is a low-cost and low-risk alternative to starting traditional restaurants, here are some critical factors that can significantly affect your startup costs.
1. Location and permitting costs
It's a no-brainer that location and permitting costs are two critical factors that significantly affect your startup costs.
For instance, food truck parking spaces at prime locations are typically more expensive than those in less popular areas or small towns. However, choosing an affordable location may also result in lower footfall and lower sales.
Some cities also have designated areas for food trucks to operate that require additional fees or necessary parking permits. Additionally, the cost of parking, storage, kitchen equipment, and inventory can also vary depending on your location.
According to the U. S. Chamber of Commerce's food truck index, food truck owners spend an average of $28,274 on permits, licenses, and ongoing legal compliances.
Generally, a food truck's licensing and permitting requirements fall under the following categories: administrative, health/menu/food safety, vehicle requirements and safety/hazard prevention, employment, and zoning.
Again, the amount of money you will spend on licensing and permits will depend on the local governing bodies.
Here's the list of best and worst cities for food truck business owners:
| Best Cities for Food Trucks | Worst Cities for Food Trucks |
| --- | --- |
| Portland(OR) | Boston(MA) |
| Denver(CO) | Washington(DC) |
| Orlando(FL) | Seattle(WA) |
| Philadelphia(PA) | Minneapolis(MN) |
| Indianapolis(IN) | Columbus(OH) |
2. Type of truck or trailer
Isn't it obvious? Of course, it is. Purchasing a truck or trailer for your food truck business has to be your biggest investment.
Following are the estimates of how much you can expect to spend on a truck when getting started:
New truck with a new kitchen setup:

You can expect to spend $120,000 to $200,00 for an all-new food truck setup. There won't be any maintenance or hidden costs when you have a new setup in place.

Used truck with a new kitchen setup:

This food truck setup may cost you between $80,000 to $115,000. However, as it's a used truck, it may require timely maintenance and repairs down the line.

Used truck with a used kitchen setup:

You can expect to spend $55,000 to $90,000 for a used food truck setup. It may sound like a cost-effective option, but there will be a higher risk of hidden costs of repairs to the kitchen and truck engine.

Renting a food truck:

If you're starting on a tight budget, renting a food truck can be a smart choice. Generally, renting a food truck costs $2,000 to $4,000 a month.
You can choose any of these options depending on the budget bracket you've decided to spend on a food truck.
3. Kitchen equipment and supplies
We've already discussed the basic kitchen setup in the previous section. However, the necessary kitchen equipment and supplies will depend on the type of food you will serve.
These cooking equipment and supplies may include ovens, refrigerators, fryers, storage containers, and other utensils. You can expect at least $10,000 to $25,000 to spend on this kitchen equipment in addition to your food truck setup.
4. Inventory and food cost
Inventory and food costs are critical factors that can affect the sustainability and profitability of your business.
The inventory for your food truck startup may include ingredients, plates, cups, napkins, and other materials required to launch your food truck. These costs highly depend on your food menu, but you can expect to spend around $1000 to $3000 at the initial stage of your business operations.
Proper inventory management, menu pricing, and waste reduction strategies can help to optimize costs, improve profit margins, and ensure the business's sustainability.
5. Marketing and advertising expenses
Your marketing and advertising have a huge impact not just on your startup costs but also on the profitability and sustainability of your business.
As a new business owner, you may consider investing in print marketing, sponsorships, social media marketing, and local marketing such as newspaper, radio, and magazine ads.
Investing in such marketing strategies is optional for those on a limited budget; you can always use social media to reach out to your audience for free.
6. Professional services fees (legal, accounting, etc.)
Professional services fees can add extra expenses to your startup costs, but these services are essential to ensure compliance with regulations, maintain accurate financial records, and obtain professional expertise.
Here are a few essential professional services for a successful food truck business:
Legal services— for business licensing, EIN registration, and other legal paperwork.
Business consulting—for help in business strategy, market research, operational efficiency, and other business-related services.
Accounting services—for tax planning and preparation, bookkeeping, financial analysis and reporting, and other accounting services.
If you hire an accounting firm, they may charge for services like bookkeeping, tax preparation, financial planning, and financial reporting.
Determine what services you need to outsource and what you or your team can manage.
For instance, purchasing accounting software to manage your accounts can help you save on professional accounting fees.
7. Employee salaries and benefits (if applicable)
If your business will hire employees, employee salaries and benefits would be a major consideration for your startup and operations costs.
Your day-to-day operations may require hiring a cashier, cooks, and other support staff. Ensure that you consider minimum wage, overtime, paid time-offs, and rest breaks when setting a payroll budget.
The average wages you have to pay may vary from state to state, but here are some rough estimates:
Federal minimum wage – $7.25 per hour
The average salary for a food truck manager – $18.15
8. Maintenance and fuel cost
Food truck maintenance is crucial to ensure efficient, seamless, and safe business operations. Your food truck will require regular maintenance for the engine, tires, and other vehicle components.
These maintenance costs heavily depend on the age and condition of your food truck. A brand-new truck may require little maintenance, but a used truck may have several hidden costs.
Fuel costs are significant expenses that depend on truck efficiency and distance traveled. Your fuel costs can increase if you travel to different locations and events for your business.
These costs may vary, but you can expect to spend, on average, around $500 and $1000 per month on maintenance and fuel consumption, respectively.
9. Commissary or storage fees
Commercial kitchens usually charge commissary or storage fees from food truck owners for providing facilities to store their supplies, prepare food, and clean equipment.
The fee amount depends on the location, size, and the services provided by the facility. Commissary fees can be a significant expense for food trucks in urban areas. However, commercial kitchens can help business owners save on equipment and overhead costs.
10. Point-of-sale system and payment processing fees
POS software helps food truck operators manage sales and inventory by accepting credit, and debit cards, tracking sales, managing inventory, and generating reports.
It usually costs around $60 to $400 a month. While it's a significant expense, it can help you efficiently operate your business and provide better customer service.
Furthermore, payment processing fees are charged by credit card processors for processing credit card and debit card transactions. These expenses depend on the types of cards used, the amount of the transaction, and the processor used.
Although it's a substantial expense for your business, accepting credit and debit cards can help you attract new customers and generate more sales.
11. Custom branding and design for the truck
Your food truck is the face of your business, so it's crucial to invest in creating a brand identity that is memorable and unique.
Custom branding and designing for a truck may cost $5,000 to $20,000, depending on your truck's size, the materials used, and design specifications.
Understood the factors that affect your food truck startup costs? Let's learn more about reducing startup costs.
Tips for reducing food truck startup cost
1. Buying or renting a used food truck
Buying or renting a food truck is the best way to reduce your food truck startup costs. But make sure the truck you purchase or rent is well maintained to avoid future maintenance expenses.
You can easily save around $40,000 to $50,000 by simply purchasing a used food truck. Renting a food truck will cost you around $2,000 to $4,000 monthly. Both choices will help you save on your startup costs, choose one depending on your requirements and financing status.
2. Renting a commercial kitchen space
A commercial kitchen can be a cost-effective alternative to a separate food preparation space. Another benefit of renting a commercial kitchen is you can rent the place as needed, so you don't need to pay rent for the entire month.
In addition, commercial kitchens can help business owners cut down on equipment and overhead costs.
3. Purchasing ingredients in bulk
Buying ingredients in bulk can certainly reduce costs. However, It's critical to make sure you have enough storage space to keep those ingredients fresh for a while.
4. Starting with a smaller menu
You're just starting out, so you don't need to create a menu that has something for everyone. Start with a small menu with a few dishes. This will not only help you reduce inventory needs but will also simplify the food preparation process.
5. Build your menu around seasonal ingredients
Tweaking your menu around seasonal ingredients and using the same ingredients for various dishes will help you cut food preparation costs, reduce waste, and increase profit margins for your business.
You can regularly monitor your inventory to determine the most and least popular dishes and plan accordingly.
6. Embrace social media marketing
Social media marketing is the easiest way to get the word out about your business—for free. So, instead of spending a fortune on traditional marketing, you should consider embracing social media to reach your target audience.
That way, you're not spending hundreds of dollars on printing pamphlets but also reaching your audience. And you can always use paid social media advertising to maximize your reach.
Conclusion
That was the article, folks! Now you have a rough estimate of the cost to start a food truck. It's time for you to estimate the actual costs of starting a food truck in your region.
That's it for today; over to you! Calculate the costs and start budgeting!
Use Upmetrics for Accurate Startup Cost Projections!
Looking to estimate your startup costs? Dive into Upmetrics! Our business plan software makes financial forecasting a breeze
Get Precise Projections Now