With influencer culture and pop culture on a rise, the fashion industry is growing faster than ever.
From impeccable outfits for social media to wearing outfits inspired by their favorite celebrities, clothes are in demand more than ever before.
And if you have a passion for all things fashion, the clothing manufacturer business can work wonders for you.
Moreover, the fashion industry is growing both in size and scale. So now is the time as good as any to get into it if you want to.
Industry Overview
According to various statistics, the US apparel industry stands at a whopping value of 70 billion dollars and is growing at a rapid pace.
Although it was impacted massively by the pandemic, it is experiencing a rapid resurgence now that isn't slowing down any time soon.
As life returns back to normal, people need new clothes, and want to stay at the top of trends too.
And this isn't less than brilliant news for the fashion industry. And if you want to be a part of it, you must get started at the earliest. But before that, we have some tips and methods to help you get started and grow in style.
Say goodbye to boring templates
Build your business plan faster and easier with AI
Plans starting from $7/month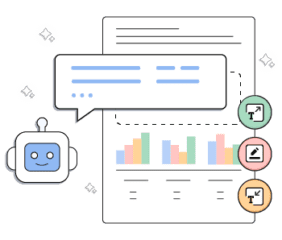 Things to Consider Before Writing Your Clothing Manufacturing Business Plan
Find your niche

Nobody lied when they said that the riches are in the niches.

Though you might be tempted to go all out and manufacture every kind of clothing material that exists, it is always smart to select a niche and become an expert in it.

In a world of constant scrutiny, people pay for perfection. And selecting a niche can help you achieve just that.

Budget and plan your resources

Having a steady flow of resources is central to success in the fashion industry, and that too in a cost-effective way can act as a cherry on the cake.

Hence, planning where you'll acquire various raw materials for manufacturing clothes and drawing out a budget for the same, can make doing business smooth and easy.

Know your customers and their preferences

All of us know that the trends in the fashion industry change faster than any other business. Hence, to have a thriving business, it is important to stay updated with the changing trends.

Keep an eye out for what your competitors are doing

Everything good attracts a lot of competition, and so does the fashion industry. Thus, it becomes necessary to know what your competitors are doing to stay ahead of them.

Also, more often than not, it gives you an insight as well as foresight into the working of your business.
Write Your Business Plan
If you are planning to start a new clothing manufacturing business, the first thing you will need is a business plan. Use our sample clothing manufacturing business plan to start writing your business plan in no time.
Before you start writing your business plan for your new clothing manufacturing business, spend as much time as you can reading through some examples of clothing and fashion-related business plans.
Reading sample business plans will give you a good idea of what you're aiming for. It will also show you the different sections that different entrepreneurs include and the language they use to write about themselves and their business plans.
We have created this sample Clothing Manufacturing Business Plan for you to get a good idea about what a perfect clothing manufacturing business plan should look like and what details you will need to include in your stunning business plan.
Clothing Manufacturing Business Plan Outline
This is the standard clothing manufacturing business plan outline which will cover all important sections that you should include in your business plan.
Executive Summary

Mission Statement
Vision Statement
Keys To Success
Financial Summary
Financial needs

Company Summary

Past Performance
Business Structure
Startup Summary

Products and Services
Market Analysis

Market Trends
Target Market

SWOT Analysis
Strategy & Implementations

Sales Plan
Advertising Strategy
Pricing Strategy
Milestones & Metrics

Financial Plan

Important Assumptions
Brake-even Analysis
Projected Profit and Loss

Profit Yearly
Gross Margin Yearly

Projected Cash Flow
Projected Balance Sheet
Business Ratios
After getting started with upmetrics, you can copy this sample business plan into your business plan and modify the required information and download your clothing manufacturer business plan pdf or doc file.
It's the fastest and easiest way to start writing your business plan.
The Quickest Way to turn a Business Idea into a Business Plan
Fill-in-the-blanks and automatic financials make it easy.
Get Started Now!

Download a sample clothing manufacturer business plan
Need help writing your business plan from scratch? Here you go; download our free clothing manufacturer business plan pdf to start.
It's a modern business plan template specifically designed for your clothing manufacturer business. Use the example business plan as a guide for writing your own.