Capital is the lifeblood of any business. From building a startup to sustaining an MNC, your business model affects every decision you take. It's one thing to have a great business idea and a whole other thing to turn it into a long-term profitable mechanism.
In this article, we'll see what is a business model, factors to consider when choosing one, and 15 of the most successful business models to look into.
What is a Business Model?
A business model is the DNA of a company. It dictates how you earn profits, price your products, and manage costs. It envelops all the necessary processes that need to happen to convert returns on your investments.
Picking a business model for startups is especially tricky as it greatly influences the funding they raise. Investors study your business model to evaluate its viability, profitability, and sustainability.
A business model answers these six important questions:
Who is your target audience?
What are you planning to offer them?
How are you going to market your offerings?
What are the costs involved?
What are your revenue streams?
Your business model is not the same as your business plan. The former indicates how you create, deliver, and realize value. The latter displays the strategies you intend to use to achieve your goals.
Which Business Model Should You Choose?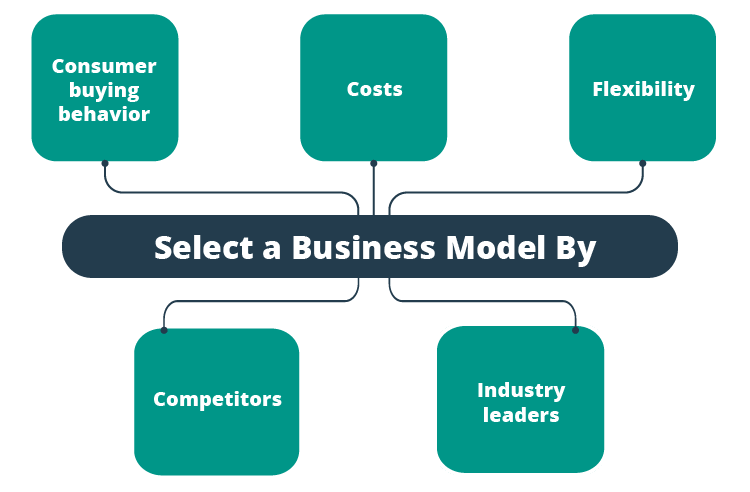 A few things to consider while choosing a business model are:
Consumer buying behavior:

Analyze the actions your target audience takes before making a purchase. For instance, watching YouTube reviews before buying a smartphone or scrolling through Instagram before buying shoes.

Costs:

Understand the costs involved in developing, marketing, and delivering the solutions you intend to offer.

Flexibility:

As your business grows, the business model you opted for needs to adapt to your changing business environment.

Competitors:

An easy fix is to copy your rival's business model if they have proven to be successful. However, this doesn't give you any competitive edge and leaves you vulnerable to the same risks as them.

Industry leaders:

Examine the business models used by leading brands even if they're from other industries. You can tweak their models as per your needs to pioneer a new model in your industry.
Just like a business plan, your business model should be tailor-made. If your business happens to be unconventional, you can even try to
create a new model
as per your needs.
15 Types of Business Models with Examples
1. Brick and mortar
Brick and mortar is a traditional business model. Any business that sells its products directly in physical stores or offices uses this business model.
While this business model has been the standard for ages, the rise in internet access has led to an increase in online stores—negatively affecting physical counterparts.
Examples: grocery stores, restaurants, and coffee shops.
2. E-commerce
The polar opposite of the brick-and-mortar model is the e-commerce business model. It is opted for by companies that sell their products or services on the internet via e-stores.
Since these businesses operate virtually, they don't need a physical outlet. Over the years, e-commerce has transformed how people shop, making it convenient, easy, and seamless for consumers.
Examples: Shopify, Alibaba, PayPal.
3. Bricks and clicks
A hybrid of the above two is the bricks-and-clicks business model. Companies that use this model sell their products online as well as in physical stores.
Many traditional brick-and-mortar businesses have started selling online to steal a piece of the e-commerce pie. Conversely, e-commerce companies are setting up physical stores to increase visibility and brand loyalty.
Examples: Zara, Walmart, Amazon, and Target.
Growing companies tend to
modify their business
model to enhance the value they create for their customers and attain more profits.
4. Manufacturer
The manufacturer business model refers to the companies that use raw materials to produce goods or assemble parts to create finished products. These companies either sell directly to customers or intermediaries.
Examples: Toyota, General Motors, Samsung, LG, Sony.
5. Wholesale
Wholesalers buy large quantities of finished products from manufacturers and sell them to multiple retailers or distributors in smaller quantities. They are a key intermediary in the supply chain.
Examples: Costco, Walmart, and Johnson & Johnson.
6. Retail
Retailers are the last intermediary in the supply chain. They buy products from wholesalers, distributors, or even directly from manufacturers and sell them to consumers.
Nowadays, there are many businesses and individuals who make money through Amazon, for example, while also using many of its benefits.
Examples: Target, The Home Depot, Best Buy, Casper.
7. Subscription
The increasingly popular subscription business model allows companies to charge their customers a recurring fee for continual benefits. Think SaaS companies and subscription box companies.
Examples: Netflix, Disney+, Amazon Prime Video, FabFitFun, BirchBox, and Dollar Shave Club.
8. Freemium
The freemium business model is quite similar to a subscription model. Except, it includes a free version on top of the paid service. The latter is usually displayed as a premium variant.
A free trial is not the same as a free version of a product. While a free trial lasts for a limited period, the free version can be used indefinitely.
For instance, Hulu offers a 7-day free trial while Spotify offers a free version that can be used indefinitely.
Examples: MailChimp, Evernote, LinkedIn, and DropBox.
9. Franchise
In this model, a franchisor company grants the rights over its brand identity, intellectual rights, and resources to a franchisee company in exchange for a fee called royalty.
For instance, McDonald's permits its franchisees to run their restaurants under its brand name. In exchange, the franchisee pays an initial fee and a cut of the revenue incurred.
Examples: Subway, Domino's, UPS Store, Coca-Cola, Nestlé, and Hyundai.
10. Razor and blades
The name 'razor and blades' comes from the pricing tactic used by the popular Boston-based company Gillette. The company sold its razor handles at a lower price to increase the sales of its razor blades.
In a nutshell, companies sell a primary 'razor' product at a low margin to boost the sales of its complementary 'blade' products which are sold at a high margin.
Examples: Microsoft Xbox, Sony PlayStation, Nespresso.
11. Reverse razor and blades
Contrary to the above, in the reverse razor and blades business model, companies sell the primary 'razor' product at a high margin and sell complementary 'blade' products at a bargain.
For instance, Amazon sells the Kindle Paperwhite at a high price because it allows buyers to further purchase ebooks at a discounted price.
Example: Apple sells iPhones at a premium price and allows users access to affordable complementary services like Apple Music and App Store.
12. Advertising
Advertising is one the oldest business models wherein an advertiser pays to get their product promoted on a publisher's platform. Earlier, this used to be limited to newspapers, magazines, and storefronts.
Today, advertising is a highly saturated business model covering platforms such as social media, video games, job portals, billboards, email, mobile apps, etc.
Examples: Google, YouTube, TikTok, Meta, Twitter, and LinkedIn.
13. Crowdsourcing
In this model, a company solicits contributions like ideas and services from a crowd of unaffiliated providers. These contributions are then pooled into a unified platform controlled by the company to create something of value.
There are multiple types of crowdsourcing but perhaps the most recognizable one is used by Wikipedia. Here, volunteers contribute to creating and adding value to the platform accessible to everyone. The hosting company, Wikimedia Foundation, makes money via donations.
Example: McDonald's asked fans to create new burger recipes under its "My Burger" campaign. The most acclaimed ones were then added to the menu to try and increase sales.
14. Hidden revenue model
All social media companies use the hidden revenue model. Unlike other models, this business model allows companies to offer their products to consumers for free—concealing their revenue.
Instead, they make money via third parties in the form of advertising. This helps keep the product free to use or subsidized enough to be available at a very low price.
Examples: Google, YouTube, TikTok, Facebook, Twitter, and LinkedIn.
15. Peer-to-peer
In this model, companies provide a platform for two parties to collaborate or make transactions. The company acts as a middleman overseeing the trade by establishing regulations to reduce the risks for both parties.
A perfect example is Airbnb; it allows hosts to rent out their properties to hostees. The company makes money via commissions from both parties.
Examples: Uber, Freelancer, OLX, Craigslist.
Actualize Your Potential with a Tailored Business Model
Choosing the right business model can be quite tricky since there's so much at stake. However, with adequate research and testing, you can be sure to find a model or combination of models that work best for you.
Opting for a business model that has a proven track record can be a safer choice if you're unsure of your startup's viability. Although, if you're willing to take some risk, creating a new model or tweaking existing ones can prove to reap more profits eventually