Planning on starting a new business in Ohio? Great choice.
The lower cost of living, tax benefits for small business owners, and easily accessible funding make it a smart choice for new business owners.
In fact, Ohio is one of the top 10 states to start a business in the United States.
Starting a new business from scratch may sound intimidating and complicated—but not anymore with this in-depth guide on starting a successful business in Ohio.
This step-by-step guide covers everything you need to know about starting a small business in Ohio, from finding the right idea, creating a business plan, and seeking funding, to applying for permits.
So, without further ado, let's dive right in.
Benefits of Opening a Business in Ohio
Here is a list of a few benefits of starting a business in Ohio:

Loan Programs:
If you register for an LLC(Limited Liability Company), you can benefit from various forms of financial assistance & small business loans for your business expenses.
Here are a few prominent loan programs:
166 Direct Loan
Rural Business Development and Opportunity Grants (USDA)
Community Connect Grants (USDA)
Community Development Program (Ohio Development Services Agency) And more.
Liberty in regulations & minimal taxation (for corporations):
Ohio doesn't require an annual report—a financial disclosure document, business inventory tax, personal property tax, or state corporation tax—meaning fewer business expenses.
The Ohio department also provides a job creation tax credit for those who meet the eligibility standards.
Business Incentives:
The state also has various business incentive programs for small and medium-sized businesses.
These are the two most popular business incentive programs in Ohio:
Ohio Enterprise Zone Program (OEZ)
Ohio New Markets Tax Credit Program
Understood the benefits? Let's move forward with our step-by-step guide.
1. Find The Perfect Business Idea
A successful business needs a perfect idea. A revolutionary business idea revolves around solving problems and helping people.
Here's how you can find the perfect idea for your startup.
How to find a perfect idea for your business if you don't have one?
When choosing a business idea, jot down a few skills you possess, what all things you're passionate about, and how you can make a business out of it.
Here are a few actionable steps to find the perfect idea for your small business.
Find the biggest problem in your industry which aligns with your interests.
Think of the biggest challenge—10-15 years from now.
Come up with a revolutionary solution.
Biggest Problem + Your Interests + Solution = The Business Idea.
Profitable Business ideas that work in Ohio
Ohio witnessed a 32% increase in small businesses in December 2022.
Here are a few profitable startup ideas that work best in Ohio.
Affiliate Marketing
Dropshipping
Cake Shop
2. Prepare An Ideal Business Plan & Stick To It
You've got a big idea; the next step is creating an ideal business plan.
A detailed business plan can help you build a strong foundation for your small business.
Having a full-proof business plan increases the odds of succeeding a business by 30%.
Preparing a plan for your business may seem overwhelming at first—but not anymore with these free & easy-to-use 200+ free templates.
Here's a list of sections you can craft your business plan around:
Executive Summary
Business Description
Market Research
Organizational Structure
Product/Service
Marketing Strategy
Funding
Financial Forecasting
Get your hands on these templates, save yourself some time, and draft an impactful plan for your business.
Need help creating a business plan?
Turn your idea into an actionable plan 2X faster with Upmetrics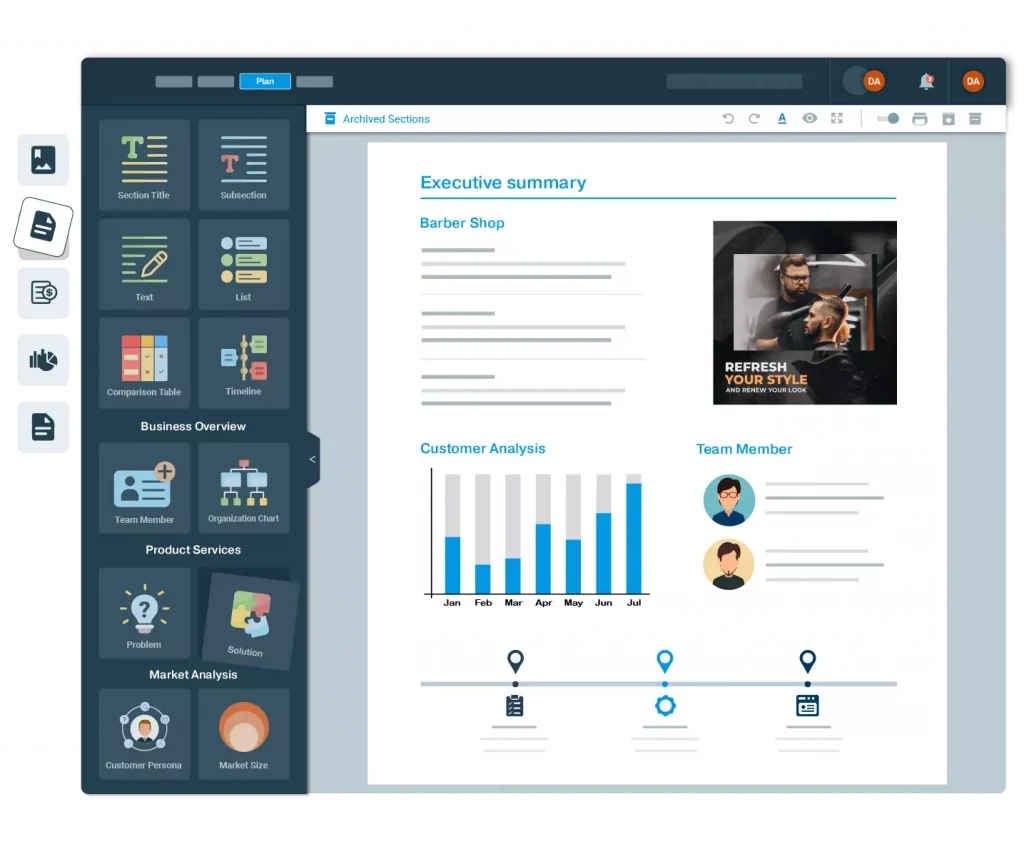 3. Name Your Business
An impactful business name is as essential as your business idea. Let's simplify the process—brainstorm for some initial ideas, use online business name generator tools, and jot down a few good options before finalizing.
Once you have 4-5 good options, run an available name search on the Ohio state government website. If it's not there, you're good to go. Register for a Trademark/Trade name.
Get a domain name
Once you finalize a business name for your new company, find and purchase a relevant domain name before it's already taken.
If you're planning on making it big, we suggest purchasing a few similar domains with different TLDs.
Here's an example—If you are purchasing mydomain.com, you must get mydomain.us, mydomain.net, mydomain.co, mydomain.co.us, etc too.
4. Select A Business Structure & Register Your Business
Understanding and selecting your business structure is crucial because it impacts liability, business taxes, state taxes, filing fees, and the complexity of successfully maintaining the business.
Let's understand the types of business entities, so you can better choose one for your own requirements.
Sole Proprietorships
Partnerships
Corporations: C Corp, S Corp, B Corp
Limited Liability Company (LLC)
Limited Liability Partnership
Have a look at our detailed legal business structure guide to getting started.
Register Your Business
Once you finalize your business structure, it's time for you to file for business registration.
It's suggested to hire a statutory agent to accept and promptly respond to legal mail and official communication on behalf of your firm. They must be a resident of Ohio or have a business entity registered in Ohio.
Any business entity planning to start a business in the US state must register it with the Ohio secretary of state's office.
Business entities must submit appropriate formation documents to register their business. If you're planning on starting a sole proprietorship or a general partnership entity you may not require to register—however you must register for a trading name(for a fictitious business name).
You don't have to register for a business name if you are doing your business with your own name.
5. Find The Right Location For Your Own Business
Finding the right business location is a work of strategic thinking.
Confused? Let us explain.
Think of your potential customers, and ask yourself: who is your target market, and where do they hang out the most?
If you're an online seller, you may not need a big fancy shop on the crossroads, but a coffee shop owner may need one. That's how it works.
Analyze your competitors and their business location to learn what they look for when choosing a location.
6. Get Your Business Employer Identification Number (EIN)
Your Federal Employer Identification Number is your business's tax identification number—The federal government identifies your business with this number.
Federal Employer Identification Number (EIN) is a must to kick-start your hiring process because you can't hire employees without a registered EIN.
Apply for an EIN through this link.
7. Apply For Necessary Business Licenses and Permits
You may require necessary business licenses and permits depending on the nature and structure of your business.
The business licenses and permits requirement may come from the local municipality, state, or federal government.

Here's a list of a few different licenses you must know about:
Vendor's License: Vendor's license or state sales tax permit is required to collect sales tax if you want to sell taxable products or services.
Local Municipality Business License: This is a general business license every business requires to operate. A local municipality business license comes from a local municipality or city you operate in.
Additional Local Licenses and Permits: Depending on what they sell, additional permits are required for businesses. For example, you require a food permit to start a restaurant in Ohio.
Federal Government Licenses: Some specific industries require a federal license to operate. For example, large companies operating in industries like manufacturing, wholesaling, and businesses selling alcoholic beverages.
8. Open A Business Bank Account
Believe it or not, mixing your startup costs/finances with personal assets is not a good idea; instead, open a separate account for your business. A business bank account ensures you are maintaining liability protection.
Mixing your business accounts with personal finances may result in losing the liability protection for your business.
You must file a business registration with the Ohio state, register for an EIN(businesses except for sole proprietorship and a general partnership), and personal identification to open a business bank account for business and tax purposes.
9. Get A Business Insurance
Good business insurance ensures seamless business operations and no property damage during tough times. It's always suggested to analyze good insurance plans depending on your business and accounting system.
Professional Liability Insurance is good insurance for a professional service-based business because it protects your business from clients' claims.
Apparently, there's something that works for all business types and entities—general liability insurance. It protects your small business from property damage regardless of your organization type or entity.
10. Don't Just Hire Employees—Build A Team
A solid team is the foundation of a successful company. You don't want to keep recruiting forever because those you hired won't stick with you.
Here are a few actionable tips for building a strong team:
Hire an initial team or founding members who align with your future vision.
Build a team around your founding members.
Focus on creating a better company culture.
Hire people that share the same vision.
Lead by example.
That's it, you take care of your employees, and they'll take care of your business.
In fact, companies with highly engaged workforces are 21% more profitable.
Needless to say, a strong team is a must to succeed in a business in the long run.
11. Promote Your Business In Ohio—A Winning Marketing Strategy
It is a no-brainer whether you operate your business online or offline; a winning marketing strategy is a must to get the word out.
Here are a few most effective ways to promote Ohio businesses depending on their requirements and target market.

Social Media Marketing:
A few top social media sites include Facebook, Instagram, Twitter, LinkedIn, Pinterest, Quora, Snapchat, Reddit, and Tiktok.
Do market research, find your target audience, hang out, and promote your business there.
SEO & SEM:
Search engine optimization and marketing means promoting your business on Google Search. You can use SEO to bring organic traffic to your site and SEM to generate paid traffic.
SEO takes time, and SEM can bring visitors from day 1.
Advertising (Billboards & Hoardings):
If you are starting a car showroom, a fashion or luxury apparel brand, and have a hefty marketing budget, you can go with this.
Influencer Marketing:
Influencer marketing works best for cosmetics, makeup, jewelry, and fashion brands. You can collaborate with social media influencers or influencer marketing companies to promote your products online.
12. Fund Your Business In Ohio
You now know all about starting a new business, be it a sole proprietorship, a partnership, an LLC, or a corporation.
Let's understand a few funding options for your business.
It's always suggested to fund your business on your own at the initial stage, but once you establish and start generating some revenue, you can look for more funding options for your brand to grow.
Business loans, Crowdfunding, Venture Capital, and Angel investing are some of the best funding options for medium and large-scale corporations.
→ Download Now: Startup Fundraising Checklist
13. Resources for starting & growing your business
Small Business Development Centers
SBDC offers business counseling and assistance to individuals starting or growing their businesses.
SCORE
As a nonprofit organization, SCORE provides education, mentorship, and assistance to small businesses.
Ohio Business Gateway
The Ohio Business Gateway provides resources for starting, growing, and financing businesses in the US state.
Office of Government Contracting
It works to ensure that small and woman-owned businesses have the highest possible participation in federal government contract awards and large prime subcontract awards.
Wrapping Up
That was the guide folks on how to start your business in Ohio.
You have a perfect idea, got a good name for your business, and know how to pay taxes and fund your business. What next?
It's time to take action. Let's get into the battlefield and get your business up and running.
It's time to work! Work hard for your business!