With 1 in 8 people using Excel, I'd be hard-pressed to believe that anyone has never used it at some point in life.
While we have all used it at least once—be it for school homework, college assignments, or travel planning—we never really got the hang of it.
(Excel formulas are tough!)
Preparing a business plan from scratch using Excel is not a joke; we get that. That's why we created this business plan template in Excel.
So, no more worrying about Excel formulas or plan structure—download the document and follow the instructions in the article for successful business planning.
Sounds good? Let's start with understanding the pros and cons of using Excel for planning:
Pros and Cons of Using Excel for Business Plans
Before we head to discussing the Excel business plan template, let's understand the pros and cons of using Excel for business planning:
Pros
Free to use: MS Excel is 100% free for all its users, making it a cost-effective choice.
Data Analysis: Excel is a powerful tool for performing various financial and data analyses and calculations.
Collaboration: Collaborating with your team while working on a project using Excel is easier.
Cons
Lack of automation: Excel may not help create dynamic business plans with automated features.
Limited presentation: Excel cannot create an appealing business plan like a business plan software.
Complex formulas: Excel's formulas are complex and require a significant learning curve to master.
So these were the pros and cons. Let's cut to the chase and discuss the key components of our free business plan Excel template.
Key Components of Our Excel Business Plan Template
It's a fact—you cannot use Excel to create the entire plan from scratch, no! Excel is a powerful tool for complex calculations and analyses; let's use it for that only.
So, we'll use this business plan Excel template only to perform complex financial analyses and calculations—to prepare financial projections.
Following are the critical components of a good business plan template you must include in your financial plan:
1. Income Statement
The income statement is one of the key financial statements of your financial plan that highlights its profit and loss over a given period of time.
The critical components of your income statement include—revenue/sales, Cost of Goods Sold (COGS), operational costs, EBITDA, interest, and others.
Say goodbye to old-school Excel sheets & templates
Build your business plan faster and easier with AI
Plans starting from $7/month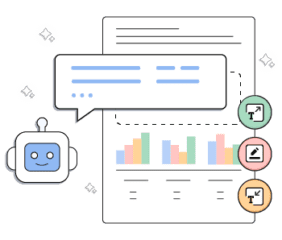 2. Balance Sheet
Your balance sheet is a statement that reports your company's assets, liabilities, and shareholder equity, providing a snapshot of its financial position at a specific period of time.
The statement helping you calculate financial ratios includes the following:
Assets—e.g. Inventory, cash, property.
Liabilities—e.g. Accounts payable, loans, salaries to be paid.
Owners equity—e.g. Capital investment/contribution.
3. Cash Flow Statement
The cash flow statement of your financial plan is the projection of your cash in and outflows over a certain period of time.
As one of three key components of your financial plan, the cash flow statement summarizes the amount of cash or cash equivalents entering or leaving your company.
4. Break-Even Analysis
A break-even analysis helps you determine the number of units you need to sell to cover all fixed and variable costs.
The break-even point is considered a measure of safety margin, and anything you sell beyond the point will result in profit.
5. Assets
While your balance sheet already highlights the assets, liabilities, and owner's equity, assets are considered critical for investors to assess the company's financial health. So, our simple business plan template (Excel) has a separate sheet for business assets.
6. Accounts Payable & Receivable
The accounts payable refer to the amount due to vendors or suppliers for services or goods received, whereas accounts receivable represent the money due to the company.
The increase or decrease in your accounts payable or receivable can be seen in your cash flow statement.
7. Working Capital
Working capital is the subtraction of your current liabilities from your current assets. As a critical element in identifying your company's health, it helps investors understand if it has enough capital to pay employees and fund operations to meet short-term goals.
Download the Financial Forecast Template In Excel
We discussed all the critical statements to be covered in your financial plan. Now what? It's time for you to download the financial forecast template and start preparing your financial plan.
Unlike other free Excel templates, this template has all the reports with the suggested revenue streams, expenses, and other details.
You can directly download and use the template to forecast cash flow, create balance sheets, and prepare income statements that provide detailed information about your revenue and expenses. So what are you waiting for?
How to Use an Excel Business Plan Template
We're hoping you've already downloaded the business plan template. So, the question arises: How can this Excel template be used to prepare realistic forecasts?
Let's get this over with:
Understand the template structure
Before you start planning, you must understand the structure of the financial portion of your business plan. Get a thorough review of the template and understand:
What critical statements does it include?
What are the revenue streams?
What are considered to be assets and liabilities?
What does the taxation structure look like?
And others. Once you thoroughly understand the structure, you can move ahead with the next step.
Analyze historical data
Financial forecasting is about assumptions—a lot of them, but accurate ones. If you're a total stranger to financial forecasting, analyzing historical data will help you get off on the right foot.
Analyze the historical data and try to gain insights about your business financials:
Monthly revenue over the last year?
How much you're spending on day-to-day operations?
What is your sales growth rate? How fast is it increasing over time?
And others. These historical figures will be of massive help in the next step.
Make pre-assumptions
As I said before, financial forecasts heavily rely on certain assumptions like sales forecasts, operational expenses, revenue growth, and others.
So, in this step, you'll make assumptions about these variables based on the historical data to make them realistic and accurate.
Prepare key financial reports
Once you have made pre-assumptions, it's time to prepare forecasts. Don't overwhelm yourself with a lot of numbers; start by preparing critical financial reports that include—a cash flow statement, balance sheet, and income statement.
Other statements of your plan rely heavily on these reports, so the process will become much easier after having prepared these three beforehand.
Monitor and track progress
After preparing your financial reports, the next step is timely monitoring these reports and tracking progress.
You can compare your assumptions with actual results to see if your projections are accurate and relevant to the changing market trends.
Analyzing metrics like customer acquisition rate, acquisition costs, net profit, and gross margin will help track progress.
If you follow these steps rigorously, you can surely make a decent plan to support your business strategies and achieve financial goals.
Still, it was just about financial planning. What about the entire business plan? Excel is a no-go for business planning; let's see why.
How Excel may not be the best choice for business planning?
Since Excel doesn't offer all the necessary features for business planning that a business plan software like Upmetrics would, it is not the tool to be used to create a comprehensive business plan.
Following are a few reasons why Excel may not be a better choice for business planning compared to a tool like Upmetrics:
Limited features: Since it is not designed specifically for planning, it has limited business planning features compared to software like Upmetrics.
A business planning software may include features like business plan builder, financial forecasting, and pitch deck creator.
Limited collaboration: Everyone knows Excel isn't the tool with the best collaboration features. Business plan software offers collaboration features, allowing multiple team members to work on a business plan simultaneously.
No Automation: Upmetrics comes with many automation features like AI assistant and financial forecasting tool, helping entrepreneurs and small businesses save time and reduce human errors.
No customizable templates: Upmetrics has 400+ business plan examples and templates that make it easier for new users to get started, which has not been the case with Excel.
These were just a few of many reasons why a planning tool is a better alternative than Excel to create a comprehensive plan to support their business strategy.
Improve Your Business Financial Plan with Upmetrics
I'd surely have recommended Excel for financial planning if you had asked maybe a decade ago.
Today? There's no way Excel stands a chance when competing with a cutting-edge AI business planning solution like Upmetrics.
Upmetrics simplifies business planning with its library of business templates, financial forecasting tool, and AI-powered assistant, making it a much more efficient alternative to Excel.
What are you waiting for? Start planning today!