Enthusiastic about starting your own bar business? No doubt, a bar is one of the most exciting businesses.
But before you start your business, you will need all the information about how much does it cost to start a bar. Worry not, we have got you covered.
This in-depth blog will guide you through the costs of starting a bar and help calculate costs.
Sounds interesting? Let's dive right in.
What is the cost of starting up a bar?
The average cost to start a bar in the USA varies between $149,000-$436,500. These costs are greatly influenced by factors such as location, size, concept, and licensing requirements.
The average profit margins can be around 10-15% for a bar business in the US which is higher than the average for most other industries—making it an attractive and profitable business venture.
Average costs for starting a bar
Before we dive into  details, check out this bar startup cost checklist.  It will help you plan your startup budget and know how much financing you need to get started.
Item
Average Cost
One-time Expenses
Business license and permits
$4,500-$15,000
Equipment & furnishings
$50,000-$200,000
Initial inventory
$10,000-$40,000
Technology & software
$5000-$20,000
Annual insurance
$2,000-$6,000
Construction / Renovation / Remodeling Space
$40,000-$65,000
Legal & Professional fees
$2,000-$5000
POS Setup
$1,500-$4,000
Security deposits

$4,500-$12,000

Website setup
$500-$5,000
Signage / Boards / Menu Cards
$10,000-$20,000
Total One-Time Expenses
$130,000-$392,000
Recurring Expenses (Per Month)
Rent or mortgage
$5,000-$20,000
Marketing and advertising
$500-$2,000
Staffing and payroll
$4,000-$10,000
Utilities
$1,500-$2,500
Food & beverage supplies
$8,000-$10,000
Total Recurring Expenses
$19,000-$44,500
Total
$149,000-$436,500
Disclaimer: Note that these costs are averages and can vary significantly depending on factors such as location, type of legal services, equipment needs, and more. It's important to conduct thorough research and planning to get a more accurate estimate of the costs specific to your bar.

Use this checklist as a rough estimate to create your startup costs checklist depending on your location, equipment needs, and other requirements.
Let's move ahead and understand how you can calculate bar startup costs.
How to calculate the cost of starting a bar business
You now have a list of potential expenses and a rough estimate of your startup costs. Let's estimate your actual startup costs using these two proven methods.
The first, traditional method involves using a startup costs calculator to estimate the startup costs. However, the second, the Upmetrics method, is an innovative method that uses Upmetrics financial forecasting tool.
Let's understand both methods so that you can choose one that suits your requirements the best.
The traditional method—startup costs calculator
The calculator includes categories such as pre-trading, website setup, marketing, operations, and people. You can enter the estimated costs in each field and let the calculator estimate the costs for you.
Remember that many startup costs fall under recurring expenses, so cover those costs monthly, quarterly, or annually.
Calculate your startup costs using this calculator.
The Upmetrics method—financial forecasting tool
It is an intuitive and efficient method of calculating startup costs. Using Upmetrics will not just help you estimate startup costs but also help with financial forecasting.
All you need to do is enter your sales, costs, and other financial assumptions and let the tool calculate monthly/quarterly/ and yearly projections for you.
Check out the financial forecasting tool for accurate financial forecasting.

Check out the financial forecasting tool for accurate financial forecasting. Once you have an accurate estimate of startup costs, you can easily identify funding requirements for your bar business.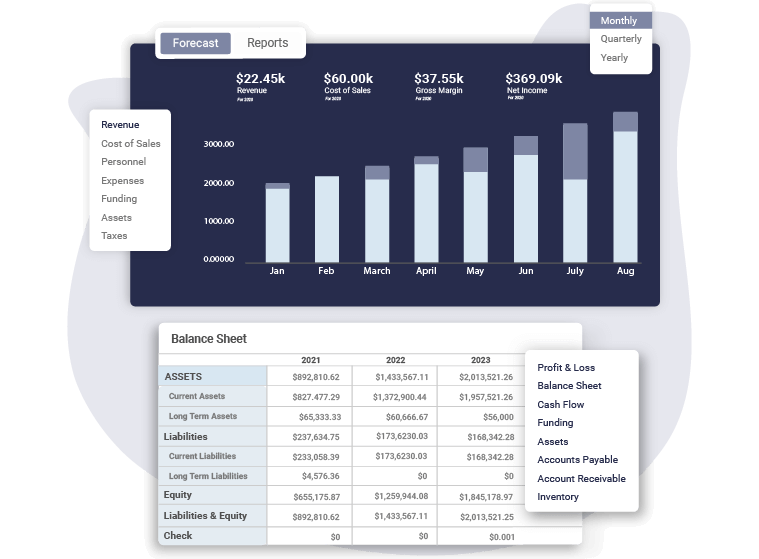 Once you accurately estimate startup costs, you can easily identify funding requirements for your bar business.
Raising funds for a new startup is certainly a nerve-wracking and time-consuming process, but having a solid bar business plan can make things a lot easier.
Let's move ahead and discuss the factors that affect your bar startup costs.
Factors that affect bar startup costs
Starting a bar requires a thorough consideration of various aspects. Let us now understand the factors that can substantially affect bar startup costs.
1. Location
Location plays a significant role in influencing the startup cost of any business. Compared to calm, low-traffic areas, rental and leasing costs are generally higher in well-known areas and neighborhoods.
It is not only about lease or property prices; but also about the salaries, licenses & permits, insurance, and every other factor of the business.
For instance, in prime areas of Manhattan, the rental prices are from $10,000 to $30,000 or more a month. At the same time, the rentals for neighborhoods like Brooklyn are from $5,000 to $15,000 a month.
2. Size & layout
When it comes to choosing a space for your bar, you can either lease, buy, or build from the ground level up.
Before you choose the feasible option amongst these, determine the space required for your bar.
So how large should a bar space be? Generally, an average bar is 500-1500 square feet.
Let's consider the lease rental option.
The average monthly rent for a bar in prime areas of Manhattan is from $10,000 to $30,000 or more, whereas, for neighborhoods like Brooklyn is from $5,000 to $15,000.
The lease requires contractual assurance of a few years of occupancy. Deposit worth 2-6 months of rent, i.e. $4,500-$12,000 is required to secure the lease.
Are you planning to buy a space for your bar?
Converting a naked space into a bar will cost significantly more. Consider putting in prime $50-$200 per square foot yearly for prime locations, and $20-$60 for other areas.
3. Equipment & Furnishings
The bar equipment constitutes a significant part of your startup expenses. As the base of your business relies on drinks, you simply cannot compromise on the quality or specifications.
Here is a list of non-negotiable equipment & furnishings for bar businesses.
Bar counter: $2,000-$20,000
Draft beer system: $2,000-$10,000 
Furniture & seatings: $10,000-$50,000 
Apart from this, there still is an exhaustive list that will be required in a bar. It might include refrigerators, ice makers, dishwashers, etc.
All in all, expect to spend anywhere between $50,000-$200,000 on equipment and furnishings.
These are the different factors that affect the starting costs for your bar. Now, that you are aware of these, let's discuss a few tips and ways to bring down your startup costs.
4. Licenses & permits
Legal compliance is essential to successfully set up and operate a bar.
First and foremost essential for legal setup is business registration with a state. The business registration costs span between $100-$500.
Further, various licenses and permits will be required to legally operate the bar. You may incur potential fines if required permits aren't taken.
Here is a list of business licenses and permits, required for a bar business:
Alcohol beverage license
Business License
Health department permits
Fire department permits
Zoning permits
The cost of these licenses and permits varies between different states and provinces. However, expect to spend anywhere between $4,500-$15,000 on acquiring essential permits and licenses.
Lastly, you will have to acquire various insurances to get coverage against risk and reduce liability. The annual insurance expense for general liability, worker's compensation, and others would span between $2,000-$6,000 and more.
5. Type of bar
The type of bar you plan to start: small bar, sports bar, wine bar, or busy club will impact initial costs.
A basic small bar can be started for about $100,000, while specialty bars, like wine bars, might cost up to $500,000 to launch, depending on the type of menu & services you're providing and where you're located.
Let's explore the average costs of different types of bars:
Dive Bar: $50,000 -$150,000
Nightclub: $75,000-$250,000
Theme Bar: $100,000-$300,000
Wine Bar: $100,000 to $500,000
Remember that these figures are approximate and can vary significantly based on location, local market conditions, and specific business decisions.
6. Initial inventory & supplies
Before you send the invitation for your bar, you would want to stock it up with beers, wines, food items, and all other necessary products you will provide.
The basic inventory for the bar includes beers, wines, all other drinks, sparkling water, etc.
Apart from the beverage inventory, you also need consumables & food inventory for running a bar business.
The initial inventory can cost from $10,000-$40,000, make sure to manage your inventory.
The cost can vary according to the type of your bar, if you have a specialty bar, then you will need to stock the drinks accordingly.
The raw materials and primary ingredients costs are recurring and variable in nature. These operating expenses account for up to 40% of your sales value. Expect to spend anywhere between $8,000-$10,000 on monthly restocking of inventory.
7. POS costs ( hardware + software)
A POS system is a crucial component for bar businesses. This transaction technology helps with order management, payment transactions, and inventory upkeep.
The costs of POS are divided into one-time setup costs and recurring software subscription expenses.
A POS setup and equipment costs span between $ 1,500-$4,000. These costs vary considerably depending on the equipment and provider you choose.
The monthly expenses for POS software vary between $50-$200.
8. Staffing & Payroll expenses
A bar is welcoming and friendly because of all the smiling faces that serve people with their orders. Therefore, hiring the right people with great experience according to your needs is essential.
On average 8-10 employees are needed for a small bar, including bartenders, waiters, and others.
Tip: You can hire staff members on an hourly basis during your busy hours or days instead of hiring people full-time to save your cost. The average hourly wage for bar staff can range between $7.25-$42.24.
Regulate your employee expenses between $4,000-$10,000 every month.
9. Franchise costs
This particularly applies to bar businesses that are starting a franchise. These bars will have to bear the franchise costs. The costs are one-time expenses borne by new franchisee owners.
The franchise fees vary for different brands. Here are some examples of franchise fees for famous bars:
TGI Fridays: $40,000-$50,000
Buffalo Wild Wings: $50,000-$75,000
Hooters: around $75,000
There are other bars too, search for the famous one in your location, and move ahead with it.
10. Marketing & promotions
All you need is people talking about your bar (in a good way though) to officially open your bar and make it a favorite weekend stop for people.
But how do you do that? Well, with a little bit of marketing & referral discount, you can achieve it. You can start spreading the word of "coming soon" before starting your bar.
It's important to spend on pre-opening to create hype for your bar. The expenses for this will vary between $100-$5,000.
Entrepreneurs generally spend 3-4% of profits on marketing, you can spend somewhere from $500-$2,000 monthly.
Lastly, if you are planning for a website, the website costs will span between $500-$5,000.
Understood the factors that affect your bar startup costs? Let's learn a few handful tips to reduce these costs.
Tips for reducing bar startup costs.
1. Craft a limited menu
Don't create an extensive menu from day 1. Craft a small menu highlighting your specialties. This will help you save costs on inventory and reduce wastage.
Once the business peaks up, gradually start introducing new items to the menu.
2. Rent existing bar space
Look out for places that are operating in the same domain as your business.  This will save costs on remodeling and renovations. The ready-to-operate bar spaces can be easily transformed into your dream places without burning a hole in the pocket.
3. Start small and grow
Start with a small project. Rent a small place. Invest in limited resources.
You don't need millions of dollars of investment to begin.
As the business starts generating desirable revenue, start investing in resources, infrastructure, and menu to scale the bar business.
4. Old equipment leasing
The cost of the equipment is a significant additional expenditure when opening a bar. However, by leasing equipment rather than buying it completely, you can cut this expense.
When you're just getting started, leasing might help you spread the cost out over time. To save money, you can also buy old equipment. Look for machinery that has received regular maintenance and is in good condition.
Old equipment for the bar may include coolers, ice machines, dishwashers, beer dispensers, etc.
5. Smart marketing
Opening a pub requires marketing, but marketing can be expensive. However, there are cost-effective ways. Social media can be used to advertise your bar and interact with consumers.
To arrange events or run promotions, you can also collaborate with nearby businesses or organizations. Incentives can also be given to customers who recommend others to your bar.
By putting these tactics into practice, you may lower the typical startup costs for bars and raise your chances of becoming a profitable enterprise.
6. Lease negotiation
Leasing a space is one of the most expensive costs associated with opening a bar, but you can negotiate it to your advantage. As an epitome, you might propose to sign a longer lease for a reduced monthly rent.
The cost of improvements or renovations to the facility might also be discussed with the landlord. Remember that the location of your bar is crucial, so do your research and look for a spot in a busy neighborhood.
Conclusion
That wraps up our blog! Take a moment to relax and finally have your beer.
We hope that this blog has provided you with valuable insights and guidance, empowering you to make informed and strategic choices for your startup.
Best of luck with your bar, and may your dreams turn into a thriving reality!
Use Upmetrics for Accurate Startup Cost Projections!
Looking to estimate your startup costs? Dive into Upmetrics! Our business plan software makes financial forecasting a breeze
Get Precise Projections Now