Wondering how much it cost to start a hotshot trucking company?
Well, you cannot start a hot shot trucking business without getting an answer to this first.
Contain your excitement within and dedicatedly uncover the financial aspects associated with this business.
Worry not. This article covers the nitty gritty details answering all your queries relating to startup costs. Everything from initial investment to factors influencing the hot shot trucking costs—you will find all your startup cost answers here.
So let's get started.
What is the cost of starting up a hot shot trucking?
The hot shot trucking startup costs in the USA span between $71,350- $187,900. Various factors along with the location and size of the business play a significant role in determining these startup costs.
A hot shot trucking company enjoys a rewarding 5-20% profit margin. You can expect to enjoy even larger profit margins as you scale and optimize your operations.
Average costs for starting a hot shot trucking
Before we dive into details, check out this hot shot trucking startup cost checklist.  It will help you plan your startup budget and know how much financing you need to get started.
Item
Average Cost
One-time Expenses
Vehicle purchase/lease
$40,000-$100,000
Office lease/deposits
$3,000-$6,000
Trailers
$5,000-$30,000
Licensing & permits
$500-$2,500
Equipment (vehicle + safety)
$5,000-$10,000
Vehicle registration
$100-$200
Initial office supplies
$500-$1,000
Annual Insurance
$2,000-$5,000
Professional services
$1,000-$5,000
Banner, signage, and hoardings
$5,000-$10,000
Website, Logo, etc.
$1,000-$3,000
Office set up
$500-$2,000
Marketing and advertising
$500-$2,000
Total One-Time Expenses
$64,100- $176,700
Recurring Expenses (Per Month)
Fuel
$1,500-$2,500
Vehicle maintenance
$1,000-$1,500
Equipment rent
$200-$500
Software subscription
$50-$200
Utility Bills
$1000-$1200
Payroll
$6,000-$10,000
Office rent
$300-$800
Marketing expenses
$200-$500
Total Recurring Expenses
$10,250- $17,200
Total
$74,350- $193,900
Disclaimer: Note that these costs are averages and can vary significantly depending on factors such as location, equipment needs, licensing and permits, local market conditions, fleet size, and more. It's important to conduct thorough research and planning to get a more accurate estimate of the costs specific to your hot shot trucking business.
How to calculate the cost of starting a hot shot trucking business
You now have a list of potential expenses and a rough estimate of your startup costs. Let's estimate your actual startup costs using these two proven methods.
The first, traditional method involves using a startup costs worksheet to calculate the startup costs and estimated profits. However, the second, the Upmetrics method, is an innovative method that uses Upmetrics financial forecasting tool.
Let's understand both methods so that you can choose one that suits your requirements the best.
The traditional method—startup costs worksheet
The startup costs worksheet helps you calculate the amount needed to take your business off the ground. It is a comprehensive list of fixed and recurring costs to help you determine the actual startup costs.
Remember that many startup costs fall under recurring expenses, so cover those costs monthly, quarterly, or annually.
This cost worksheet helps you estimate the funding required to get your startup costs covered.
Calculate your startup costs using this worksheet.
The Upmetrics method—financial forecasting tool
It is an intuitive and efficient method of calculating startup costs. Using Upmetrics will not just help you estimate startup costs but also help with financial forecasting.
All you need to do is enter your sales, costs, and other financial assumptions and let the tool calculate monthly/quarterly/yearly projections for you.
Check out the financial forecasting tool for accurate financial forecasting.

Check out the financial forecasting tool for accurate financial forecasting. Once you have an accurate estimate of startup costs, you can easily identify funding requirements for your hot shot trucking business.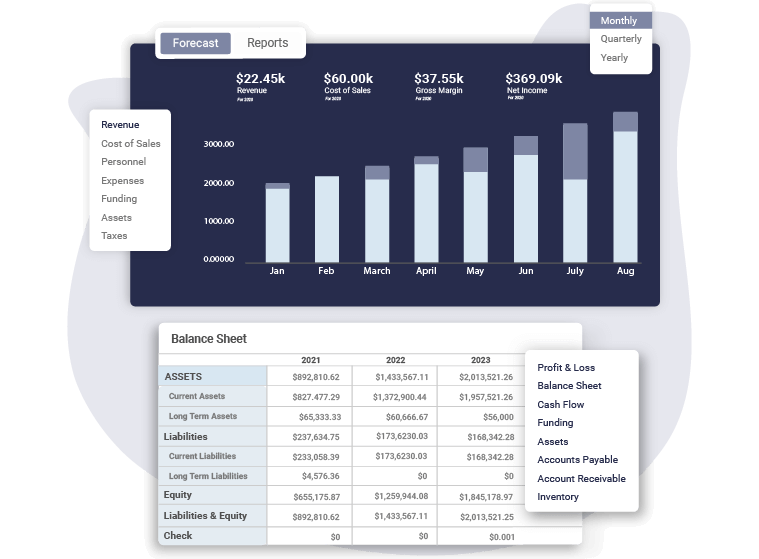 Once you have an accurate estimate of startup costs, you can easily identify funding requirements for your own trucking business.
Raising funds for a new startup is certainly a nerve-wracking and time-consuming process, but having a solid hot shot trucking business plan can make things a lot easier.
Let's move ahead and discuss the factors that affect your hot shot trucking startup costs.
Factors that affect hot shot trucking startup costs
Various factors factor in to determine the hotshot trucking startup costs. Let's look at the key factors that greatly influence the initial investment for your business.
1. Trucks and trailers
To get your hot shot trucking business started, you will literally need to give it wheels. Trucks and trailers are an essential and most important investment for a trucking business.
For brand-new hot shot trucks, you can anticipate a price range to span between $40,000- $100,000+. The price fluctuates considerably depending on the size, model, and specifications of the vehicle.
On the other hand, opting for used trucks presents a more pocket-friendly alternative, typically ranging from $10,000 to $70,000.
A variety of trailers would be required to cater to a large market. Investment in box trailers, flat beds, and related equipment would range between $5,000-$30,000.
Ultimately, the decision to acquire new or pre-owned assets for your hot shot business hinges upon your budgetary considerations.
2. Location and Permitting Costs
The location of your hot shot trucking business can influence the costs associated with permits, licenses, and registrations. Different jurisdictions may have different requirements and fees for operating a trucking business.
Key licenses and permits include the USDOT Number, Motor Carrier Authority (MC), International Registration Plan (IRP), and International Fuel Tax Agreement (IFTA). These credentials grant you the legal framework to undertake your entrepreneurial endeavor with confidence.
The total cost for licenses and permits can range from $500 to  $2,500, depending on the requirements in your state. You might be eager to launch your hotshot business, but before you move ahead with this business idea, make sure of compliance with all regulations.
3. Vehicle and Safety equipment
You would be required to build an initial inventory of tools and equipment to offer seamless trucking services. This includes tie-down straps, load bars, tarps, and other equipment needed to secure and protect the cargo during transportation.
The cost for tools and equipment would span between $2,000-$3,500.
Further, you might require to install vehicular technologies like GPS, and CB radio in your trucks. Expect spending $1,000-$5,000 to equip your vehicles with appropriate technologies and tools.
Consider investing in safety equipment like safety gear, vests, and fire extinguishers for your business. The approx cost for these varies between $500-$1,000.
4. Marketing and Advertising
Marketing is crucial to get the wheels of your hot-shot trucking business running. It is essential to build a brand and identity before starting your business.
The investment in hoardings, banners, business cards, brochures, and signages would account for nearly $5,000-$10,000.
Further, a website and logo are essential for your trucking business. Consider spending between $1,000-$3,000 on initial set-up costs.
The cost for additional marketing expenses would account for $500-$2,000.
Marketing expenses are recurring. These costs can fluctuate extensively depending on the scale and strategies you employ. Businesses spend between $200-$500+ monthly on marketing activities depending on their needs.
5. Hot shot driver wages
If you plan to hire drivers, factor in their wages as part of your hot-shot trucking startup costs. Driver wages vary based on experience, region, and the type of hauls.
The average hotshot driver's salary in the US falls between $48,954- $63,380. Expect paying a minimum monthly wage of $2,500-$4,000 to a truck driver. Even with limited staff, you can expect monthly payroll expenses to span between $6000-$10,000+.
Keep your recruitment plans to a minimum initially. You don't want monthly payroll expenses to add up to your startup costs.
6. Insurance Coverage
The goodness of having insurance policies is only seen at the time of adverse situations. Obtaining the appropriate insurance coverage is essential for protecting your business and assets.
Insurance costs can vary based on factors such as the type of coverage, coverage limits, driving records, and the value of your equipment.
Here are the must-have business insurance coverages for a hotshot business:
Commercial Auto Insurance
Liability Insurance
Cargo Insurance
Physical Damage Coverage
Workers' Compensation Insurance
The annual insurance expenses for a hot shot business will span between $2,000-$5,000.
7. Professional services fees (legal, accounting, etc.)
As a hot shot trucking business owner, you may need to seek professional services. Determine the professional services that can help you operate your trucking business efficiently.
Legal services: Helps with business registration, getting an EIN, and other legal paperwork. Legal services would cost anywhere between $500-$2000.
Accounting services: Helps with bookkeeping, tax planning, preparation, and other accounting services. Accounting services cost anywhere between $100-$300 monthly.
Business consultants/advisors: A business advisor helps you strategize your growth in a highly saturated marketplace. The hourly fees of consultants vary between $100-$500.
Considering your budget, hire the professionals of utmost importance to you.
8. Custom branding for the truck
Establishing a unique brand for your hot shot trucking business can be beneficial for marketing and visibility. Custom brandings, such as truck wraps, decals, or paint jobs, can help differentiate your business and create a professional image.
The cost of custom branding will depend on your truck's size, the design's complexity, and the materials used. It is typically a one-time expense rather than a monthly cost. You can consider custom branding for a truck to cost between $5,000 to $20,000.
Now that we have figured out the startup costs, let's learn different ways to bring these costs down.
Tips for reducing hot shot trucking startup costs
Reducing startup costs is crucial for any hot shot trucking business to maximize profitability.
Here are some tips to help minimize the hot shot trucking startup costs:
1. Opt for used trucks and trailers
Everyone loves new and shiny ones! But, think that it can cost you 10 times more. So, you can consider purchasing used trucks and gooseneck trailers instead of brand-new ones.
Again, used equipment can be quite cheaper while still being reliable and functional. Ensure that you thoroughly inspect the equipment and have a trusted mechanic verify its condition before finalizing the purchase.
2. Outsource the services
Don't hire a large team on the payroll even before your business generates its first paycheck. Get the secondary services and tasks outsourced. For instance, dispatch, marketing, accounting, maintenance, etc.
Even for drivers, hire them on an hourly basis initially. Once your business starts gaining enough traction, consider hiring full-time employees on the payroll.
3. Lease instead of purchasing
You can easily lease or rent occasionally used vehicles and equipment and save on heavy investments. Leasing will also save expenses on maintenance and storage.
Only purchase the equipment and vehicles that will be of frequent and excessive use for your business.
4. DIY Marketing
Instead of hiring expensive marketing agencies, consider leveraging cost-effective marketing channels. Create a professional website yourself using website builders or platforms that offer affordable templates.
Invest in low-cost marketing avenues to initially promote your business.
5. Go with a no-office setup
You don't necessarily need an office setup for a hot shot trucking business. Instead of paying thousands on rent and lease expenses, start with a home office. Eventually, as you scale and start expanding your team, move to a rented place.
6. Take professional help for a legal setup
The Internet is a useful place. However, a professional knows thoroughly about each business's requirements in terms of license, permits, and insurance.
You save hundreds of dollars not buying some inessential permit or license by taking the help of a professional. Moreover, you can find better pricing and deals on insurance from professionals.
Conclusion
The guide ends here!
We hope you have better clarity regarding startup costs associated with the hot shot trucking business.
So what are you waiting for? Grab your resources and start working on your startup costs now.
Use Upmetrics for Accurate Startup Cost Projections!
Looking to estimate your startup costs? Dive into Upmetrics! Our business plan software makes financial forecasting a breeze
Get Precise Projections Now