Planning on starting your very own law firm? Sounds like a legally solid plan.
The very idea of starting a law firm and helping your clients win trials in the courtroom is a feeling like nothing else.
But before you enter the legal world, it's critical to figure out how much does it cost to start a law firm—and start fighting legal battles.
This in-depth guide will provide a thorough understanding of the costs associated with starting a law firm and help calculate costs.
What is the cost of starting up a law firm?
Starting a small-scale law firm in the United States generally costs around $18,850 to $45,500, whereas medium-scale law firms cost around $45,000 to $92,500. These costs vary depending on your business size and location. However, you can initially launch as a virtual law firm to reduce the investment capital.
Profit margins for the Am Law 100 law firms (the 100 largest US law firms) have ranged between 35% and 45% for the last few decades—making it an attractive and profitable business venture for any legal professional.
Average costs for starting a law firm
Before we dive into details, check out this law firm startup cost checklist. It will help you plan your startup budget and know how much financing you need to get started.
Item
Small Scale
Medium Scale
One-time Expenses
Office space deposit
$2,000 to $4,500
$4,500 to $10,000
Supplies and office equipment
$1,000 to $3,000
$2,500 to $5,500
Office furniture & renovation expenses
$3,000 to $8,000
$10,000 to $20,000
Computer hardware
$3,000 to $5,000
$5,000 to $10,000
Website and social media setup
$1,000 to $3,000
$3,000 to $5,000
Legal resources and library
$1,000 to $3,000
$4,000 to $7,000
Business licensing and permits
$500 to $1500
$1,000 to $5,000
Total one-time expenses
$11,500 to $28000
$30,000 to $62,500
Recurring Expenses (Per Month)
Rent or mortgage
$1,000 to $2,000
$2,000 to $4,000
Business Insurance
$150 to $500
$500 to $1,000
Marketing and advertising
$500 to $1,000
$1,000 to $2,000
IT maintenance and repair
$200 to $500
$500 to $1,000
Payroll
$5,000 to $12,500
$10,000 to $20,000
Miscellaneous expenses
$500 to $1,000
$1,000 to $2,000
Total recurring expenses
$7,350 to $17,500
$15,000 to $30,000
Total
$18,850 to $45,500
$45,000 to $92,500
Disclaimer: Note that these costs are averages and can vary significantly depending on factors such as location, type of legal services, equipment needs, and more. It's important to conduct thorough research and planning to get a more accurate estimate of the costs specific to your law firm.
Use this checklist as a rough estimate to create your startup costs checklist depending on your location, equipment needs, and other requirements.
Let's move ahead and understand how you can calculate law firm startup costs.
How to calculate the cost of starting a law firm business
You now have a list of potential expenses and a rough estimate of your startup costs. Let's estimate your actual startup costs using these two proven methods.
The first, traditional method involves using a startup costs calculator to estimate the startup costs. However, the second, the Upmetrics method, is an innovative method that uses Upmetrics financial forecasting tool.
Let's understand both methods so that you can choose one that suits your requirements the best.
The traditional method—startup costs calculator
The calculator includes categories such as pre-trading, website setup, marketing, operations, and people. You can enter the estimated costs in each field and let the calculator estimate the costs for you.
Remember that many startup costs fall under recurring expenses, so cover those costs monthly, quarterly, or annually.
Calculate your startup costs using this calculator.
The Upmetrics method—financial forecasting tool
It is an intuitive and efficient method of calculating startup costs. Using Upmetrics will not just help you estimate startup costs but also help with financial forecasting.
All you need to do is enter your sales, costs, and other financial assumptions and let the tool calculate monthly/quarterly/ and yearly projections for you.
Check out the financial forecasting tool for accurate financial forecasting.

Check out the financial forecasting tool for accurate financial forecasting. Once you have an accurate estimate of startup costs, you can easily identify funding requirements for your hot shot trucking business.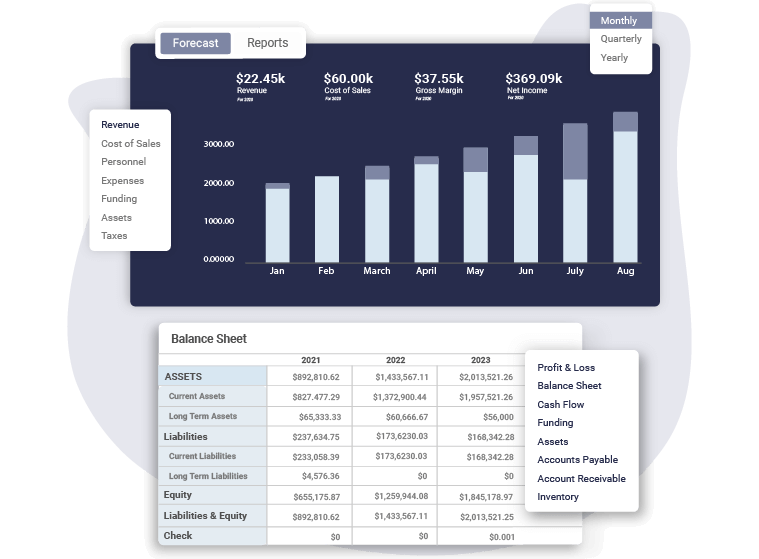 Once you have an accurate estimate of startup costs, you can easily identify funding requirements for your law firm.
Raising funds for a new startup is certainly a nerve-wracking and time-consuming process, but having a solid law firm business plan can make things a lot easier.
Let's move ahead and discuss the factors that affect your law firm's startup costs.
Factors that affect law firm startup costs
The initial cost of starting a law firm depends on several critical factors. Let's discuss a few primary factors that can significantly affect your law firm's startup costs
1. Location
Not just a law firm—location is a critical factor that can significantly affect the startup and operations cost for any business, whatsoever.
Location heavily influences rental or lease costs of commercial spaces, so prime locations in urban cities or prominent neighborhoods often have higher rents.
The same goes for licensing and permitting requirements and all the other startup expenses like—employee salaries, office equipment costs, and professional expenses.
2. Office space [purchase or lease]
Office space is a primary investment for a law firm, just as it is for any other business. Of course, only if you plan to operate from a physical location.
If starting with low capital, you can work from home—and schedule client meetings at cafes and shared office spaces.
But, if you plan to have your own office space, you must put a good budget aside. The rent for office spaces can vary depending on the size and location of the property.
Looking at the average price per square foot for office spaces stands at $38.23 per year in the United States in 2023.
Remember, it's an average price—the lease price in metro cities like Boston and California can go way beyond the average rates.
You also have the option to purchase office space. However, it requires a lot of cash even before your business starts making money. So leasing or renting a space is always a wise choice when starting a new business.
3. Office equipment and furniture
Whether you plan to work from home or the office—you need basic supplies and office equipment. These office supplies and equipment may include printers, scanners, copiers, dictaphones, and calculators.
Apart from these supplies and equipment, you may also have to invest in furnishing the new office. You don't need to go fancy while starting on a tight budget—just keep things simple and try keeping expenses in your budget.
Your law firm's office equipment and furniture expenses can vary depending on your office space and size, but you can expect around $5,000 to $7,000 to spend to get your office setup ready.
You may not need a big budget for office equipment and furniture if it's a home office.
4. Computer hardware and legal software
Regardless of the industry—every business needs computer hardware with the necessary software for day-to-day business operations. And your law firm is no exception.
Investing in high-quality computer hardware and legal software can help you and your team save time, increase productivity, and maximize revenue for your law firm.
In addition to general computer hardware, you may consider investing in legal software like—case management, document management, time and billing, and document automation software.
Again, these expenses will vary depending on various factors like company or team size. However, depending on your company size, you may expect to spend approximately $7,000 to $20,000.
5. Professional expenses
Additional expenses like professional service fees and licensing and permitting costs can add extra expenses to your startup costs.
But these are the essentials to ensure compliance with regulations, maintain accurate financial records, and keep up with legal developments.
Professional expenses for a law firm usually include professional services fees, licensing and permitting costs, continuing education costs, bar association dues and memberships, and professional development expenses.
These expenses can vary significantly, with various factors affecting them.
For example, legal and business consultants usually offer their services hourly, and these consulting services typically cost between $45 and $150 per hour.
6. Employee salaries and benefits
Every successful business needs dedicated, hard-working employees; your law firm is no exception.
Determine the number of partners, attorneys, and paralegals you may need to hire, the benefits you will provide, and the training they require.
Here is the list of average base salaries by job titles in the legal industry:
Attorney/lawyer: $58K to $156K
Paralegal: $37K to $71K
Law firm partner: $117K to $361K
Legal assistant: $36K to $88K
These numbers only suggest the average base salaries for mentioned job title. Conducting your own research can help you better estimate employee salaries and payroll expenses.
7. Marketing and advertising expenses
Spending on marketing and advertising may seem like an extra expense, but it's well worth it because they help you get the word out about your business.
As these costs don't influence your business operations, you may choose to spend depending on your budget—and of course, social media's always there for free marketing.
If you plan to spend on marketing, you may expect to spend around $500 to $1000 a month through marketing channels like—social media, print marketing, networking and referrals, content marketing, pay-per-click advertising, etc.
8. Legal research and library resources
Legal research is a critical factor for every successful law firm. In-depth research and client case studies can help you provide comprehensive legal services to your clients using these resources.
Having a well-established library of legal books, publications, and resources can be expensive, but the results are well worth it—for you and your clients.
Besides legal books, legal research and library resources may include legal databases, legal journals, legal dictionaries, online legal resources, and legal guides.
You can expect somewhere between $3,000 to $10,000 to spend on legal research and library resources as a small or medium-sized law firm.
9. Business Insurance
Financial consequences and potential mishappenings are inevitable for any business. An adequate business insurance policy can cover the costs associated with property damages and liability claims—and help you save your assets from wiping out.
Here are some of the must-have business insurance types for law firms:
General liability insurance
Professional liability insurance
Cyber liability insurance
You can expect somewhere between $1000 to $5000 to spend on business insurance for your law firm.
Understood the factors that affect your law firm startup costs? Let's learn more about reducing them.
Tips for reducing law firm startup costs.
Virtual or shared office spaces
Let's be realistic—owning a fancy corporate space in a metropolis can eat up a big chunk of your startup budget. Starting with a virtual or shared office space can help you save on office space, renovation, and furniture expenses.
Outsourcing services
Hiring multiple employees at the very beginning of the business operations doesn't make sense. Instead, hire only a few people for critical positions and outsource required services.
A law firm can outsource services like—accounting and bookkeeping, court reporting, legal research, and IT support and maintenance.
Developing cost-effective marketing strategies
Defining a budget for your marketing expenses will streamline your marketing process and prevent overspending. Figure out how much you can afford to spend on marketing and develop cost-effective marketing strategies aligning with your marketing goals and budget.
For example, social media, content, and e-mail marketing are prime examples of cost-effective marketing strategies.
Negotiate services
Running a law firm involves interacting and dealing with various vendors and service providers. So be ready to polish your negotiation skills because you'll be doing a lot of negotiations moving forward.
This applies to insurance providers, business consultants, software subscriptions, legal researchers, and other service providers.
Digital documentation
Digital documentation is a better and environment-friendly yet cost-effective alternative to paper documents. Minimizing paper usage can help you reduce printing, storage, and stationary costs.
Cost-efficient computer hardware and software
When starting on a limited budget, you must look for every opportunity to reduce costs. Purchasing used computer hardware and utilizing free legal software and other tools can be a cost-efficient alternative to help you reduce startup costs.
Conclusion
And there you go. We hope now you have a better understanding of the average cost to start a law firm. What's next?
It's time to estimate the actual costs to start a law firm in your region and start budgeting. So, don your robe and start helping your clients win trials.
Use Upmetrics for Accurate Startup Cost Projections!
Looking to estimate your startup costs? Dive into Upmetrics! Our business plan software makes financial forecasting a breeze
Get Precise Projections Now