Eager to make a positive impact on the environment by stepping into the world of sustainable energy?
But before you dive deep into the business, you might be wondering how much does it cost to build a solar farm.
Think no ahead as we have prepared a detailed article on the solar farm business startup costs, so let's get started.
What is the cost of starting up a solar farm?
In simple words, a business plan is a document that outlines your business goals and details how you plan to achieve those goals. It is a living document that will prove to you and the rest of the world that your idea is not just a dream but can be a viable reality.
Starting a solar farm in the United States generally costs somewhere between $829,000-$1.54 million for a 1MW farm. These costs vary depending on your location, grants, tax benefits, types of solar panels, etc.
Regarding profit margins, they can be between 10-20% for 1MW solar farms. However, the profits increase to 30% for large-scale solar farms.
Average costs for starting a solar farm
Before we dive into details, check out this solar farm startup cost checklist.  It will help you plan your startup budget and know how much financing you need to get started.
Item
Average Cost
One-time Expenses
Land acquisition/lease deposits
$100,000-$300,000
Solar panels
$500,000-$750,000
Other equipment
$100,000-$200,000
Labor & installation costs
$50,000-$100,000
Licenses & permits
$20,000-$30,000
Infrastructure & site preparation costs
$30,000-$100,000
Annual Insurance
$1,500-$3,000
Professional fees
$15,000-$30,000
Initial marketing
$5,000-$15,000
Total One-Time Expenses
$821,500-$1,528,000
Recurring Expenses (Per Month)
Operations & maintenance
$1,500-$3,000
Marketing and advertising
$1,000-$2,000
Staffing and payroll
$2,000-$4,000
EMIs/rent
$2,500-$5,000
Utilities
$500-$1,000
Total Recurring Expenses
$7,500-$15,000
Total
$829,000-$1,543,000
Disclaimer: Note that these costs are averages and can vary significantly depending on factors such as location, type of legal services, equipment needs, and more. It's important to conduct thorough research and planning to get a more accurate estimate of the costs specific to your solar farm.
Use this checklist as a rough estimate to create your startup costs checklist depending on your location, equipment needs, and other requirements.
Let's move ahead and understand how you can calculate solar farm startup costs.
How to calculate the cost of starting a solar farm business
You now have a list of potential expenses and a rough estimate of your startup costs. Let's estimate your actual startup costs using these two proven methods.
The first, traditional method involves using a startup costs calculator to estimate the startup costs. However, the second, the Upmetrics method, is an innovative method that uses Upmetrics financial forecasting tool.
Let's understand both methods so that you can choose one that suits your requirements the best.
The traditional method—startup costs calculator
The calculator includes categories such as pre-trading, website setup, marketing, operations, and people. You can enter the estimated costs in each field and let the calculator estimate the costs for you.
Remember that many startup costs fall under recurring expenses, so cover those costs monthly, quarterly, or annually.
Calculate your startup costs using this calculator.
The Upmetrics method—financial forecasting tool
It is an intuitive and efficient method of calculating startup costs. Using Upmetrics will not just help you estimate startup costs but also help with financial forecasting.
All you need to do is enter your sales, costs, and other financial assumptions and let the tool calculate monthly/quarterly/ and yearly projections for you.
Check out the financial forecasting tool for accurate financial forecasting.

Check out the financial forecasting tool for accurate financial forecasting. Once you have an accurate estimate of startup costs, you can easily identify funding requirements for your solar farm.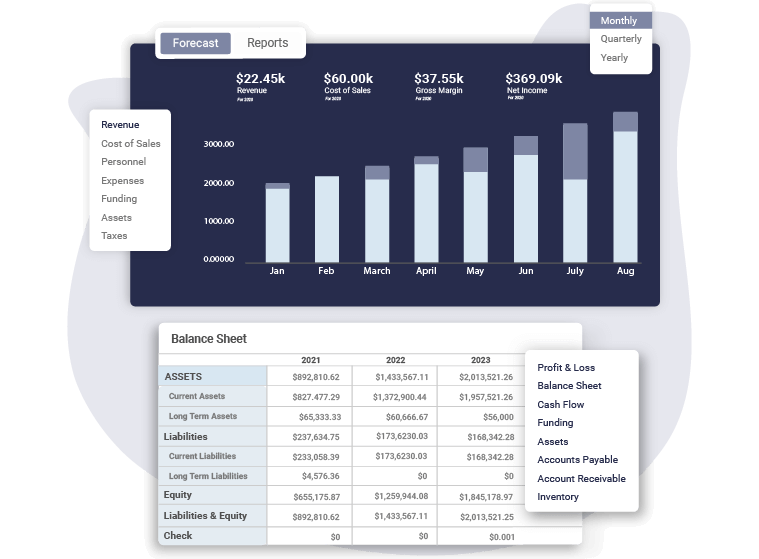 Once you have an accurate estimate of startup costs, you can easily identify funding requirements for your solar farm.
Raising funds for a new startup is certainly a nerve-wracking and time-consuming process, but having a solid solar farm business plan can make things a lot easier.
Let's move ahead and discuss the factors that affect your solar farm startup costs.
Factors that affect solar farm startup costs
Starting a solar farm requires a thorough consideration of various aspects. Let us now understand the factors that can substantially affect solar farm startup costs.
1. Location
Location affects the startup costs of any business, and the solar farm is no exception.
The rent or lease of the land you use as a solar farm will differ in various locations.
Not just the lease but the availability of solar resources, licenses & regulations, interconnection costs, infrastructure advancements, etc. will affect the startup costs too.
For instance: a solar farm in a region with excellent sunlight exposure might need 8,000 panels, whereas the same region might need 10,000 panels if it is a less sunny area. On average the cost per solar panel is around $3,500-$35,000, so the difference of 2,000 panels would increase your expense.
California hits the first place for starting your solar farm, you can check out the list given by Forbes for which are the best and worst locations for solar farm business.
2. Solar Farm Size
The size of a solar farm impacts the startup costs of a solar farm. Generally, a large solar farm will enjoy a lower cost per watt since they have purchased all the materials in bulk and in huge quantities.
Also, the fact that you are purchasing the land or leasing out is necessary because purchasing will cost you more initially.
For instance, a small 1MW solar farm approximately needs 5 acres of land whereas a 50MW solar farm will need 250 acres of land. The cost of land in the USA can range from $10,000-$100,000 per acre depending on the location.
If you rent out the place, then the rent for 1 acre in a good sunny location might cost you around $5,000 annually, this can drop down to $2,500 annually in lower sunny areas.
3. Infrastructure and site preparation costs
After deciding whether to buy or lease land for your solar farm, you will have to develop the infrastructure for your solar farm business.
A solar farm will need developed roads, fencing & safety, electrical changes, and more before installing solar panels.
Here is the list of certain infrastructural costs:
Access to roads: $20,000-$50,000
Fencing & security: $10,000-$30,000
Drainage systems: $10,000-$20,000
Electrical infrastructure: $20,000-$50,000
Apart from these costs, there are other things like fire suppression systems, site surveys, site clearing & grading, etc.
Hence, keep aside $30,000-$100,000 for the site preparation of your solar farm.
4. Solar panel, inverters, & racks' costs
The number of solar panels you want affects the startup costs of your solar farm.
If you have a 1MW solar farm, then you would require 2500 (400-watt) solar panels, where an average rate for a single 400-watt solar panel is $250-$350. So the total cost would be around $750,000 (2,500 panels × $300/panel).
The number of solar panels and the cost behind them also depend on the efficiency of the solar panels.
Inverters convert the DC electricity into AC for grid integration. So for a 1MW solar farm, the cost of inverters might be around $100,000-$150,000 depending on the quality.
The racking system provides support to the solar panels. However, the cost of the racking system for a 1MW farm depends on its design & material, still, you can expect the cost to be around $50,000-$100,000.
Note: Invest in good-quality solar panels to see growth in the long term.
5. Licenses, permits, and insurance
Legal compliance is essential to successfully set up and operate a solar farm.
First, you need to fill out the applications for starting a solar farm, for which the permit application fees might range from $5,000-$50,000 depending on local & state requirements.
In addition, several licenses and permits will be necessary for the solar farm to function legally. You will have to pay a heavy fine if you haven't registered or acquired the proper permits.
Here is a list of business licenses and permits required for a solar farm business:
Building & land use permits: $5,000-$50,000
Environmental permits: $20,000-$100,000
Zoning permits: $5,000-$20,000
These licenses and permit costs vary in different states. The cost of obtaining necessary licenses and permits might range from $20,000 to $30,000.
Last but not least, you'll need to get a variety of business insurance to get protection from risk and lower liability. Generally, insurance costs range from $1,500 to $3,000 or more annually.
6. Labor and installation charges
Labor and installation costs can have a significant impact on the startup costs of a solar farm.
Installation charges and labor mainly depend on the size of the solar farm. A huge portion of startup costs are covered by labor costs for site preparation, solar panel installation, and other things in which labor is required.
As an example, labor expenses might vary between $50,000-$150,000 for a 1MW solar farm including the wages of supervisors, workers, etc.
Not only does the number of solar panels affect the labor costs, but the complexity of solar panel installation also influences the price. If your farm requires a specialized racking system or different wiring, then your labor might cost more by $40,000-$70,000 for a 1MW farm.
In short, both the labor and installation costs would differ from location to location, the project's complexity, the experience of the workers, and other factors.
But expect to pay around $0.15-$0.30 as labor & installation expense per watt.
Apart from these costs, expect to pay around $2,000-$4,000 for labor per month.
7. Initial marketing
How do you make people aware of your new solar farm venture? Well, marketing will help.
Initial direct marketing through advertisements, promotions, and a professional website would help you reach out to the right audience.
Printing material like brochures and visiting business cards will also help you grow and spread awareness.
Here are some costs for the initial marketing of your solar farm business:
A professional website: $1,000-$5,000
Printing material: $500-$1,000
PR & media outreach: $5,000-$15,000
Apart from these costs, solar farm businesses on average keep aside 3-5% of their sales for the marketing budget. It is usually between $1,000-$2,000.
8. Professional services
Despite your passion, you will require the help of various professionals to set up your solar farm and operate it successfully.
Here are a few professional experts you can benefit from hiring for your solar farm:
Engineer: To optimize the usage of solar panels, proper design and engineering are needed. Hiring an engineering firm or an engineer is advised. This might cost around $5,000-$10,000 for a 1MW solar farm.
Consultant: Conducting feasibility studies to evaluate the viability and potential dangers is essential before beginning a solar farm project. Hiring a consultant might cost around $5,000-$15,000 depending on the space and complexity of your project.
Legal fees: Legal professionals will help you with drafting and reviewing contracts, agreements, and power purchase agreements (PPAs) with buyers or utility companies. These services might cost from $5,000 to $20,000.
Understood the factors that affect your solar farm startup costs? Let's learn a few handful tips to reduce these costs.
Tips for reducing solar farm startup costs
Reducing the startup costs for your business can help you efficiently launch your business. Here are certain tips that will help you lessen your solar farm business:
1. Bulk orders
If you purchase all the equipment from the same place, then bulk ordering can help you ultimately lower your cost per kilowatt.
Solar panels, inverters, racking systems, and other necessary components are less expensive per unit due to discounts and reduced pricing from suppliers for large orders.
2. Used equipment considerations
For your solar farm, consider buying used equipment like pre-owned solar panels or inverters. This will reduce the startup costs for your solar farm.
It is an affordable entry point for someone wanting to start a solar farm with a tight budget. Many used solar panels and inverters give excellent results by not decreasing the efficiency too much, so you can seriously think about this option.
3. Competitive bidding
Before closing the deal with any contractor or service provider explore your options with competitive bidding.
When you choose to do the competitive bidding; you will get multiple options & offers from various contractors, go for the most affordable option.
4. Optimize design and layout
The design and layout of the solar farm can impact the amount of energy it produces. If you place solar panels in a manner that they get the most sunlight possible during the day, then you will get the maximum energy in minimum solar panels, saving the costs on more solar panels.
5. Apply for grants, government incentives, or tax credits
Many grants, tax credits, or incentives are available for solar farm businesses. You can apply for one to reduce your startup cost drastically, in fact, you can apply for low-interest loans too.
6. Smart marketing
Opening a solar farm requires marketing, but it can be expensive. However, there are cost-effective ways. Social media, PR, or media outreach can be used to advertise your solar farm.
To arrange events or run promotions, you can also collaborate with nearby businesses or organizations.
By putting these tactics into practice, you may lower the typical startup costs for solar farms and raise your chances of becoming a profitable enterprise.
Conclusion
That concludes our discussion on solar farm business startup costs!
We hope that this blog has provided you with valuable insights and guidance, empowering you to make informed and strategic choices for your startup.
Best of luck in building your solar farm business!
Use Upmetrics for Accurate Startup Cost Projections!
Looking to estimate your startup costs? Dive into Upmetrics! Our business plan software makes financial forecasting a breeze
Get Precise Projections Now