Top 5 Competitive Analysis Frameworks Every Product Strategist
Competitor analysis is an integral part of your business growth. Apart from helping you grow your business and keeping you ahead of your competitors, it has many benefits. But it is very important to do it in the right way.
In that case, we have 5 fantastic frameworks for the competitive analysis that you can use for your company's growth. And this blog post explains them all in detail.
1. SWOT Analysis
This is the first of 5 five frameworks of competitive analysis. It is the easiest and the most used framework for competitive analysis. It can be used by the small, medium as well as large companies.
SWOT analysis
stands for
Strength, Weakness, Opportunities, and Threats
. It is a technique that gives you an idea about your strength, your weakness, your opportunities, and your threats in your business. You can apply this technique to your product/service, sales, and
marketing strategies
, target audience, and more.
Keep the list of at least 3 competitors ready before performing a SWOT analysis. Also, decide all the parameters and do all the important research beforehand.
While conducting this analysis, be rigorous and realistic. Plus, always use real-time data.
2. Porter's Five Forces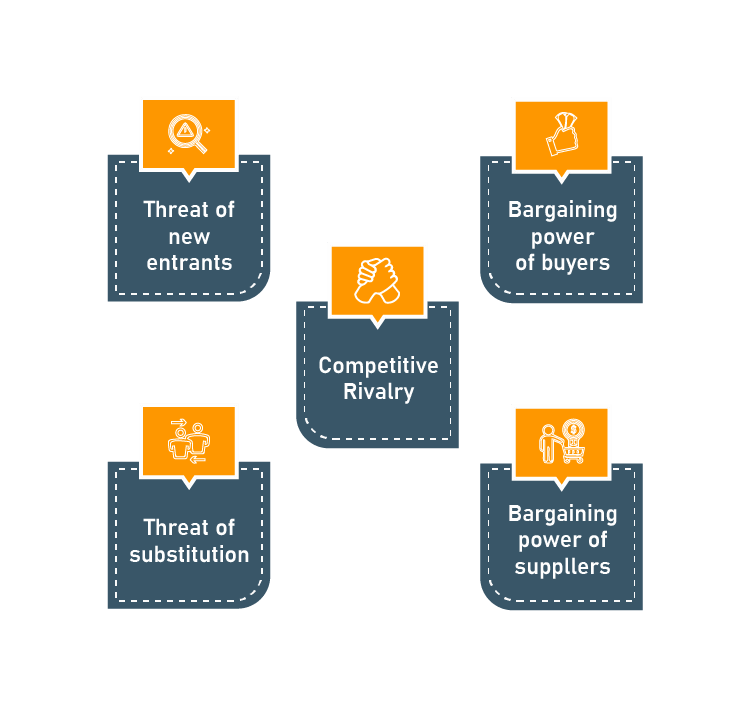 The second in the line for the 5 frameworks of a competitive analysis is Porter's Five Forces. It helps you to identify your power place in the business environment. This can help you understand the strength of an organization's current and upcoming competitive position.
Porter's five forces is a group of analyses wherein you study five different factors like competitive rivalry, supplier power, buyer power, the threat of substitution, and the threat of new entry.