Things to Know How Can A Business Plan Impress The Investor?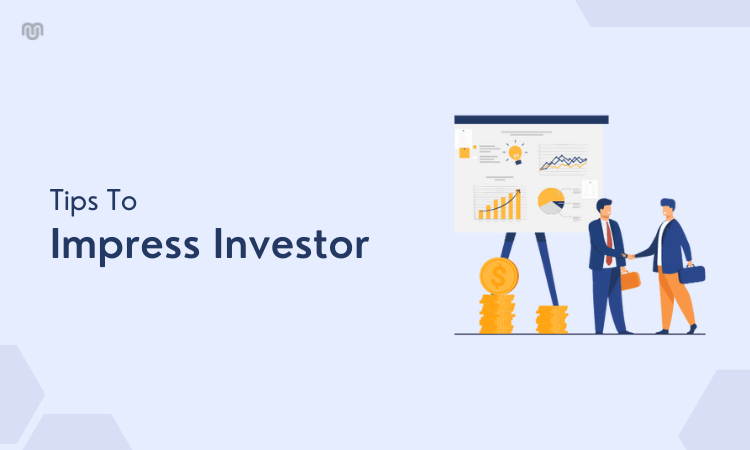 To make an entrepreneurial dream a reality after developing a business idea and creating a business plan, one will need cash. Catching the investor's attention is the first step in putting the best business plan into action.
It's natural to feel anxious when your capacity to raise money depends on a 10- to 20-minute pitch to impress the investor. It's a stressful situation, therefore you need to perform at your peak.
How can you overcome your fear and win over prospective investors?
About how to wow potential investors, here are some interesting tips with whose help you can attract investors.
How Can A Business Plan Impress The Investor?
Investment cash is essential for startups, businesses, and other endeavors. A strong business plan that is ready for investors must lay out the foundation and strategy.
Therefore, to secure the capital you need from venture capitalists, accelerators, angel investors, grants, private funding, or other forms of funders, you must have a business strategy.
The strongest impressions are the first ones, and here are some tricks on how to present your business plan:
Tips on How to Present a Business Plan
Cutting The Chase

Due to their busy schedules, venture capitalists, accelerators, and angel investors anticipate that entrepreneurs will conduct the necessary research before approaching them. They only decide to advance projects that have a strong business plan. Read more about how to write a business plan in our previous blog.

Investors can see in your plan how well you understand your market, product, strategy, and exit plan to scale the business.

A third party's major concerns include how your product or service will get traction in the market, profitability, and what are the potential exit plans unless your investors are only close family and friends, so cut the chase and be direct while presenting to investors.

Personalize your pitch as per the business plan

Before approaching possible investors, do your homework on them. Concentrating on people most likely to be interested in your investment opportunity will allow you to work efficiently and save time.

Maybe they already have a stock portfolio. If so, you should look at the initiatives that have drawn them successfully and seek recurring patterns. To customize your pitch to an investor's preferences, you must ultimately comprehend their priorities.

Find the best angle to pitch your project to excite investors. A financer who frequently invests in environmental projects will undoubtedly be curious to hear about your business's sustainability efforts.

Choose Co-Founders Wisely

Have you ever had a co-founder? If not, you may want to locate one right away. They are an excellent approach to filling in any gaps in your knowledge and experience.

For instance, you might be the mind behind a fantastic new invention but lack business sense. Investors will be more interested in investing in a business project if it has a co-founder with a business background.

If the idea of pitching makes you incredibly uncomfortable, you can choose a co-founder who can speak with assurance.

Refine Your Business First

Make sure your business is in the finest condition it can be before you begin your small business funding in front of others. Participating in a startup accelerator is one approach to do this.

A renowned accelerator has several advantages, including the chance to network, meet mentors, and solve any problems you may have had while developing your idea.

Graduating through some accelerators could impress and draw in potential investors because of their stellar reputations.

Build A Strong Brand Online

Before investing in your company, small business investors will undoubtedly study it online, so make sure what they discover is favorable. If you can collect a group of supporters before you start pitching, it demonstrates interest in your project.

A shoddy online presence won't give people confidence in your skills. For good first impressions, your website and social media profiles should be current and polished.

Experiment With New Ideas & Think Out Of The Box

It's crucial to remember that company investors aren't always seen as wealthy individuals wearing pricey suits. Alternative sources of funding are now available.

Perhaps collective funding is a good fit for your project. This can be facilitated through internet platforms that connect interested parties with investment possibilities.

The experience to pitch business ideas on these platforms is distinct from the conventional investor pitch. Examine other projects on your preferred platform that gathered money effectively to get ideas for your strategy and to discover how they met their objectives.

Don't Overload Information in Business Plan

It can be tempting to share every piece of information about your project that is available when you're trying to persuade an individual small business financing. But if you focus on quantity over relevancy, you can miss out on crucial nuances that could make or break the purchase.

Make the procedure as simple as you can for investors rather than dumping information on them. Provide relevant information in a concise, understandable manner. If you make things too complicated, it will probably be difficult to hold their interest.

Emphasize Your Creativity

Investors have presumably seen a lot of pitches, therefore they are probably getting tired of the same old. Of course, you shouldn't base your pitch on cheap tricks, but you should focus on and emphasize the distinctive qualities of your project.

Clearly state what makes your business plan unique and how it will help your company beat its rivals. What does it offer that no other company in your industry does not? The main objective is to create excitement. Investors in your company should be motivated to support your start and raise investment.

Showcase That You Have The Best Team

Investors for small businesses often examine the management team behind a possible investment opportunity because they want to know that they are driven, talented, and the finest in their field.

Therefore, it's crucial that you not only appoint outstanding personnel but also take care to speak to investors that you have assembled the most qualified team for the task at hand. After all, even if a project seems excellent on paper, it can still fail quickly if a strong team isn't behind it.

Show Them The Connection With Your Customers

Recurring clients are an indication of a successful company. Additionally, maintaining close relationships with clients across all channels is always a positive sign for a possible investor.

Make sure you build strong relationships with your customers and can demonstrate to potential investors that you have devoted followers who will support your brand no matter what.
How Do I Talk To Investors?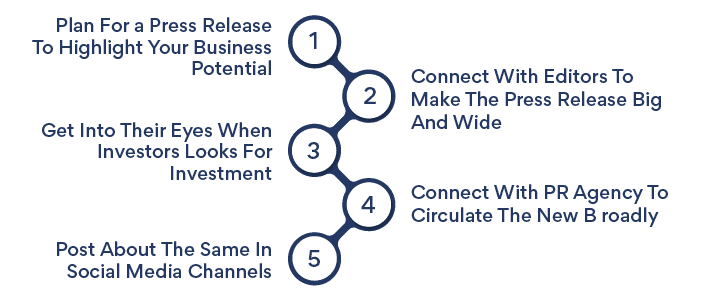 What you say and how you say it affects how investors for small businesses view your plan and the course it is on. Investors are one of your company's most crucial target markets because they decide how much funding to give your project.
The majority of investors generally rely on the choice of information they get from the company itself. For your company to be successful over the long run, pay greater attention to how you communicate and appeal to investors.
Key Points to Remember
You can connect with investors using various techniques, like news releases and annual reports. Companies employ a variety of strategies to deliver the proper message to both present and potential investors. Produce pertinent press releases and send them to certain media outlets.
Learn about the trade journals in your sector. You'll develop a relationship with the editors and reporters as you communicate with them, which will assist you to get coverage when you release a press release. Sending out press releases should only include pertinent information. For instance, you should surely include it in a news release if you recruit a well-known manager for your executive team.
When choosing whether to enhance or decrease their investment, investors may search for media coverage of your business. Investor pride and confidence in your firm will increase if your company obtains favorable press.
When promoting news releases for significant announcements, you might want to think about working with a public relations agency. Companies can assist you in pitching your press release to media outlets that cover your sector.
Positivity in Social Media Interactions: Investors can gauge your business valuation based on your social media presence. Being present on social media sites like Facebook, Twitter, and Instagram allows a business to demonstrate that it is engaged, active, and customer-focused. Social networking is simply required for many business-to-consumer businesses.
Customers want to believe that businesses are somewhat approachable on social media. Social networking is great for spreading good press about your business, client endorsements, and announcements. Investors will be drawn to your company because of the positive aura that all these factors together will provide it.
Key Takeaway
Companies need to have a procedure in place for dealing with complaints and critical remarks because they have no control over what people say about them on social media.
Investors won't be unduly concerned about the unavoidable bad noise on social media if they see that your company handles negativity with professionalism and kindness.
Here's a closer look at how to communicate with investors to increase their trust in your business.
Use Market Terminologies To Display Your Product
Recognize Your Competition
Explain The Value Of An Investor To Your Company
Have a concise pitch
Things A Business Plan Should Include for Investors
Before presenting your pitch, it's critical to know what the investor will be looking for:
The business strategy will outline the given goods or services, how they will gain popularity, and how quickly they will do so.
The second thing that investors will consider is the exit: how much, for how long, and how will they get their money back?
Thirdly, how much investment money is needed to expand a business to the point where investors may get a return on their money? Additionally, how many additional rounds of funding might be required to reach the next milestones?
You will be ready if you have these responses prepared.
Investors also consider several other aspects, such as a strong management team or advisors with a track record of success.
They must be persuaded that the product offering has a definite competitive advantage and the potential to raise and sustain the company's worth, which could include new markets that the same product or service can enter in the future to expand.
Types of Investments Available

Simply said, investors have the potential to be the startup's lifeblood. A startup can be propelled from its inauspicious beginnings to ultimate success with the aid of the appropriate investor. However, picking the incorrect type of investor for your particular firm could ultimately be more detrimental than beneficial.
Look into several types of investments and the possible advantages each could have for your business:
Angel investors

Individuals are angel investors. These investors either make more than $200,000 a year in income or have a net worth of at least $1 million. They can be found in all business sectors, although they typically engage with business owners who are halfway between receiving their initial angel funding and engaging in venture capital.

Peer-to-peer

Individuals or groups may act as peer-to-peer lenders. They provide funding for small enterprises. You must apply to businesses that specialize in this form of funding if you want to be considered for peer-to-peer lending. These businesses help lenders locate the businesses they want to finance.

Personal investors

Businesses might ask their networks, close friends, and family for their small business financing. Speak with a professional if you have willing helpers because just a select few startup investors, and you'll need to present comprehensive evidence.

Banks

The traditional source of business growth is credit which is from banks. You must present evidence of a revenue source or collateral before your loan application is authorized. Banks are therefore frequently a preferable choice for established enterprises, however, you don't have to be a billionaire to obtain finance.

Venture capitalists

Venture capitalists are private investors who lend money to businesses with strong development potential in exchange for an equity stake. Once a company has shown the potential for large revenue, they frequently spend sizable sums of money on it.
Are You Set To Impress The Investors with your Business Plan?
Investors are the first step towards your flourishing business, therefore you need to be very precise about how to attract investors.
Worry not, as we have got you covered, from how to write a business plan to how to pitch it.
Don't forget to share this post!