2.2 million.
That's the number of small businesses (SMBs) in New York state.
According to the Small Business Profile (2019) released by the US SBA, small businesses in New York employ 4.1 million people. That's half of all employees in New York.
A recent survey conducted by the New York State Comptroller found that more than 77% of small businesses reported a decrease in revenues due to COVID-19. This meant business owners would cut down on their workforce to save costs, leading to unemployment.
To ensure the survival of such small businesses and adapt to changing times, business grants are offered.
Grants help secure jobs and pursue economic opportunities. And, through this article, we intend to help small business owners located in New York state, to make the most of available grants.
Sounds good?
Here's a sneak peek into what you'll learn:
Let's dive in.
Small Business Grants In New York
New York State Grants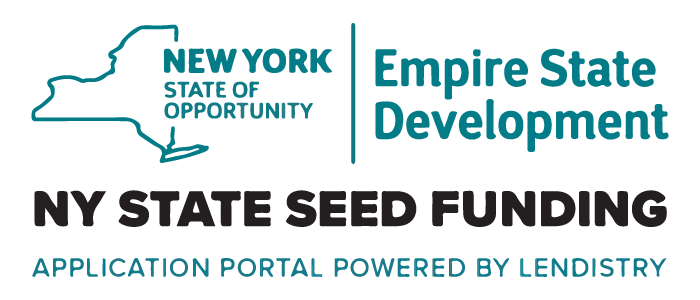 1. New York State Seed Funding Grant Program
If you are an early-stage small business owner and are looking for assistance, this grant is the right fit. The grant, offered by Empire State Development (ESD), was founded to help businesses succeed in a recovering economy.
Small business owners, micro-businesses, and cultural organizations (including independent contractors) are eligible for this grant.
Due to the limited amount of small business funding and high volume of applications – business type, geography, and industry may factor in the ability to receive the grant.
Eligibility criteria include
The applicant must be incorporated or registered in New York state.
Must have started business on or later than September 2018 and must be operational for at least six months.
Not owe any federal, state, or local taxes. Or, have an approved repayment, or deferral plan with the authorities.
For ineligible businesses, eligible costs, and more details
2. Global NY Fund Grant Program
The Global NY Fund Grant program is a $35 million fund that provides grants to small and medium-sized businesses in New York. This grant is open to both companies and nonprofits looking to expand their direct exports.
ESD is providing grants of up to $25,000 to companies to help increase exports. Nonprofits are offered up to $100,000 as grants. Export assistance and trade education are also provided. The grant aims to reimburse 50% of the total project cost.
The funds allotted can be used for
Market customization
Export workshops
Trade Show Participation
Adapting products to meet foreign regulatory requirements
Learn more about eligibility, review process, and apply
3. Global NY State Trade Expansion Program (STEP)
ESD in partnership with the U.S. Small Business Administration (SBA) is offering financial grants to small and medium-sized business owners to increase competitiveness in the export market. This grant will be used to increase the value of exports made and increase the overall GDP.
Funds allotted under STEP can be used for
Participation in programmed foreign trade missions
Qualified foreign market sales trip
Participation in export training workshops
Trade show exhibition
Consultancy services
Development of an international marketing campaign
The business capital funding period for STEP is from September 30, 2022, to September 29, 2023.
Each selected company is eligible to receive $10,000 per funding period.
For FAQs, eligibility criteria, and applications, visit
Federal Grants
1. New York State EDA Tourism Partner Sub-Awards Grant Program
This program is funded under the federal American Rescue Plan Act Travel, Tourism, and Outdoor Recreation grant administered by the Economic Development Administration (EDA).
Its main goal is to support the New York state's tourism industry as it recovers from the COVID-19 pandemic.
Understand eligibility criteria, find FAQ and apply
2. Grants.gov
Grants.gov is a comprehensive resource of all available government business grants. These small business grants are administered by various federal agencies. This helps them support a wide range of businesses such as restaurants, elderly care services, health clinics, etc.
Learn more about these federal grants
3. Small Business Innovation Research (SBIR) and Small Business Technology Transfer Program (STTR)


This federal grant is powered by the Small Business Administration (SBA) and helps business owners dive deep into research and development of new technology. The government aims to help businesses by turning research into a valuable commodity.
Private Grants
1. New York StartUP! Business Plan Competition
It is a competition hosted by the New York Public Library in collaboration with Wells Fargo. It caters specifically to New York state entrepreneurs. Participants can win $15,000. They are also given practical insights on growing and scaling their startup ideas.
Eligibility criteria include
Participants must live in Manhattan, The Bronx, or Staten Island
Business must be located in the above-mentioned locations only
All participant's businesses must be in the start-up phase and earn less than $10,000.
Prizes are:
1st Prize – $15,000
2nd Prize – $7,500
2. New York Foundation Grant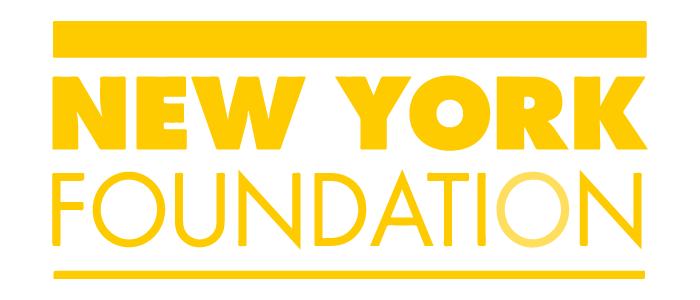 Are you an emerging organization in NYC centering racial, economic, gender, disability, and climate justice, led by Black, Indigenous, LGBTQIA+ people, women, and people of color?
There is good news.
New York Foundation Grants support community organizing and grassroots advocacy. They grant funds up to $45,000 per year, up to 3 years for established groups and 5 years for emerging groups.
They believe in the power of supporting marginalized communities and grassroots groups to bring about transformative change.
In addition to funds, for helping businesses grow, grants include
Community Resource Exchange
Workshops – Coaching and skill building
Small Grants – $10,000 for business goals and emergency needs
Pro Bono legal services
COVID-19 Grants
1. New York Restaurant Resiliency Grant Program
Due to the COVID-19 pandemic, a lot of restaurants faced challenges in New York. To help farmers, distributors, and restaurants overcome this challenge, the Restaurant Resiliency Grant was set up.
A total of $25 million was set aside for restaurants that serve meals to underrepresented communities. The Restaurant Resiliency Program partnered up with emergency food providers to purchase food from New York restaurants and deliver it to families in need.
2. Restaurant Return-To-Work Tax Credit
A total of $35 million was set aside under the Restaurant Return-To-Work Tax Credit program. There was just one goal. To provide incentives to COVID-19-impacted restaurants to bring their restaurant staff back to work.
This would have a spillover effect and help in hiring at NYC restaurants. Qualifying businesses are eligible for a tax credit of $5,000 per newly hired worker. Each business will be granted a maximum of $50,000.
3. New York City Musical and Theatrical Production Tax Credit
A $200 million budget was allotted to this program. It was dedicated to helping jump-start the entertainment industry which would further increase tourism in the state of New York. The budget could be used to offset some of the costs associated with producing shows.
Companies can receive up to $3 million per production.
Eligible expenditures include
Technical and crew production costs, such as expenditures for qualified production facilities.
Production costs for sets, costumes, wardrobes, makeup, accessories, and costs associated with sound, lighting, and staging.
Up to 50% of the advertising and marketing costs incurred and paid in NYS by the applicant.
Find more details and apply
How To Find The Best-Suited Grant For Small Businesses?
Now that we have briefly discussed the various grants for helping small businesses grow, let's dive deeper into the grant application process. Preparing for the application process is half the battle won.
Understand Your Business Eligibility

According to a 2019 report by the SBA, there are 2.2 million small businesses registered in New York State. This means small businesses make up 99.8% of all New York businesses. Undoubtedly, the process to secure grants is highly competitive.

Business owners must make the most of their time and effort by studying and meeting the various eligibility criteria for the grants. Studying your business in-depth can help you reveal opportunities that have not yet been leveraged.

For example, if you or your spouse belong to the BIPOC (Black, indigenous, and/or people of color) community, you become eligible for grants that offer aid, especially to these communities.

Check If Your Business Is A Right Fit For Grants

Few criteria that business owners must be aware of and have documents to support their claims:

A number of years the business has been operational?
Revenue growth attained in each financial year
Tax returns for each financial year
Assessment test results such as FICO (Credit scores)
Previous grants applied and accepted/rejected for?
Number of employees
Percentage of the business stake owned by BIPOC or minority community member
Type of organization – for-profit or non-profit

Answers to the above points can help you realize if your business is the right fit for a particular grant or not.
Where to Find New Small Business Grants?
Empire State Development (ESD)

ESD is the umbrella organization for New York's two principal economic development corporations – the New York State Urban Development Corporation and the New York Job Development Authority.

ESD's mission is to promote New York state's economy, encourage business development and create jobs. They aim to achieve this through the efficient use of loans, grants, tax credits, real estate development, marketing, and other forms of assistance.

Find out more state grants

SCORE.org


Backed by the U.S. Small Business Administration (U.S SBA), Score.org provides business assistance to small business owners. A learning library, resource center, and experienced mentorship are provided. Also, mentors provide customized advice based on your grant application.

Small Business Development Centers (SBDC)


SBDC, too, is backed by the U.S SBA. The SBDC centers help you apply for various grants and provide business assistance. They act as your best alternative to private consultancy, without being expensive. They help with – marketing, engineering, production, etc.
Explore Other Alternatives To Grants
If you find yourself ineligible for a particular grant or find the process of applying for a grant tedious, you can explore other financing alternatives to grants such as loan programs, credit cards, or crowdfunding.
Let's explore them briefly.
Small Business Commercial Loans

You can choose the right financing needed by comparing options such as – commercial loans, SBA loans, business lines of credit, equipment loans, and term loans. Loans are quick and easy to obtain but require collateral from business owners.

Small Business Micro-loans

If commercial loans do not interest you, you can explore micro-loans as an option. Small loans that are less than $50,000 in value, have shorter terms and have low-interest rates qualify as microloans.

Small Business Credit Cards

Do you want to undertake business purchases while earning credit points? Credit cards are the perfect fit for you then. There are a host of credit cards that you can explore.

Crowdfunding for Small Businesses

Online platforms such as Kickstarter help leverage the power of social funding for your small business. People support your business if they find it to be creative and value-adding
How Would A Grant Impact Your Business?
Still unsure if availing of a grant is the best possible option to fund your business growth?
Let's understand the advantages and disadvantages in detail, to decide better.
Advantages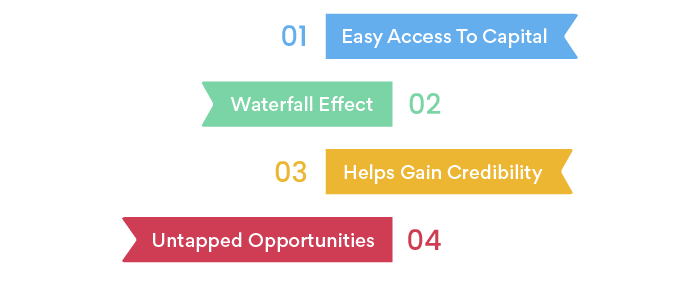 Easy Access To Capital
If you are a small business owner looking to expand your business or hire specialists in your existing team, grants can help you achieve those objectives more quickly. Grants act as complimentary money without the pressure to repay.
Waterfall Effect
If your small business has qualified for a grant and has generated a positive return on the investment, it becomes easy to secure other grants. This happens purely because investors and facilitators can see a positive outcome in the process. Do check eligibility requirements if you have already been awarded a grant and plan to apply for one more.
Helps Gain Credibility
If you have been awarded a grant, it helps you gain visibility for your work. This in return can help you promote your business idea and get your work noticed.
Explore Untapped Opportunities
Certain grants ensure that the small business spends on particular activities such as hiring consultants and examining their environmental impact. This can help businesses explore untapped opportunities which in return could prove to be beneficial for the firm.
Limitations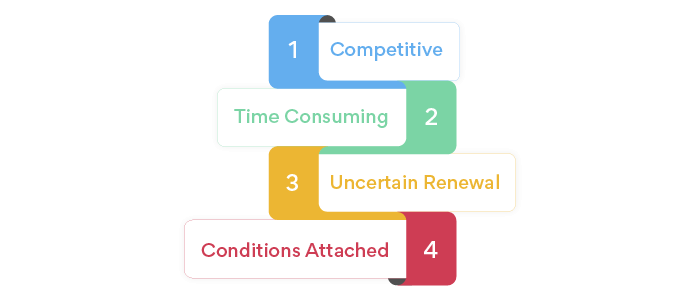 Competitive
Since there are more than 2.2 million small businesses in New York state, securing a grant becomes highly competitive. The best way is to be on the constant lookout for available grants before they close their applications.
Time-Consuming
The grant application is a tedious and cumbersome process. A lot of process needs to be taken care of before the aid is availed. Research, paperwork, finding the right fit for your business and a convincing proposal needs to be drafted to be selected.
Uncertain Renewal
One of the major drawbacks of grants is that they might not be renewed. This can be scary since business owners need to undertake decisions based on the grants available, which may not be in the best interest of the firm. Entrepreneurs would have to reapply to avail of grants once the funds are exhausted. The best possible solution is to take sustainable financial decisions.
Conditions Attached
Although grants help scale your business operations, there are restrictions and conditions attached. Businesses can invest the grant only for specific activities. These activities need to be very specific and are audited by the granting agency. Therefore, business owners should be clear about the activity the grants will be used for.
Conclusion
Your business success is contingent on one single fact – how well you manage your cash flow. But, some resource-intensive decisions require that you avail of a business grant or loan. It would help expand your business, scale operations or increase productivity. Applying for a grant is a competitive and recurring process. This article was, therefore, written to help you secure that much-needed business grant.
But keep in mind. Before availing of a grant, the business owner must be clear about the purpose and utility of the funds. This helps them stick to their goals and make progress, in the right direction.
In our experience, we have seen having an intricately designed online business plan improves the chances of a business's success.
Business planning software such as Upmetrics helps business owners, like you, plan their business meticulously up to 2x faster. And what's more? You can even manage your cash flow, even if you have no technical or management background. It's that easy and simple.
To scale your business to new heights, sign up for a free demo today, and shape your business ideas into reality.