Starting a new business can be a daunting task. But it doesn't have to be!
If you're considering starting a business in the sunshine state of Florida, you're in the right place.
This ultimate step-by-step guide will walk you through everything you need to know regarding how to start a business in Florida.
But before we begin, we must understand why starting a business in Florida is a wise decision.
Benefits Of Starting A Business In Florida
No state income tax

Florida is one of seven states in the United States that do not have a state income tax.

Access to a large market

Florida has a population of over 21 million.

Favorable business climate

Florida has a pro-business climate. The state's economic development agency, Enterprise Florida, offers a range of services including financial incentives, and export assistance.

Access to a skilled workforce

According to the U.S. Bureau of Labor Statistics, Florida has a labor force of over 10 million people.

Access to funding and resources

Enterprise Florida also offers a range of financial incentives, such as tax refunds, tax credits, state grant programs, and loan programs.

Strategic location

The state's location makes it a hub for international trade and commerce.
Let's dive deep into our step-by-step guide on how to start a business in Florida.
So, are you ready?
Thought so.
Let's begin.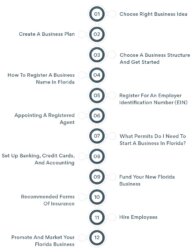 1. Choose The Right Business Idea

Everything begins with an idea – Earl Nightingale
The first step to starting a business in Florida is choosing the right business idea. While deciding on your business startup, take into account your passions, skills, and available resources.

Ask questions like – What are you truly passionate about and what unique product or service can you offer?
A few top businesses to start in Florida are

Microbrewery

Beauty Salon

Financial services
2. Create A Business Plan
Ideas without action are useless – Helen Keller
Crafting a plan is essential for any business. It helps outline your goals, objectives, and strategies.

A business plan should include

Executive Summary – Overview of your business
Brief Description – Problems your business is solving and solutions offered
Key Metrics – Sales targets, etc
Unique Proposition – USP of your offerings
Channels – Medium for marketing and distribution
Target Audience – Ideal Customer Profile (ICP)
Cost structure – Income and expenses, cashflow
If all this sounds intimidating, we've got you covered!
Free Sample Business Plans
Get a head start on your business plan with our ready-to-use examples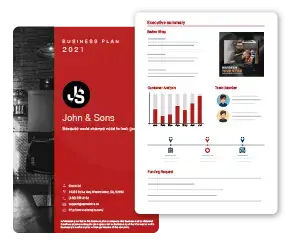 3. Choose A Business Structure And Get Started
Once you have a business plan, it's time to decide on the structure of your company. Deciding on a structure is a crucial step since it helps determine the ownership, liability, personal income tax, Florida taxes implication, and how easily you can raise capital.
The most common business structures in Florida are
Sole proprietorship

Limited Liability Company (LLCs).
Other business structures include
Corporations

Partnerships (Limited Liability Partnership – LLP)
Each business structure has its own requirements and responsibilities.
A sole proprietorship, also known as an unincorporated business structure, is the simplest and most inexpensive to set up. However, they offer the least protection to a business owner's personal assets. A first-time business owner can begin their journey with a sole proprietorship.

On the other hand, LLCs provide more protection for the owner, but they require more paperwork and cost more to set up.
Corporations are the most complex and expensive to set up. They offer the most protection for the owner since it helps designate the business as a separate legal entity.

While Partnerships are a good option for businesses that are owned by two or more people.
4. How To Register A Business Name In Florida
Once you have decided on your business structure, you would need to register your business's own legal name with the Florida Department – State Division of Corporations.
But before you register your business, you would need to check if a business already exists in your name. You can log on to Search Records and check for availability.
Depending on the type of business structure you have selected you would need to proceed further.
For Sole Proprietorship
Sole proprietors do not have to register their businesses. But, they would be required to register a fictitious name if they plan to not function under their name.
For Limited Liability Company And Corporations,
Additional paperwork is required for both of these business structures. Information such as business name, business location, and EIN would need to be mentioned. LLCs need to file Articles of Organization, while Corporations need to file Articles of Incorporation.
5. Register For An Employer Identification Number (EIN) By Internal Revenue Service
The Internal Revenue Service (IRS) requires all businesses to register for an Employer Identification Number (EIN). A federal employer identification number is used to identify your business for tax purposes
So, before you start your business in the state of Florida, you will need to provide your business name, business address, type of legal business entity, and contact information when applying.
It is important to keep your EIN up-to-date and accurate. If you make any changes to your business, such as a change of address or ownership, you must update your EIN information with the IRS.
6. Appointing A Registered Agent
A registered agent also known as, an agent for service of process, is the person or company designated to receive official documents on behalf of your business entities.
It is required that both limited liability companies and corporations appoint a registered agent on their behalf.
A designated registered agent receives notices and processes other government paperwork on behalf of your business.
In the state of Florida, you can act as your own registered agent. You can even choose from registered agent designations such as law firms or businesses offering this service. The filing fee ranges from $50 – $400 annually.
You can declare your registered agent while submitting your articles of organization.
We would recommend hiring registered agent services if you are running a business for the first time. A registered agent can also help handle official documents that help collect sales tax.

7. What Permits Do I Need To Start A Business In Florida?
Before you can start your business in Florida you must obtain all necessary permits and business licenses from the Florida department.
Depending on the type of business entity you're starting, these may include permits from local governments as well as state agencies like the Department of Agriculture & Consumer Services (DACS) or the Department of Environmental Protection.
Apply For A Business License, Permit, Or Registration
Once you've obtained all necessary permits and licenses, it's time to apply for business licenses or a business registration process.
Depending on the type of enterprise you're starting, this may involve obtaining additional paperwork from state agencies. To complete this step you'll need to provide proof of residency, verification of good standing with the state, and proof of insurance.
There is no central agency or department that issues licenses in the state of Florida. It is therefore important to check for all necessary licenses required depending on the nature of your business. 
8. Set Up Banking, Credit Cards, And Accounting
To ensure that your business entity is running smoothly and efficiently, it's important to open a business checking account and apply for any necessary business credit card.
It's also important to hire a business accountant or use accounting software to manage your financial records, business bank accounts, and credit accounts. This will allow you to track spending, generate reports, and ensure that your books are always up-to-date.
When setting up your business bank account and business credit card, make sure to read the terms and conditions carefully. It's important to understand any fees or interest rates associated with the business accounts. 
Additionally, make sure to set up a budget and stick to it. This will help you stay on top of your finances and ensure that you are not overspending. You even refer to your plan and use it as your north star.
9. Fund Your New Florida Business
Once you have your business plan and finances in order, it's time to secure funding for your venture.
You could consider raising funds from
Bank loans for Business startups

Government-sponsored Small Business Administration (SBA) loans

Angel investors

Venture capitalists

Small business grants

Crowdfunding

Friends and family
Choosing funding options such as angel investors can help small businesses with investments and the required know-how to succeed. 
10. Recommended Forms Of Insurance
Once you've secured funding for your new enterprise it's important to purchase the appropriate insurance coverage. This gives the required protection to your personal assets.
Consider coverage for general liability, property damage, workers' compensation, and professional malpractice.
We would suggest talking to an insurance provider about what type of coverage is necessary for your specific business structure.
11. Hire Employees
Talent wins games, but teamwork and intelligence win championships. – Michael Jordan
If your Florida business requires employees, you'll need to familiarize yourself with the requirements to hire employees in Florida. This includes understanding labor laws, income tax, reporting requirements, personal and business expenses, and other rules and regulations.
Additionally, you may need to obtain workers' compensation insurance for professional regulation of employees.
12. Promote And Market Your Florida Business
Stopping advertising to save money is like stopping your watch to save time. — Henry Ford
Once your website is built and your brand is defined, you need to start promoting and marketing your new company.
You could begin promoting your business by building a website.

Build A Business Website
In today's digital world, having a website is essential for any business. A website can be used to showcase products or services, provide customer service, and accept payments.
When building a website, you will need to select a domain name, choose a web hosting provider, design the site layout and content, and ensure the site is secure
It is also equally important to consider the user experience (UX) when designing a website. Make sure the navigation is intuitive and the content is easy to read.
Also, make sure you pick the right mode of hosting that works for you and your business. You can read more about the major differences between WordPress vs Web Hosting to understand how to go about this better. Finally, make sure the website is optimized for mobile devices. 
Finally, make sure the website is optimized for mobile devices.
You can also use traditional methods such as print advertising or direct mail campaigns, or take advantage of digital options like email marketing, social media marketing, or targeted online ads.
Additionally, you should build relationships with other local small businesses to increase visibility.
You can also consider attending local events and networking with other small business owners in your area. This will help you to build relationships and create a positive reputation for your business. 
You can also consider creating promotional materials such as flyers, brochures, and business cards to help spread the word about your business.
13. List Of Small Business Resources In Florida
When starting a business in Florida, it's important to connect with resources that can help you succeed. Here are a few important resources to get started:
Official business website for Florida businesses:
-Division of Corporations – Florida Department
Search existing businesses listed in Florida:
-Business Entity Search
Register your fictitious business name: 
-Fictitious Name Registration
Register for LLC business structure:
-LLC Registration in Florida
Register for Corporation business structure:
-Corporation registration in Florida
Register for Florida business license:
– Florida State Agencies
– Other licensing agencies
Sign up for SBA Loans (based on your district):
-District of North Florida
-District of South Florida
Small Business Consultancy (Non-Profit)
-Florida Small Business Development Centers (SBDC)
Conclusion
"A big business starts small." – Richard Branson
Starting a business in Florida is an exciting endeavor that comes with many challenges. By understanding the requirements and taking all the necessary steps outlined above, you can increase your chances of success.
Consider the above steps carefully when beginning an entrepreneurial venture in the Sunshine State.