Before getting on track with your schedule each day, what is the one thing you can't go without? A good cup of coffee, I bet? Well, it's the same for many. And believe it or not, people are willing to pay well for an energizing and "good" cup of coffee anytime.
So, opening a coffee shop plan ever crossed your mind, if yes, then you are at the right place. We at Upmetrics will help you write your coffee shop business plan.
For workaholics, a cup of hot coffee is more like an addiction. For youngsters and many others, spending some quality time over a cup of coffee is the perfect fit!
If you're wondering how to start a coffee shop business of your own, here are some steps you can follow to figure out exactly how to go about it:
Steps to Start a Coffee Shop Business
Planning and starting a coffee shop business can be a huge task. Getting everything in order over some time can be better than coming up with everything last moment.
Some essential things like the type of equipment or style you want to implement just can't be decided last minute.
A prerequisite to the ideation and narrowing down process is to have a clear-cut budget in mind.
How much are you ready to spend? Once you have that down, you can proceed with business planning and these steps to start your coffee shop business:
1. Think of Unique Concept for Coffee Shop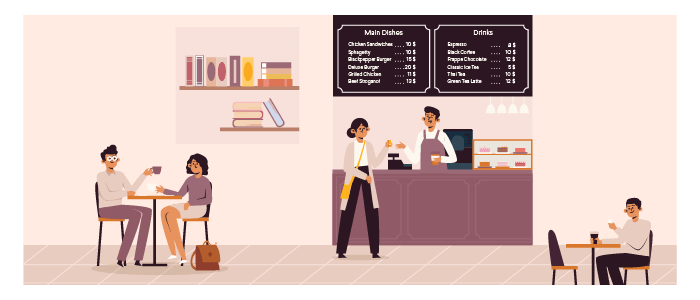 Popular coffee outlets have a variety of themes, catchy logos, and ambiance styles. Think of some unique and engaging ideas for your shop that can easily draw in people.
Serving quality coffee and dishes are important, but people want a great vibe with their cup of coffee too. When it comes to deciding the vibe, small and minute details can often slip away easily.
After picturing your main aesthetic and how you want to function, head on to pinning down some minute details or inclusions that could make your place the perfect hangout spot.
Would you like something like a small bookshelf in one corner? Or a series of tables at one end with good Wi-Fi. While many people would visit in a group or with friends, the ones alone can always get a book to read along or get on with their work online with their coffee.
Think about the vibe of the decor and even the crockery. One thing to remember is – Great coffee is a must, but that won't drive your business alone. People visit a coffee shop to grab a peaceful spot to work or chat with their friends in a cozy spot.
How you're going to build your space to be people-friendly is the first step to starting a great coffee shop business.
2. Pick a Good Location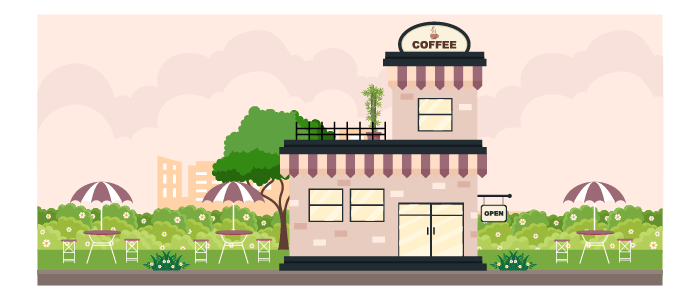 Now, what does a good location mean? A spacious shop or a cozy little space that serves great coffee? Well, it could be both, depending on who you plan to draw in. The physical location of your shop also makes a great difference.
Figure out if it is feasible to purchase a lot or use it on a rental basis for the business. Check for affordable rent and surrounding factors, then fix your location.
Here are some perspectives for choosing the perfect location for your coffee shop:
Panoramic view: Visibility plays a vital role. Whichever location you select, check what crowds you will draw in. The area must fall well within the radius of shopping malls, industrial markets, or busy spots to help draw in regular customers.
Availability: Check for the availability of certain things like proper parking space and easy access to the public. If they have to walk miles before ordering a cup of coffee or can't find the place, likely, they won't come in!
Target Audience: Who do you want your customers to be? You can finalize your location depending on who you want to serve. College students? Professionals? Your coffee shop in any locality can do great business by serving niche customers.
3. Draft a Business Plan


With a rough idea in mind, start drafting a detailed business plan. Your business plan should consist of everything from your location, aesthetics, and pricing, to the exact equipment you are planning to use for your shop.
Detailed budget allocation and staffing requirements should also be featured distinctly within the plan. At later stages, you can add the exact menu items and workflow of the shop. You can also define distinct rules and roles for the staff, managers, business partners, and investors.
Your business plan can be an important document for obtaining necessary licenses, and loans and for the overall smooth functioning and setup of your coffee shop. Check out the ultimate coffee shop business plan template to get started with yours.
4. Design Elements & Menu for the Coffee Shop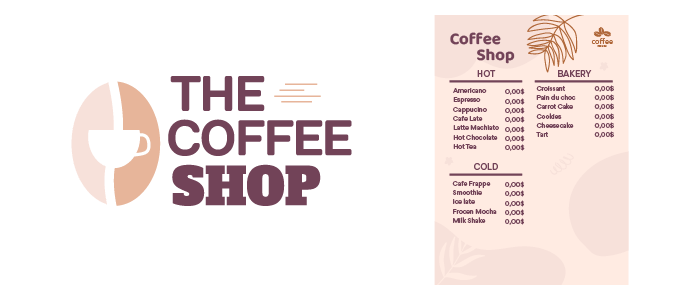 When you know what you want, what equipment is in order, and an exact plan to go about things, you can proceed with designing specifics for your shop. Get down to the communications and working details now.
It includes everything from creating logos, menus, pamphlets, and brochures, to make your brand stand out. For creating an impactful logo, hire a graphics designer for logo making, approach any design studio, or free logo template.
While this might seem like something you could do yourself, always take professional help, as logos involve a combination of color theory and the right shapes to have an impact on your customers. Your logo will stick to you forever! So, you want to get this one right.
You will also need to start website development for your coffee shop business. Owning a website impacts sales and interactions of both online and offline business aspects.
Integrate great images and work on a steady presence on social media platforms. Add information about your brand, blogs, images, videos, and more for your prospective customers to get to know you. These are essential for the months before your business launch. So, the design should be in the works even earlier.
Curate the menu according to your target customer's tastes. Youngsters are less likely to invest in something fancy and more expensive, while the working class might make the plunge.
You could even go for a combination of regular and fancy dishes to serve different kinds of customers. Update and check your equipment requirements at this stage.
All these you need to incorporate into your coffee shop business plan, as it will help you get investment. So having a business plan is crucial, be sure about it by making it with the help of business planning software – Upmetrics.
5. Register Your Coffee Shop Business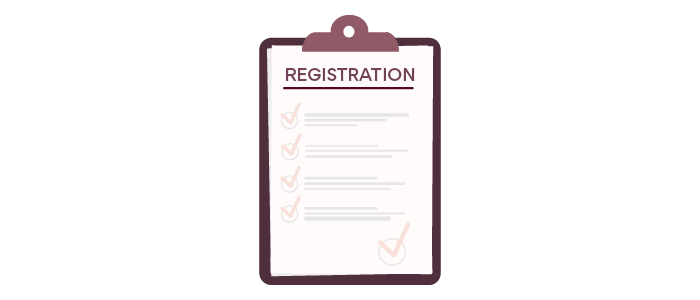 With all your groundwork sorted, you also need to take care of paperwork procedures before you can start doing anything.
Licensing and permitting requirements can vary depending on the type of business and your operative location. Some common licensing requirements in most cases include:
Business Soft License: Obtaining a soft license is mandatory. You can head over to the official US government website and apply for it by filling in the necessary details. It usually doesn't take too much time to get this one ready.
Food Service License: To start any food service business, it is important to get approval from the local health government. Based on food safety regulations and other specifics of service operations, your business will be issued a license. This will be your legal permit for all business operations.
Pay Taxation: The US government imposes taxes on property, payroll, and income. Thus, it is necessary to file taxes for your coffee shop business. To run an authenticated business in the US, paying taxes and prompt documentation are important.
Permit: If you are putting up any signboards on the streets, a government permit is mandatory. It is even better to get approval from the premise owner for a hassle-free beginning. Ensure all necessary permits are obtained before you start promoting your business.
6. Hire & Setup

So, you have the building space, equipment ordered, finances planned, a running website, and a business registry now. As soon as you're a registered business, you can start by hiring the cooking and management staff.
In the list of hiring efficient employees, first comes the Head Chef and Barista. Multiple Chefs and Baristas can be brought on board depending on your scale of operation.
You would also need a Manager to manage and guide the other staff. A separate accountant or cashier can also be employed for the collection of bills or any reimbursement. Lastly, cleaning staff for maintaining your coffee shop can be a good addition.
Now, several of these roles are managed by a single person at times, if your space is smaller or the budget is limited. In any case, a team of skilled professionals is a must to handle your coffee shop business seamlessly.
Once you have your equipment finalized and sourced, you can go ahead with the setup. Placing and sourcing power for your coffee machine, microwave oven, freezer, refrigerator, and mixer, can take longer than you would expect. Get these running and tested for any glitches before your official launch.
In your coffee shop business plan, mention your team too. Also, mention what values will they bring to your startup. Visit our online business plan sample template to know how you can incorporate the section of your management team.
7. Market Your Coffee Shop
Even with the best setup and implementation, it is smart to expect stiff competition in the coffee shop business domain. If you want to stand, your marketing strategy should be top-notch!
Hire a digital marketing expert to market your coffee shop and run innovative marketing campaigns for your brand.
Build your brand presence over social media platforms like Facebook, Instagram, Twitter, Youtube, Pinterest, etc.
Increase your brand awareness and expand your business ecosystem through friendly online media. Simultaneously, you can commence offline marketing like printing ads in the newspaper, pamphlets, offering discounts on an opening day, planning lucky draw winners, or other things for local marketing.
Summing Up
Thus, with a great plan at hand and some new ideas for your business, your coffee shop business will be up and running in no time!
A great business plan with departmentalized factors can help keep track of the requirements and the timeline to avoid such issues.
There are various business plan tools available online, but why not choose the best? Upmetrics offers a wide selection of business plan templates to help you stay on track with the growing requirements of your business. Find your suitable business plan examples and get started today!