Brewing a plan for a coffee shop startup?  Smells delicious.
But before you proceed further, you will need an answer to how much does it cost to start a coffee shop?
Well, grab yourself a steaming hot cup of coffee while we walk you through a detailed breakdown of coffee shop startup costs.
It's going to be a long but worthwhile read. Let's get started!
What is the cost of starting up a coffee shop?
The average cost to start a coffee shop spans anywhere between $79,650-$300,400. These costs are greatly influenced by the factors such as location, size, concept, and type of coffee shop business.
The average profit for these coffee shops ranges between 2.5-6.8%. Many times, coffee shops do earn a lucrative profit margin of up to 15% making it a desirable business avenue.
Average costs for starting a coffee shop
Before we dive into details, check out this coffee shop startup cost checklist.  It will help you plan your startup budget and know how much financing you need to get started.
Item
Average Cost
One-time Expenses
Registration & incorporation fees
$100-$500
Lease deposits
$4,500-$12,000
Construction / Renovation / Remodeling Space
$20,000-$50,000
Furniture
$5,000-$10,000
Equipment and appliances
$20,000- $150,000
Licenses & permits
$3,000-$10,000
Annual Insurance
$500-$1,500
POS setup
$1,500-$4,000
Inventory & Supplies
$2,000-$5,000
Professional fees
$500-$2,000
Interior designer fees
$3,000-$10,000
Website setup
$500-$5,000
Signage / Boards / Menu Cards
$10,000-$20,000
Uniforms
$0-$1,000
Total One-Time Expenses
$70,600-$281,000
Recurring Expenses (Per Month)
Rent
$2,000-$4,500
Utilities
$1,000-$1,200
Food supplies
$1,500-$4,500
Payroll / Salaries
$4,000-$8,000
Marketing
$500-$1,000
Software subscription fees
$50-$200
Total Recurring Expenses
$9050-$19,400
Total
$79,650-$300,400
Disclaimer: Note that these costs are averages and can vary significantly depending on factors such as location, space, and size of a coffee shop, coffee equipment, and various other factors. It's important to conduct thorough research and planning to get a more accurate estimate of the costs specific to your coffee shop business.
How to calculate the cost of starting a coffee shop business
You now have a list of potential expenses and a rough estimate of your startup costs. Let's estimate your actual startup costs using these two proven methods.
The first, traditional method involves using a startup costs calculator to estimate the startup costs. However, the second, the Upmetrics method, is an innovative method that uses Upmetrics financial forecasting tool.
Let's understand both methods so that you can choose one that suits your requirements the best.
The traditional method—startup costs calculator
The calculator includes categories such as pre-trading, website setup, marketing, operations, and people. You can enter the estimated costs in each field and let the calculator estimate the costs for you.
Remember that many startup costs fall under recurring expenses, so cover those costs monthly, quarterly, or annually.
Calculate your startup costs using this calculator.
The Upmetrics method—financial forecasting tool
It is an intuitive and efficient method of calculating startup costs. Using Upmetrics will not just help you estimate startup costs but also help with financial forecasting.
All you need to do is enter your sales, costs, and other financial assumptions and let the tool calculate monthly/quarterly/ and yearly projections for you.
Check out the financial forecasting tool for accurate financial forecasting.

Check out the financial forecasting tool for accurate financial forecasting. Once you have an accurate estimate of startup costs, you can easily identify funding requirements for your coffee shop.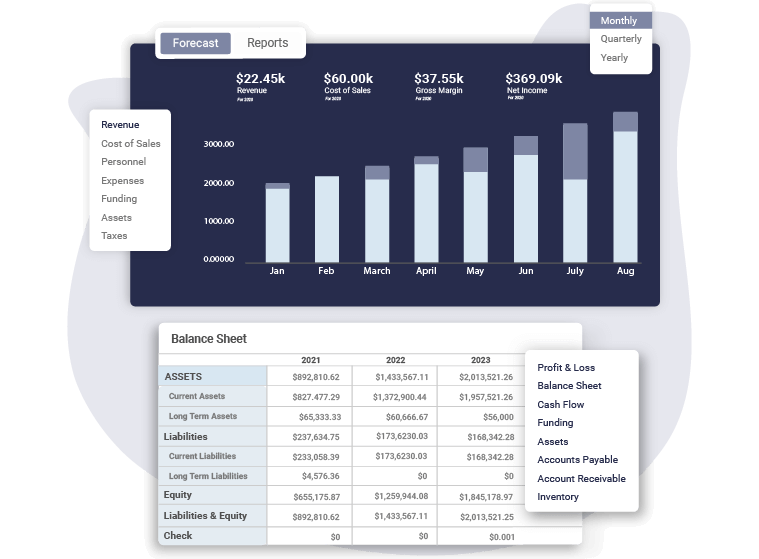 Once you have an accurate estimate of startup costs, you can easily identify funding requirements for your coffee shop.
Raising funds for a new startup is certainly a nerve-wracking and time-consuming process, but having a solid coffee shop business plan can make things a lot easier.
Let's move ahead and discuss the factors that affect your coffee shop startup costs.
Factors that affect coffee shop startup costs
Starting a coffee shop requires a thorough consideration of various aspects. Let us now understand the factors that can substantially affect coffee shop startup costs.
1. Location
Location plays a crucial role in influencing the startup costs for any sort of business.
The rental and lease costs are comparatively higher in prominent locations and neighborhoods than in low-volume quiet places.
Not only rent, but every other startup-related expense also has the influence of location on it. Be it licenses, permits, insurance, employee salaries, furnishing costs, utility bills, or professional services—expenses are directly related to the location of the business.
For instance, let's consider the salaries for managers in New York and Austin.
An entry-level manager in New York makes somewhere between $70,000- $120,000. While the same position in Austin is hired at $55,000-$90,000.
Usually, the highly concentrated commercial buildings and public spots of attraction make the best location choices for a coffee shop.
2. Coffee shop space and size
When it comes to choosing a space for your coffee shop, you can either lease, buy, or build from the ground level up.
Before you choose the feasible option amongst these, determine the space required for your coffee shop.
So how large should a coffee space be?
Small Scale coffee shops(Seats 10-30): 500-1000 sq. ft.
Large-scale coffee shops(Seats 30-100): 1000-3000+ sq. ft.
Let's consider the lease rental option.
The average monthly rent for a small-scale coffee shop in San Francisco spans between $4,000-$8,000. However, the same space in a city like Austin is available for $2,000-$4,500 rent.
The lease requires contractual assurance of a few years of occupancy. Deposit worth 2-6 months of rent, i.e. $4,500-$12,000 is required to secure the lease.
Are you planning to buy a coffee shop?
Converting a naked space into a coffee shop will cost significantly more. It is advisable to look out for places that were used for restaurants or similar purposes. The estimated cost of purchasing an existing small coffee shop business varies between $150,000-$400,000 and more.
Building a coffee shop from ground level up? Consider putting $300-$400 per sq. ft into building your ideated coffee shop.
3. Renovation, interior, and furniture costs
When it comes to coffee shops, the setup and decor are crucial. Interiors can set up a vibe and create a welcoming space for your customers.
Renovation and remodeling expenses add up pretty quickly. You definitely need to budget for it before you start working on it.
Even when you lease a place that is operating as a cafe or coffee shop, it will require certain tweaks, modifications, and changes in decor.
Now, the decor expenses can vary widely depending on multiple factors such as the concept and theme of your coffee shop, targeted audience, personal taste, and willingness to spend.
Expect to spend anywhere between $20,000-$50,000 on basic leasehold improvements for a small-scale coffee shop. This will include expenses for general remodeling, painting, flooring, HVAC installations, and plumbing and electrical fixtures.
However, if you are looking at renovations, the expenses can soar as high as $150,000.
Also, consider the cost of furniture for your coffee shop. This shall include serving tables, coffee tables, chairs, and patio set-up. The furnishing expenses span anywhere between $5,000-$10,000.
4. Coffee & Kitchen equipment
The coffee shop equipment constitutes a significant part of your startup expenses. As the basis of your business relies on coffee, you simply cannot compromise on the quality or specifications.
Here is a list of non-negotiable coffee equipment for coffee shop businesses.
Espresso machine: $10,000-$20,000
Water filtration: $650-$800
Drip coffee maker:  $1,500+
Coffee grinder: $6,000-$18,000+
Apart from this, there still is an exhaustive list of kitchen equipment that will be required in a coffee shop. This includes freezers, refrigerators, ice makers, dishwashers, etc.
If you have a curated food menu to get along with coffee, you will also require ovens, toasters, and a little kitchen setup.
All in all, expect to spend anywhere between $20,000-$150,000+ on equipment and appliances.
5. Licenses, permits, and insurance
Legal compliance is essential to successfully set up and operate a coffee shop.
First and foremost essential for legal setup is business registration with a state. The business registration costs span between $100-$500.
Further, various licenses and permits will be required to legally operate the coffee shop. You may incur potential fines if required permits aren't taken.
Here is a list of business licenses and permits, required for a coffee business:
Building permit
Business License
Food service license
Liquor license ( if applicable)
The cost of these licenses and permits varies between different states and provinces. However, expect to spend anywhere between $1,000-$5,000 on acquiring essential permits and licenses.
Lastly, you will have to acquire various insurances to get coverage against risk and reduce liability. The annual insurance expense for general liability, worker's compensation, and others would span between $500-$5000 and more.
6. POS costs ( hardware + software)
A POS system is a crucial component for coffee shop businesses. This transaction technology helps with order management, payment transactions, and inventory upkeep.
The costs of POS are divided into one-time setup costs and recurring software subscription expenses.
A POS setup and equipment costs span between $1,500-$4,000. These costs vary considerably depending on the equipment and provider you choose.
The monthly expenses for POS software vary between $50-$200.
7. Inventory & Supplies
Before you open the doors of a coffee shop for business, you will be required to stock some basic essentials. However, the question that remains always is what and how much to buy.
The basic food inventory for coffee shops includes coffee beans, milk, syrups, cream, sugar, etc.
Apart from the food inventory, you also need consumables for running a coffee shop.
The consumables include boxes, bags, paper cups, stirrers, containers, napkins, lids, plates, glasses, etc.
The one-time inventory building cost for a small-scale coffee shop ranges between $2,000-$5,000.
The raw materials and primary ingredients costs are recurring and variable in nature. These operating expenses account for up to 40% of your sales value. Expect to spend anywhere between $1,500-$4,500 on monthly restocking of inventory.
8. Payroll & wages
Payroll accounts for nearly 60-65% of prime costs. It includes benefits, salaries, taxes, wages, and workers' compensation funds.
Food costs and labor costs together form the prime costs. To remain profitable ensure that the cost of items on the menu doesn't exceed 28-35% of total sales.
Be extra decisive while making a hiring choice. A barista with excellent skills will prove to be a worthy investment. The salary for a professional barista can range from $22,000 to $38,000 per annum.
Don't hire too many people on the payroll, at least initially. Instead, identify the peak hours and days. Hire staff on an hourly basis to save on labor costs.
Regulate your employee expenses between $4,000-$8,000 every month.
9. Professional services
A coffee shop is your business. Despite your passion, you will require the help of various professionals to set it up and operate it successfully.
Here are a few professional experts you can benefit from hiring for your coffee shop work.
Consultants: Consultants help you identify potential ways to make your coffee shop business profitable. They charge anywhere between $250-$1,000 hourly.
Legal fees: Legal services help set up a business, get essential permits and licenses, and offer related legal services. They charge around $100-$500 hourly.
Interior designer: To create a cozy welcoming space, the designer charges between $3,000-$10,000 and more.
Accounting fees: Seek outsourcing help to manage your accounts, taxation, and bookkeeping matters. Accounting experts charge anywhere between $100-$500 monthly for their services.
10. Marketing and branding
Tell the people and persuade them to visit your coffee shop. After all, it's important to get the word out that the coffee shop is now open to serve.
But how would you do that? Marketing and advertising is the answer. Marketing, in fact, should begin much before the coffee shop is ready to brew.
It's important to spend on pre-opening to create hype for your coffee shop. The expenses for this will vary between $100-$5,000.
Coffee shop signage boards, menus, and coupons are also included in the advertisement expenses. The one-time expense on these would round between $10,000-$20,000.
Coffee shops set 3-5% of monthly sales as their recurring marketing budget. It is usually between $500-$2000 every month.
Lastly, if you are planning for a website, the website costs will span between $500-$5,000.
Understood the factors that affect your coffee shop startup costs? Let's learn a few handful tips to reduce these costs.
Tips for reducing coffee shop startup costs.
1. Rent existing coffee space
Look out for places that are operating in the same domain as your business.  This will save costs on remodeling and renovations. The ready-to-operate coffee spaces can be easily transformed into your dream places without burning a hole in the pocket.
2. Start small and grow
Start with a small project. Rent a small place. Invest in limited resources.
You don't need millions of dollars of investment to begin.
As the business starts generating desirable revenue, start investing in resources, infrastructure, and menu to scale the coffee business.
3. Craft a limited menu
Don't create an extensive menu from day 1. Craft a small menu highlighting your specialties. This will help you save costs on inventory and reduce wastage.
Once the business peaks up, gradually start introducing new items to the menu.
4. Buy used furniture and kitchen equipment
When it comes to coffee equipment, it is recommended to invest in new purchases. However, you can manage to find kitchen equipment and furniture from second-hand stores to save costs.
5. Outsource the services
You don't need to hire people on the payroll for everything. Hire freelancers or staff on an hourly basis when required. This will save monthly fixed payroll expenses for the initial months till the business starts generating revenue.
6. Don't make everything in-house.
Have a specialty food menu? Get it outsourced from a cloud kitchen vendor or a third-party platform.
For instance, baking products. Instead of investing in kitchen setup, appliances, and inventory to bake a few goods on the menu, strike a deal with a vendor to offer a regular supply of cakes, muffins, or cheesecakes- whatever it is on your menu.
Conclusion
That's it for the article guys! Scoop the stress away and refill your coffees.
Now that you have a precise understanding of the costs associated with starting a coffee shop, it's time to start making actual calculations.
We hope this article serves as an informative guide and helps you make insightful decisions for your startup.
Use Upmetrics for Accurate Startup Cost Projections!
Looking to estimate your startup costs? Dive into Upmetrics! Our business plan software makes financial forecasting a breeze
Get Precise Projections Now