You are a smart entrepreneur. You don't jump right in and open a coffee shop just because you decoded the secret of making perfect cups of steaming delicious coffee.
Instead, you wait and plan to write a unique business plan that resonates with your coffee shop's concept.
But hey, writing a business plan is actually complex. Without any structural format or direction, you may end up making a hotchpotch of your business idea.
To ensure that your business concept translates properly into a plan, we created this step-by-step guide that will prompt you to write an insightful coffee shop business plan in great detail.
Also, get a free coffee shop business plan template that has all the relevant examples for you to get started.
So get yourself a cup of coffee and decode the secrets of writing a stellar plan in easy steps.
Let's get started.
Key Takeaways
Craft a compelling executive summary for your coffee shop business plan. Add key details regarding financials, marketing, business objectives, and operations to help investors evaluate your business idea.
Conduct thorough research on the coffee shop market by analyzing the key trends, consumer preferences, and needs of your target market.
Streamline your coffee shop operations with a detailed plan outlining the standard operating procedures of your key business processes.
Ensure the compliance of business by acquiring essential licenses and permits.
Design a brief sales and marketing plan to ensure that the coffee business reaches its target customer and starts making sales.
Identify your unique selling proposition and determine your competitive edge in the market.
Using SWOT analysis, analyze the strengths, weaknesses, opportunities, and threats of your competitors and your own business.
Create a sample menu and determine your menu offerings by considering varying different aspects.
Why Prepare a Coffee Shop Business Plan?
A lot of variables play together to write the success story of your coffee business.
From choosing a shop location to remodeling it as per your unique concept, hiring staff, determining sales strategy, acquiring licenses and insurance, and planning operations-you need to undertake multiple activities, consecutively at a time, to start and run a coffee business.
A business plan will guide you like a map in the right direction. It will ensure that all the business objectives are achieved without breaking a compliance code.
It forces you to assess the viability of a coffee shop idea before you invest the money in it. You can strategically plan the coffee shop's success by making detailed financial projections relating to the company's sales, revenue, costs, and expected expenses, and cash flow.
And most important of all, a business plan will help you acquire the required funds by winning the trust of potential investors.
How to Write a Coffee Shop Business Plan: A Complete Guide
Let's walk through the process of writing a coffee shop business plan with detailed step-by-step instructions.
1. Get a business plan template
Writing a business plan from scratch is pretty exhausting. You are likely to leave behind an important detail without any structural format.
So do yourself a favor and get a business plan template. Trust us, it's going to make your plan writing process so much simpler.
A template helps bring clarity and focus to different sections of the plan by prompting you in specific directions. Moreover, the templates contain examples and tips specific to coffee shops making it extremely relevant for your business.
Looking for a well-structured and modern business plan template?
Well, we knew you would. Presenting the Upmetrics business plan template that can be easily customized for your unique coffee shop business. Simply download our template and modify it as per your business concept.

Need Assistance Writing a Coffee Business Plan?
Get Upmetrics' business plan template, import data directly into the editor, and start editing using Upmetrics AI Assistant.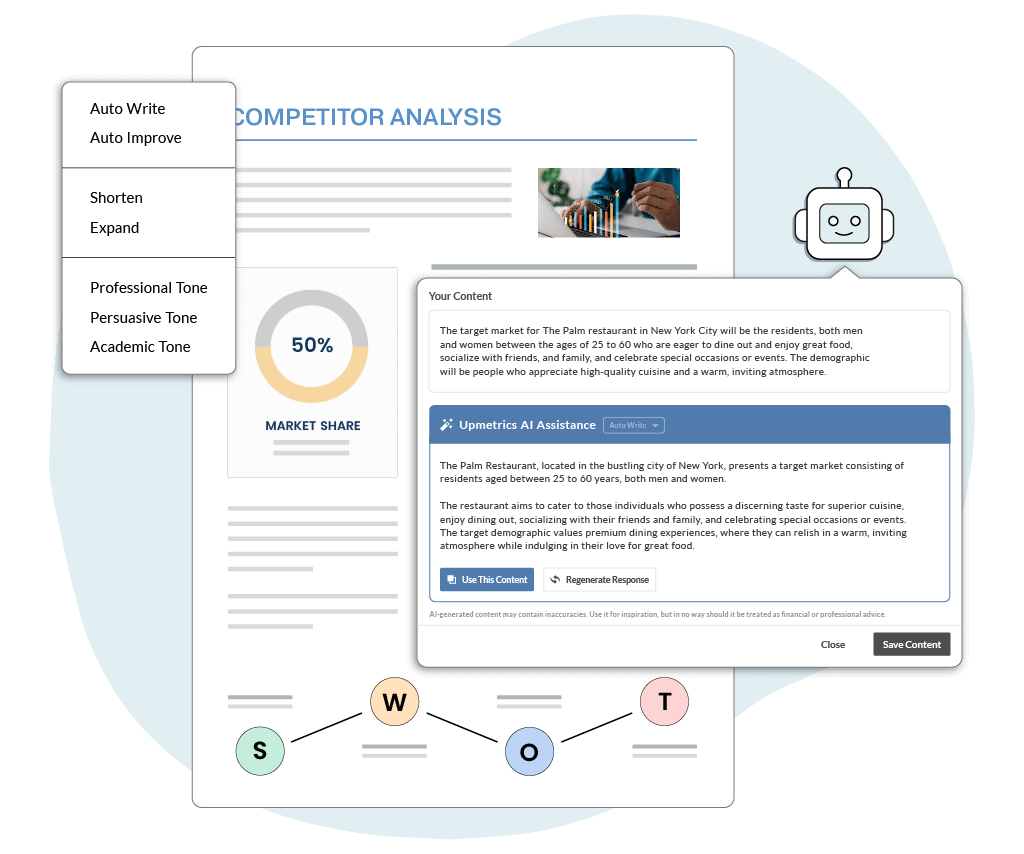 2. Write an executive summary
An executive summary is like a north star of your business plan. It will act as a guiding light for stakeholders to understand your journey ahead.
Investors will read the executive summary of your coffee shop business plan before even allowing you a presentation.  So definitely it needs to be compelling and converting.
Keep your executive summary concise but detailed enough that it summarizes the key points of your entire plan. Include the problems you would be solving and the solutions you have to offer. Adapt a storytelling tone and focus on highlighting the business goals, financials, objectives, and overall business strategy.
Now, move ahead and visit this part when you are done writing for the entire plan. Summarizing becomes much easier and more effective when you are aware of the entire plan's details.
Also, two pages are more than enough for writing a capturing executive summary.
3. Conduct a competitive and market analysis
Build a strong foundation for your coffee business by diving deep into the market research of the coffee industry, competitors, target audience, market trends, and your attainable target market.
Analyze the coffee shop industry from a macro viewpoint and then gradually narrow it down to your particular market. For instance, the revenue in the US coffee market size was $85.2 billion in 2022 and is expected to grow by 3.21% between 2023-2028.
Now, identify your targeted available market (TAM) from this and analyze the growth potential of your particular coffee shop. Overall, try to show that the coffee shop business has a thriving opportunity to grow in the market.
The market analysis for a coffee shop business must include the study of the following:
Customer analysis is essential to identify your target customers. Having a thorough understanding of your target market will help formulate the business and market strategies appropriate for your business.
Create the buyer persona of your ideal customer. Focus on these details to outline your ideal customer:
Customer demographics: Age, gender, location, income, occupation, and ethnicity of the customers who will visit your coffee shop.
Customer psychographics: Beliefs and values of your ideal customer, their interests, spending pattern, and their media consumption.
For instance, the ideal customer for Steamy Sips is 23-38 years old and works in a corporation. He/ She likes to spend money on coffee regularly and prefers fresh roasted seasonal brews, is socializing, and loves working in a cafe remotely.
After determining your target market, look around and identify your potential competitors.
Begin by identifying the top competitors of your coffee shop. This can be neighboring coffee shops, kiosks, or coffee karts that offer similar services to your business.
Now conduct a SWOT analysis of these coffee shops by analyzing their strengths and weaknesses. Also, analyze your strengths against competitors and highlight your competitive edge in the market. Be realistic with your assessment as this will form the foundation of your related business policies.
Lastly, identify if there are any stellar opportunities for you to leverage in this market.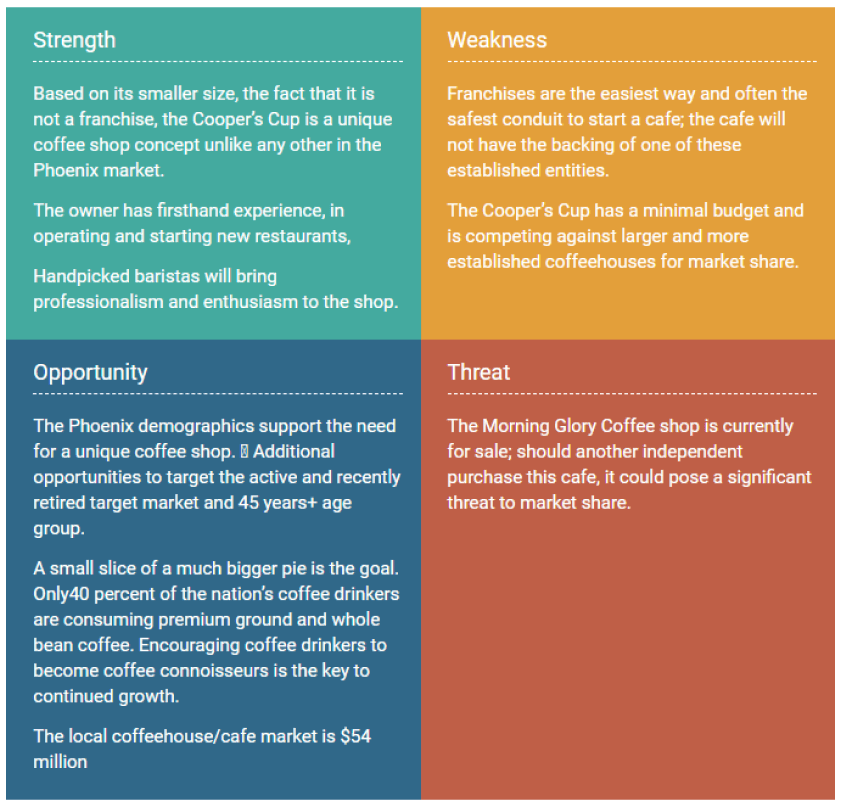 Collect data from highly authoritative websites, data publications, and local studies specialized in the coffee industry. For instance, SBA, SCA coffee, Mintel, Business Wire, COFFEEBI, etc.
This section is your chance to prove to the potential investors that you are aware of the market challenges and there exist favorable chances for your coffee shop to thrive and grow.
4. Prepare a company overview
Just like the executive summary of your coffee shop business plan, this section includes a brief business description of your coffee shop. It offers readers a peek into your business structure, goals, mission, and company values.
Depending on your market analyses choose the type and structure of your business concept. Clearly describe whether you will start a cafe or coffee shop, coffee kart, coffee bar, or coffee house and whether the business structure will be LLC, partnership, or sole proprietorship.
Further include your mission statement, coffee shop objectives, and goals to complete the company overview section.
Mission statement: A mission statement highlights the purpose of your coffee shop's existence and its long-term objective.
For instance,
Steaming Sips' mission is to cultivate a culture of freshly roasted coffee, serving a welcoming space for young individuals to connect, create, and unwind with every cup of our brews.
Coffee shop objectives: In this part, highlight your business objectives in terms of milestones, growth goals, revenue goals, sales numbers, etc.
For instance,
Steaming Sips aims to open 3 branches across San Fransisco by the end of 2025.
5. Present your sample menu
The market research earlier helped you understand your potential audience in great detail. Now, it's time to decide what to offer on your menu.
A sample menu is an important component of your coffee shop business plan. With a menu, investors will know what exactly you will be serving and what makes you different.
A coffee shop can stand apart selling just coffee drinks. However, there are many coffee shops that sell coffee and food products together. Depending on your coffee shop concept and the target market, decide the menu items.
Here are a few things to consider while making your menu and establishing yourself as a specialty coffee shop.
Different types of coffee drinks that suit your customer's taste. For ex. filtered coffee, frappuccino, brewed coffee, hot coffee, etc.
The type of coffee beans to produce high-quality coffee, e.g. organic coffee beans.
Different types of coffee roasts, e.g. dark roast, medium roast, light roast.
Different types of milk, e.g. plant-based milk options and dairy milk.
Seasonal coffee specialties.
Strategically place the items in your menu and add the prices alongside. Incorporate branding elements of your coffee shop in the menu as well.
6. Coffee shop design and layout
Till now, the coffee shop idea was just a business concept, jumbled randomly across your mind. Writing a business plan will help you to sort those ideas, one section at a time.
The design and layout section helps potential investors visualize the appearance of your coffee shop. It is your chance to help them understand your coffee shop concept and the aspects that set you apart from other coffee shops.
Begin by highlighting your coffee shop location in this section. Briefly explain how the location is suitable for your potential customers.
Also, present the moodboard of your coffee shop and highlight the branding and visual elements of its design.
Overall, explain how you will create a welcoming atmosphere for your customers by incorporating design and decor elements in your shop.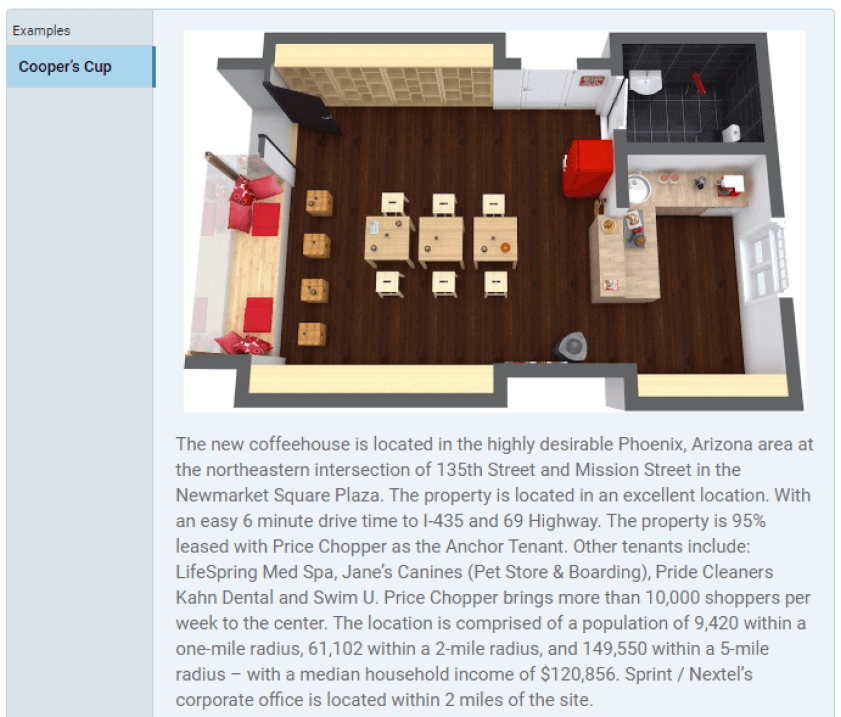 7. Prepare a coffee shop marketing plan
Now that you have the concept, design, and menu for a coffee shop, it's time to work on its marketing plan. The coffee market is intensely competitive and only a solid marketing action plan can differentiate your business from other coffee shops.
Using your market research, identify the best marketing strategy for your business. Ideally, coffee shops build a cohesive brand image using a mix of digital marketing practices.
For instance, a website can be used to build a robust web image, while social media can be used to connect with your target audience organically. Similarly, your coffee shop emails can focus on special offers and promotional invites while paid ads can help you target the wider audience.
In this section, you also highlight various promotional activities for your cafe such as karaoke evenings, art workshops, musical nights, happy coffee hours, etc.
Overall a comprehensive marketing plan must answer the following questions:
How will you draw coffee enthusiasts to your coffee shop?
What will be the pricing strategy of your coffee shop?
What will be your marketing budget?
What marketing channels will you use and who will undertake the marketing activities?
Will there be any promotional events at the cafe? If so, what type of events?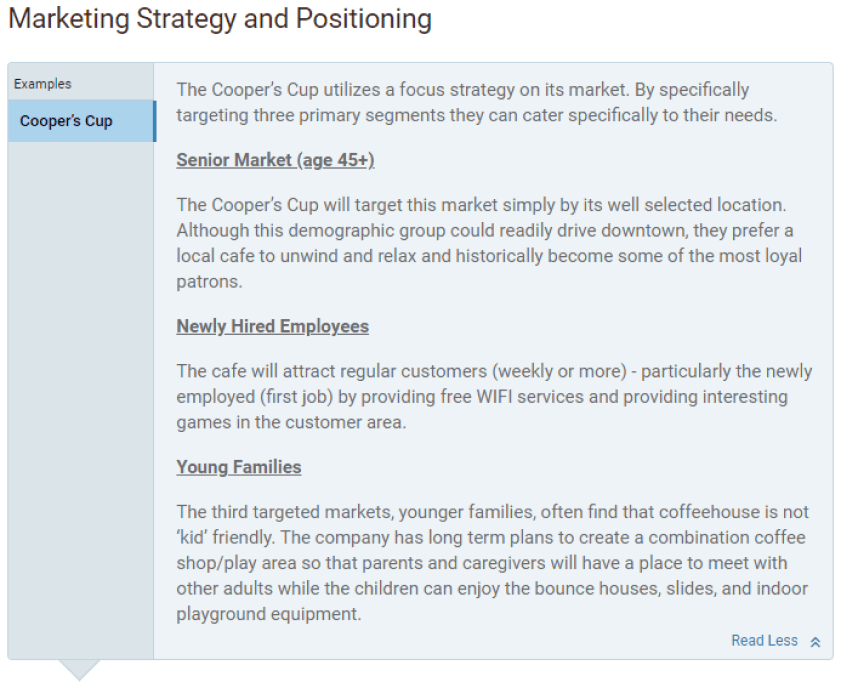 8. Introduce your management team
In this section, you will introduce the management team that will ensure the smooth functioning of your coffee shop business.
Begin by introducing the coffee shop owners and their relevant experience in the coffee market. Also, clarify if you will work both as owner and manager or hire a coffee shop manager to look after the day-to-day operations.
If you are going to hire a manager, introduce them and their key responsibilities in the section. Offer a brief description of their skills, experience, and expertise that can help your coffee shop business.
Overall, this section shows the potential investors that you have all the right people in a team to drive your coffee shop toward success.
9. Outline your operational plan
This section of a coffee plan offers brief details of everyday business processes that will guide you to build and run a successful coffee shop.
An operations plan includes a lot of details, answering some of these prominent questions.
Inventory and stock management: How will you manage and track the inventory? Who will be responsible for stock management? How often would you restock the inventory?
Production: Who will develop the recipes for coffee beverages? Will there be recipe cost cards for coffee preparation? Will there be kitchen staff working with food orders or will you outsource that?
Coffee shop equipment: What equipment will you buy for the coffee shop, i.e. espresso machine, coffee grinders, etc? Will that be a new purchase or a second-hand one? How much will the equipment cost?
Management: Who will serve the food and coffee in the shop? Who will look after customer complaints? What is the conflict resolution system at your coffee shop?
Technology: What technologies will you use at your coffee shop? Which payment and POS system will you use? Will there be an ordering kiosk?
A well-planned operations plan demonstrates your ability to run a coffee shop to your readers. So keep it detailed and revamp it as and when needed.
10. Create a Financial Plan
A financial plan helps assess the viability of your business idea by evaluating its financial aspects. It's an important part of your coffee shop business plan whether you want to seek funding or not.
A well-built financial plan is presented in numbers, graphs, and charts and includes the following:
Evaluation of startup costs: Identify the startup costs of your proposed coffee shop. Take into account the costs for lease rental, licenses, equipment, remodeling as well as operating expenses for the first few months.
Sales forecasts and pricing: Determine the drink sales for your coffee shop and your pricing structure by conducting market research.
Operating costs: Your financial projections should include a thorough calculation of operating expenses to run a coffee shop business.
Balance sheet: A balance sheet will help investors assess your assets and liabilities and the liquidity of your business.
Cash flow statement: Make cash flow projections and demonstrate the inward and outward flow of money in the business.
Income statement: The figures in this sheet help evaluate the profitability of your business
Break-even analysis: The calculations here will help determine the sales level after which your coffee shop will start making a profit.
Now, making all these financial projections and calculations is a bit taxing. Not only that, you will have to create visual reports to make the financial section appealing and insightful.
Well, let's make things easier with our financial forecasting tool. Simply enter your assumptions in a tab and our tool will generate important key reports for your business.
Don't stress. You don't need to worry about the visual reports anymore. Go, check your dashboard. You will have all the visual reports ready to be added to your financial plan.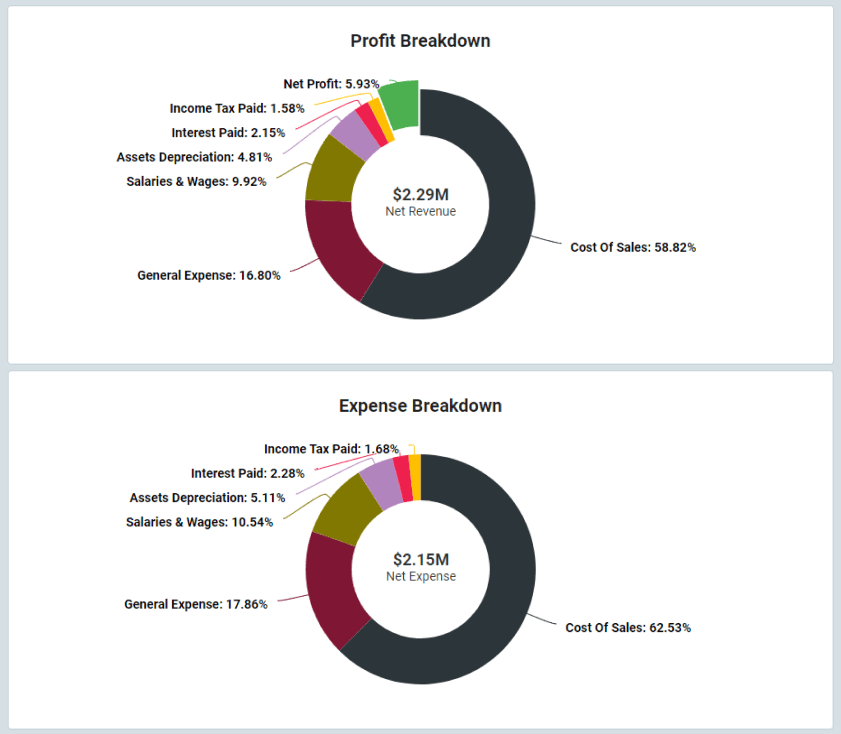 And that's your detailed guide to writing your coffee shop business plan. Now, let's check the latest industry trends ruling the coffee shop market. 
Coffee Shop Industry Highlights 2023
Let's dive further deep into market analysis with these latest industry trends in the coffee shop market:
Download a sample coffee shop business plan
Need help writing your business plan? Let's ease your plan writing process with our coffee shop business plan pdf. Download it for free and customize it as per your needs.
This modern intuitive template offers a step-by-step guide that will help you write a comprehensive and actionable business plan. It's designed specifically for coffee shop businesses and includes examples relevant to your industry.
The Quickest Way to turn a Business Idea into a Business Plan
Fill-in-the-blanks and automatic financials make it easy.
Get Started Now!

Write your business plan with Upmetrics
Enhance the quality of your business planning with Upmetrics. With more than 400+ customizable sample business plans, it offers features like AI assistance to write an impactful business plan.
Whether you are starting your own coffee shop or taking over an existing coffee business, Upmetrics' insightful guides and resources will help you craft a compelling business plan in easy steps.
Let's get started.