Starting a convenience store business has many benefits, which is why those keen on business have most likely given this type of venturesome thought. The setup cost is much lower than other business setups, and you can operate free of local pricing requirements.
Well, of course, one can't ignore the thoughts of petty criminals and shoplifters in convenience stores or the long work hours that need to be put in. Cleaning, maintenance, and inventory losses are also problematic and need planning to operate regularly.
But, which changing shopping patterns, a more streamlined channel for shopping, and people's desire to find it all in one place, it is actually possible for convenience stores to become recession-free, especially as seen in times like the pandemic.
So, if you're thinking of starting out on the convenience store business route, it is a pretty good idea. As per a 2020 industry report, $650 billion were generated by 150,000 operating convenience stores. Over the years, profit margins and sales have improved, and the Average gross revenue metrics show a specific dependence on Gasoline and Tobacco sales.
In any case, the pandemic has been an eye-opener for how relevant convenience stores have become for a vast majority of consumers. And the epic "toilet-paper hoarding" news from convenience stores last year made it clear that if you own a convenience store, people will still show up, even amidst a pandemic, at least as long as they are permitted too!
In any case, starting a convenience store isn't all roses, even though the investment isn't massive. Franchises are often forthcoming and more easily available for convenience store ventures as compared to a lot of other businesses. The question then is how to start a convenience store business and how to go about getting all that you need in order.
A Quick Guide for Your Convenience Store Set-Up
On the ground level, a thorough plan needs to be drafted along with market research before you decide on these factors. But, to get started with ideation for your convenience store, here are the main things you'd need to cater to before you can think of setting up for real:
1. Decide on a Standalone Store or Franchise
First things first – Do you want to obtain an existing franchise or go for a new brand and set up your own store? There are pros and cons to both. A Franchise for convenience stores is easily available and comes with its own consumer base at large. You don't have to think much about the brand operations or aesthetic, as it will be pre-decided with your franchise.
However, it also comes with some regulations and standards that you need to keep up with, depending on the franchise. The pricing, operations, employee regulations, and much more will be standardized in this approach. If you want a little more freedom with your brand, a new brand and an independent store can be your option. But, when you're starting a brand from scratch, remember you're really starting from scratch for everything with your convenience store.
2. Select a Location and Ensure the Inspection
Whether you end up going for a well-established franchise or a brand new standalone store of your own, in either case, you need a profitable location to operate from. Unlike fancy resorts and water parks, no one will travel to an exclusive location to buy groceries or a packet of cigarettes. Your store should be centrally located, preferably in a well-connected area that experiences a lot of traffic.
The location should be easily accessible. When deciding on your spot, think of it as the ideal location to just "drop by" or "pick something up" on an errand. Locations closer to homes and residential areas tend to work pretty well. At a later stage, you'd need to ensure an inspection of the location and your store to make sure all legal permits are in order for a smooth operation.
3. Explore Budget Requirements and Funding
The thing about budgeting and funding needs for convenience stores is that they aren't rigid. The size and scale of convenience stores can define the setup and maintenance budget required for the same. Typically investments between $50k-$100k might be incurred for a convenience store startup. On the flip side, the amount can be as low as $10k or even spike up to $1M depending on your scale, franchise, and initial setup.
You can spend some time exploring what budget you're comfortable with for an initial setup. The majority of resources will be invested in inventory setup, equipment requirements, and setup costs. A budget estimate can help secure any funding or loans if you want to acquire these before your setup begins.
4. Plan Your Convenience Store Business
A business plan for your convenience store is instrumental. Rough estimates and plans can be made on the go, but to get the minute aspects ironed out, an official business plan is a must. Your business plan can detail everything from team members, investors, and partner roles to exact financial planning, equipment requirement, employee setup, marketing, advertising, and much more.
Contrary to what many believe, this isn't just a jumbo to-do list. Your business plan can actually serve as an official document for loan approval, licensing applications, and other processes as well. Check out where to begin with these sample business plans.
5. Obtain Licenses, Insurance and Register for Taxes
Once you have a plan and you're getting ready to begin groundwork, make your work foolproof by getting all necessary licenses, permits, and legal documents first. You will typically need a Retailer Seller Permit, Business Operation License, EIN, and Certificate of Occupancy to get started.
With your EIN, you'd also need to register for small business taxes depending on your legal entity type. In addition to these, obtaining suitable insurance for your convenience store is great for any cases of theft or other unforeseen events.
6. Hire Employees, and Collaborate with Suppliers and Vendors
Next, you need to think about your staff and employee requirements. Hire employees for maintenance, sales, equipment operation, and other roles. Hiring in the retail sector requires more attention to the sales and interaction capabilities of the candidate.
You'd also need a steady relationship with vendors and suppliers to keep your inventory stocked. Look into striking a deal with the best option available and also keep some backup options in case of unavailabilities.
7. Market Your Store, Set up an App/Website, and You're Open for Business!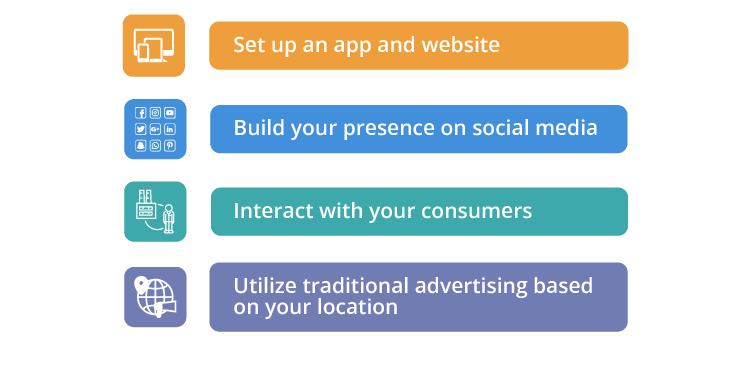 With your store setup, staff in order, and all permissions available, all you need to do is market your store and draw in customers. If you've opted for a franchise, marketing can be easier, along with pre-existing apps and websites of your franchise brand. If not, you can set up an app and website for your own brand to streamline sales.
Build up your brand on social media and extend promotions on offers in the months building up to your launch date. Make sure you interact with consumers actively and also utilize some traditional advertising depending on your store location. With everything set, you'll soon be open for business!
Summing Up
So, setting up a convenience store doesn't have to be overly expensive or even need a new brand at all. But, that doesn't mean it still wouldn't be a cumbersome task. Being prepared for what to expect can be one way to ensure your business takes off right.
At Upmetrics, you can plan distinct aspects of your business with templates targeted for a niche as well as overall planning. Start planning at the earliest to make the most of your convenience store venture!