The unique value your business adds to the world matters more than anything.
Yes, quality is important and so are execution and planning. But it all boils down to what's exceptional and unique about your business in the end. It is something that makes your business truly remarkable out of thousands of others.
But wait a minute, what exactly is a unique value proposition? What are its elements? Above all, how to create a unique value proposition for your business and use it to your advantage?
Well, let's find out.
What is a Unique Value Proposition?
To put it simply, your unique value proposition is the set of benefits your business promises to add to your customers' lives. It describes what are the specific benefits of your business and how you are better than your competitors.
A value proposition commonly does these 3 things for your business:
Explains how your product/ service is useful to your customers.
Clearly defines the benefits your product offers.
Your value proposition is the first thing that your customers notice on your website. Also, it acts as a foundation for your marketing efforts including everything from blogs to social media.
Why is a Value Proposition Important?
As we've discussed earlier, the value proposition is one of the most important elements of your business. But, why?
Because a value proposition is the first message your customer receives about your business. And a good value proposition ensures that your customer understands your brand properly.
Most importantly, it helps your customer decide whether your product is worth their time and research or not.
The Elements of a Value Proposition
Popularly, a value proposition consists of four basic elements: A headline, a sub-headline, a visual element, and three to four bullet points.
Although there's no right or wrong way to write a value proposition, the following steps can help you write an excellent value proposition:
Headline:

This explains the major purpose of your business in a clear and precise manner.

Sub-headline:

This would consist of an explanation of what you offer, who can use it, and why they should use it.

Bullet points:

You can follow up the sub-headline with the major features of your product/service. These features are the ones that make up the cornerstones of your product.

Visual element:

In today's attention economy, where several brands are grappling for a person's attention, you can make your job a little easier by adding a unique and self-explanatory visual element.
If your visual element is too catchy, it takes away the attention from your message. Hence, add a visual element that does its job, but isn't over the top at the same time.
Apart from having the above elements, your value proposition should be three things: Simple, Clear, and Bang on.
A customer-centric value proposition is way more likely to work than a business-centric proposition. i.e.Make it about your customers, how does the product make their life easier, better, or happier?
How to Create a Unique Value Proposition?
Even though the value proposition consists of four sentences in total, all of us know that research, effort, and a thorough understanding of your business and customers go into getting it right.;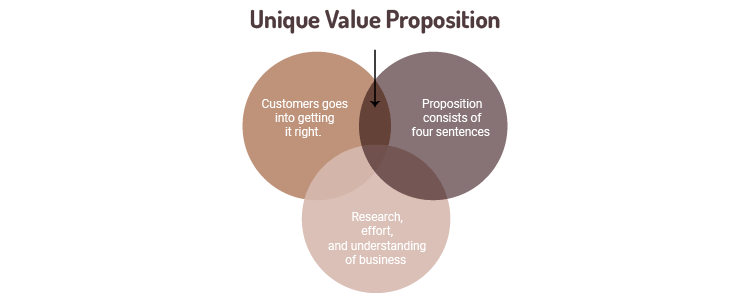 But hey, don't worry. We have a stepwise procedure to make your job easier.
Here's how you can write a well-balanced value proposition for your business:
Figure out your target audience's main problem:

A lot of businesses tend to create problems for solutions, instead of creating solutions for problems. A fatal mistake, and you'll be surprised to know the number of people who commit it. But the good news is that it is easy to avoid this mistake.

By conducting thorough research on your product, and the market, and understanding your audience's most pressing concerns you can avoid the hassle of having the wrong product or focusing on the wrong market.

You can do your research in several ways including talking to your marketing and sales team, running A/B tests on your website, and looking at reviews on your and your competitor's website.

For example, let's assume that you are a dropshipping business that offers global delivery. And your target customer is looking for an efficient and reliable service to get their products delivered across a certain region. Then your service can solve their problem.

List out the benefits your product offers

The next step is to list out the benefits your product offers in a clear and precise way and explain how each benefit helps your customer.

Continuing the above example, you can define how your dropshipping services are cost-effective, efficient, and reliable.
It is essential to highlight the basic features which provide unique benefits, instead of highlighting features with similar benefits.
Explain why these benefits matter

Now you'll try to figure out and describe why your customers should care about the said benefits and how these benefits would add value to their lives.

If we take the above example, you can highlight that as your services are reliable your customers wouldn't have to worry about missing packages, destroyed products, and so on.

Associate your customer's problems with your solution

This is a major step in deciding what your value proposition would look like. As you've analyzed your customers and your features, it is time to try and understand how well your product would solve your customer's problems, if at all.

If you find a fit, then you can go ahead and write your value proposition, if not you need to go back to step two and make tweaks and changes so your solution fits the customers' needs better. This step helps you ensure that you have a good product-market fit and a value proposition that speaks to your customers.

Differentiate your benefits from your competitors

Think about this, what sets you apart from thousands of others offering the same product? Why should the customer choose you?

And the factor that differentiates you from your competitors and makes you better in some way is your unique value proposition.

It could be anything from quality price, after-sales services, or customer experience.

After this, all you need to do is write a clear value proposition in a tone and language that urges your customer to take action or grabs their attention.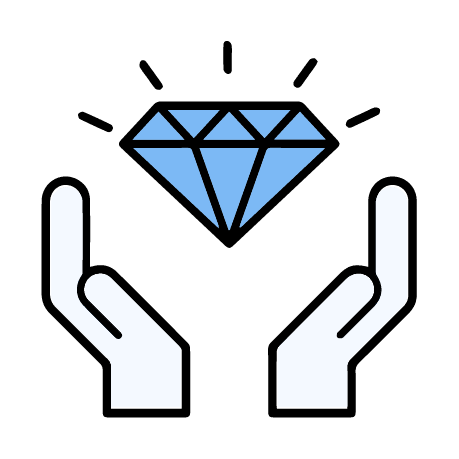 Want to Create Unique Value Proposition?
Craft a killer Value Proposition that hooks your audience with our Free Value Proposition Generator!
Value Proposition Canvas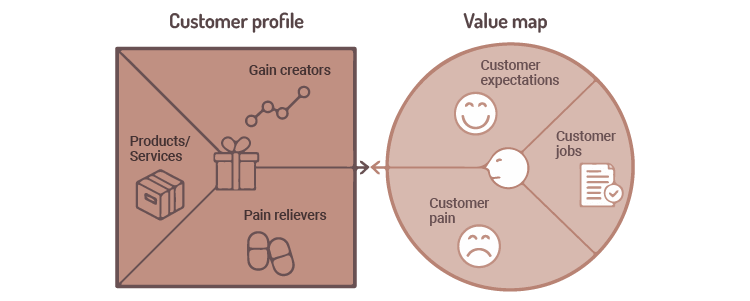 A value proposition canvas is a visual tool used to understand how your product can be placed around your customer's needs. A value proposition is mainly used when you are planning to launch a new product or update an existing one.
You can create a value proposition canvas for your product in a few simple steps:
Create your customer profile:

The first step towards creating a proposition canvas is to make a customer profile. In this profile, you'll focus on all the aspects of your customers' lives where your product can fit in. It is also a good practice to study how these factors impact their lives and what kind of solution they want.

For example, if you sell washing powder, you would try to understand what problems your customers face while washing their clothes, what aspects they look for in washing powder, what price range they prefer, etc.

You can further divide this step into three segments:

Customer Jobs:

The task your customer is trying to accomplish with your product or service comes under the customer jobs category. Due to this task, your product holds a purpose or value in your customers' lives.

Customer Expectations:

In this section, you'll try to explain what your customers expect to get out of your product or service. What problem do they want you to solve, what aspects do they want you to cover, and so on?

Customer pain points:

The pain points are the challenges your customers go through due to the problem you're trying to solve with your product. In this segment, you'll try to understand what parts of your consumers' lives are impacted by the problem, what is the degree of the impact, and so on.

This helps you understand the kind of solution they want as well as their consumers' buying motivations.

Craft a value map for your products and services:

In this step, you'll describe how your business helps the consumer in 3 steps.

These are as follows:

Gain creators:

These are the aspects of your products/ services that satisfy your customers' wants and make their lives better in some way.

Pain relievers:

This segment includes the features of your product/ service that relieve your consumers' pains described in the first step. Again, describe this point in a way your consumer can easily relate to.

Products/ Services:

In this segment, you'll describe all of your major products and services. These should also be the ones that bring the highest value to your customers.

Find out your value proposition-customer fit:

The last step is to combine the findings of the previous two steps and analyze how well they fit each other. This helps you understand how well your solution works for your customers, what changes you can make, and how you can accurately describe your proposition to your customers.
Value Proposition Examples
We all know that a value proposition is much more than a mere statement. Hence, it is good to get at least a little bit of inspiration before getting started.
A few examples of well-written value propositions are as follows:
Zoom's value proposition enforces and reinforces what the company offers without leaving any room for confusion.
Trello

Headline: Trello helps teams move work forward.
Sub-Headline: Collaborate, manage projects, and reach new productivity peaks. From high rises to the home office, the way your team works is unique-accomplish it all with Trello.
Visual Element: You might have noticed how each element of Trello's value proposition complements the other.

Zoom

Headline: Enabling the Hybrid Workforce
Sub-Headline: Explore how the Zoom platform seamlessly brings together remote and in-person teams, for work that goes wherever you do.
Visual Element: Zoom's value proposition enforces and reinforces what the company offers without leaving any room for confusion.
Conclusion
Writing a good value proposition might seem like a tough task in the beginning, but all you need is a good bit of research about your customers' problems, a clear understanding of your product, and a thorough analysis of how they fit together.
Above all, your value proposition should reflect your dedication to making your customers' lives a little bit happier or a little bit better.