A successful business idea equips customers with the tools necessary to help them reach their goals and fulfill their needs—professional or personal. And to create such products and services that meet (and exceed) your customers' expectations, you need to study their personas via customer analysis.
Customer analysis is a vital part of your business plan that helps you identify, define, and understand your customer base. Analyzing your customers is also crucial for creating a successful marketing plan as it helps you communicate better with your customers.
In this article, you will learn how to conduct a customer analysis section for your business plan paired with a customer analysis example to help you create customer personas to study their personality traits, goals, challenges they face, and more.
What Is Customer Analysis?
Customer analysis is a comprehensive understanding of your customer base. It helps identify and describe your ideal customer. Through this in-depth analysis, you determine their needs, challenges, goals, and other important considerations. Given this info, it then helps you understand how effectively your products cater to them.
It further helps you optimize your strategic marketing process to create targeted advertisements, customize and prioritize specific features during product development, and make adjustments in your current business plan to align with your customer's ever-changing demands.
How to Write a Customer Analysis Section
Writing a customer analysis includes extensive research and collecting data from various sources. This data consists of qualitative and quantitative aspects which help you write an accurate customer analysis for your business plan.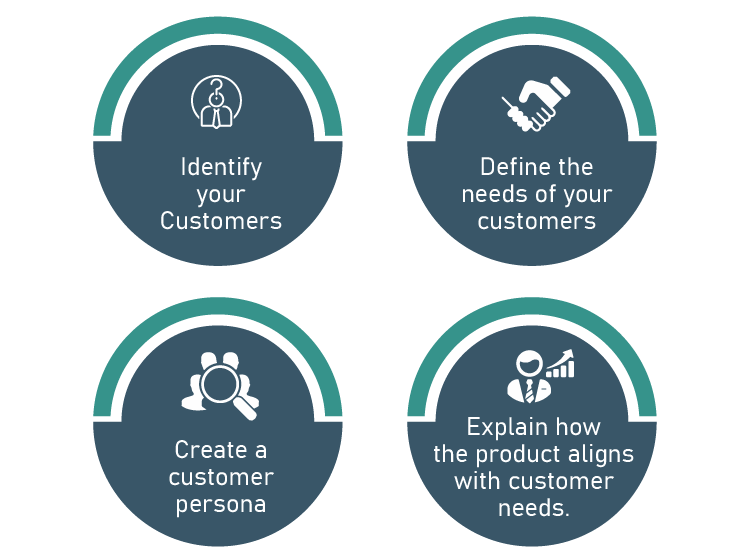 Writing a customer analysis has four main steps:
Step 1: Identify your customers
The primary step is to identify your potential customers and define their specific characteristics about them. The attained factual information is segmented into the following categories:
Demographic: Age, gender, income
Geographic: Location, type of area (Rural, suburban, urban)
Psychographic: Values, interests, beliefs, personality, lifestyle, social class
Technographic: Type of technology the buyer is using; tech-savviness
Behavioral: Habits, frequent actions, buying patterns
Industry (For B2B): Based on the industry a company belongs to.
Business size (For B2B): Size of the company
To obtain the above data, a great place to start for established businesses is your customer database. If you aim to expand this information, you can use your existing communication channels to gather further details through surveys.
If you are a startup, conducting a customer analysis might seem impossible as you don't have an existing customer base. Fortunately, there are numerous ways through which you can study your potential customers. A few of them are:
Identifying who would benefit from your product/service
Analyzing your competitors to understand their target customers
Using social media to prompt potential buyers to answer questionnaires
Step 2: Define the needs of your Customers
Now that you have identified your customers, the next step is to understand and specify their needs and challenges. This is the step where you need to go hands-on with your research. Getting to know your customers' needs helps you determine whether or not your product or service hits the mark.
To understand the needs of your customers, you can adopt the following approaches:
Engage directly with potential Customers

A very reliable way to get to know your customers is to simply ask them, either in person or on a call. You can reach out to your customers, conduct one-on-one interviews, create focus groups, and invite buyers to test your new products. You can collect an ample amount of data through these techniques.

However, we recommend prioritizing accuracy over the quantity of data.

A technique that can help you get a deeper insight into your customer's needs and opinions is the five whys technique. While practicing so, be mindful of the way you conduct the interview. It is essential to keep the customers in a comfortable and conversational environment to attain accurate answers.

Collect data from your Customer support

Customer support is the place where you can find feedback and criticism given by your customers. Analyzing this data helps you understand the pain points of your customers. You can further elaborate on this data by interacting with the customers who had issues with your products.

Run surveys and mention statistics

Talking to your customers helps you get qualitative information that you can use to alter your product or services according to your customers. The next part is to attain quantitative information, in other words, presenting numbers to support the previous data.

Conducting surveys is one of the commonly used methods for quantifying information. You can conduct in-app surveys, post-purchase surveys, or link surveys in email and apps, etc.

The second method is by collecting statistical data to support your conclusions from the interviews. These include stating studies related to customer choices, results from popular surveys, etc.
Step 3: Create a Customer Persona
Now, it's time you present the information using a customer persona. A customer persona is a representation of a segment of customers with similar traits. Creating customer personas helps you process the data more efficiently.
You can use customer persona templates that are available online. To help get you started, we have created a customer persona example.
Customer Persona Example
Customer profile example of an internet service provider:
About: A lot of customers remain at home and have a minimal and easy-going lifestyle. They need high-speed, interruption-free internet access.
Demographics: Age is between 30 to 40, has a laid-back lifestyle, lives in suburban areas, and the income range is between $10,000 to $40,000.
Professional role: Shop owners, employees, freelancers, etc.
Identifiers/Personality traits: Introverts, like routines, makes schedules prefer online shopping, and stick with the companies they trust.
Goals: Wants easily available service, and 24×7 customer support, prefers self-service technologies and chatbots over interacting with representatives.
Challenges: Fluctuating internet connection while working or consuming media. Not enough signal coverage.
Give a unique name to a particular persona to identify it more quickly.
Step 4: Explain the product alignment to the Customer's Needs
You've gathered info and created customer personas. The final step is to explain how your product or service caters to the needs of your customers. Here, you specify the solution you offer to your customers to tackle the challenges they face.
Mention the USPs of your product and its features, and they benefit the customer. Here, you also mention how your offerings make your customers' lives better.
Build a persuasive narrative that can communicate the value your product or service adds to your customers.
Create Better Solutions with Customer Analysis
Understanding your customers inside out helps you assist them better in solving their problems while also achieving success. Analyze your customers as often as required to stay updated about their ever-changing needs.
This helps you create better offerings to consistently fulfill their expectations. As a result, this builds up loyalty over time with each success.