We all know competitor analysis is very important. But not many of us know where to begin and how to accomplish it.
So, to help you perform the end-to-end competitor analysis, we have jotted down the points for you. But for that, let us understand,
What Is Competitive Analysis?
A competitive analysis is a strategy wherein you pick your competitors. You research their products, services, sales, marketing strategies, and more such parameters. You do this to create strong business strategies to stand out from your competitors.
If done rightly, competitor analysis can give you all the ins and outs of your competitors' business.
Moreover, you can also find out the differences and similarities between your services and theirs.
How to perform a competitive analysis?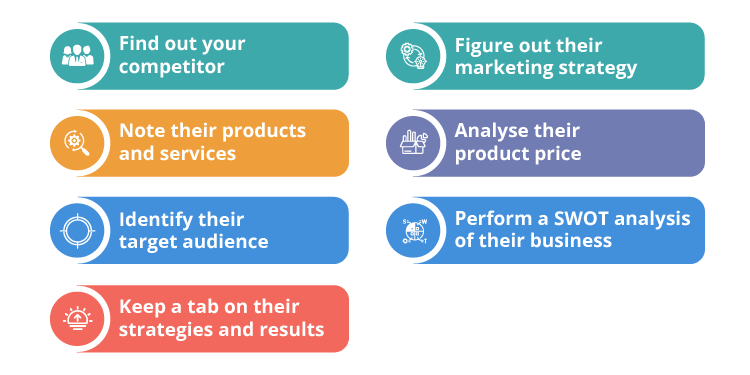 By definition, competitor analysis may seem easy. But don't let that fool you; It is actually a difficult task. It is a lengthy labyrinth that can make you pull out your hair off your head. However, if done nicely, it can look like a piece of art. But a lot of people can't make that art.
Since you're reading this, you are one of us. And so, we want to tell you the best ways to conduct competitor analysis.
If you really want to ace competitor analysis, go ahead, and read this detailed guide about how would you conduct your competitive analysis:
1. Find out Your Competitor
Without having the right idea about who your competitors are, your competitor analysis will always be incomplete.
But where to find your competitor?
Type your relevant business keywords on Google (or any such search engine) and analyze the topmost searches. You will also come across ads, and analyze them.
Keep tabs on social media and other content channels.
Read industry-related PRs.
Visit conferences and expos in and out of the city.
Check out industry-relevant annual product reports like Gartner, Forbes, and more.
Know who else is your target audience talking about.
There may be many businesses with similar products and/or services to yours. But not all of them can be your competitors. You need to pick businesses with similar brand values as yours.
To begin with, in your competitor analysis, divide your competitors into two groups- Direct competitors and Indirect (or secondary) Competitors.
Direct Competitors: These are the businesses that offer products or services similar to yours and operate in your city, state, and/or country. Here, if your brand is global, you have to pick a competitor brand that is also global. For example, The direct competitors for Uber in America are Lyft, DiDi, Ola Cabs, and more. That's because they offer the same services.
Indirect Competitors: These are the businesses that may offer high or low-end versions of your products and services or sell similar to a different target audience. For example, The indirect competitors for Uber in America are local taxis and other public transport. Because they offer the same services to an almost similar target audience.
Tertiary Competitors: These are the businesses that may have completely different products and services but satisfies a target audience that is similar to yours. For example, The tertiary competitors of Uber in America are car companies as 60% of Americans prefer to own a car. Hence, the people who own the car will rarely need services from Uber.
You should ideally pay more attention to direct competitors. But at the same time, you must keep an eye on the indirect competitors. As they can change or add an extra flow anytime.
Here, be clear about the location of the competitor too. If they don't fall in your location, they may not be relevant competitors.
2. Note Their Products and Services
The product or service is the very inertia of any business. So, while performing competitor analysis, dissect every detail of their product and services. Note down your competitor's complete product and service line. And compare it just like your customer would.
You may begin by answering the following questions:
For how long the brands have remained in the market?
Which products offer better quality?
Which products offer more quantity?
Which products look and feel better?
Which products are low-cost and which one is high-cost?
Compare the cost with the quality and quantity of the product.
What are the after-sales services?
Are those after-sales services free or paid?
How is the quality of those services?
What are the user reviews?
And many such questions&hellip
3. Identify Their Target Audience
Target audience plays a very important role in the framework of your competitor analysis. So, study their target audience carefully. Sometimes, from the top view, you may find your target similar to yours. But when you dissect the details, there could be a considerable difference.
For example, if you're selling watches for women. If you believe that your competitor is also selling watches to women, dig deeper. Know if their audience is working women or housewives. Are they selling luxury watches, sportswear, or daily wear? Are their watches manual or digital? What is the average age of their target audience? What is their spending capacity? Where are most of their target audience based? What are their audiences' expectations? Check their product reviews and so on.
You need to pick and analyze the competitors that are as close to your business and target audience.
4. Keep a Tab on Your Competitor's Sale Strategies and Results
Running sales analysis is one of the most difficult parts of performing competitor analysis. And in order to get the most accurate results, here are a few questions you must ask:
How is their sales funnel?
What are their sales channels?
Where and how do they outsource their sales and what is their advantage?
Pay attention to their business activities. Know if they are scaling down or expanding.
How many partners are they selling through?
Do they have any resellers?
Do they offer white labels?
Why are their customers buying from them? Or Why are their customers not buying from them?
Keep a tab on their PR and media activities. They may have disclosed their annual sales and customer figure.
Know if they have long-standing or recurring customers?
What is their products' lifetime?
Keep an eye on the deals and discounts that they offer.
With such important information, you can draw a competitive analysis with respect to sales. Run surveys, read the PRs, and stay in touch with the agencies that compare and rate the same products in the industry. Apart from that, their customer reviews and ratings can give you so many such details.
5. Figure out Your Competitor's Content Marketing Strategy
While analyzing your competitor, dissect their website/s, landing page/s, social media, emails, and other resources like blogs, ebooks, infographics, guides, and more. Check their content quality and its impact. Keep copies of their other collaterals like catalogs, brochures, and buyer guides if they are any.
Get all the possible content details from and around their website. Check how responsive their site is.
Having these details can help you know there and your market positions. Moreover, you will also get to know about the targeting keywords and emotional drives.
Along with that, keep an eye on their other digital marketing strategies. At the same time, see how they are leveraging offline platforms.
This way you will get a complete overview of competitive analysis in marketing.
While you keep an eye on content, know their frequency of sending emails, updating websites, posting on social media, and so on.
How can you dig deeper into their content marketing strategies, and marketing positioning?
Subscribe for their free trial if they offer any.

The drip and promotional emails following that will help you out.

Subscribe to their newsletters.

This will help you to know their product or feature updates.

Follow them on social media.

Check their content, graphics, and engagement there.

Purchase the product.

And analyze it through the eyes of consumers and competitors.
6. Analyse your competitor's Product Price and Marketing Costs
Once you have their product on hand, analyze every single detail about it. Know their product quality. Figure out what production technology they use. Note down every little detail to determine their production price.
Once that is down, dissect their marketing strategy. Know how much of their marketing collateral is costing them.
When you have an idea about their product and marketing cost, you will be able to figure out their profit margin. When you know their profit margin, you can be intuitive about their future plans too.
7. Perform a Swot Analysis of Their Business
If your competitive analysis framework is set rightly, you can easily perform a SWOT analysis. SWOT stands for Strengths, Weaknesses, Opportunities, and Threats. While you perform competitors, apply SWOT analysis to every category.
SWOT analysis is a model that can help you analyze the overall position of your and your competitors' business.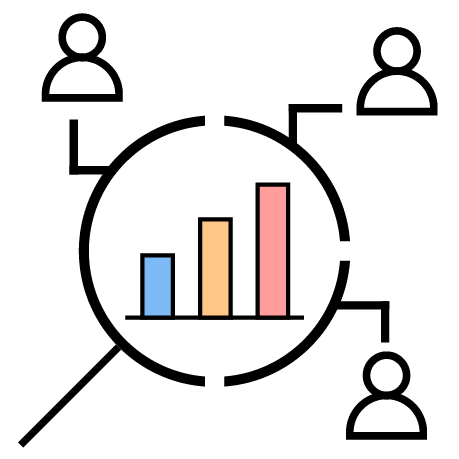 Want to Perform Competitive Analysis for your Business?
Discover your competition's secrets effortlessly with our user-friendly and Free Competitor Analysis Generator!
Benefits of competitor analysis
Once you complete analyzing your competitors, you start seeing so many fruitful benefits of it.
You know what your competitor is doing right. So you can up your game and do better.
You know where and how they are lacking. So, you can leverage that advantage to your business.
You know their USPs and can easily compare them with yours to know whose products and services have better opportunities in the market.
The competitor analysis provides you with a benchmark and with respect to that, you can measure your own growth.
Conclusion
Whether you are a newcomer or an old player, analyzing your competitors is crucial. Along with throwing light on market positioning, it gives you an idea about market requirements. You stay intuitive and stay relevant (and sometimes even ahead) to the market trends. Overall, it helps you grow your business to grow with respect to revenue, marketing, target audience, and more.
Hence, it is advisable to keep analyzing your competitor every now and then. So you can plan your business expansion strategically. Before you go ahead on the road of expansion. Make sure to have a detailed business plan.