Planning to start a marijuana dispensary? Well, everyone has been trying to tap into this profitable venture ever since marijuana got a green sign from states.
But first, you need to understand the procedure of setting up a dispensary. And also get an answer to how much it cost to start a dispensary. Well, this article has all the right answers for you.
The article offers a detailed breakdown of dispensary startup costs, factors influencing these costs, and also some handy tips to strategically reduce your startup expenses.
So without any further ado, let's get started.
What is the cost of starting up a dispensary?
The cost of opening a cannabis dispensary ranges from $187,000- $1,174,600. The upfront costs for setting up a dispensary are quite high and can extend up to 2 million dollars. However, these costs are highly influenced by factors such as state and local regulations, licensing fees, real-estate costs, and much more.
A well-operating dispensary enjoys a 15-25% profit margin on its sale of marijuana products. The lucrative margins make it a profitable business venture to undertake.
Average costs for starting a dispensary
Before we dive into details, check out this dispensary startup cost checklist. It will help you plan your startup budget and know how much financing you need to get started.
Item
Average Cost
One-time Expenses
Renovation / Remodeling costs
$20,000-$50,000
Lease deposits

$30,000-$100,000

License application fee

$1,000-$5,000

Licensing fee
$1,000-$60,000
Annual license renewal fees
$500-$15,000
Liquid assets
0-$500,000
Annual Insurance
$5,000-$20,000
Initial inventory

$50,000-$200,000

Legal Assistance
$10,000-$50,000
Taxation and business consulting
$2,500-$5,000
Security system
$10,000-$20,000
POS setup
$15,000-$25,000
Initial marketing, advertising, and branding
$10,000-$20,000
Website set up
$500-$5,000
Total One-Time Expenses
$70,600-$281,000
Recurring Expenses (Per Month)
Rent
$10,000-$50,000
Utilities
$1,000-$1,200
Inventory restock
$1,500-$4,500
Payroll expenses
$4,000-$8,000
Bank holding Fees
$500-$1,000
POS software subscription
$50-$200
Marketing
$2,000-$5,000
Total Recurring Expenses
$31,500- $99,600
Total
$187,000- $1,174,600
Disclaimer: Disclaimer: Note that these costs are averages and can vary significantly depending on factors such as location, license and permit requirements, technology, and much more. It's important to conduct thorough research and planning to get a more accurate estimate of the costs specific to your dispensary business.

How to calculate the cost of starting a dispensary business
You now have a list of potential expenses and a rough estimate of the costs of opening a dispensary. Let's estimate your actual startup costs using these two proven methods.
The first, traditional method involves using a startup costs worksheet to calculate the startup costs and estimated profits. However, the second, the Upmetrics method, is an innovative method that uses Upmetrics financial forecasting tool.
Let's understand both methods so that you can choose one that suits your requirements the best.
The traditional method—startup costs worksheet
The startup costs worksheet helps you calculate the amount needed to take your business off the ground. It is a comprehensive list of fixed and recurring costs to help you determine the actual cost of opening a dispensary.
Remember that many startup costs fall under recurring expenses, so cover those costs monthly, quarterly, or annually.
This cost worksheet helps you estimate the funding required to get your startup costs covered.
Calculate your startup costs using this worksheet.
The Upmetrics method—financial forecasting tool
It is an intuitive and efficient method of calculating startup costs. Using Upmetrics will not just help you estimate startup costs but also help with financial forecasting.
All you need to do is enter your sales, costs, and other financial assumptions and let the tool calculate monthly/quarterly/ and yearly projections for you.
Check out the financial forecasting tool for accurate financial forecasting.

Check out the financial forecasting tool for accurate financial forecasting. Once you have an accurate estimate of startup costs, you can easily identify funding requirements for your dispensary business.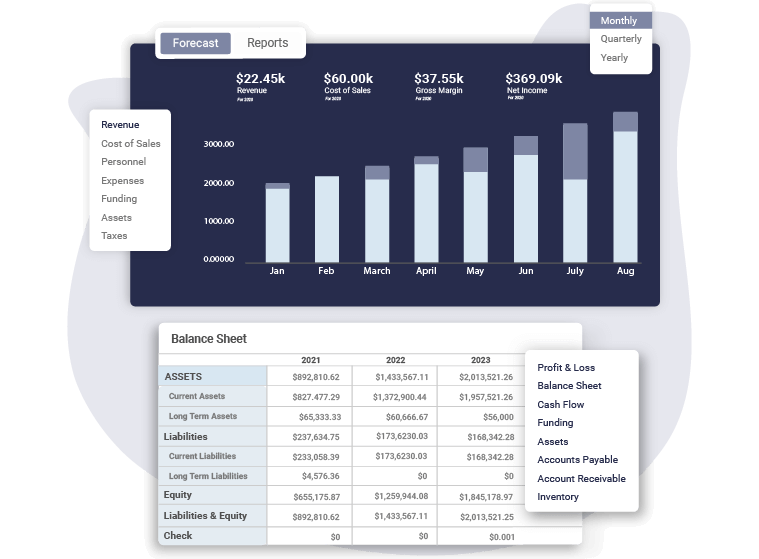 Once you have an accurate estimate of startup costs, you can easily identify funding requirements for your own dispensary business.
Raising funds for a new startup is certainly a nerve-wracking and time-consuming process, but having a solid dispensary business plan can make things a lot easier.
Let's move ahead and discuss the factors that affect your cannabis dispensary startup costs.
Factors that affect dispensary startup costs
The cost of opening a cannabis dispensary is greatly influenced by a variety of factors ranging from location to dispensary licenses and much more. Let's now understand each of these factors in detail.
1. Location
Location is everything, especially for a dispensary. The location of a dispensary will directly influence the licensing costs, rent, compliance expenses, employee salaries, and much more.
Dispensary locations are in short supply. This is because of numerous rules and regulations governing the cannabis industry and its retail dispensary location.
For instance, the state of Washington has a clearly laid regulation for a dispensary to be not opened within a certain radius or distance from a school, place of worship, playground, or daycare.
Certain states have also capped the number of dispensary licenses they will issue. So it's important you choose a state or locality that isn't monopolized by prominent players.
Overall, the location you choose will directly influence the dispensary startup costs to a great extent.
Hone your research hats and check the particular state laws before finalizing the location.
The restrictions and regulations make it challenging enough to find a suitable operating place with good visibility and traffic.
Kudos!! If you do end up finding a perfect location for your dispensary the easy way.
2. Brick and mortar: rent and remodeling costs
The limited location supply shoots the commercial rent for dispensaries extremely high. Moreover, you also have to pay a premium for being in the cannabis industry.
Consider paying double or triple the regular commercial rent for a dispensary retail space. Certain states also have regulations for minimum and maximum space allotment for a cannabis dispensary.
Considering a 1500-4000 sq. ft. space, you can expect to pay anywhere between $10,000- $50,000 and more on monthly rents. This brings your annual real estate costs to span anywhere between $100,000 to $5,00,000 and more.
Wait, you need to account for renovation and remodeling costs in your startup expenses as well. The state and local government has certain laid-out regulations for the build-up of dispensaries.
Making necessary adjustments and remodeling will cost you another $20,000-$50,000.
You can also consider buying retail space. However, consider spending at least a million dollars to get a suitable place for the dispensary.
3. License and capital requirements
Licensing fees are another prominent expense you will incur even before you sell your first gram. The licensing costs vary between states, and some also apply the minimum capital requirements to issue a dispensary license.
To get a dispensary license, you first need to make an application. The dispensary license application fees span anywhere between $1,000-$5,000 for recreational cannabis dispensaries. The application fees are non-refundable in most states.
Further, once the application is accepted, you will be required to pay actual licensing fees. The initial licensing fee for recreational dispensaries spans anywhere between $1,000-$60,000.
And lastly, you will need to incur annual or biannual renewal fees on your dispensary license. Most states consider gross annual revenue to determine the renewal fees. However, you can expect to spend anywhere between $500-$15,000 and more on the annual license fee.
Some states take a step further and imply minimum capital requirements to gauge your viability for a cannabis business. This is mostly applicable to medical marijuana dispensaries, yet there are exceptions.
For instance, you need to show $500,000 in liquid assets to apply for a recreational dispensary license in Arizona.
Get clarity about state licensing requirements to legally set up your dispensary business.
4. Business Insurance
Robust insurance policies are essential to help you withstand the constant regulation and legal changes surrounding the cannabis industry.
However, due to the nature of business, only non-admitted insurance carriers will work with dispensaries. Cannabis is a high-risk industry. Since traditional insurance providers aren't entering this market space, you can't avail the benefit of tailored insurance programs.
State laws relating to insurance vary greatly. However, most of those require you to take 1st or 3rd party coverage for the dispensary.
Here are a few essential insurances you may consider adding:
Workers Compensation
General liability
Product liability
Expect to pay anywhere between $5,000-$20,000 annually on insurance.
5. Inventory costs
Before opening the gates of a dispensary to the public, you will have to build an inventory. Inventory for a dispensary are different types of cannabis products.
The average cost of a pound of flower was reported at $1300 as of early 2023. Now determine the greens you will be dealing in, i.e. cannabis flowers, weed rolls, edibles, topicals, concentrates, and start building up an inventory.
You already are spending hundreds of thousands of dollars in opening a dispensary. To get the maximum ROI you will need an inventory large and diverse enough to cater to market needs.
The cost of building an inventory can span anywhere between $50,000-$200,000 and more.
Moreover, the greens will be the bread and butter of your business. They will add to the recurring expenses as well. Depending on the volume of business, you can expect to spend anywhere between $10,000-$30,000+ on monthly restocking of products.
6. Employee salaries
You need to hire a variety of different employees to smoothly run your dispensary. Payroll costs add up pretty quickly, especially in the initial months when the business is just taking off.
Budtenders and a store manager are required in a dispensary business. Budtenders are licensed professionals with a thorough understanding of greens. They can guide potential customers and educate them about different products.
The hourly rate of budtenders ranges between $16-$20. If we consider their annual salaries, each budtender costs a business around $37,865.
Further, the average dispensary store manager's salary falls between $40,074 and $56,258.
Overall, accounts for nearly $8,000-$10,000 monthly in payroll expenses.
7. Private bank and credit union fees
Not only are the costs of opening a dispensary extremely high, but it is equally difficult to acquire credit for it. Government banks and financial institutions are averse to high-risk industries like cannabis.
Hence, forget about acquiring loans and credits the traditional way.
The restrictions and market condition leaves you open with a few private source options. This includes venture capitalists, private equity groups, and personal relation lending.
Local credit unions in certain states also offer lending to dispensary businesses. However, they do have a funding limit.
Either way, be ready to pay higher interest rates and show significant equity to acquire credits from private institutions.
Expect to pay holding fees of up to $2,000 monthly to these institutions.
8. Legal and professional services
You will be wearing a ninja hat and handling a business in a volatile cannabis market. However, to run a business for long, you will need the help of these professionals.
Legal services:  Dispensaries often find themselves stuck in legal issues and problems. You will need a competent lawyer who can help you resolve emerging legal issues. Annual expenses for lawyers can span up to $50,000.
Tax consulting services: Everyone wants a part of the business revenue that a dispensary generates. To keep the maximum of your profits with you legally, you will need expert tax consultants. Expect to pay $1,500-$2,000 to these professionals.
Business consulting Services: You need specialist consultants in the marijuana industry to help you take strides in business. Business consultants charge anywhere between $500-$1,000 hourly.
Apart from these, you might require marijuana business consultants and accounting help for your business.
9. Technology and security system
Security is quite crucial for the dispensary business. Moreover, state and local government laws also mandate guidelines in regard to dispensary security.
As mandated by law, the cannabis establishment should be outfitted with a large vault, manned gate, check-in area, CCTV cameras, and a security room.
The installation of such security elements will cost anywhere between $10,000-$20,000.
Seed-to-sale software is a legal requirement for a marijuana dispensary. Look out for a POS system that can easily be integrated with such software.
The hardware costs for POS setup span between $15,000-$25,000.
Moreover, monthly subscription costs for POS software range from $300-$600.
10. Marketing expenses and website setup
Last but not least—Marketing. After spending hundreds and thousands of dollars to start your cannabis business, you have to market it to the right people. Again there may be certain state and local regulations governing marketing practices for a cannabis dispensary. So act accordingly.
The initial marketing costs for a cannabis business can span between $10,000-$20,000. This includes hoardings, billboards, print media, and low-cost online marketing strategies.
The website can help you create a unique brand identity and capture a larger audience. The website setup costs span anywhere between $500-$5,000.
Lastly, fix a budget for monthly marketing expenditures anywhere between $2,000-$5,000. Of course, you can spend less and regulate your operating costs by choosing low-cost marketing avenues.
Now that you have a fair idea of the factors influencing the cost of opening a dispensary, let's look at a few useful tips that can help reduce the key costs.
Tips for reducing dispensary startup costs.
1. Choose a favorable location
The cost of opening a dispensary in moderately regulated states gets comparatively cheaper. Oregon, Colorado, and Michigan are amongst the few states that have favorable norms for opening a legal cannabis space.
Research well and go for states that have a favorable environment for cannabis businesses and their dispensary owners.
2. Low-cost marketing strategies
Marketing is crucial for a dispensary. Evaluate low-cost marketing avenues for your business and develop a strategy accordingly. Learn and implement new practices by setting a monthly fixed budget.
Invest in more proactive practices as the business grows.
3. Minimize renovation costs
To bring down the initial dispensary costs, avoid unnecessary expenses on renovations. Only make essential remodeling changes to meet the state and local guidelines.
Instead of building a dispensary from the ground level up, go for a rental place that is already equipped with basic infrastructure. This will save hundreds and thousands on brick-and-mortar costs.
4. Invest in affordable equipment and furniture
Save where you can. If you can get the work done with second-hand furniture, don't buy a new one.
Again, start small. Only get the equipment and tools that are absolutely crucial for a cannabis dispensary. Later on, as the business starts generating revenue, you can invest in better equipment and technologies.
5. Start with a limited product selection
The inventory for cannabis dispensaries can be extensively diverse. Instead of dealing with all sorts of green products, start with limited products, i.e. cannabis flowers, pre-rolls, and edibles.
Then as you grow, venture into a vast market by adding new products to your offerings.
6. Regulate payroll expenses
Don't hire salaried employees from day 1. Hire budtenders and consultants on an hourly basis, at least till the dispensary starts operating in full-fledged mode. For other business-related tasks, avail outsourcing help. This will help you save recurring payroll expenses.
Conclusion
And that's a wrap, guys!!
Now, it's time to take a step further and translate your dispensary business idea into a practical reality.
Now that you have a fair idea about the startup costs, gather all your research and figure out the actual costs of opening a dispensary for you.
Use Upmetrics for Accurate Startup Cost Projections!
Looking to estimate your startup costs? Dive into Upmetrics! Our business plan software makes financial forecasting a breeze
Get Precise Projections Now