Planning to start a restaurant?  Sounds appetizing.
But wait, are you thinking of an upscale fine-dine restaurant or a cozy diner? Figure that out as you put work into starting a restaurant business.
To translate your restaurant project into reality, get an answer to how much it cost to start a restaurant. Passion alone won't turn it into a lucrative business.
A detailed breakdown of restaurant startup costs will help you put together a perfect restaurant setup. This article offers just that.
It covers the nitty-gritty cost details of starting a restaurant and guides you thoroughly in determining the startup costs for your restaurant.
We have cooked a perfect article for you. Let's dig in.
What is the cost of starting up a restaurant?
The average cost to start a restaurant in the USA generally varies between $134,900- $706,300. These costs are greatly influenced by factors such as location, size, concept, cuisine, and licensing requirements.
The profit margins in the restaurant industry span between 0-15%. However, the average profit margin for a full-service restaurant falls between 3-5%. Despite thin margins, the restaurant offers lucrative rewards once you set your foothold in the market.
Average costs for starting a restaurant
Before we dive into details, check out this restaurant startup cost checklist.  It will help you plan your startup budget and know how much financing you need to get started.
Item
Average Cost
One-time Expenses
Registration & Incorporation Costs
$250-$2000
Licenses & Permits
$500-$5000
Security Deposits – Rent / Lease
$21,000-$42,000
Kitchen appliances & Equipment
$50,000-$200,000
Restaurant Technology Setup Costs ( Hardware)
$5000-$20,000
Renovation / Construction / Remodeling Space
$5000-300,000
Initial inventory & Food Costs
$8000-$20,000
Insurance ( 12 months)
$500-$1500
Professional Fees
$500-$2000
Menu Engineering & Design
$1000-$3000
Uniforms
0-$1000
Website setup and logo designing
0-$5000
Signage & Advertising
$20,000-$25,000
Total One-Time Expenses
$111,750-$626,500
Recurring Expenses (Per Month)
Rent
$2000-$12,000
Utilities
$2500-$10,000
Food & Supplies
$8000-$25,000
Payroll / Salaries
$10,000-$30,000
Marketing
$500-$2000
Software Subscription Fees
$150-$800
Total Recurring Expenses
$23,150-$79,800
Total
$134,900- $706,300
Using this restaurant startup cost checklist, you can plan your startup budget and get an idea of how much financing you will need.
Disclaimer: Note that these costs are averages and can vary significantly depending on factors such as location, type of restaurant, concept, cuisine, and more. It's important to conduct thorough research and planning to get a more accurate estimate of the costs specific to your restaurant business.
Related Restaurant Resources
How to calculate the cost of starting a restaurant business
You now have a list of potential expenses and a rough estimate of your startup costs. Let's estimate your actual startup costs using these two proven methods.
The first, traditional method involves using a startup costs worksheet to calculate the startup costs and estimated profits. However, the second, the Upmetrics method, is an innovative method that uses the Upmetrics financial forecasting tool.
Let's understand both methods so that you can choose one that suits your requirements the best.
The traditional method—startup costs worksheet
The startup costs worksheet helps you calculate the amount needed to take your business off the ground. It is a comprehensive list of fixed and recurring costs to help you determine the actual startup costs.
Remember that many startup costs fall under recurring expenses, so cover those costs monthly, quarterly, or annually.
This cost worksheet helps you estimate the funding required to get your startup costs covered.
Calculate your startup costs using this worksheet.
The Upmetrics method—financial forecasting tool
It is an intuitive and efficient method of calculating startup costs. Using Upmetrics will not just help you estimate startup costs but also help with financial forecasting.
All you need to do is enter your sales, costs, and other financial assumptions and let the tool calculate monthly/quarterly/ and yearly projections for you.
Check out the financial forecasting tool for accurate financial forecasting.

Check out the financial forecasting tool for accurate financial forecasting. Once you have an accurate estimate of startup costs, you can easily identify funding requirements for your restaurant business.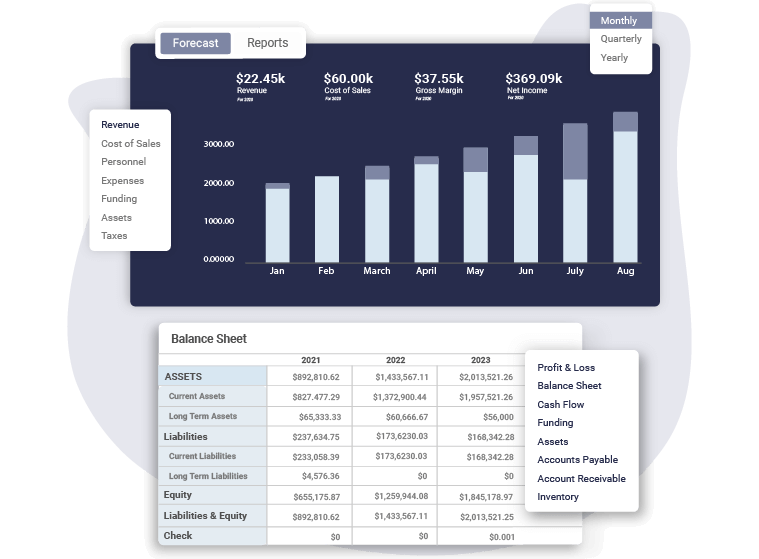 Once you have an accurate estimate of startup costs, you can easily identify funding requirements for your own restaurant business.
Raising funds for a new startup is certainly a nerve-wracking and time-consuming process, but having a solid restaurant business plan can make things a lot easier.
Let's move ahead and discuss the factors that affect your restaurant startup costs.
Factors that affect restaurant startup costs
Starting a restaurant requires substantial initial investments. These are the prominent factors that determine the startup costs for different restaurants.
1. Location and permits
Want to open a restaurant in an urban city or a prominent neighborhood? The commercial rents and lease costs can soar high in such places.
Location plays a crucial role in determining the startup costs for any type of restaurant.
Naturally, the cost of amenities in buzzing and prominent locations would remain high compared to other places. Everything from licenses to permits, salaries, operational costs, and professional expenses are costlier in popular locations.
However, a prime location presents an opportunity to attract the crowd easily. The better the crowd, the sooner your restaurant starts getting the visibility and popularity it deserves.
To legally operate a restaurant you need to acquire various permits and licenses. Check for the local regulations to understand the requirements for your restaurant.
Here are a few standard licenses and permits you would require:
Food service license: $100-$200
Liquor license: $12,000- $400,000
Food handler's permit: $100-$500
Additional- music license, signage permits, zoning permits, outdoor seating permits: each ranging between $100-$500
Remember that licenses need to be renewed periodically.
2. Restaurant space and size
When it comes to securing a place for your restaurant, decide how large a restaurant would be. Another important consideration to make is whether you would buy a restaurant or lease a restaurant.
To seal a commercial lease, you would have to commit to several years of occupancy and pay a security deposit worth 3-6 months of rent.
So how much would you pay as a security deposit and monthly rent for a restaurant?
This shall depend on the location and size of the restaurant.
Here are a few common space sizings followed by the restaurants.
Full-service restaurants: 2500-10,000 sq. ft.
Mid-scale restaurants: 2000-5000 sq. ft.
Small-scale diners: 800-2500 sq. ft
The average monthly rent for a restaurant space in San Fransisco spans between $1.50- $6.5 per sq. ft. Considering, $3.5 per sq. ft, a 2000 sq. ft restaurant would spend $7000 on rent monthly. In the same scenario, the security deposit for the lease would be between $21,000-$42,000.
Planning to buy a restaurant space? It can be a big decision and requires a thorough consideration of various aspects.
When buying a space, expect to pay 15-35% as a downpayment on valuation. For a space valued at 2 million dollars, you would pay anywhere between $300,000- $700,000 as a downpayment.
Lastly, the size of a restaurant greatly influences the monthly utility bills. A 4000-4500 sq. ft. restaurant can expect monthly utility bills of $2500.
3. Renovation and interior finishes
Once you have finalized the place for your restaurant, start working on it to create a functional restaurant space. The place would require renovations, modifications, and construction in a few cases to meet your particular needs.
Renovation costs can soar quite high and might hurt your budget. Hence, it would be better to pick a place that can be made up and functional with few modifications, most preferably a place that was previously a restaurant. A place with already set-up kitchen space can save thousands on renovations.
Here are a few areas you need to consider while planning the aesthetic appeal of your restaurant:
Flooring
Kitchen setup
Paints
Furniture- dining seatings
Water and fixtures
Lighting
Landscaping and patio work for open restaurants
The building improvement costs can vary from $5000- $300,000 and more, again depending on the construction and renovation it demands.
4. Kitchen equipment and appliances
It's now time to stock the appliances and equipment required in the kitchen. When opening a restaurant, food is going to be your primary product. The quality appliances and equipment will aid in bringing your food vision to life.
So what do you need?
Cooking equipment: stoves, griddle, fryers, steamers, broilers, wok, etc.
Refrigerators
Cooking and small ware utensils: pans, pots, mixing pots, cooking spoons, spatula, knives, etc.
Bar equipment: ice cube machines, cocktail mixers, shakers, etc.
Ventilation system: exhaust fans, chimneys, etc.
Dishwashers
Mixers, food processors, slicers, etc.
Building an inventory of basic kitchen appliances could range between $50000-$200,000. Setting up a kitchen could get very pricey if you don't keep a budget in sight. Set a mindful budget and don't overspend on non-essentials.
5. Restaurant technology
To successfully operate a modern restaurant, you need technologies that can ease your operations, order management, and payments. As of 2021, 91% of restaurants used kitchen automation technology.
Smooth coordination in back-of-house and front-of-house is essential for the efficient functioning of the restaurant. A restaurant requires a mix of hardware and software technologies to operate successfully.
Restaurant of any kind requires a POS (point-of-sale) or similar kind of system for unhindered operations. Not only that, there are other technology essentials required for the smooth operations of a restaurant.
Here is a list of hardware essentials for a restaurant business:
POS setup
Laptop/ PC/Tablets
Payment terminal
The hardware setup for a restaurant spans anywhere between $5000-$20,000. Invest in technologies and features that are essential for your restaurant.
Here are some common monthly expenses for software subscriptions:
POS system: $69-$400/ month
Employee scheduling system: $17+ / month
Loyalty program software: $39- $100/ month
Online ordering system: $50-$200+ /month
Kitchen display system: $12+ /month
Technologies are a pricey investment. However, their proactive features allow you to offer an enhanced customer experience, just about right.
6. Professional services
Determine the professional services that can help you operate your restaurant business efficiently.
Legal services: Helps with business registration, getting an EIN, and other legal paperwork. Legal services would cost anywhere between $500-$2000.
Accounting services: Helps with bookkeeping, tax planning, preparation, and other accounting services. Accounting services cost anywhere between $100-$300 monthly.
Business consultants/advisors: A business advisor helps you strategize your growth in a highly saturated marketplace. The hourly fees of consultants vary between $100-$500.
Considering the budget, hire the professionals of utmost importance to you.
7. Initial inventory and food costs
Consider stocking your kitchen with everyday essentials to get you through the opening period. Inventory includes raw materials required to prepare dishes on your menu. It also includes tableware, glassware, and anything that would contribute towards delivering an ultimate guest experience.
The cost of building an initial inventory ranges between $8000-$20,000 for a small-scale restaurant and $20,000-$50,000 for a full-service restaurant.
The food costs are recurring for a restaurant business. They make 25-40% of monthly expenditures. You can expect to spend anywhere between $8000-$25,000 every month on food and beverage supplies.
8. Marketing and advertising
Tell the people and persuade them to visit your restaurant. After all, it's important to get the word out that the restaurant is now open to serve.
But how would you do that? Marketing and advertising is the answer. Marketing, in fact, should begin much before the restaurant is ready to serve.
The restaurant business has a highly saturated market. Heavy promotional and marketing strategies through different channels and funnels will ensure that the restaurant is well-reached amongst its target audience.
Restaurants set 3-5% of monthly sales as their recurring marketing budget. It is usually between $500-$2000 every month.
Restaurant signage boards, menus, and coupons are also included in the advertisement expenses. The one-time expense on these would round between $20,000-$25,000.
9. Restaurant staff
A competent team of managers, chefs, servers, and bartenders is required to deliver a gastronomical experience to the customers. The salary and wages of the restaurant staff are recurring and contribute up to 30% of your operational costs.
The restaurant's size and service style will help you determine the number of staff required. Identify staff needed per service and their cost to the business. Find a balance between the number of salaried employees and hourly staff required for optimal functioning.
Also, enable your staff to offer top-notch customer services with appropriate training. The average monthly labor costs for a restaurant range from $5000-$30,000.
10, Franchise costs
This particularly implies to restaurant businesses that are starting a franchise. These restaurants will have to bear the franchise costs. The costs are one-time expenses borne by new franchisee owners.
The franchise fees vary for different brands and usually start at $10,000.
Here are some examples of franchise fees for famous restaurants:
McDonald's: $45,000 ( $750,000 liquid capital)
Popeye's: $50,000
Subway: $15,000
Jack in the Box: $25,000
Find top-selling franchise businesses and their franchise fees on directories like Top Franchise.
These are the different factors that affect the starting costs for your restaurants. Now, that you are aware of these, let's discuss a few tips and ways to bring down your startup costs.
Tips for reducing restaurant startup costs.
1. Rent an old restaurant space
If you are on a shoestring budget, look out for commercial places that have a ready-to-use kitchen setup installed. Keep an eye out for restaurants or cafes that are closing down. This will save you renovation and construction costs.
2. Keep the initial inventory minimum.
Focus on basics when you begin to build your initial inventory. Only buy what is essential. Calculate your needs for a few days or weeks at most and make purchases. Don't overbuy to get more discounts.
Set a budget for glassware and don't cross the upper limit.
3. Don't overspend on equipment
It can be tempting to equip your kitchen with every possible piece of equipment. However, step back and evaluate whether the equipment is truly a necessity or some whim of yours. For instance, an imported coffee machine from Italy can wait, if coffee isn't the primary food item on your menu.
4. Recheck the remodeling expenses
Renovation and remodeling costs add up pretty quickly. Look for decor inspiration that fits within your budget. Find resources at competitive rates.
And don't forget to keep a contingency fund in your budget. An unaccounted repair or expense can arise at any moment.
5. Look out for second-hand purchases
You don't need to buy everything new for your restaurant. Keep an eye open for second-hand listings for furniture, kitchen equipment and appliances, office equipment, etc.
You can find some exciting deals and products on websites like eBay, Craigslist, etc. Also, keep an eye on local stores that are closing. You can possibly find products in good condition from their second-hand sale.
6. Don't overspend on marketing
Strategically outline the budget limit. Overspending, already when your costs are soaring high, makes no sense. Invest in low-cost marketing avenues and Internet marketing to promote your restaurant.
Social media is an extremely effective tool to create hype and curiosity factor for your restaurant brand. Consider a mix of digital as well as traditional marketing to reach your target audience.
Don't let these costs determine the viability of your dream restaurant project. Be flexible to changes and make every possible amendment to bring down the cost of starting a restaurant.
Conclusion
That's it for the article. Now that you have rough estimates of restaurant costs, you can determine actual costs for your restaurant with some ground-level research.
Use Upmetrics for Accurate Startup Cost Projections!
Looking to estimate your startup costs? Dive into Upmetrics! Our business plan software makes financial forecasting a breeze
Get Precise Projections Now