With the demand for convenience and professional services increasing, people want the best of everything for their furry friends as well.
And if you are good with dogs, or want to do something related to pets, a dog grooming business can be a profitable venture for you.
If you are planning to start a new dog grooming business, the first thing you will need is a business plan. Use our sample dog grooming business plan created using Upmetrics business plan software to start writing your business plan in no time.
Before you start writing your business plan for your new dog grooming business, spend as much time as you can reading through some examples of pets related business plans.
Industry Overview
The pet grooming market stood at a market value of 9.9 billion dollars in 2018 and with the growing demand for pet grooming services, the market isn't about to slow down anytime soon.
The major reasons for the growth are increasing pet adoptions and demand for well-being products and services. People are becoming more aware of the health grooming requirements of their pets, which has led to major growth in the industry.
But at the same time, people want the best for their pets. So there is a high level of demand for experts. Hence, it is a good practice to study everything about the business and industry before you get into it.
Say goodbye to boring templates
Build your business plan faster and easier with AI
Plans starting from $7/month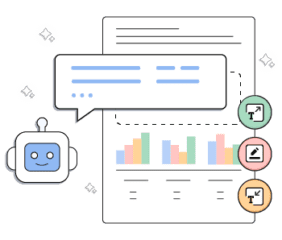 Things to Consider Before Writing a Dog Grooming Business Plan
Select the type of business setup

Your business setup can be anywhere from your home to mobile vans or traditional shops. Each option has its own pros and cons. Hence, you should look into it earlier and select the setup that is the best for you.

You may want to build a solid brand name with a traditional shop or save rent expenses by setting up at home or going trendy and small with a mobile van. It all depends upon your situation.

Have a budget

Although everybody loves trendy decor, fancy, equipment, and over-the-top marketing, it is never a good choice to go over budget.

Have a separate budget for all of your business's needs, and have a financial plan that'll help you get some idea of your revenue and spend accordingly. You can save the most from business decor by being creative with it.

Figure out the equipment you'll need

Proper grooming requires proper equipment. Although going overly fancy in the beginning isn't a good choice, have equipment that does its job nicely without weighing down on your pocket.

You'll need a wide variety of equipment from bathtubs, showers, brushes, etc.

Have a system for answering queries from pet owners

Pet owners trust you with their most prized possession, hence, it is important to have a system that answers customer queries and solves their doubts regarding your grooming process.

Apart from that, you can also have a set of guidelines ready for your customers to help them take better care of their pets at home.
Chalking Out Your Business Plan
You'll just need skills, knowledge of handling dogs the right way, and a dog grooming business plan.
A business plan will help you put your efforts in the right direction and create effective business strategies. Also, with the help of various online resources, it would no longer take eons to create your business plan.
Reading sample business plans will give you a good idea of what you're aiming for. It will also show you the different sections that different entrepreneurs include and the language they use to write about themselves and their business plans.
We have created this sample dog grooming business plan template for you to get a good idea about how a perfect dog grooming business plan should look like and what details you will need to include in your stunning business plan.
Dog Grooming Business Plan Outline
This is the standard dog grooming business plan outline which will cover all important sections that you should include in your business plan.
Executive Summary

Mission Statement
Vision Statement
Customer Focus
Financial Summary

Company Summary
Products and Services
Market Analysis

Market Trends
Target Market

SWOT Analysis
Strategy & Implementations

Advertising Strategy

Referrals
Internet
Publications

Pricing Strategy

Operational Plan
Financial Plan

Important Assumptions
Brake-even Analysis
Projected Profit and Loss

Profit Yearly
Gross Margin Yearly

Projected Cash Flow
Projected Balance Sheet
Business Ratios
After getting started with Upmetrics, you can copy this sample dog grooming business plan template into your business plan and modify the required information and download your dog grooming business plan pdf or doc file.
It's the fastest and easiest way to start writing your business plan.
The Quickest Way to turn a Business Idea into a Business Plan
Fill-in-the-blanks and automatic financials make it easy.
Get Started Now!

Download a sample dog grooming business plan
Need help writing your business plan from scratch? Here you go; download our free dog grooming business plan pdf to start.
It's a modern business plan template specifically designed for your dog grooming business. Use the example business plan as a guide for writing your own.