Nowadays pets are as loved as babies by most people. And why not? They bring about company and joy and can be your best friends too.
As the number of pet owners increases, the demand for dog daycare centers has increased too. After all, managing your pet and day job alone is no mean feat.
And if you are good with animals and enjoy being around them, dog daycare can become a profitable business for you.
All you need is basic skills with pets and a dog daycare business plan.
If you are planning to start a new dog daycare business, the first thing you will need is a business plan. Use our sample dog daycare business plan created using Upmetrics business plan software to start writing your business plan in no time.
Before you start writing your business plan for your new animal care business, spend as much time as you can reading through some examples of pet-related business plans.
Industry Overview
The global pet daycare market stood at a value of 2.6 billion dollars in 2019 and with the increase in the number of working pet owners, it isn't about to slow down anytime soon.
Decreasing sparable time and increasing disposable income is the major reason behind the growth of pet daycare and boarding services.
Also, people want the best for their pets, hence figuring out how to give quality services before getting started is essential.
Here are a few tips that can help you before getting started with your pet daycare services.
Say goodbye to boring templates
Build your business plan faster and easier with AI
Plans starting from $7/month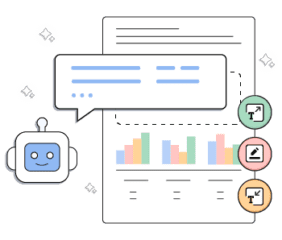 Things to Consider Before Writing a Dog Daycare Business Plan
Choose a proper facility

Having a spacious as well as functional facility is important for a pet care service. After all, you neither want to keep the pets in cramped-up spaces nor keep looking over your shoulder at all times to see if any of the pets are in danger, or worse have gone missing.

Your pet care facility should look welcoming and safe. It should also be easily accessible to make drop-offs and pickups more convenient.

Have a USP

As a pet daycare business is profitable, it is bound to be competitive. Hence, it is essential to have a USP that'll help you stand out and grab your customer's attention.

It can be anything from games and activities that you organize to keep pets engaged, grooming services, quality customer experience, or anything that you see fit as per your target market.

Make a solid marketing plan

Your marketing plan is going to play a major role in your business's success. Because it is foundational to let people know that your business exists for it to work.

Check out which platforms your target audience uses the most, where do they look for pet care services, what motivates them to decide upon the service, and so on.

Have a feedback system for analyzing customer experience

Have a feedback system in place. Carry out surveys for pet owners, ask for suggestions from your frequent customers, take feedback on whether your service works for your customers or not, etc.

Having a feedback strategy handy helps you upgrade and optimize your services as per the changing demands of your customers.
Chalking out Your Business Plan
Reading sample business plans will give you a good idea of what you're aiming for, and also it will show you the different sections that different entrepreneurs include and the language they use to write about themselves and their business plans.
We have created this sample dog daycare business plan for you to get a good idea about how a perfect dog daycare business plan should look like and what details you will need to include in your stunning business plan.
Dog Daycare Business Plan Outline
This is the standard dog daycare business plan outline, covering all important sections that you should include in your business plan.
Executive summary:

The executive summary of your dog daycare plan provides a high-level overview of the entire plan.

Company Overview:

This section of your plan provides a detailed description of your dog daycare business, its vision, mission, and future goals.

Product & Service offerings:

This section describes the product and service offerings your dog daycare center intends to provide.

Market analysis:

Your market analysis section will provide a detailed description of your industry, target market, competitive advantage, and growth potential.

Sales and marketing strategies:

Your marketing plan will outline the marketing and sales strategies you will use to attract new customers or pet owners:

Management team:

The management team section will introduce your management team to readers. The list may include the founders and other key people involved in the business operations.

Operations plan:

It's a section outlining business procedures and day-to-day business activities that ensure seamless business operations.

Financial plan:

This section provides a clear overview of your financial projection and financing needs. A well-prepared financial plan is key to raising capital for a new business.
Executive Summary

Business Overview
Management
Customers
Business Target

Objectives
3 Year profit forecast
Keys to Success

Company Summary

Company Owner
Why the business is being started?
How the business will be started?
Financial Summary

Services for Customers
Market Analysis

Market Trends
Marketing Segmentation

Marketing Share
Individual Households
Corporate Organizations
Dog Dealers
Animal Shelters

Potential Customers
Business Target
Product Pricing

Strategy

Competitive Analysis
Sales Strategy

Sales Yearly
Sales Forecast

Personnel plan

Company Staff
Average Salary of Employees

Financial Plan

Important Assumptions
Brake-even Analysis
Projected Profit and Loss

Profit Yearly
Gross Margin Yearly

Cash Flow
Balance Sheet
Business Ratio Analysis
Download a sample dog daycare business plan
Need help getting started writing a business plan? Here you go; download our free dog daycare business plan pdf to start.
It's a modern business plan template designed for your dog daycare center. Refer to the example business plan and follow step-by-step instructions to start writing your plan.
The Quickest Way to turn a Business Idea into a Business Plan
Fill-in-the-blanks and automatic financials make it easy.
Get Started Now!

Write your business plan with Upmetrics
A business planning solution like Upmetrics is the best way to draft your business plan. This incredible tool comes with step-by-step instructions, customizable templates, AI assistance, and 400+ business plan examples to help you get started.
So, whether you are starting a dog daycare business or planning to grow an existing one, Upmetrics is the tool you need to create a business plan.
So, what are you waiting for? Start planning now!