An insurance agency can become a profitable business if done right. After all, insurance companies as a business help people deal with uncertainties, and that is something all of us want.
And if you have good negotiation skills, are brilliant at planning, and have a thorough knowledge of how insurance works then you might have thought of having your insurance agency.
If yes, then what are you waiting for?
Get started because now is a time as good as any. All you need is a little industry information and an insurance company business plan to help you have a thriving business.
Industry Overview
The global insurance industry stands at a whopping value of 5.3 trillion US dollars in 2022 and is expected to grow at a rapid pace going forward too.
The major reason for the growth of the insurance sector comes from the increasing uncertainty of life, property, and everything else that concerns people.
The increase in disposable income amongst people has also contributed significantly to the growth of the sector.
But as everything good attracts competition, the insurance industry attracts a lot of competition too. And if you want to stand out amongst all of it, you'll need to be brilliant at what you do. Proper steps to set up your business and planning can help you with that.
Say goodbye to boring templates
Build your business plan faster and easier with AI
Plans starting from $7/month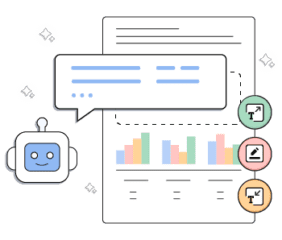 Things to Consider Before Writing Your Insurance Company Business Plan
Know the industry

The first step towards having a successful business is to research the industry and know what you are getting yourself into. It helps you understand the ins and outs of the business and what steps you should take to help your business succeed. It also helps you stay updated with the latest trends and use them to your advantage.

Get the necessary licenses and permits

As insurance companies are prone to lawsuits, fraud, and other such problems, having all the necessary documents can help you stay on the right side of the law. The licenses and permits act as an assurance for both your clients and your business that you'll be able to deal with any legal hassle that comes your way. And as you don't need to worry about the legalities you can focus on what really matters.

Know your audience

Knowing your target audience, their fears, motivations, and preferences can give you the required edge over your competitors. As you know your customers you're able to serve them better. This eventually makes them return to you and build long-term and mutually beneficial relationships with your customers.

Promote your business

Promoting your business is foundational to success because for your business to work you need to let people know that your business exists. Hence, once you get to know your target audience, it is important to promote your business in a way that speaks to your target audience.
Chalking out Your Business Plan
If you are planning to start a new insurance company, the first thing you will need is a business plan. Use our sample insurance company business plan created using Upmetrics business plan software to start writing your business plan in no time.
Before you start writing your business plan for your new insurance business, spend as much time as you can reading through some examples of insurance-related business plans.
Reading sample business plans will give you a good idea of what you're aiming for and also it will show you the different sections that different entrepreneurs include and the language they use to write about themselves and their business plans.
We have created this sample insurance company business plan for you to get a good idea about what a perfect insurance business plan should look like and what details you will need to include in your stunning business plan.
Insurance Company Business Plan Outline
This is the standard insurance company business plan outline which will cover all important sections that you should include in your business plan.
Executive Summary

Objectives
Mission
Keys to Success
Financial Forecasts

Business Summary

Overview
Company History
Funding Required
Company Ownership
Company Locations and Facilities

Products and Services

Service Description
Competitive Comparison
Sales Literature
Fulfillment
Technology
Future Services

Market Analysis

Market Segmentation
Service Business Analysis

Competition and Buying Patterns
Business Participants
Distributing a Service

Competitor Analysis

Cal Roberts, Patrick C. Johnson, Rob Champlain
Agents (such as Co-operators)
Mass Markets
Gray Power
Group Plans – teachers, public employees

Strategy and Implementation Summary

Marketing Strategy

Promotion Strategy
Distribution Strategy
Positioning Statement
Pricing Strategy

Sales Strategy

Sales Programs
Sales Forecast
Sales Yearly

Strategic Alliances
Service and Support
Milestones

Management Summary
Financial Plan

Startup Funding
Important Assumptions
Brake-even Analysis
Projected Profit and Loss

Profit Yearly
Gross Margin Yearly

Projected Cash Flow
Projected Balance Sheet
Business Ratios
After getting started with Upmetrics, you can copy this sample business plan into your business plan and modify the required information and download your insurance company business plan pdf or doc file. It's the fastest and easiest way to start writing your business plan.
The Quickest Way to turn a Business Idea into a Business Plan
Fill-in-the-blanks and automatic financials make it easy.
Get Started Now!

Download a sample insurance company business plan
Need help writing your business plan from scratch? Here you go; download our free insurance company plan pdf to start.
It's a modern business plan template specifically designed for your insurance company business. Use the example business plan as a guide for writing your own.