How to Write a Financial Section for Your Startup Business Plan 2022?
If you are a first-time entrepreneur, such questions might give you a tough time, and why not, finance is inarguably the most important section of a business plan.
No matter what your vision is, how impeccable your marketing strategies are, and what you aim to conquer with your product, in the end, everything boils down to how much your idea can make (earn) at the end of the day.
Hence, it is critical to justify your business with good figures. This is done by filling accurate numbers in the business plan and elaborating them in a way that genuinely makes your business sound like a profitable venture to investors.
In fact, you'll find many investors taking a quick peek at the numbers even before the executive summary.
Basically, the financial section will demonstrate whether or not your business idea is viable, and whether or not your plan is going to be able to attract any investment in your business idea. Here is an example of Airbnb's Financial Traction.
In this article, we'll outline the fundamentals of a good financial plan that will provide a clear picture of your company's current value, as well as the ability of your idea to earn a profit in the future. This information is very important to business plan readers.
How to Write the Financial Section of a Business Plan?
The financial section in a business plan is divided into three segments - income statement, cash flow projection, and the balance sheet, along with a brief analysis of these three statements. These three important statements are the bird view of the financial stats of your organization.
Apart from this break-even analysis might also be asked by investors to understand when your startup taking off the profits.
1. Income Statement
An example of an income statement report for your startup business plan is as below:
Also known as the profit and loss (P&L) statement, it elaborates the profit or loss the business is expected to generate over a given period of time.
In a nutshell, the Income Statement shows your expenses, revenues, and profits for a particular period. Basically, it is a snapshot of your business that shows the feasibility of the business idea.

The Income statement can be generated keeping into consideration three scenarios: worst, expected, and best.
Revenue - Expenses = Profit / Loss.
While established businesses are required to produce Income Statements annually, startups and small businesses should provide monthly reports while writing a business plan.
2. Cash Flow Statement
An example of a cash flow statement is as shown below:
This section provides details on the cash position of the business and its ability to meet monetary commitments on a timely basis.
A startup business should show monthly projections for the first year of business, along with quarterly information for the next two years.
When writing a business plan, you'll be required to show Cash Flow Projections for each month over a period of one year as part of the Financial Plan of your startup. The Cash Flow Projections consists of three parts: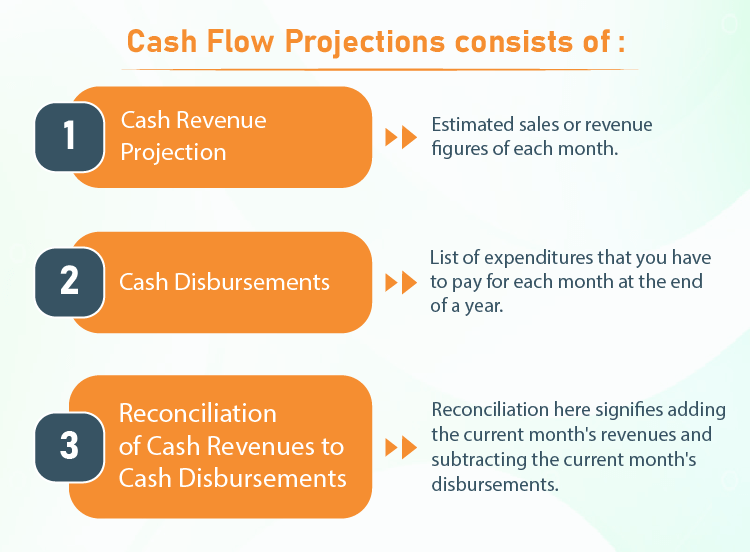 Cash Revenue Projection - Here you have to enter the estimated or expected sales figures for each month.

Cash Disbursements - This will take into account various expenses across categories. List out expenditures that you expect to pay in cash for each month over a period of one year.

Reconciliation of Cash Revenues to Cash Disbursements - Reconciliation here signifies adding the current month's revenues and subtracting the current month's disbursements. The result is then adjusted to the cash flow balance that is carried over to the next month.
3. Balance Sheet
An example of a balance sheet statement is as follow :
A balance sheet is a snapshot of what you're worth. A balance sheet adds up everything your business owns, subtracts all debts, and the difference that you get shows the net worth of the business, also referred to as equity. This statement consists of three parts: assets, liabilities, and the balance calculated by the difference between the first two. The final numbers on this sheet reflect the business owners' equity or value.
Assets = Liabilities + Equity.
Check = Total Liabilities & Equity - Assets
The term "balance" we are using for this sheet because it is representing the balance between Assets and Total Liabilities & Equity.
The purpose of the balance sheet: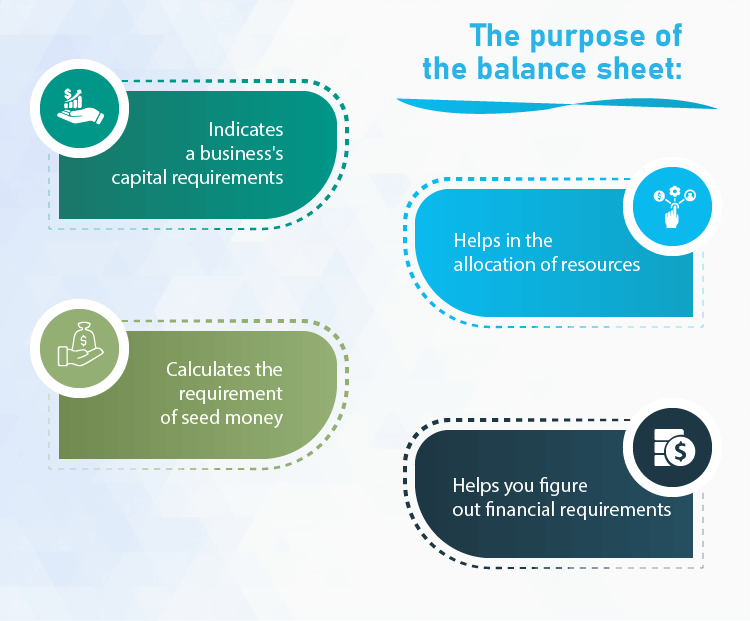 It indicates the capital need of the business
It helps to identify the allocation of resources
It calculates the requirement of seed money you put up, and
How much finance is required?
The investor wants to see your balance sheet to understand the condition of your business on a given date, which is usually the end of the fiscal year.
While writing a business plan for a new venture, you will have to work on creating projections for Balance sheets. These will serve as the benchmarks to compare against actual results at the end of the fiscal year. Hence, it is important to look ahead to see how your balance sheet will appear given your marketing, sales, and inventory forecast - the three components of the business that can have a major impact on your projections.
How Would You Make Assumptions While Projecting Your Financials?
Remember, while writing a business plan, you're not providing actual data, but an educated guess. The financial forecast means the predictions about the financial stats of the future.


As advised in the reference article, Always use What-if scenarios while projecting your financials. This would increase transparency and help the investor to understand the best, expected, and worst sides of the startup. Because the future is unpredictable, it's advised that you create several versions of your forecast.
It is a forecast and thus, it is highly recommended to go with simple math. No one expects you to understand everything. It is a prediction about the future hence the financial predictions are not 100% accurate at predicting the future performance of your business.

Do not clutter the financial section by including every small detail, unnecessary more detailed views distract readers from focusing on core digits, There is lots of space available in the appendix of your business plan. attach other detailed statements there in the appendix.

If you are using your business plan to get a loan, it is highly recommended to include your business's financial history as part of the financial section.
To auto assemble all of the above-given calculations in the financial section of your business plan, you'd need business planning software to make sure that you get this right in the first attempt itself.
Online Financial Planning Software is designed to help you create projections in the financial section that you can use to highlight the viability of your business idea. Understanding the financials, and if possible, mastering them can help you attract the investment that you need to run your business more smoothly.

Learn more about how to calculate financial projections for your business plan